Here at Bookings For You, we like to try and test our villas  and apartments in Italy, both as a way of ensuring that they're up to scratch but also to be able to view the properties through the eyes of our guests. Last week, I headed to Puglia for a few days.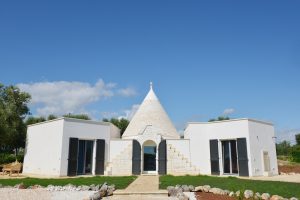 My base for the trip was the stunning Trullo Ramachandra, a beautiful one bedroom contemporary property surrounded by fields of olive trees. The accommodation certainly didn't disappoint. The owner clearly has an eye for interior design as well as expensive tastes! Both inside and out, it's a clever fusion of old and new, with original Indian artworks contrasting with sleek contemporary design.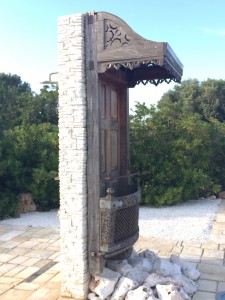 The best example for me of this has to be the stunning outdoor shower, with hot and cold running water hidden by a stunning wooden Indian carving. Personal touches such as monogrammed linen and towels adds that little something extra and the property is immaculately maintained.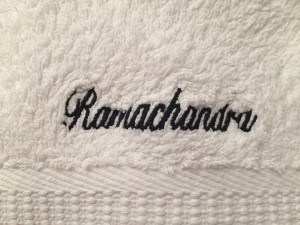 Just to give you an idea, on the day I left workmen were taking up the grass from last year to replace it with brand new turf to ensure that the soon-to-be-arriving guests had a perfect garden to enjoy during their stay!
Whilst I have to confess to not getting a single item of crockery dirty due to eating out all the time, I did thoroughly check out the kitchen cupboards and certainly, if I was in 'chef' mode, I wouldn't have been disappointed! All types of glassware filled the cabinets and there were more than enough pots, pans, utensils and crockery to cook a substantial meal for four.
With shutters on all the windows shrouding the property in darkness, and a comfortable bed to sleep in, I enjoyed two extremely good nights of sleep. In fact, I found it easy to lose track of time as a result. Combined with it's perfectly cool internal temperature, I have to admit I was rather taken by surprise by the wall of heat and clear blue skies that greeted me at 8.30 in the morning when I opened the front door and threw open the shutters.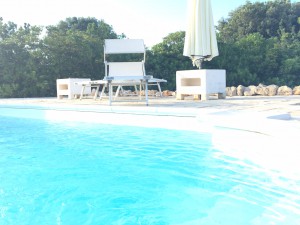 So, can it be faulted? I have to admit, I'm struggling to find fault. Perhaps another comfortable chair would have been nice in the living area had the property been occupied by four. But I'm sure the living area hardly gets used… the outside area is idyllic with table and chairs positioned under a shady terrace as well as loungers arranged beside the pool.
All in all, my stay at Trullo Ramachandra truly was a little spot of paradise in Puglia! I can't wait to head back!