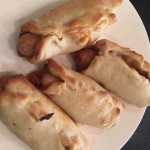 Italy is renowned for it's fabulous cuisine.  Arguably, hot dogs are a meal more associated with America than Italy but the Bookings For You team have given them a very Italian twist…. for those feeling a bit peckish, here's how we make our very Italian (and very simple) hot dogs!
Ingredients: Pizza dough (either homemade or use a ready made frozen dough or dough mix), Passata, Grated mozarella and Skinless sausages
Instructions: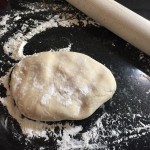 1. Make some pizza dough. Or if you're wanting to save time, just use some ready made pizza dough. There are some great frozen doughs available from supermarkets these days or Jamie Oliver now does a ready made pizza dough mix which you can just add water to.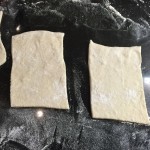 2. Roll out the dough until it is about 0.5 cm thick and then cut the dough to form squares about 10cm x 10cm. Essentially, you want the dough to be the same length as the sausage that will sit on it. Shapes don't need to be neat…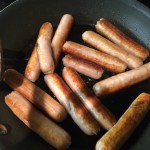 3. Pan fry some skinless sausages until browned on all sides.
4. Place 1-2 teaspoon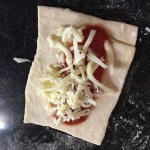 s of passata along the middle of the dough.
5. Scatter some grated mozarella on top of the passata.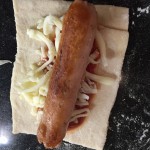 6. Place a sausage on top of the passata and cheese and gather up the edges of the pizza dough. Repeat for all your squares of pizza dough.
5.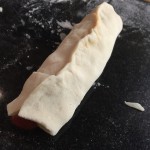 Repeat until all the sausages are wrapped in dough. Place in the oven at 180 degrees centrigrade and cook for approximately 10 – 15 minutes or until the dough has slightly browned.
6. Enjoy!!