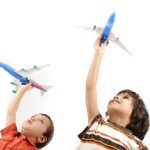 Travelling with children can sometimes bring its challenges, but it needn't be stressful. Here at Bookings For You, we want to ensure that all families who choose to travel with us have a wonderful time. Here are some of our top tips, based on our own experiences as well as those of our guests, to ensure that you have a smooth and stress-free journey to your holiday destination, even with the youngest of children.
a) It wasn't until our first child was 6 weeks old that we braved our first holiday abroad, however, it's not unheard of for parents to travel with younger children, particularly when it's their second, third or even fourth child. For these really organised parents amongst you, it is worth checking when the airline will allow your newborn to travel. Some specify that the child must be 2 weeks old, others only 2 days old. But it's worth asking the airline before you reach the airport. It may be a case of simply getting a letter from your doctor to prove that they are fit to travel. Given that all children need their own passport, this can often delay any travel plans anyway. Do consider when booking any holidays that passports can often taken 3 weeks to arrive.
b) Up to two years old, babies will be sat on your lap on the plane and the airline will provide an extension b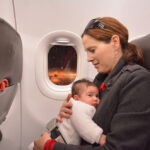 elt for you to use. Whilst this is fine for newborns, as soon as your little one is able to crawl and walk, being confined to your lap can prove rather frustrating for them. It's worth taking some healthy treats to 'bribe' them with…. supplies of raisins, dried fruit bars or some sugar free biscuits are great options. Or, make sure you have their favourite soft toy to comfort them, some crayons to draw with or some small toys to play with. It will just help to keep them entertained, particularly during take off or landing.
c) Other items you must make sure you have in your hand luggage on the flight include plenty of nappies and wipes (again, I learned the hard way once by not carrying enough), a disposable changing mat, expressed milk or formula and a spare change of clothes. With the heavy security procedures in place at airports these days, it's important to be aware that you are able to take more than 100 ml of baby milk with you. However, just be prepared to open it and taste it if asked to do so. For those who aren't breast feeding, you can buy disposable pre-sterilised bottles and cartons of formula milk which again, are just another easy way of making the journey that little bit easier.
d) It's also worth making sure that your children drink plenty of fluids on board the flight. Whilst flights from the UK to Italy are short, children can quickly get dehydrated up in the air and it's important that you take plenty of water and healthy drinks for them to enjoy.
e) Children often love flying but the descent can be a testing time for even the most avid flyer if t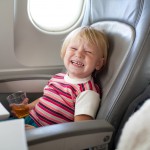 hey suffer from earache caused by the air pressure on the Eustachian tube. Whilst it's fairly easy for adults to relieve the pressure by yawning or swallowing, it's not as easy for little ones to do so. For older ones, the easiest method to teach them is to hold their nose and blow gently through it. This can make the ears 'pop' and relieve the pressure. However, also try to prevent the pressure forming in the first place. Sucking on a sweet during take off and landing can help as can having a drink.
f)  Trunki are well known now for their ride on suitcases, which make navigating your way through the airport that little bit easier. But another of their fantastic products is their back pack car seat – the 'Boostapak'. Having had first hand experience on more than one occasion of arriving at the car rental desk with little ones to fi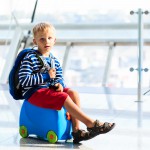 nd the car seat we booked was not available, I can't stress enough what a great product this is, certainly for those children of booster seat age. Cleverly turning from the child's backpack into their car seat, it's small enough to carry on board the flight, also saving the stress of worrying that the bag / seat may be 'lost' in the hold. To hire a car and to know that you have the car seat ready with you is really worth its weight in gold.
g) Airports can be busy places so do keep an eye on your little one. There are many things which they may easily get distracted by so make sure that you know where they are at all times. You may also find that they become nervous amongst the crowds. Try to keep hold of their hand at all times and reassure them by talking to them about your trip and what exciting things you will be doing when you get to your destination!
h) When a small child falls sick on holiday, it can quickly become a worrying time for families. it is worth packing some basic medicines with you so that if needed, you are able to treat their symptoms immediately. Some pain relief medicine, plasters, teething gel, a thermometer, insect repellent and bite or sting relief are all worth taking with you. But if you are at all concerned about your little one whilst on holiday, don't be afraid to visit either the pharmacist or local hospital. The pharmacists in Italy are well educated and can offer excellent advice and can often speak excellent English. Whilst we hope that you never need to visit the local hospital, the good news is that those amongst our guests who have had cause to, have always had an extremely positive experience. Just remember to apply for your EHIC (European Health Insurance Card) before you travel so that you can access either free or reduced cost state provided healthcare.
i) Pack a universal plug. Whilst you may be used to a bath at home, your holiday rental property may only have a shower. By packing a simple plug, you can often convert your shower tray into a shallow bath for your little one, making bath time that little bit easier, especially for children that don't like to have water on their heads or running over their eyes.
j) If you've got to drive from the airport to your holiday rental, invest in some good games for the car. You can buy games online but you don't have to splash the cash. Use your imagination to make up some games to play. A traditional game of 'eye spy' can work wonders in passing t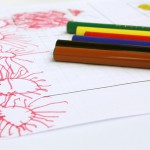 he time. Another game worth playing is 'car bingo' which can easily be made at home. Just choose a list of things that you might spot whilst driving… anything from a lorry to a church and from a motorcycle to a school. Each child can have a different list of items and the first to tick them all off the list wins! There are lots of ideas online to keep the little ones entertained en route!
k) For older children, don't be afraid to resort to technology either to keep them occupied! Tablets, ap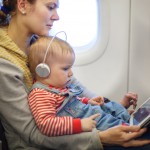 ps and electronic games are great ways to help the time pass quicker for them both on the plane and in the car. Yes, we all wish they would appreciate the beautiful Italian countryside as much as the grown ups but that just isn't always realistic! Download some TV shows or films for them ahead of their trip to watch on the way. Just make sure that they can actually be played offline!
We hope that these top tips help make that make that journey to your holiday property that little bit easier and stress free. If you now need help finding that perfect family villa in Italy, please do get in touch. Bookings For You have a number of family friendly villas in Italy, many with baby equipment, toys or entertainment options on site. All aimed at, once again, making holidaying with children easy and stress free!