If you are looking to add a bit of Italy to your festive celebrations this year, then why not take a look at some of the Christmas canapés suggested by Bookings For You, designed to add a bit of Italian cheer to your dinner table this year. All our suggestions are easy to make, allowing you to spend the time with your family and friends rather than slaving away in the kitchen!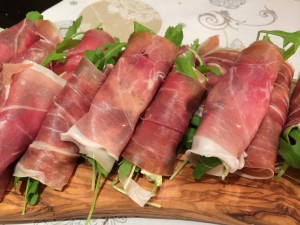 These parma ham rolls are delicious and were taken from Gino d'Acampo's recent series on Italy. They are incredibly easy to make too. Just take some strips of parma ham. In a bowl, mix together 3 tablespoons of mascarpone cheese and 1 tablespoon of pesto. Put a dollop of this mixture at one end of the ham. Add a slice of mozzarella and some rocket and roll up. Hey presto! You have a delicious canapé to share with family and friends.
Another very easy option is crostini. With loads of toppings to choose from, they are again very simple to make but can add lots of wonderful colour to your Christmas table.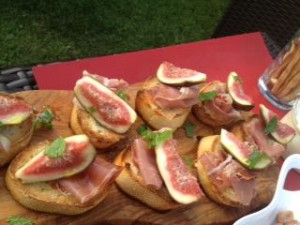 These crostini are topped with parma ham, fig quarters and a spring of mint. However, there are plenty of alternatives…. slice some lovely ripe tomatoes and mix with some fresh basil for a festive looking option. Or how about making some delicious home made chicken liver pate and adding it to your crostini?
Or for an idea that requires absolutely no cooking at all, slice up some wedges of Italian pecorino cheese and serve with some to quality honey to dip the cheese in. The flavour combinations work brilliantly together.
If all this has whetted your appetite, then why not think about a holiday to Italy for 2014 to taste some authentic Italian cuisine? Bookings For You offer self catering holiday villas and apartments across Italy. For the cooking fanatics out there, Bookings For You can also arrange cookery courses for either adults or children as well as organise a chef to come and cook dinner in the comfort of your Italian holiday villa or apartment.