Sicily offers an incredibly diverse array of activities to enjoy, with something for all travellers, from the youngest to the oldest. Enjoy our list of the top 60 things to do in Sicily and see how many you can tick off your Sicilian bucket list!
1. Spend the day at the beach
Sicily has a plethora of stunning beaches to enjoy, wherever you choose to be based. You'll find long stretches of white sandy beaches as well as plenty of pebbled coves. There are too many to list here but some of our favourites include the family friendly San Vito Lo Capo Beach, the beach at Isola Bella which is great for snorkelling, the Scala dei Turchi which is great for couples and the Torre Salsa Nature Reserve Beach which is again perfect for families with long stretches of pale sand and shallow waters.
2. Visit the island's capital city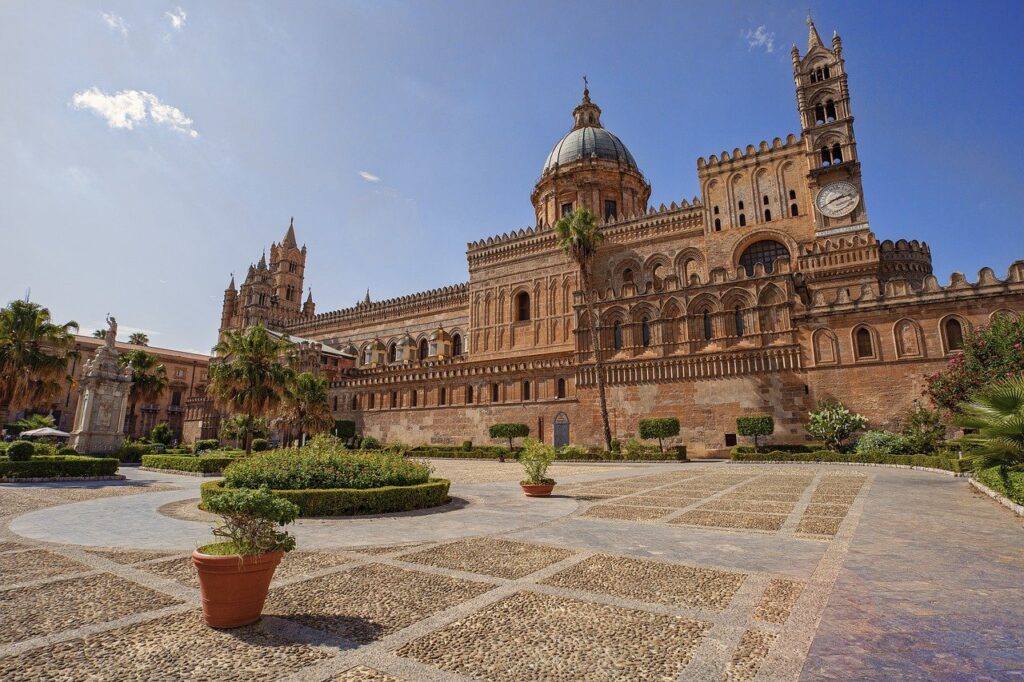 Palermo is the capital city of Sicily. With Monte Pellegrino forming a beautiful backdrop, it's a bustling, lively city with a wealth of things to see and do as well as a popular sandy beach on which to relax – ' Spiaggia di Mondello.' Some of the main sights include the Palazzo dei Normanni, once home to the most magnificent court in Medieval Europe, and its most famous gem, the Capella Palatina, as well as the Piazza Bellini, home to three beautiful churches, and the Piazza Pretoria, home to the Fountain of Shame. Throughout the city, you will catch glimpses of the city's chequered history with the influences of the Arabs, Normans and Baroque period all still evident. The city's Duomo is also worth a visit as are many of its museums (including the Archaeological Museum) and its theatre – the Teatro Massimo. One of the city's most unusual sights is arguably the catacombs though – Catacombe dei Cappuccini.
Book a tour of Palermo.
3. Spend a day at the waterpark
With over 250 days of sunshine each year, it's not surprising that Sicily has its fair share of waterparks in which to cool off. One of the most popular is Etnaland which boasts an array of water slides and rides as well as a hydro pool, wave pool and lazy river for those that prefer a slower pace! Some rides must be enjoyed alone whilst others can be enjoyed in twos or even in larger groups. One ride even allows up to 6 people to race each down the slide head first to see who can get to the bottom quickest! Other parks include Acqua Verde and Acquapark Conte but there are many more smaller parks dotted around the island to enjoy.
As well as a waterpark, Etnaland also boasts a fantastic theme park with plenty of adrenalin fuelled rides to test the bravery of even the most fearless amongst you! There are plenty of rides on offer for younger family members too though.
4. Go para-gliding
There can be no better view over the island than the one you will experience when para-gliding. Sicily has its fair share of mountain ranges, making it an ideal spot from which to take off. There are plenty of options for flights in Agrigento, Enna, Catania, Messina, Palermo, Siracusa and Trapani, with the option of tandem flights for beginners.
5. Climb Mount Etna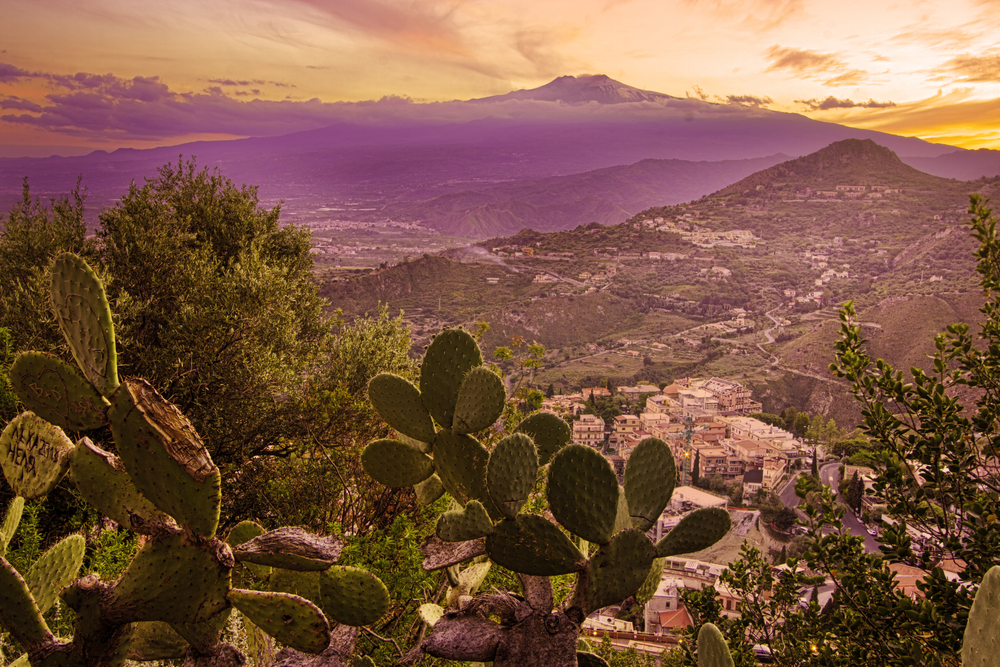 One of Sicily's most famous attractions is its volcano. Mount Etna is an active stratovolcano on the East coast of Sicily. At the time of writing it measures 3326 metres tall but its height does vary dependent on summit eruptions. If you do want to head to the highest point, then you will need to go with a guide. The cheapest option is to join one of the public treks which tend to leave first thing in the morning. The trek will involve hiking but does make use of the cable car and jeep. Otherwise, it is possible to hire a private guide. Without the assistance of a guide, you will not be able to head above 2900 metres (Torre del Filosofo). If you're not keen on a serious trek, then make the most of the funivia that runs from Rifugio Sapienza up the mountain to a height of 2500 metres. A 4×4 minibus can then take you from here to the crater area saving you the 3.5 – 4 hour round trip on foot.
Book a tour of Mount Etna.
6. Go donkey trekking
Perhaps a better option for families with children wanting to explore Mount Etna (but wishing to avoid the tired moans and groans!) is to opt for a donkey trekking tour. Donkeys have been used as a mode of transport in rural Sicily for centuries. Today, these well cared for animals will take holidaymakers slowly up the volcano's slopes.
7. Take a helicopter flight
For a different way to see Etna, enjoy an unforgettable aerial view of the crater via a helicopter tour. Other helicopter tours can instead take you over the island's historic attractions including the Valley of Temples of Agrigento and the ancient city of Syracuse.
8. Marvel at the remains in the Valley of the Temples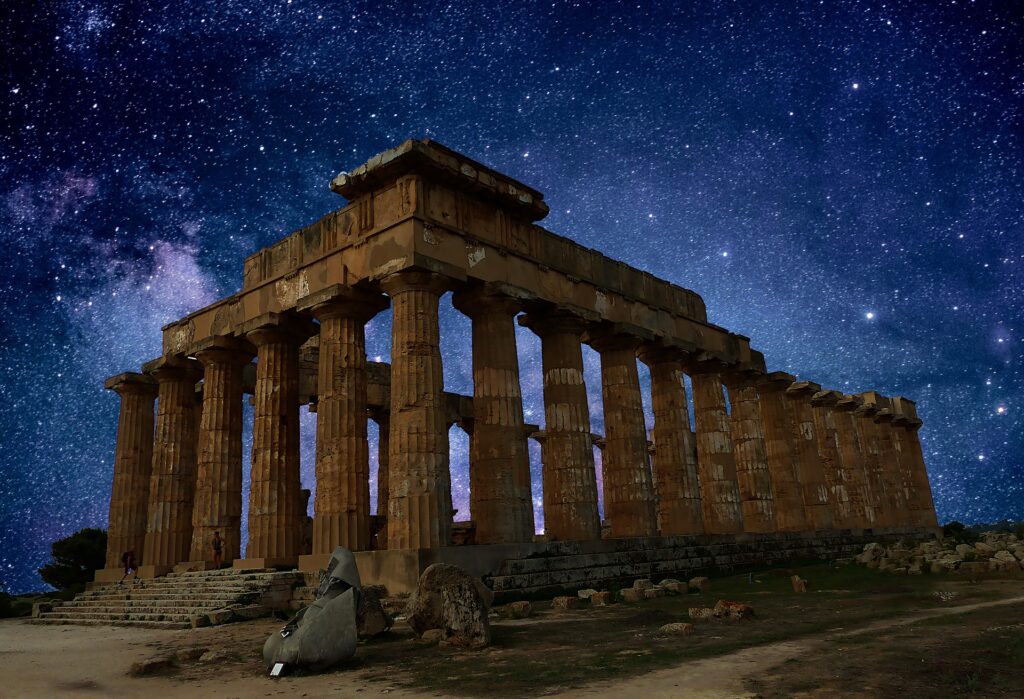 The Valley of the Temples (Valle dei Templi) is home to some of the best preserved ancient Greek temples in the world. The site is massive and includes Roman as well as Greek remains however the most impressive remains are Greek. They include the Temple of Concord as well as the Temple of Juno. The Temple of Zeus no longer stands but what does remain is a copy of the giant stone figure that would have once held up the temple. (The original is in the Archaeological Museum).
9. Enjoy the sunset at the Scala dei Turchi
The Scala dei Turchi (staircase of the Turks) are stunning white limestone cliffs, named after the Turkish and Moorish pirates who landed there, and which over the years have been eroded into a series of steps. The white cliffs contrast with the fine sandy beaches and turquoise seas and there can be few places more magical to watch the sun setting each evening.
10. Enjoy a cookery class!
A great option if you're opting for self-catering in Sicily is to hire your own personal chef for the night. If this is something you'd like to explore further, we would be happy to recommend the services of a chef who can come to your home and cook up a delicious authentic Italian meal for you whilst you sit back and relax. Or alternatively, we can organise for a chef to come and run a cookery class for you.
Discover culinary tours of Sicily and cooking classes in Sicily
11. Take a boat trip to the Aeolian Islands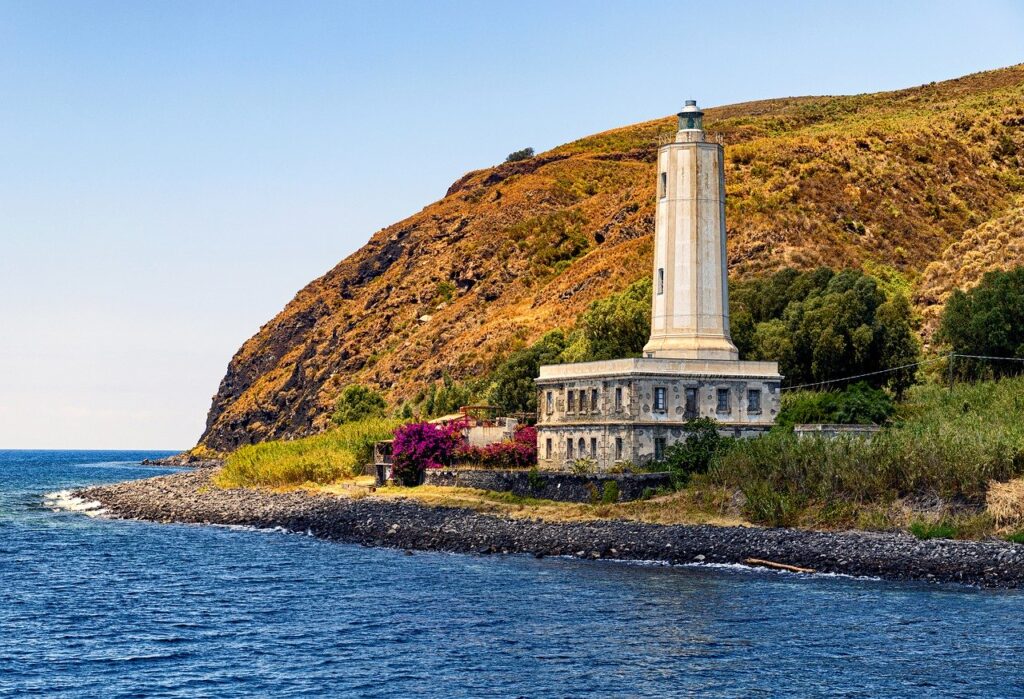 A UNESCO World Heritage site, the Aeolian Islands are made up of seven separate islands – Vulcano, Lipari, Salina, Panarea, Stromboli, Filicudi and Alicudi – surrounded by stunning waters perfect for swimming, diving and other water sports. Lipari is the largest and most bustling of the islands with a range of restaurants. It also offers good transport links to the other islands. Head to Vulcano to enjoy the mud baths – fanghi – and to witness the spectacle of the smoking Gran Cratere volcano that expel sulphurous fumes pretty much constantly, as well as to visit the beaches and thermal hot springs. Or head to Stromboli to lounge on the unusual black sandy beaches or to hike up the sides of the island's active volcano and to witness the constant plumes of smoke that are emitted from its peak. If you're looking for a quieter, more luxurious feel, then Panaera is probably the best place for you to visit, or, if you're more into nature then head to Salina, Alicudi or Filicudi. The latter two are much more remote and are only rarely visited by tourists.
Book tours and excursions to the Aeolian islands.
12. Visit the world's largest collection of Roman remains
The Roman mosaics at Villa Romana del Casale at Piazza Armerina is the world's largest collection of Roman mosaics, dating to the 4th and 5th centuries AD. The most famous of these is the 'Coronation of the Winner' known more affectionately as the 'Bikini Girls' mosaic as it depicts 10 rather scantily clad ladies performing various athletic events including discus and weights.
13. Enjoy a passeggiata in Sicily's lakeside towns and villages
Whilst you may be familiar with Sicily's larger towns and cities, there are plenty of other towns and villages worth exploring. To make the most of your time on the island, don't miss out on seeing the smaller villages too. There are twenty villages in Sicily that are among the 'borghi piu belli d'Italia' (most beautiful villages in Italy). These include Castelmola, Castiglione di Sicilia, Gangi, Salemi, Ferla, Sutera and Sperlinga but this is by no means an exhaustive list. Take a look at all of the villages on the list at the official website.
14. Watch an opera performance
Sicily is home to a number of theatres where you can enjoy the chance to watch an opera performance. Taormina even hosts an annual opera festival. Every Monday, Wednesday and Friday between May and October, the Cine Teatro 'San Giorgio' is the venue to listen to a stunning array of arias and duets whilst enjoying the spectacular views of Taormina. The Teatro Massimo in Palermo is also renowned for its wonderful opera but, even if you're not a fan of this genre, then it's worth heading to the theatre just to take a look at the building's interior. It's the largest opera house in Italy and it's absolutely stunning. Rivalling Palermo's theatre, Catania is home to the Teatro Massimo Bellini. Opened in 1890 with a performance of Bellini's masterpiece – 'Norma'- the theatre is still home to an array of wonderful operatic concerts each year.
15. Go canyoning
There are a number of canyoning options in Sicily if you want to try your hand at abseiling, jumping and sliding your way from the top of a canyon, river or valley to the bottom. A couple of locations include the gorges of Alcantara in Messina, a nature park situated about 40 minutes from Taormina or in the Siracusa in the Anapo and Cassibile Rivers as well as in Nebrodi in the Stretta di Longi or in the Valley of Sosio. Just be warned though, the water is freezing cold!
16. Enjoy a tree-top adventure course and zipwire experience
Visitors to Sicily can challenge themselves by enjoying an assault course within the trees. Parcallario is a tree top adventure experience in South East of the island. Here, you can choose between 3 levels of difficulty – beginner, medium and advanced – for your tree-top adventure course but as well as this, there are zip slides to choose from as well as the option to go climbing up a tree trunk or 'dough-nutting' down the hillside. Other adventure parks include Nebrodi Adventure Park where again, routes are set out according to age and ability, the Monti Rossi Adventure Park in Catania and the more newly opened Adventure Park Casaboli.
17. Visit the crying image of the Madonna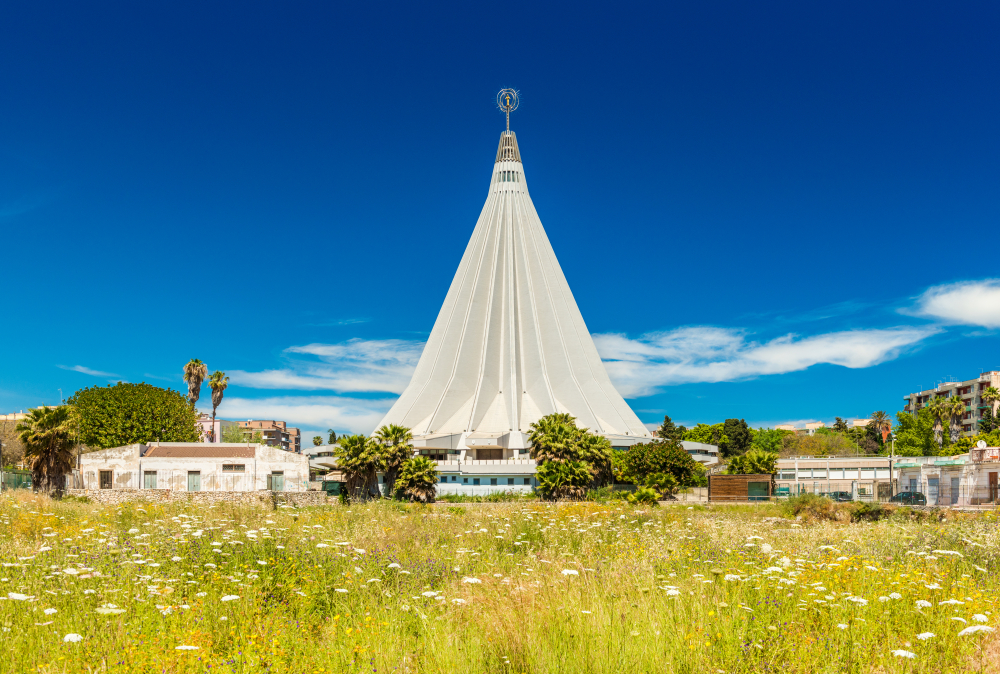 Head to Syracuse to visit the Santuario della Madonna delle Lacrime (Sanctuary of Our Lady of Tears). Inaugurated by Pope John Paul II in the 1990s, the building was supposedly modelled on the shape of a tear drop and was constructed to house an image of the Madonna that allegedly wept real tears for four consecutive days back in 1953. If you want to find out more about this event as well as learn about some of the miracles the Virgin is believed to have performed, then visit the Museo della Lacrimazione on the lower floor of the sanctuary. Whilst here, it's also worth taking the time to admire the wonderful acoustics that the building has as well as the incredible ceiling of the sanctuary which rises more than 70 metres above the congregation.
18. Enjoy some gelato
There is arguably more reason to enjoy some gelato in Sicily than anywhere else in Italy as many argue that ice cream and sorbet were actually invented on the island. Possibly dating back to Roman times, but certainly as far back as the Medieval Arabs, the theory is that a series of runners brought snow down from the snow-capped peaks of Etna to Palermo and Catania where it was flavoured with either honey or sugar and fruits.
19. Share your secrets with the Ear of Dionysius
Situated in the Archaeological Park of Neapolis, the Ear of Dionysius is a famous man-made cave, shaped not surprisingly given its name like a giant ear. Legend has that it was built by a local tyrant – Dionysius I of Syracuse – who ordered that the grotto be built to contain his prisoners, leaving an opening in the ceiling so that, unseen from above, he could hear the prisoners whispering their secrets and gain the upper hand. Certainly, visit today, whisper your secrets whilst inside the ear and they will be heard by everyone inside, no matter whether they are next to you or at the opposite end of the cave!
20. Marvel at the mosaics at the Duomo di Monreale
Not far from Palermo, the cathedral at Monreale is a spectacle not to be missed. The exterior is beautiful, dating back to 1172 (albeit with later additions) however it's the interior that is most incredible. It literally glitters and sparkles with mosaics. You will find them dazzling even without a guide to tell you more about them, but we think it's a great idea to make the most of one of the audio guides or to hire a personal guide to really bring them to life. Get Your Guide have a number of guided tours to choose from. Or you can purchase your tickets and tours at Viator.
21. Visit the birthplace of Archimedes and home of Plato and Pythagoras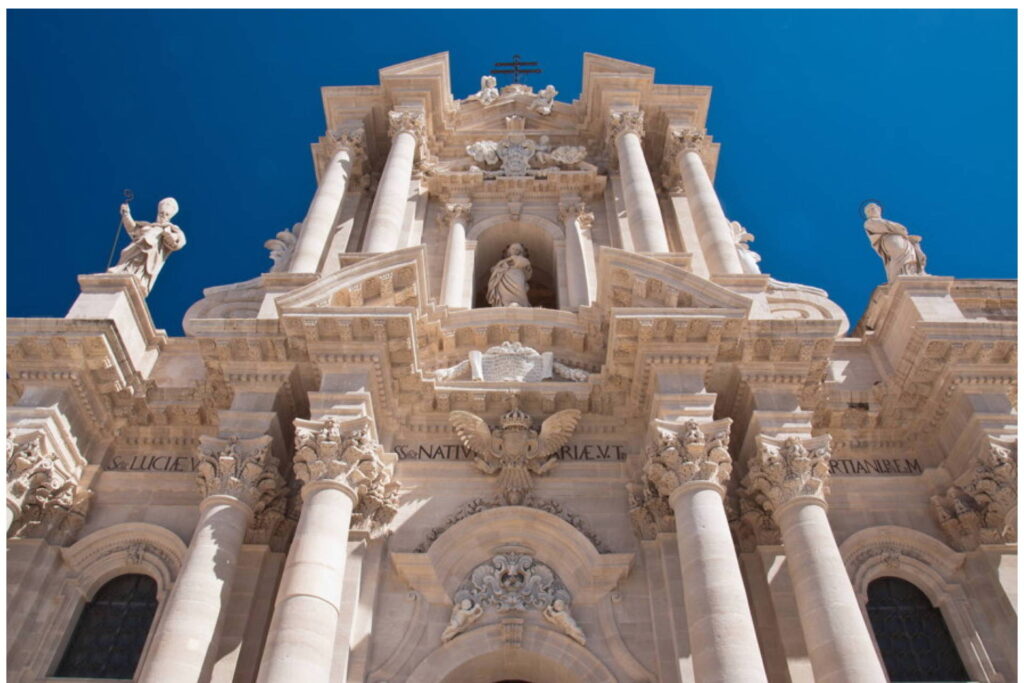 Siracusa ('Syracuse') is a place steeped in ancient history. It's also home to one of the biggest Greek theatres in the world. Visit in May and June and you can coincide your trip with one of the live performances of Greek drama that still take place in the theatre ruins. Along with the theatre relics, you should also set aside time to visit the Roman amphitheatre where gladiators would once have fought wild beasts and where there was a huge altar dedicated to Zeus used for public sacrifices. Once you have explored the Greek and Roman remains, head to the Museo Archeologico Regionale to view a collection of ancient artefacts.
22. Explore the underground tunnels in Ortigia
You can't visit Siracusa without visiting Ortigia. Linked to Siracusa via a bridge, this island is the very much the jewel in Siracusa's crown and is home to the remains of the 6th century BC Temple of Apollo. There are plenty of other sights worth seeing, one of which lies under the island's streets. The hypogeum – ipogeo – is accessed from a small opening in the walls of the Archbishop's Palace in the Piazza Duomo and consists of a number of passageways and galleries, one of which was used as an air raid shelter in WW2. In fact, the route that tourists now take is dedicated to the civilian victims of the Anglo-American bombing of Syracuse on 19 July 1943. It's worth coinciding your visit to Ortigia so that you can enjoy a stroll on the island as the sun sets and to enjoy dinner and drinks in one of the many restaurants and bars.
Explore Siracuse and Ortigia by velobike.
23. Head underwater
As well as heading underground, you can also head underwater when you're on holiday in Sicily. There are a number of good diving spots to choose from, one of which is the Zingaro Nature Reserve. There are three good dive sites within the reserve. The first of these is the Capua Wreck off the coast of Scopello. This is the wreck of a British cargo ship that was sank during WW2 and which was carrying arms for the Italian troops. The other two dive sites in the reserve (and where you have the opportunity to view more of the underwater wildlife) are the Grotta dell' Acqua Dolce in Uzzo Bay and the Grotta del Camino.
24. Spend the day skiing
If visiting during the Winter months, there are even opportunities to brush up on your skiing in Sicily. Whilst it's not a destination for the serious skier, those wanting to combine sightseeing with the chance to head down the slopes may want to consider a holiday to Sicily. There are three ski resorts in Sicily, two of which lie on the slopes of Mount Etna – Linguaglossa on the volcano's Northern slopes and Nicolosi on the Southern slopes – as well as Piano Battaglia which is not far from Palermo. Both resorts on Mount Etna boasts 4 red runs and either 1 or 2 blue runs, whilst the resort at Piano Battaglia has 3 runs in total and has a lower altitude of just 1600 metres.
25. Eat as much couscous as you want!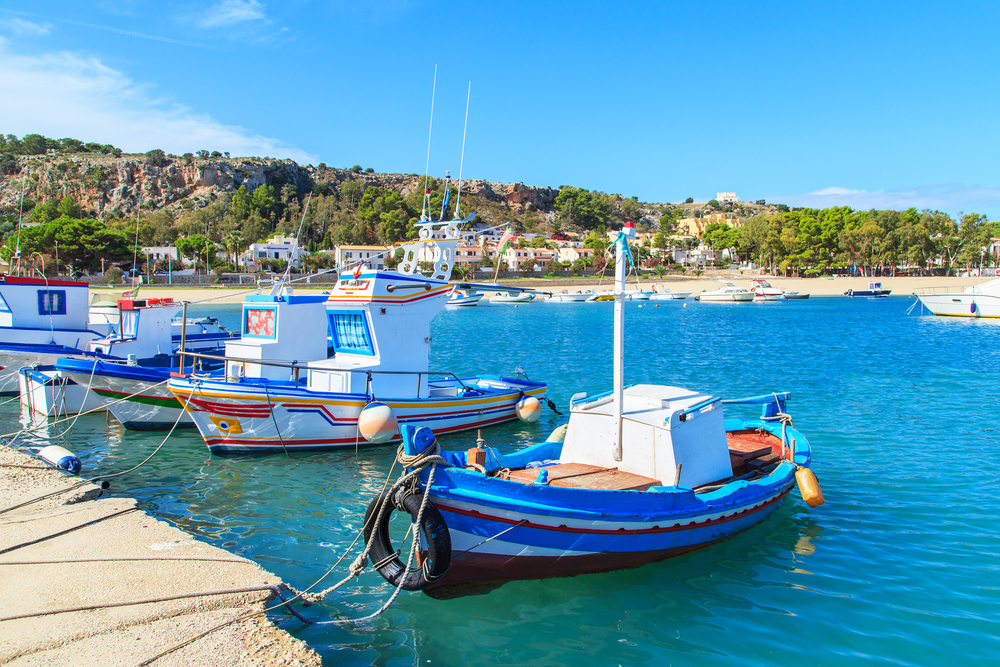 Italy is famous for its food festivals and Sicily is no exception. One of the region's most famous is San Vito Lo Capo's couscous festival. Held in September each year (but with a smaller preview event in June), it celebrates everything about this dish of durum wheat semolina, with plenty of free tastings on offer as well music to accompany the feasting. The event lasts for five days and culminates in a spectacular fireworks display at midnight on the last day.
26. Enjoy the views across to Tunisia
Head to Erice where the Norman castle – Castello di Venere – now sits where the temple of Venus once stood. Believe it or not, visit on a clear day, and you should be able to enjoy the views across the sea all the way to Tunisia in the distance.
27. Enjoy a wine tasting experience
Sicily has been growing grapes and producing wine for centuries but it's only within the last 30 years that it has seen the quality of its wine improve substantially. New vines have been planted on the slopes of Mount Etna and Sicilian wines have begun to win prestigious international prizes. One of the island's most famous wines has its roots much further back though and is actually a sweet wine – marsala – created originally by British entrepreneur, John Woodhouse, who back in the 1700s, played with the Sicilian wine to create a fortified wine that would survive the journey from Italy back to Britain. The Italians took over from the British and, with Vincenzo Florio at the helm, the Italian tycoon bought up much of the land around Marsala and set up Cantine Florio. The winery still exists today (albeit in new hands) and it's well worth a visit. There are also plenty of events revolving around wine. The first of these each year is the Cantine Aperte (Open Cellars), a nationwide event that is taken very seriously in Sicily with wine producers and wineries throwing open their doors and offering a series of events including visits and tastings. In September there is then the Sagra dell' Uva (Festival of the grapes) in a number of towns in Sicily including Vallelunga, Roccazzo, Gulfi, Ragusa and Chiaramonte, followed in November by the Festa di San Martino. This Saints Day is celebrated in many towns and villages by a sampling of the year's new wine. Mick Hucknell, the mastermind behind British band Simply Red, actually owns a vineyard on Sicily – 'Il Cantante.'
28. Go rock climbing
Whether you are a beginner or a pro, you will be able to enjoy the opportunity to enjoy rock climbing in Sicily. There are four main areas in which you can try the sport. The largest is in Palermo where you have Monte Pellegrino which is over 600 metres in height and several kilometres long and Monte Gallo. The second is the San Vito Climbing area near Trapani where a large coastal cliff nearly 4 km long has a wide range of easy to mid grade climbing routes. Next is the Ragusa rock climbing area in Sircause and finally there is the Messina rock climbing area in the North East of the island.
29. Play a round of golf
Whether you are an experienced golfer or very much a beginner, there are golf courses in Sicily perfectly suited to you. These include a rather magnificent 45 hole golf complex near Sciacca opened in 2012, as well as two 18 hole courses at Donnafugata, and 18 hole courses at Le Madonie and Picciolo. The latter enjoys views of Mount Etna whilst the courses at Donnafugata enjoy views down over a 6th century Greek necropolis. The Vedura Resort stretches for about 2 km along the Sicilian coastline and both 18 hole courses here enjoy views over the sea. Finally, there is a smaller 9 hole course in the heart of Palermo.
30. Enjoy a show at the puppet theatre
Dating back to the 1800s, puppetry has a long and rich history in Sicily. The theatre in Siracusa is certainly the most famous of the puppet theatres on the island. Here, just a stone's throw from the Duomo, visitors can enjoy a walk around the puppet theatre museum to learn more about its incredible history as well as enjoying a show – 'opera dei pupi'. Puppeteers will perform plays based around Italian Renaissance poems using handmade wooden puppets.
31. Visit the weekly markets
There is no better way to get a flavour for the Italian way of life that at one of the many weekly markets in the towns and villages in Sicily. Most take place in the morning. The island's capital city – Palermo – has a number of food markets including Ballaro, Cap and Vucciria, all located in the heart of the city however there are plenty of others to enjoy too. Some of our favourites include the fish market at Trapaini (Mercato del Pesce di Trapani) which you should head to early to enjoy the best catches of the morning, the Mercato di Ortigia and the market in Catania. Your nearest tourist information centre will be able to provide more details of the market days in the smaller villages on the island.
32. Get creative with a ceramic making lesson
The city of Caltagirone is famous for its ceramics with a long history stretching back certainly to the Middle Ages but potentially much further back to prehistoric times. Therefore, it's perhaps not surprising that it's also home to the Museo Regionale della Ceramica. Explore the city on foot, enjoying looking in at the ceramic workshops that are scattered throughout the city and finish off your visit with a lesson at one of the pottery schools to create your own ceramic masterpiece.
33. Hire road bikes
Sicily is great cycling country. At the most basic level, it is easy to explore some of the major towns and cities such as Palermo by bike with bike rentals easy to find. However, if you want some more serious cycling, there are plenty of longer routes to enjoy. One nice cycle is from Palermo to Monte Pellegrino, offering a moderate climb but in return for which you will be rewarded with wonderful views.
34. Go mountain biking
If mountain biking is more your thing, then there are plenty of trails to enjoy which will take you up and down hills, through woods and across fields. As a general rule, the West and South coast of Sicily is pretty flat whilst the central area is more hilly. The scenery is incredible and there are trails to suit all abilities. If you choose to hire bikes then the bike rental office will be able to help with some route options. However, most popular for mountain biking are probably the Peloritani, Nebrodi and Madonie mountain areas. Another great opportunity to use mountain bikes is on the Aeolian Islands, particularly Lipari, Salina and Vulcano.
35. Rent an e-bike
Whilst many will appreciate the challenge of cycling on Sicily's roads, or tackling its mountainous hillsides, for those who want to explore on two wheels without having to break a sweat, then e-bikes are a great solution. You'll find that many of the bike rental stores in Sicily now offer e-bikes to their customers.
36. Go horse-riding
The other alternative is that you swap the two wheels for four legs! There are a number of pony trekking companies in Sicily with treks for all ages and abilities and a variety of routes to choose from. You could trek through the vineyards of Mount Etna, along one of Sicily's beaches or through the Alcantara gorge….
37. Eat chocolate in Modica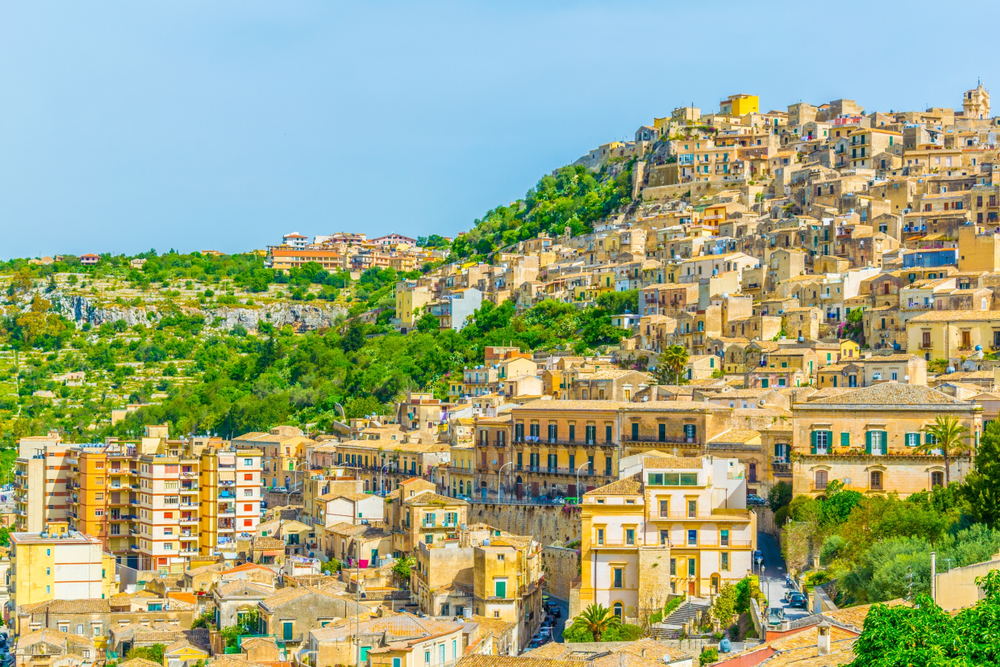 Situated in South East Sicily, Modica is a Baroque styled town famous for its chocolate making tradition, something that it owes to Spanish rule centuries before. The Spaniards often brought back new foodstuffs from their explorations of South America and cacao was one of these. Today, chocolate workshops in Modica still make chocolate based on the Aztec traditional methods often including chilli, vanilla or cinnamon flavouring. If you want to learn more about the history behind it, visit the chocolate museum in the town on Corso Umberto. Whilst here, make sure to leave time to explore the beautiful town too, wandering through the labyrinth of narrow streets and enjoying the impressive architectural buildings such as the Church of San Giorgio and the Castello dei Conti.
38. Stock up on Frutta du Martorana
Named after Eloisa della Martorana who founded the Benedictine convent in Palermo, these are one of Sicily's most famous foodstuffs. Historically, marzipan was shaped into extremely realistic fruits and vegetables, a tradition that still continues today but nowadays you will also find designs that trick the eye even further…. marzipan sandwiches or marzipan sea food that look just like the real thing. The tradition owes itself to Eloisa who herself used to decorate the church with handmade marzipan fruits.
39. Follow in the footsteps of Inspector Montalbano
Inspector Montalbano is an Italian detective series that has been running since 1999 and which is set in the imaginary town of Vigata in Sicily. However, you'll be able to discover many of the set locations are around in the area around Ragusa. Montalbano's house is, in reality, in the village of Punta Secca whilst the fictional police station is the Scicli town hall. Numerous scenes are filmed in Ragusa whilst Modica also appears in certain episodes. Of course, after all his detective work, the inspector needs to cool off and you'll often find him on the sandy beaches of Donnalucata and Sampieri.
40. Admire streets strewn with flowers in Noto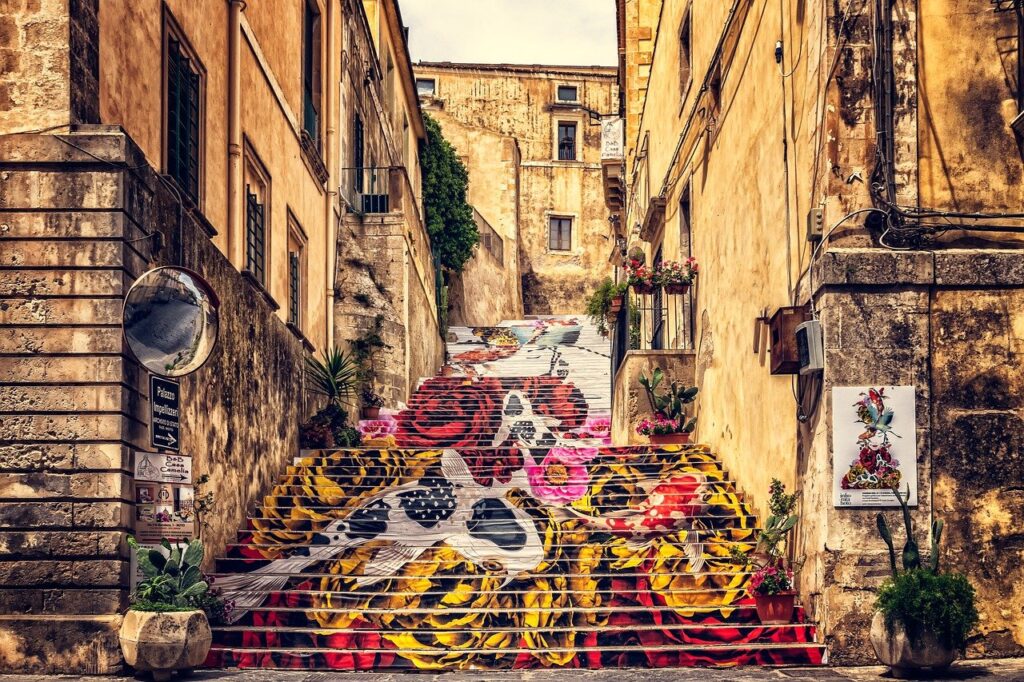 Each May, Noto plays host to the Infiorata. Work on the floral masterpieces starts on the Friday ready for visitors to view the finished masterpieces on the Saturday. The Via Nicolai is transformed into a flower carpeted walkway, with parades and stalls creating a carnival atmosphere. If you have children, you may want to visit on the last day (Monday) when little ones are let loose along the street, scattering the petals and destroying the temporary artworks until they are re-created the following year.
41. Climb La Rocca di Cefalu
Cefalu is a charming fishing town and its worth spending time wandering along its streets, visiting the Norman cathedral and taking in the sights of the colourful fishing boats lined up along its shores. However, a visit would not be complete without climbing to the top of La Rocca di Cefalu which overlooks the town quite dramatically and from where you will enjoy some stunning views.
42. Take the cable car down to Isola Bella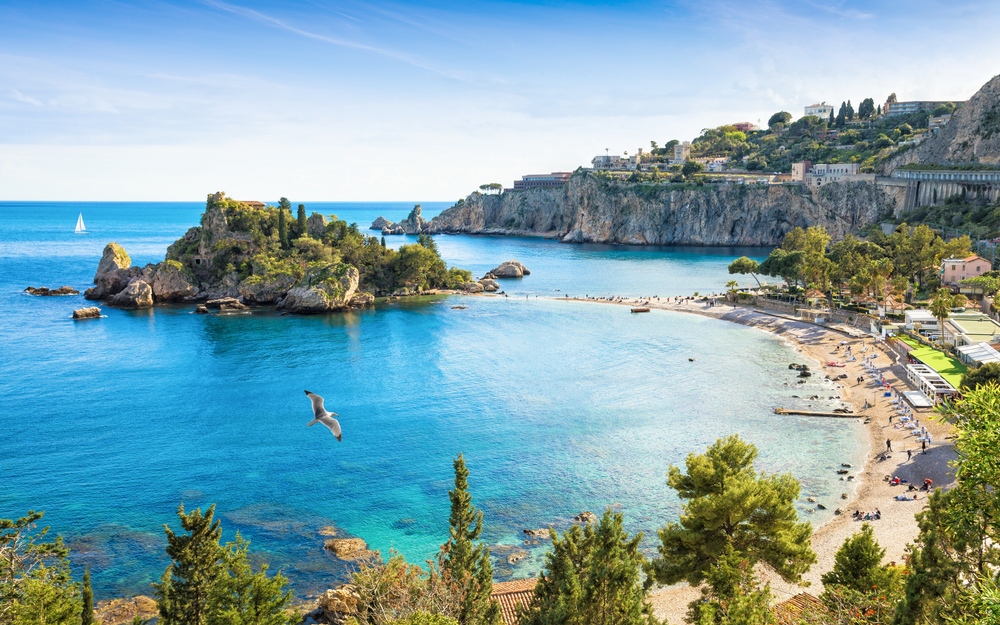 A short cable car ride will take you from the centre of Taormina to the shore where it's just a short walk across to Isola Bella. It's a very pretty cove with pebbled beach and crystal clear waters, the perfect spot to cool off from the heat of the midday sun! If you're a fan of water sports, then snorkelling, jet ski rentals, diving and boat hire are all available nearby.
43. Try out some water sports
There are plenty of opportunities to try out some water sports in the waters around Sicily. Sicily boasts over 1000 km of coastline so it's not a surprising that there are a wealth of activities on offer, from scuba diving to water skiing and from canoeing to kite surfing. Whether you're looking to hire equipment or to take a course, there are numerous centres to choose from. Please get in touch if you would like more information about the water sports centres near to your villa rental in Sicily.
44. Visit the black lava stone buildings of Catania
Catania is Sicily's second largest city, but it's very different in looks to Palermo with most of its buildings made from black lava. A good starting point is the Piazza Duomo in the heart of the city. Here you'll find the Fontana dell' Elefante, a fountain which has at its centre an elephant made of lava and who has on his back an Egyptian obelisk with a globe on top. For opera fans, Bellini was born in Catania and there is a museum dedicated to the opera composer. The Cathedral also houses his tomb. Also of note in the city is the Roman theatre and the Medieval castle – Castello Ursino.
Enjoy a street food tour of Catania.
45. Visit the temples of Selinunte
Set on the North Western coast of Sicily, the temples of Selinunte cover a vast area and are a superb example of the fusion of Phoenician and Greek culture. The city was destroyed in 409 BC by Carthage but excavations have unearthed eight temples, a fortification system and an acropolis.
46. Enjoy a boat trip
It's not surprising, given the region's island nature, that there are plenty of opportunities to enjoy a boat trip in the seas around Sicily. Some include a boat tour in the North West of the island where you can explore some of the caves in the rocky coastline including the Grotta Azzurra, Grotta dell' Oro and the Grotto delle Barche where fisherman used to moor their boats in a storm. Or off the same North West coast are the Aegadian Islands, a group of five small mountainous islands (Favignana, Levanzo, Marettimo, Formica and Maraone) offer another perfect excuse to hop in a boat.
47. Enjoy a train ride on the Circumetnea Railway
Built at the end of the 19th century, the Circumetnea Railway is a 100 km long, 950 mm narrow guage railway. As the name suggests, the railway circles Mount Etna from its starting point in Catania to Riposto. It's a unique way to see this beautiful area and the train passes through a number of picturesque villages and past vineyards on its journey. That said, it does also pass through some industrial areas too but it's a rather unique way of exploring this part of Sicily. The journey time can depend on weather conditions but is typically between 3 and 5 hours.
48. Join in with the carnival at Acireale
The Carnivale di Acireale is one of Italy's oldest and most famous carnivals dating back to the 16th century. Carnival season is a spectacle to behold throughout Italy and here is no exception. Floats parade through the streets of Acireale every February and March, often parodying politicians and public figures with larger than life papier mache figures, whilst those that come out to watch are showered with confetti and sweet treats. Never missing an excuse to combine a celebration with food, visitors will find food stalls on every corner. The atmosphere is joyous and jubilant. The event culminates in a spectacular burning of the Carnival King and an impressive fireworks display. Don't worry if you can't visit Sicily for carnival season though…. Luckily, the festival is repeated in August and named Notte Bianca reflecting the longer Summer evenings.
49. Enjoy the talent at the Ibla Buskers Festival
The Buskers Festival is a unique event held every October in the Ibla district of Ragusa. For a four day period, street performers, musicians and artists of all shape and form converge on the town's picturesque streets and alleyways to perform their acts. It's a particularly popular event with families with children who marvel in the variety of acts to enjoy. From jugglers to tight rope walkers and from violinists to fire breathers, there is something for everyone to enjoy.
50. Spend the day at the zoo
The Bio Park of Sicily (Bio Parca di Sicilia) is a superb zoo, offering the chance to see a wide variety of animals, reptiles, birds and even dinosaurs! It's a great day out for those with young children who will find plenty of space to run around and burn off some energy! Take a picnic with you which you can enjoy whilst the children are amusing themselves in one of the play areas.
51. Visit the salt marshes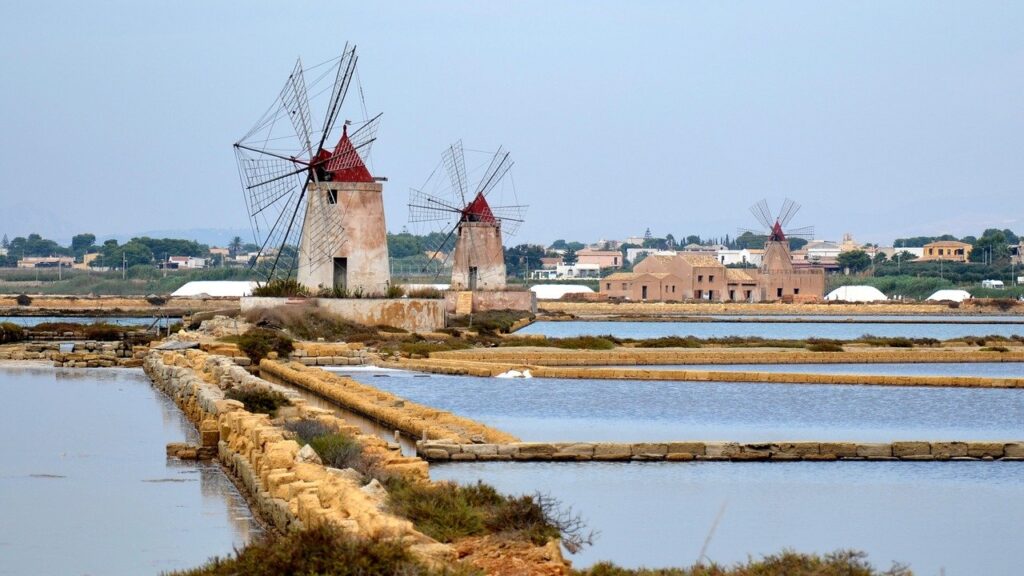 On the West coast of Sicily, nestled between Trapani and Marsala, are the salt pans. Now a fully protected nature reserve and thus protecting this long tradition of salt extraction, these salt marshes have huge historical importance to the island and you can learn more about the history and process to extract the salt at the Salt Marsh museum (Museo delle Saline). At its peak the salt marshes produced over 100,000 tonnes of salt each year, exporting it as far afield as Norway. These days, the marshes themselves are a spectacle to behold with enormous piles of salt drying in the sunshine and with a series of windmills dotted in between. If you don't have your own transport, then a fun way to get to the marshes is to hop on board the train from Trapiani. The round trip takes about 3.5 hours and stops at both the museum and the marshes. But, if you have come by car, and if you have time, once you have enjoyed your visit to the salt pans, why not take a boat trip across to the nearby island of Mothva.
52. Spend time with the butterflies
The Casa delle Farfalle in Viagrande is a charming place to spend an hour or two immersed in nature and enjoying the company of some beautiful butterfly species. It's a great day out for those with young children who will learn about the life cycle of a butterfly and will enjoy the chance to get up close and personal with these beautiful insects. Our top tip is to wear bright colours… these will attract the butterflies who tend to land on those wearing the brightest outfits!
53. Hike one of Sicily's trails
The landscape of Sicily is incredibly diverse and this makes it a superb region to explore on foot. Whether you an experienced hiker looking for a day long trek, or if you're after a more relaxing hike lasting a couple of hours, there are numerous trails to explore. Many tracks follow the routes that donkeys would once have walked on. So, whether you're looking for a coastal hike along the beach, a walk through ancient ruins, a hike through forests or meadows or even a scramble up a rock face or climb up an active volcano, there is something for everyone.
54. Be at one with nature
You're spoilt for choice when it comes to nature reserves in Sicily. Probably the most famous is the Zingaro Nature Reserve in the North West of the island. With mountains on one side and coastline on the other, it is beautifully unspoilt and has a wide range of flora and fauna, secluded beaches and pathways. On the other side of the island in South East Sicily is the Vendicari Nature Reserve where you will find flamingos as well as a number of interesting archaeological sites. Also of note is the Capo Gallo Nature Reserve and the Cavagrande del Cassibile Nature Reserve. The latter is dotted with small lakes and waterfalls along with a couple of pre historic cave villages.
55. Race around the track
Circling the Pergusa lake in the very centre of Sicily is a race track which over the years has hosted a number of sportscar and motorbike events. These days, it is also possible to pay to drive a supercar around the track. Due to the location of the track inside a nature reserve, racing activity at the circuit is restricted to the Spring, Summer and early Autumn months. If you're not a car fan, then don't worry! A visit can be combined with a trip to nearby Enna which is home to one of the grandest castles in Sicily – the Castello di Lombardia – as well as an archaeological museum. It's a great place to visit if you're looking to cool off from the heat of the sun too. Sitting at 931 metres above sea level, it stays that little bit cooler even in the peak Summer months.
56. Shop for souvenirs in Sicily
We always think it's nice to take home a souvenir from your holiday so that when you're back home you will always remember your stay. If you're looking for something authentic, why not buy a coppa hat for the gentleman in your life, a wooden marionette to remind you of the puppet theatres, some brightly painted pottery from Caltragiorone, lava stone products such as vases or bowls or a straw coffa bag decorated with brightly coloured pom poms and trinkets. Whilst edible souvenirs may not last, you'll certainly enjoy having a taste of Sicily back home. Chocolate from Modica, Martorana fruit or Sicilian wine will all go down well back home!
57. Grab a bargain at the shopping outlet
If you enjoy shopping, then you may want to find a bargain at the outlet mall. Located just off the Palermo – Catania motorway in the heart of the island, the Sicilia Outlet Village is an outlet mall, featuring over 140 stores and home to some of the most well known brands in the world including Armani, Furla, Hugo Boss, Jimmy Choo, Prada, Missoni, Ralph Lauren, Lacoste and many more, all at a fraction of the normal retail prices.
58. Relax at the spa
After all this sightseeing and action, it's probably time to change the pace and enjoy a relaxing day at the spa and there are plenty to choose from in Sicily. A quick google search will bring up options nearest to you but some initial suggestions include the Florio Beauty House near Palermo, the Piggiolo Etna Golf Resort and Spa, Aquae Leonis on the East coast of the island and the spa at the Verdura Golf & Spa resort on the West side.
59. Enjoy plenty of Italian food!
Like anywhere in Italy, Sicily boasts some fantastic restaurants. If you enjoy fine dining, then there are over a dozen Michelin star restaurants that you may want to try out including four with not one but two Michelin stars. Two of these are in Ragusa – Locanda di Don Serafino and Duomo. But you definitely don't need to opt for gourmet dining. Family run trattoria, lively pizzeria and fantastic street food will provide you with a feast fit for kings.
60. Explore the unique architecture of Pantellaria
Pantellaria is actually the largest island off the Sicilian coast and it sits closer to Tunisia than to Sicily (110 km versus 70 km). Volcanic in origin, the landscape looks almost lunar with dark colours, barren black hills and lava flows. The island is battered by strong winds all year round which only adds to the lunar feel. The winds have forced olive trees to grow almost horizontally and have meant owners have protected their gardens with strong stone walls. The island is also short of water and so buildings have been constructed in a unique style. Called dammuso, houses are square whitewashed buildings with roofs shaped to collect the rainwater.
If we've whetted your appetite enough, then take a look at the phenomenal apartments and villas in Sicily available to rent for your next holiday through Bookings For You.