Locarno is situated on the North Eastern tip of Lake Maggiore. Lake Maggiore is the second largest lake in Italy and the largest in Southern Switzerland. Locarno falls into the Swiss part of the lake and ranks number 74 in the list of largest towns in the country. However, what it can claim to holding the top spot for is for having the hottest climate in Switzerland with around 2,300 hours of sunshine every year.
Locarno is first mentioned as far back as 807 when it was known as Leocarni and historians assume that there must have been a lakeside market here in the Roman era. Later on, several castles were built in Locarno in the early middle ages. One of these actually still stands today. It was first mentioned in 1210 as the Orelli castle. This was then destroyed just leaving the very centre remaining which has now been renovated and is home to the city's archaeological museum (see more below).
The town really is fascinating to explore due to the vast amount of history dating back hundreds of years and the huge variety of events which now take place there. Activities vary from water sports on Lago maggiore to a ride on the funicular to see the beautiful views from above. This travel guide will show you our favourite places to visit and activities to do in the city from our multiple trips to Locarno.
What to do in Locarno
Locarno is not a huge city and is easy to explore by foot, or if you need a break, there are buses and taxis available. The best place to start your visit is in the Piazza Grande which is a picturesque square surrounded by shops, restaurants and bars in the heart of the city. There is a market held here every Thursday from 9 until 5. After looking around the Piazza Grande, we recommend you take a short walk down to the lakeside to take in the beautiful views of Lake Maggiore. Here you will also find a number of small bars and shops which are perfect for finding a precious souvenir to take home with you.
Also by the lake is the Camellia Park. The park was established in 2005 and is now home to over 500 varieties of this beautiful flowering plant, all in a multitude of colours. With plenty of places to just sit and relax and take in the beautiful surroundings, this is one of our favourite things to do in Locarno.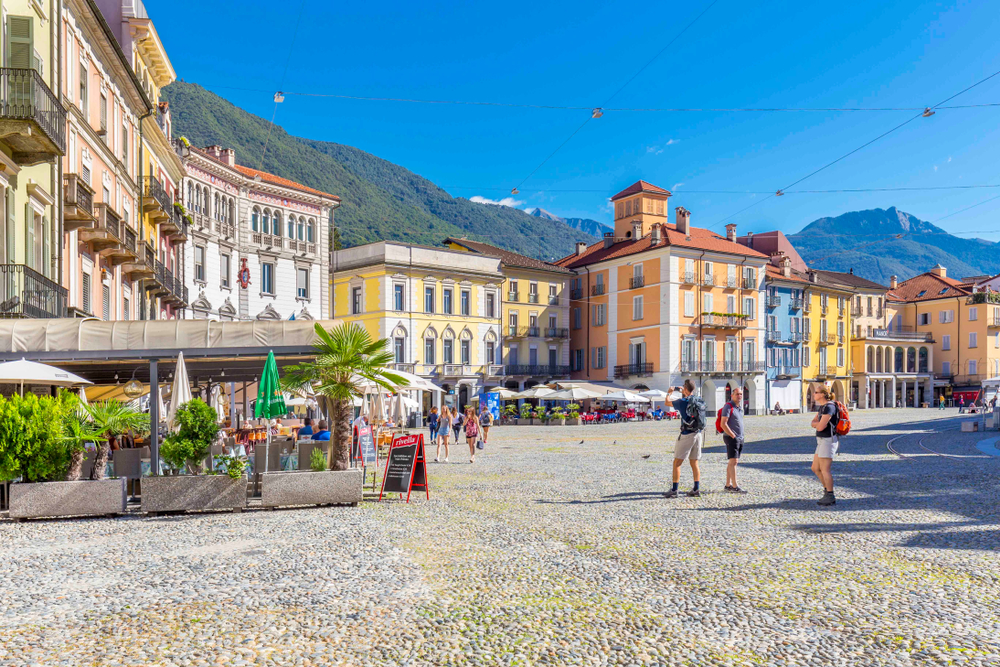 If you are looking to learn about the history of the city then the Castello Visconteo is the place to go. Just a 5 minute walk from Piazza Grande is where you will find this beautiful castle, parts of which date back to the 12th century. It is now a museum which displays archeological artefacts and also has two exhibitions telling the story of key historical events which have affected Locarno.
To further indulge in the history of the city you can visit the Madonna del Sasso which is a pilgrimage church nestled just above Locarno. The church has beautifully decorated walls and ceilings with a viewing platform over the city. The origins of the church date back to 1480 after a vision of the Virgin Mary was experienced. To get to the Madonna del Sasso, you can either drive which will take around 10 minutes from the centre of town or walk up the hillside. Alternatively, you can also take the funicular from Locarno town centre.
Incidentally, the Standseilbahn Locarno Orselina funicular is a fun trip in itself. It also leads to the Cardada cable car (which in turn leads on to the Cimetta chairlift). For those visiting Locarno in the Winter months, this is where you can enjoy the opportunity to ski. This is the home of the Scuola Sci Cardada (Cardada Ski School) which organises skiing and snowboarding lessons with experienced and qualified instructors for people of all ages. There are five pistes in total here, the longest of which is 1.8km. As an added bonus, four of the pistes are South-facing so skiers can enjoy the absolutely breath-taking views on their descent. Even if you're not a fan of skiing, it's worth heading up here to enjoy a meal at one of the mountain restaurants up here, each serving traditional local cuisine.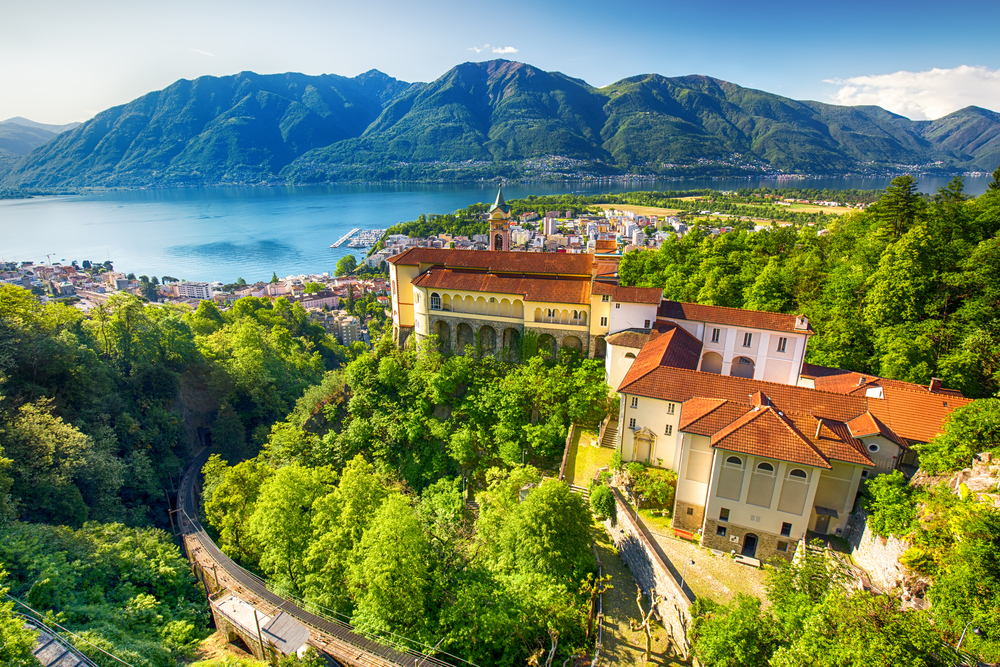 Another great activity for all the family to enjoy in Locarno is the Locarno lido. There is something for everyone here, including multiple indoor and outdoor swimming pools, water slides, diving boards, a gym and a floating obstacle course on the lake. This is the perfect place to relax and cool down after exploring the city. It is also very easy to spend the day here as they have a cafe and beautiful views of Lake Maggiore. Alternatively, you're welcome to take your own food into the complex and enjoy a picnic on the lawns leading to the lake. If you are looking for an even more relaxing place to visit to get away from the hustle and bustle then there is also an adjacent spa, the perfect place to revitalise.
Book your tickets to the Locarno lido and spa here
Finally in Locarno, if you're a bird lover or nature fan, there is also a falconry (Falconeria Locarno). Here you can enjoy bird displays all year round with a huge range of bird species.
Alternatively, for art lovers, just a 5 minute drive from the falconry centre is the Ghisla art collection which is a contemporary art studio designed by Locarno architects Moro & Moro. It displays work by Picasso, Warhol, Haring and many more. It is hard to miss due to the building being a large red cube!
We recommend you try as much as possible in Locarno on your visit as there is lots to explore!
Events in Locarno
For a small city, Locarno has many events throughout the year. The first major event of the year takes place at the end of March and beginning of April and is the Camelie Locarno. This is a scientific exhibition with displays of over 200 different types of camellia flowers throughout Locarno's public gardens and parks, arranged by an array of talented gardeners.
Arguably the most famous of Locarno's annual events though is the Locarno film festival. Normally held at the start of August every year, this festival attracts movie lovers from all over the world. It also features the world's largest outdoor cinema with around 8,000 seats where you can discover an array of talented filmmakers in a picturesque location. If you are lucky, you may even be able to spot a few celebrities as around 20 awards are given out during the course of the 10 day festival. Even if you are not interested in the films themselves, then Locarno is still incredible to visit during this time due to the vibrant atmosphere and delicious food available.
Slightly earlier in the Summer is the Moon and Stars music festival in Locarno, held every July. Over the years it has played host to some very famous musicians such as Christina Aguilera, Snow Patrol and Liam Gallagher.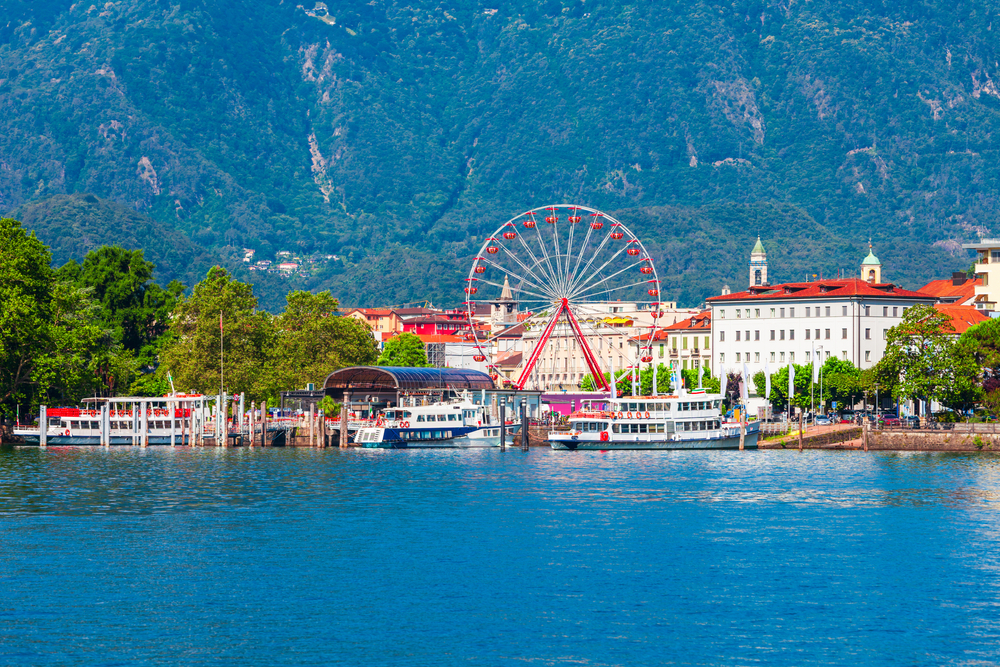 But, of course, you can't go to Lake Maggiore with out tasting the delicious food and the Locarno risotto festival at the end end of August and beginning of September is the perfect place to do so. Each year several chefs cook their favourite family risotto recipes in the Piazza Grande for you to taste whilst chatting to locals and other holidaymakers in Locarno.
For a smaller event to enjoy in Locarno, Le Corti in Canto (literally translated as the singing courtyards) is a lovely event. It takes place on the third Saturday in September and during this time the streets of the old town, its churchyards and homes along with the Castello Visconteo are filled with medieval song as well as with poetry performances.
Don't worry though – Locarno's events don't just take place in the Summer months. From mid November to the start of January every year, Locarno on Ice event takes place. During this festive event, the Piazza Grande transforms into a winter wonderland with an ice skating rink in its centre. Festive gifts, foods and fragrances are sold in the Christmas market that surround it.
Where to stay in Locarno
If you want to visit Locarno, then we can highly recommend choosing a Lake Maggiore villa. Whilst there are plenty of accommodation options in Locarno, we'd argue that you'll actually find much better value for money across the border in Italy. So it's worth considering any of the Italian Lakes villas available from Bookings For You for your trip. Wherever you stay on Lake Maggiore, you'll be able to use the public boat network to easily get to Locarno.
Alternatively, if you're looking for a hotel in Locarno, then check out Expedia for a great range of Locarno hotels at great rates.
How to get to Locarno
By plane: The nearest airport to Locarno is in Lugano, Switzerland. However, most people tend to fly into Milan Malpensa or into Zurich airport which have more choice of flight options.
By train: Locarno enjoys good train links. Check out train options at https://www.sbb.ch/it/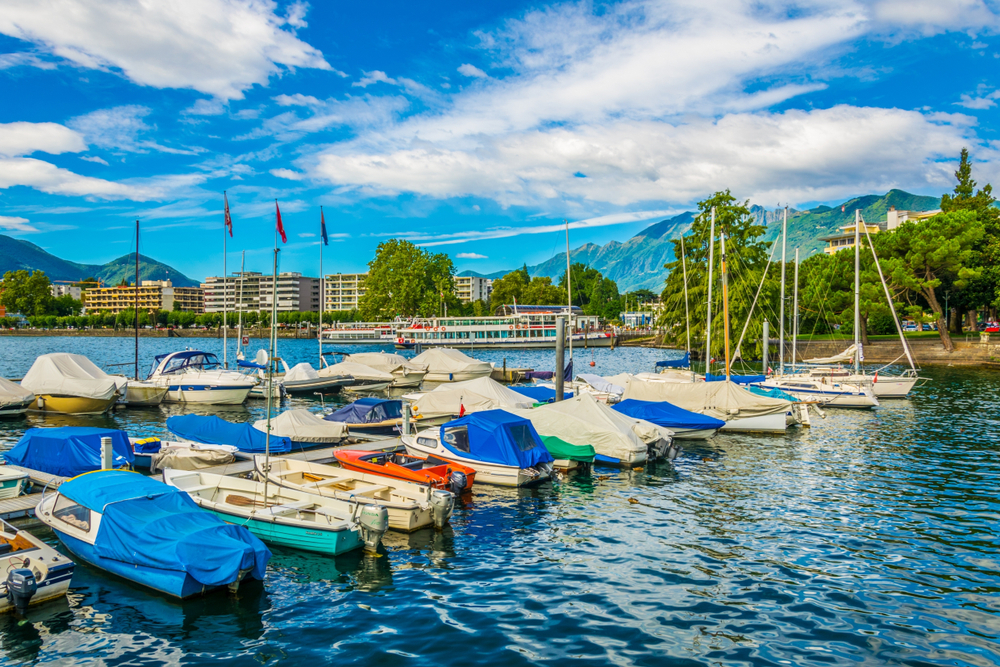 By boat: It is easy to get to Locarno using the public boat network that criss-crosses Lake Maggiore. The boats in the Swiss part of the lake operate between April and October each year.
By car: There is paid parking in Locarno. However, drivers should be aware that many of Locarno's central streets are pedestrianised. An easier option may be to use one of the two free Park & Ride car parks located near the Spazio Cinema. The Pardo Bus service has a free shuttle from here to the centre of Locarno every 20 minutes and operates from 08.30 in the morning to 09.30 at night.
Once in Locarno, there are lots of ways to get around including an excellent bus network as well as the option to easily hire a bike at various locations throughout the city via Velospot.