We absolutely love Montefalco. Montefalco is a picture-postcard town characterised by a warren of narrow, cobbled streets within ancient walls. It's hard to get lost though – the town is helpfully set in the shape of a starfish with five main gates that provide access to five main roads that all lead uphill to the central five-sided piazza – the Piazza del Comune.
Montefalco has a rich and long history, inhabited since ancient times but with a very distinct Medieval feel to it these days. It certainly deserves its place among the 'borghi piu belli d'Italia'. Frequently referred to as 'the balcony of Umbria' or 'railings of Umbria' (ringhiera dell' Umbria) due to its lofty position above the surrounding countryside (it sits 473 metres above sea level), it is encircled by vineyards, olive groves and fields. On a clear day, it's possible to enjoy incredible 360 degree views that stretch all the way from Perugia to Spoleto overlooking the plains of the Topino and Clitunno rivers.
After numerous visits to the town over the years, we thought it was time we shared our top tips for those planning a visit!
What to do in Montefalco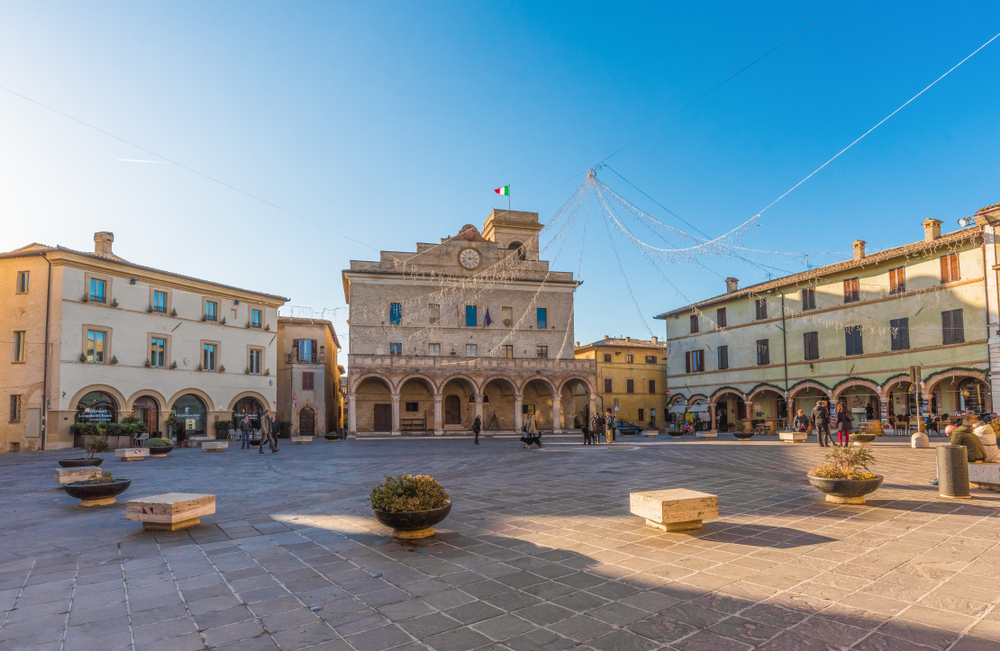 Montefalco isn't big and it won't actually take long to explore but there are a few sights worth pointing out. The first is these is located in the central piazza and is the 13th century church of San Francesco and adjacent Franciscan convent, now partly converted into a museum – Museo Comunale. The church is home to an extremely impressive series of frescoes by Benozzo Gozzoli called the 'Life of St Francis'. Other beautiful artworks can be found in the museum upstairs along with numerous sculptural remains and artefacts that paint a picture of Montefalco's glorious past. Also in the main square is the former Church of Sa Filippo Neri which is now a theatre and the Oratorio of Santa Maria.
Also of note are a number of other historical buildings including the 13th century town hall, the Church of St. Augustine, the church of Saint Bartholomew and the church of Santa Chiara (home to some wonderful frescoes and dedicated to Saint Clare of Montefalco who was born in the town in 1268 and died there in 1308).
But any visitor to Montefalco must also take the time to explore the countryside around the town. Thanks to its elevated position above the Spoleto valley, and its rural setting, Montefalco provides visitors with some of the best scenic views of the Umbrian landscape that you will find anywhere in the region. Orchards, olive groves and vineyards surround the town, creating a different blanket of colours each season. This is great walking country and if you're a keen hiker, we can heartily recommend you get out there and explore this incredible landscape for yourself.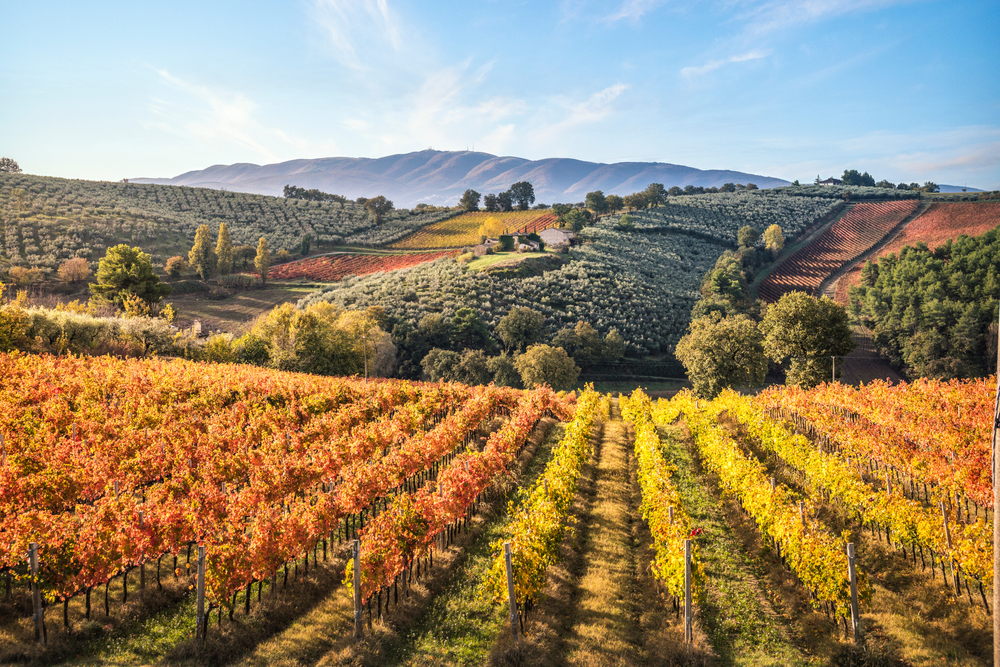 There are a number of products Montefalco is famous for producing thanks to its rich agricultural heritage and we recommend any visit to Montefalco includes some tastings of these local delicacies, among them cheese, honey, salami and olive oil. The latter has a distinctive yellowy-green colour and is incredibly fruity and peppery.
Montefalco is most famous though for its wine production and the sagrantino grape has been grown on its fertile plains since ancient Roman times. The latter is used to create the lip-smackingly good Montefalco Sagrantino (a dry red wine) and Montefalco Rosso wines. You certainly can't leave Montefalco with sampling some of these wonderful wines. And make sure you also try the Sagrantino Passito wine typical of this region. It's a delightful sweet red dessert wine and we can vouch that it is absolutely delicious! We recommend paying a visit to the tourist information office in the Piazza del Comune when you arrive. They'll be able to provide you with details and maps to local wineries and plenty of information on the wine tastings on offer.
Events in Montefalco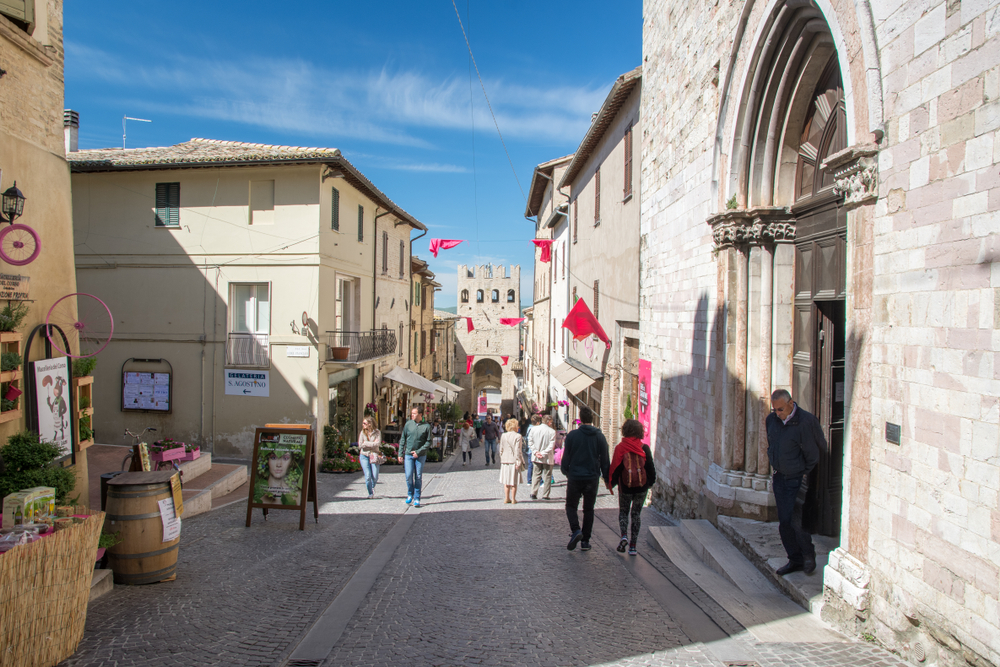 Given its focus on wine production, it's perhaps not a surprise to learn that many of Montefalco's annual events revolve around its wine. If you want to learn more about Montefalco's famous wines, the perfect time to visit is during the annual Terre di Sagrantino held every Easter. Alternatively, visit on the last Sunday in May. On both occasions, you will find cellar doors flung wide open to allow guests to taste the wines directly from the producer as part of 'Cantine Aperte'.
Alternatively, head to the town in late Summer when Montefalco plays host to a major wine festival each September – the Settimana Enologica (Wine Week) – where visitors can again sample the many wines produced in the region.
Another time to try and plan your visit is in August, to coincide with the Fuga del Bove, held on 19th of the month. The event recalls an historical bloody event involving a bull. The good (and reassuring news) is that today's event still involves a race of oxen but animals aren't harmed and it is entirely bloodless. The event is accompanied by a parade reliving the age of the Renaissance age.
And throughout the year, Monday is market day in Montefalco. You'll find plenty of stalls at largo Santa Chiara and largo Buozzi.
Where to eat in Montefalco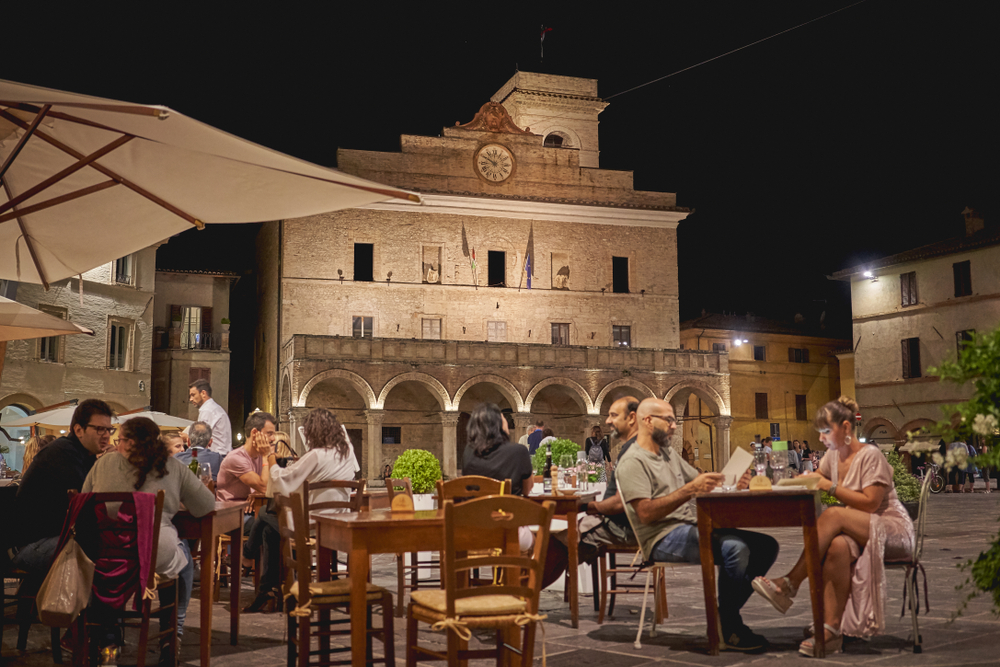 Now this is where visitors are really spoilt. I challenge anyone to find a town in Italy that has this number of excellent restaurants in such a small space. There truly are a plethora of phenomenal restaurants crammed inside its walls. In fact, there are so many that even a week here probably wouldn't give you enough time to do them all justice. Some of our favourites include:
Enoteca L'Alchimista – A restaurant and wine bar in Montefalco's main Piazza del Comune, Enoteca L'Achimista serves delicious Umbrian cuisine using only the highest quality local ingredients. Their wine list is also second to none.
Olevm – A charming restaurant offering generous portions of Umbrian fare, they also produce their own amazing olive oil which we can heartily recommend.
La Foresteria – The newest restaurant to open in Montefalco.
Ristorante Il Coccorone – A fine dining option, this restaurant offers typical Umbrian fare in a beautiful, white table cloth setting.
Re Tartu – One of Montefalco's smallest restaurants, the restaurant specialises in Umbrian cuisine using truffles.
Locanda del Falco – A rustic spot specialising in grilled meat 'alla brace'. There's no menu. Instead they'll serve up whatever is fresh on the day.
Where to stay in Montefalco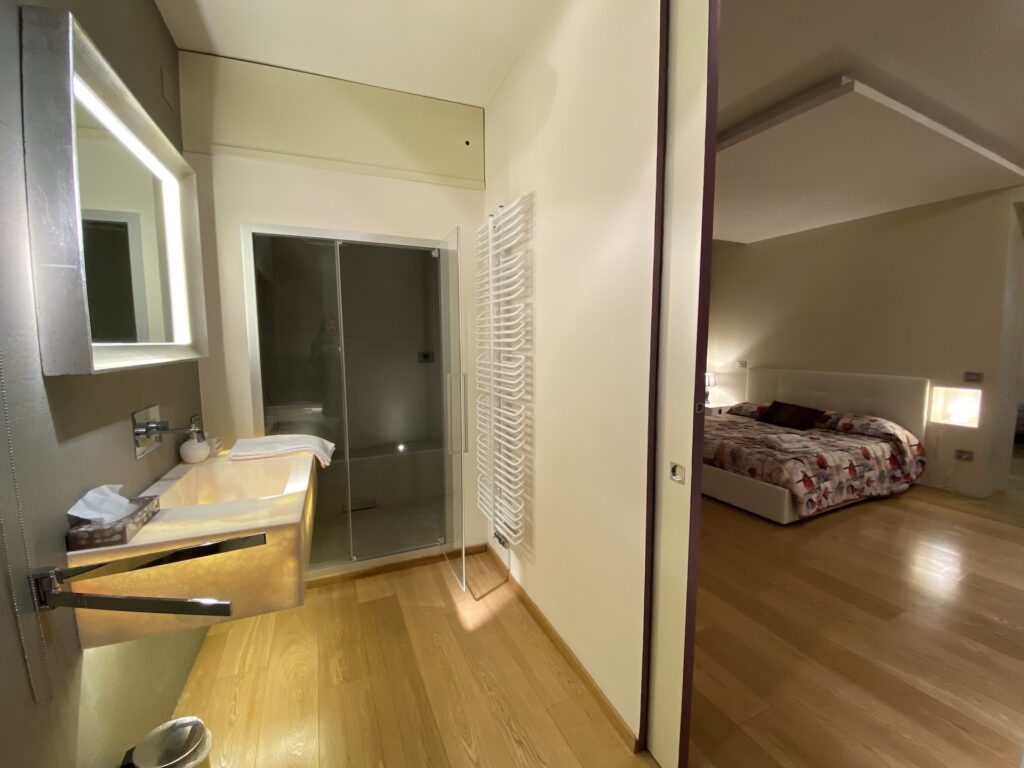 Yet another easy choice. If you're looking to stay in the very heart of Montefalco (and why wouldn't you want to be within walking distance of all those incredible restaurants?!!) then there can be no better option than Casa Clarignano. A stunning 2 bedroom, 2 bathroom apartment in Montefalco, its sits inside the ancient walls and offers spacious accommodation for up to four guests.
Or, take a look at all the apartments and villas in Umbria available from award-winning holiday rental company, Bookings For You.
How to travel to Montefalco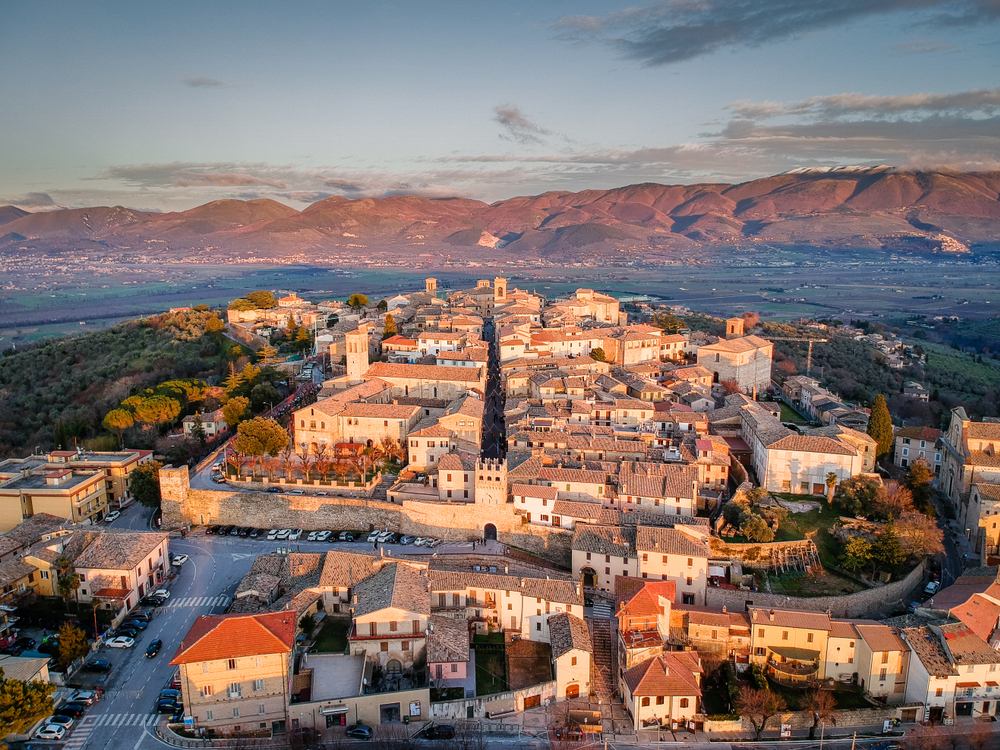 By train: The nearest train station is in Foligno, which is about 15 kms away. If you're dependent on public transport, then you can then take a bus from here to Montefalco.
By bus: Montefalco is easy to reach by bus and the journey will take about 30 mins from Foligno. It also has good connections to numerous other Umbrian towns including Perugia, Spoleto, Assisi, Spello, Gubbio, Todi and Terni.
By car: Whilst you won't be able to drive into the town (the streets are too narrow), paid parking is available outside the city walls in a large car park area.