With Christmas now just around the corner, we thought it was time to share with you our guide to some of Italy's best Christmas markets. Most of Italy's main cities will have an annual Christmas market to enjoy but there are plenty of others well worth a look, particularly in the Alpine north of the country. With many running from mid November all the way through to late December, this is a great time to visit Italy.
Bologna
From mid November to late December, Bologna plays host to the Santa Lucia market (Fiera di Santa Lucia). The market is found under the porticoes at the Church of Santa Maria dei Servi in the very heart of the city. Here, under the arches, stalls are filled with decorations to adorn both your Christmas tree or your nativity crib along with a host of Christmas gifts you could give to loved ones. As you'd expect in Italy's foodie capital, there is a strong emphasis on food and drink!
Venice
Venice is always a special place to visit but perhaps it's even more special at Christmas when the Christmas lights and decorations seem to elevate the city to an even higher level of beauty than normal!
Venice plays host to a number of festive markets in the run up to Christmas. The Campo San Bartolomeo, the Campo San Salvador and the Campo San Luca all play host to various Christmas fairs. But the main one is the one is to be found in the Campo Santo Stefano. Here, around thirty charming wooden stalls create a temporary Christmas village, with stunning Venetian palaces forming a backdrop behind them. Incidentally, a whole section of these are devoted to local foodstuffs! And there is plenty of music and entertainment to add to the atmosphere.
And on the Venice mainland at Mestre, you'll find another three Christmas markets. These include the Mercatino di Natale in the Piazza Ferreto (which also has an ice rink), the Christmas market in Via Allegri and the Mercato dei Portici in Via Palazzo.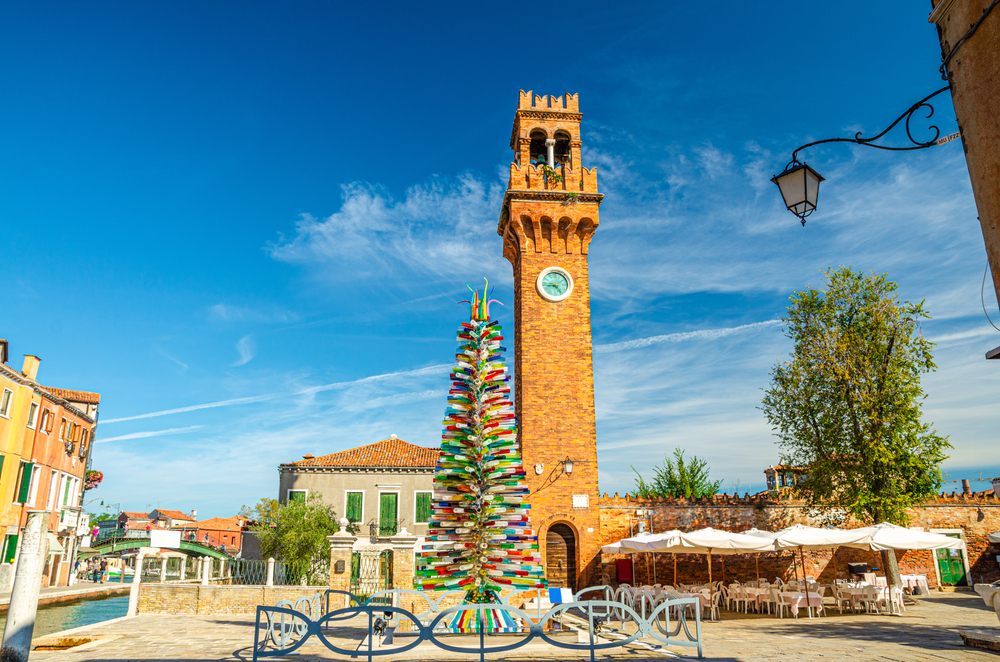 If visiting Venice at this time, it's also well worth heading to the Venetian island of Murano where you will discover the 'Christmas of Glass'. The event runs throughout December and at the very centre of the celebrations is a 7.5 metre high glass Christmas tree that has been erected annually here since 2006. You'll also discover plenty of live glassblowing demonstrations, music and entertainment as well as the Glasswork Regatta, a boat race with participants dressed as angels and other festive characters. Also not to be missed is the Furnace Food, a series of dinner parties thrown by the glassworkers in their factories.
Verona
Not to be outdone by its neighbour, Verona also plays host to an annual Christmas fair. The entire city transforms into a Winter wonderland each year, with markets popping up all over the city. The main one though is in the central Piazza dei Signori. As in Venice, the backdrop to the market is stunning with buildings such as the Palazzo del Podesta and the Loggia del Consiglio all adding to the beauty of the event. It's very much a German styled market so as well as Italian food and gifts, you'll also find Stollen and Lebkucken cakes, bratwurst and more. Keep an eye out for the stalls that sell traditional teddy bears dressed in extremely cute Christmas outfits!
Florence
The Piazza Santa Croce is the setting for Florence's Mercato Tedesco di Natale (German Christmas market). This annual event is inspired by the traditional market in the German city of Heidelberg.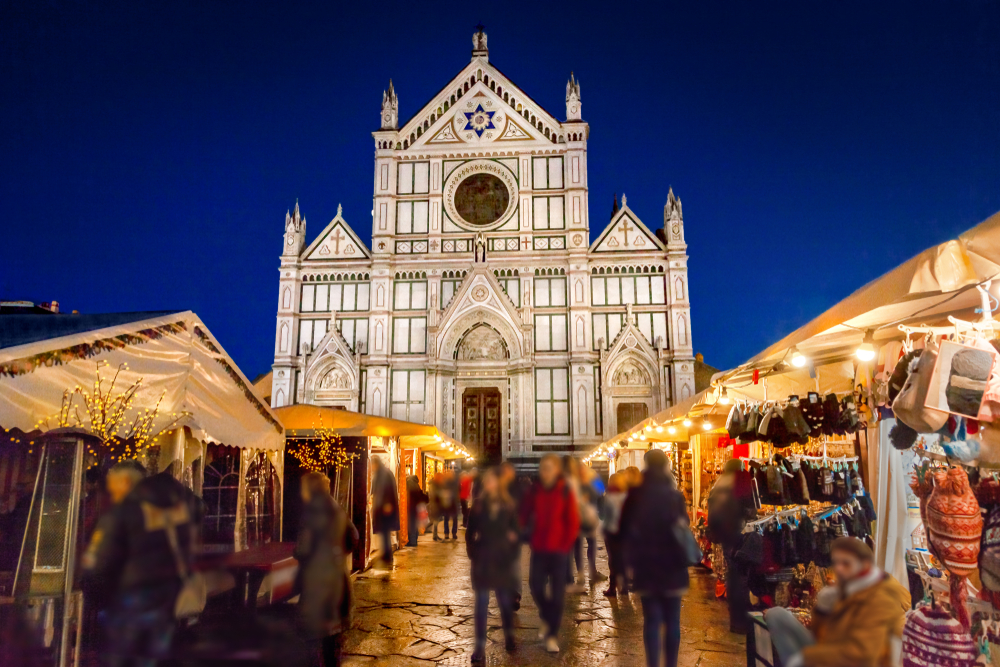 As in Venice, stalls are found in charming wooden huts. They sell both typical German crafts as well as plenty of Italian-made nativity crafts, children's toys, seasonal treats and decorations. The market tends to open for four weeks from the third week of November, closing a week or so before Christmas Day.
Naples
Not to be out-done, Naples also has its fair share of Christmas markets. The traditional event in Naples is the nativity in the Via S. Gregio Armeno. Visitors flock from all over the world to witness the handcrafted nativity crib figurines which are found here. In this quarter of the city, Neapolitan presepi (nativity figures) and pastori (pastoral figures) are still modelled by hand. The latter include entertaining versions of well known figures from popular culture including politicians, celebrities and even papal figures.
However, if you're visiting Naples in 2023, it's also worth heading to the National Railway Museum of Pietrarsa which will host this year's Naples Christmas Market. The museum covers a vast area and is made up of seven 19th century pavilions, each overlooking the Gulf of Naples. 365 days of the year, these house an impressive collection of vehicles including steam locomotives and carriages. But from 3 December 2022 to 8 January 2023, it will also be filled with wooden huts stalls selling Christmas gifts and delicious food and drink. With plenty of music and street performers providing the entertainment, it promises to be a fantastic festive event for anyone in Campania.
Milan
It's perhaps not surprising, given its size, that Milan hosts more than one Christmas market.
First and foremost, Milan hosts 'Oh Bej! Oh Bej!', a famous Christmas festival which always starts on the 7th December, the feast day of Saint Ambrose, Milan's patron saint. Also known as the Fiera di Sant' Ambrogio, visitors will find plenty of stalls selling everything from decorations to food and from antiques to flowers in the area around the Sforza Castle. It's a very traditional event.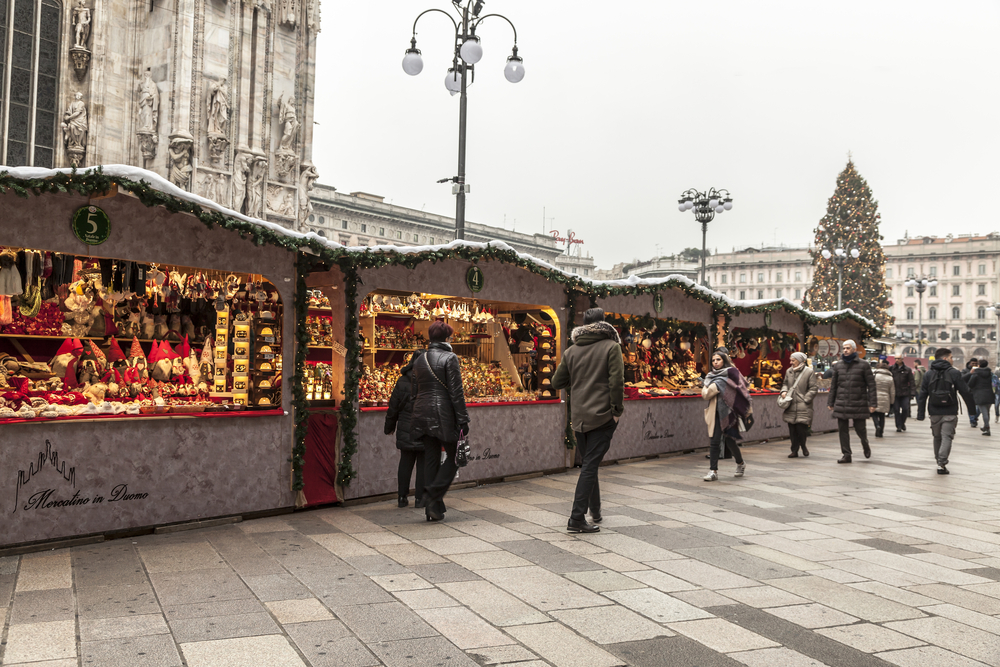 Also in the city is Il Villaggio delle Meraviglie in the Giardini Indro Montanelli. This is a very family friendly event with plenty to entertain youngsters including a skating rink. You'll also find Santa has a grotto here and there are plenty of performers on hand to keep everyone entertained.
However, the largest Christmas market in Milan is that held in the Piazza Duomo. Sixty wooden chalets are installed here for a six week period from the end of November through to the beginning of January, selling traditional Christmas gifts and crafts as well as plenty of local food delicacies. If you can it's worth being at the lighting of the impressive Christmas tree which always forms a focal point in the centre of the piazza.
Rome
Just as in Milan, Italy's capital city – Rome – has plenty of Christmas markets for you to enjoy.
The Christmas Market in the Piazza Navona in Rome each year is the most famous of these. It tends to be a big hit with children with its stalls filled with sweets and chocolate and its traditional carousel and amusement rides. All with the spectacular backdrop of Bernini's Fountain of the Four Rivers and the Church of Saint Agnes in Agone. It tends to open from mid morning through to the early hours so you can definitely shop until you drop here!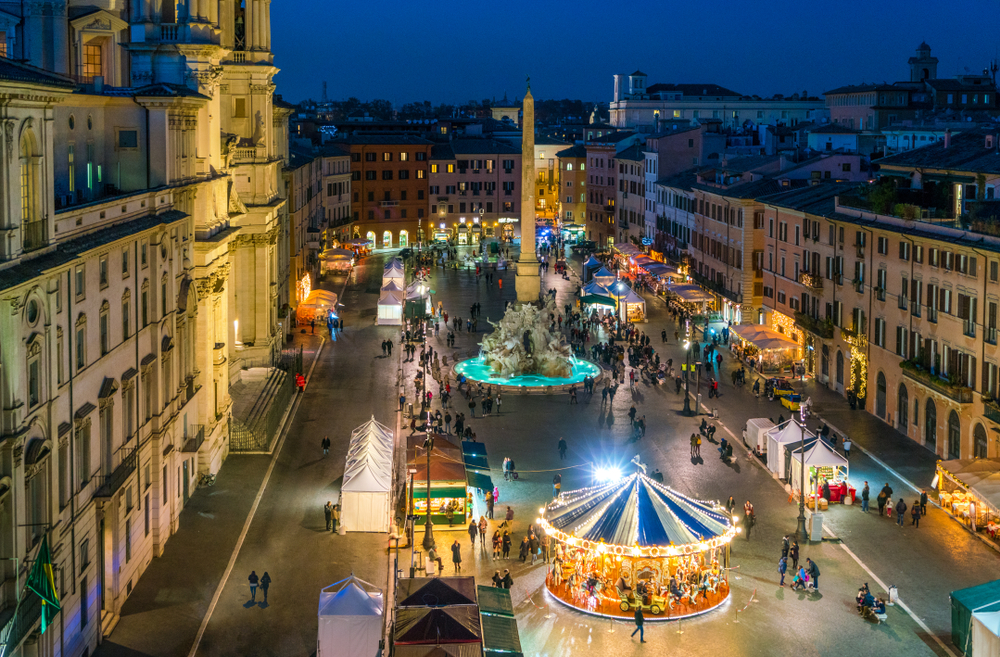 Another Christmas market in Rome with traditional stalls can be found at the Piazza Mazzini. And whilst not specifically a Christmas market, you may also want to do some Christmas shopping at the weekend at the Mercato Monti in Rome too. This market is open all year round but in the festive season, the number of stall holders can easily double and it's a great place to search for Christmas gifts.
Every year at Christmas time, an ice rink is also set up in the middle of Renzo Piano's Parco della Musica in Rome and continues through January. Mirroring the ice rinks set up in December in many towns in the UK, it's a great way to get in the festive spirit.
Buon natale!