The Italians are renowned for their love of fashion and design. The names of Italian fashion houses roll off the tongue…. Prada, Valentino, Gucci, Armani, Versace, Missoni to name just a few. Even in everyday life, Italian's attention to detail in their dressing, their 'bella figura' is renowned. So how can you create that same chic look? With Milan fashion week around the corner, I thought I'd provide some tips on how to dress like an Italian.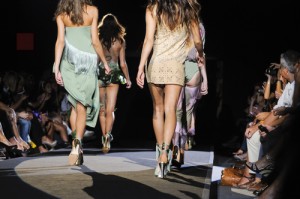 The first rule applies to both sexes…. Wear jeans. The Italians love their jeans. No big baggy styles. Most Italians prefer well fitting, even skinny jeans. Change the colour each day…. Italians aren't stuck to the traditional blue denim although this is, of course, very popular. Try out grey, black or one of the newer colours available on the market.
The second rule is also equally true for both sexes…. Take your sunglasses with you, whatever the weather. Italians will never be without their shades! It's an essential accessory to any outfit and adds that necessary bit of mystery and glamour even on a dull, cloudy day!
Even rule number 3 can apply equally to both sexes…. carry a bag. For women, any look, however casual, needs to be accessorised with a statement handbag. However, even the Italian men aren't afraid to carry a bag around with them. Men should look out for a small cross body shoulder bag to carry any items around with them.
Layer up…. Italians love layers, particularly across the colder Autumn and Winter months. Accessorise any outfit with a scarf. Women can also jazz up an outfit with some fantastic jewellery.
Invest in a classic style jacket or coat. The key to this is to get something fitted and tailored. A jacket should smarten up an outfit, not dress it down. The same rule of tailoring applies to shirts and suits for men. These should be fitted and sit close to the body but not so tight that it looks like the buttons might burst at any minute!
Cover up. Italian women have discovered that the secret to looking chic and stylish is not to reveal too much flesh. So ridiculously short mini skirts accessorised with a low cut top maximising your cleavage is definitely out!
Favour neutral colour tones in your outfit. The Italians love their more neutral shades, particularly in the cooler months. Find clothes in shades of brown, beige, camel, grey and black. This doesn't exclude use of brighter colours but use the latter in moderation and not to excess!! So, add the splash of colour in an accessory such as a brightly coloured belt. Or for the braver amongst you, you can even add the colour in your choice of footwear.
So now that you know how to create the look, where should you shop for it? Why not check out the Bookings For You guide to shopping in Florence. Creating that look doesn't need to break the bank. Florence has loads of great high street stores as well as having the best of the designer labels on offer. For those that aspire to wear the designer labels but don't have the budget, you can also check out the outlet malls just outside Florence where bargains can be found all year round. Why not spend a few days in Florence at one of the Florence apartments available to rent from Bookings For You? That way, you can shop until you drop!