Today, we're absolutely thrilled to be sharing an interview with writer extraordinaire, Jules Brown. Jules is an experienced travel writer and long-time Rough Guide author. His career stretches back over 30 years, and has lasted so long that he tells us that he has now lost count of the number of features he has written for publishers, newspapers, magazines and websites, not to mention the number of guidebooks that he has written! Most recently, he's celebrating the launch of his newest book – Never Pack an Ice-Axe: Tales From a Travel Writer's Life – which has a number of tales from Italy to enjoy!
Over to Jules…
Tell us a bit about your background, where you grew up etc…
I was born in Ghana in West Africa (my father was a teacher there) but grew up in Huddersfield, a small town in Yorkshire in northern England. They are both unheralded places, the sort of places people leave as soon as they have a chance, and in a way – after 30-odd years of travel – I'm still looking for a place to call home. All my travel writing reflects this I think – a search for somewhere to hang my hat.
You were a keen writer from an early age. What inspired you to write?
I've always been a reader and a writer. And Dad travelled a lot for his work, so I grew up around books and the idea that travel could be a career choice. Or I just didn't want a proper job – I suspect that's closer to the truth. I published my first travel feature in the local newspaper in 1986 – got paid the princely sum of £12.50 – and followed that up with my first book for Rough Guides. They sent me to Scandinavia, where I lived off shrimp paste and rye crackers for three months. My next book, though, was Sicily and it was suddenly – hello travel!
You have been a Rough Guide writer for a number of years but, more recently, seem to have taken a more personal approach to travel writing. Is this a fair observation? How do you see your writing has changed over the years?
I wrote guidebooks for thirty years and – expecting no violins here, don't worry – after a while, it gets a bit dull, always going back to the same places and checking bus timetables and restaurant opening hours. I started a blog, where I could write more personal stories about my travels and, the more I wrote, the more I realised that I had material for all sorts of books. So now I write travel memoirs, based on my stories and experiences, as well as funny travel books – like Not Cool: Europe by Train in a Heatwave, which recounts my steamy adventures (steady on, not that kind) backpacking and Interrailing around Europe. I finished off that book with the amazing ride over the Alps from Switzerland to Milan on the Bernina Express.
What are you working on at the moment?
I have just released the second volume of travel memoirs – Never Pack an Ice-Axe: Tales From a Travel Writer's Life. That's got stories in it about my first trip to Sicily and about my quest to find the best pizza in Naples (and, therefore, the world, no arguments).
I'm also planning a book on my travels in Ghana with my parents, and – depending on travel restrictions – will be heading off by train in 2022 on another, doubtless calamitous, adventure.
I am guessing your favourite place in Italy is Sicily? Am I right?!! If not, then where is your favourite place?
Sicily was really the first place in Italy I experienced – I lived there for six months in 1988, researching the first edition of the Rough Guide to Sicily. Naturally, after that I thought that all of Italy was like Sicily, so it's come as a bit of a shock over the last 30 years to discover how different Sicily is from the rest of the country. It's that difference that really excites me – Greek temples, couscous, Norman chapels, Byzantine mosaics, Arabic street-lay-outs, Roman mosaics, Baroque cities, all on the same small island in a sparkling sea.
I love Rome too. Obviously, my mother chose to give me a Roman dictator's name, so I like to go back often and see how my people are doing.
Where in Italy do you have your sights set on next?
I've seen far more of the south than I have of the north, which means I've been to obscure villages in Basilicata and Puglia but have never done the whole Tuscany and Umbria thing, so that's on my list. The one city that really intrigues me is Trieste, which doesn't sound it's in Italy at all, and I really want to visit Verona. And Paestum. And I'll keep going back to Rome and Sicily for as long as they'll have me.
What are the most important pieces of advice you tend to share with those travelling to Italy?
Yes, you can park there, on the double yellow lines/hospital emergency entrance/runway, don't worry it about it. Pasta is a starter, chicken doesn't count as meat, ice cream is for breakfast too. Oh, and don't argue with the waiter, if he says those two things don't go together on a pizza you'll have to just give in. Travel by train if you can, it's a brilliant and cheap way to get around. Take earplugs. And practice your shouting, sorry 'talking at an entirely appropriate volume for buying a stamp / greeting a friend / talking to a policeman'.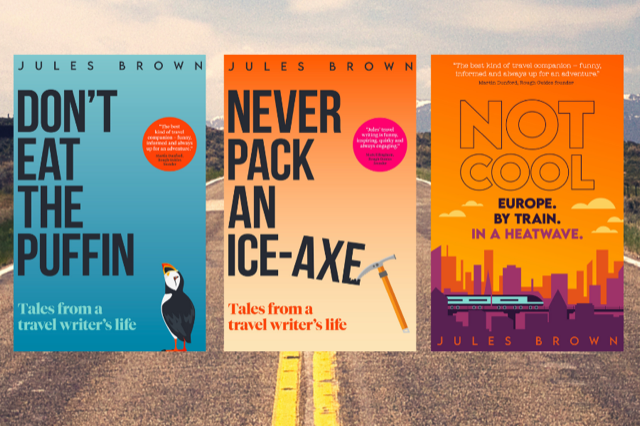 Want to hear more from Jules? Then have a read of an extract from his book Takaoradi to the Stars (via Huddersfield) where he discovers the wonderful joys of being alone on Alicudi, one of Sicily's many islands. Or, even better, enjoy a read of one of his books or sign up his mailing list to enjoy a complimentary e-book: https://mailchi.mp/c6c245ce944c/takoradi-travel-club-giveaway
Don't Eat the Puffin: Tales From a Travel Writer's Life
Never Pack an Ice-Axe: Tales From a Travel Writer's Life