Here at Bookings For You, we have the pleasure of working with numerous lifestyle and travel bloggers to share our love of Italy with them and their readers. However, we thought it was only fair to share our love of bloggers with our clients. First up, it's Kristie from Mammaprada.
Tell us about your blog.
Mammaprada is a blog about our family life, I'm English and my Husband is Italian. So I write a lot about raising bilingual children, Italian food, travel and the madness that comes with having Italian family and friends!
What do you love most about travel?
The fact that when you arrive you're all wound up and wanting to walk at London pace and by the end of the holiday you're strolling a very slow passeggiata at the speed of the locals. Gesticulating and eating gelato!
Where has been your favourite place to visit?
Italy obviously, but we are also huge fans of France. My Husband lived there for a year and we also love Greece, the mainland and lesser known islands.
What is your favourite place in Italy?
Apart from the Lakes we spend a lot of time in Bormio a beautiful mountain village in Northern Italy. It's mainly a second home for Milanese and so quite unspoilt by tourism. It's hard to choose just one place though. Umbria is just incredible. We did a road trip once from Bormio down through Lake Garda, Mantova, Parma, Assisi and ended up in Perugia. It was such a memorable trip.
What do you love most about Italy / Italians?
That enjoying your life is much more important and urgent than whatever you are worrying about! Italians work to live not the other way round. It can be frustrating at first as you can't go anywhere without planning where you will stop to have lunch for example. And if there's no option to stop then you set off later. There's no petrol station sandwich in the car! But if you don't fight these things you start to realise that the world didn't end because you did things differently. It's quite liberating!
What is the biggest cultural difference between Brits and Italians?
The dress code. Italians tend to wear neutral colours and wrap up much warmer than we do. They wear thick coats or puffer jackets and scarves well into May/June if it's a bit breezy. They can't understand why we would all go out in t-shirts at the first sight of the sun. Wear flip flops when we aren't in a shower or at the pool. And they honestly think that they will die of a cold caught from a draught. This actually has a name 'Colpo d'aria!' So if you see someone wearing a scarf in warm weather they are most certainly Italian!
How do you decide which place is next on the 'to go' list?
Since having children this has changed a bit. We prefer shorter flights now and warm but not insanely hot weather. We love Europe so this suits us. Next on our list is Sicily (I've never been). Santorini as we went there for our honeymoon and it's our tenth wedding anniversary next year! I would also love to go back to Seville as it's such a beautiful city and I love all the ceramics.
What's your favourite photo from your adventures, and why?
This photo of my Husband and I is one of my favourites. We had got married not long before and as a wedding gift from his Italian friends they paid for us to go to Venice Carnival. It's common in Italy for people to pay for a gift that equals the amount they think it cost you to have them at your wedding. So lots of his friends chipped in and sent us there. It was an amazing trip and I really recommend everyone try it. It sounds expensive but it doesn't have to be at all.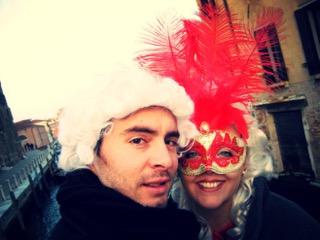 What's your go-to dinner party anecdote about your travels?
Arriving in Italy for my wedding to find the church covered in scaffolding! Or going to Jamaica and somehow being ushered onto a cruise ship that was about to leave… We weren't on a cruise!
Which Bookings For You villa tempts you the most?
I'll try to not choose Lake Como or Umbria! The Farmhouse in Sicily looks amazing or a Trullo in Puglia. They all look beautiful!
And finally, do you have a favourite saying or quote about travel or sightseeing?
"Collect moments not things."