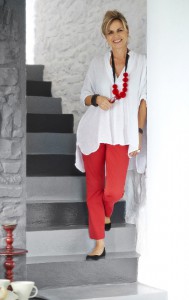 The Bookings For You team are incredibly lucky to work some absolutely fantastic properties all over Italy. However, just as we feel lucky to be able to work with these amazing villas in Spello, we feel even more privileged to work with their owners. We only work with owners who genuinely care about their guests and there is no one that epitomises this more than Andrea. Andrea owns three very special villas in Umbria in the enchanting hillside town of Spello.

Originally from Austria, Andrea only settled in Italy in 1997 after meeting her husband, Feliciano, who was at the time working as a publisher in Milan. They soon decided on Spello as the place to build their new lives together and Feliciano found himself returning to his birthplace.
Together they bought their first house together – Buonanotte Barbanera – which we now have the privilege of renting to our clients.
Nowadays, Buonanotte Barbanera is a stunning three bedroom villa perched on the town's walls, with beautiful views to the rolling hills of Umbria to one side but backing on to the narrow cobbled streets of Spello to the other. However, the history of this property dates much further back. It was originally part of a 14th century church and the owners spent considerable time renovating the villa to create the contemporary space guests enjoy today.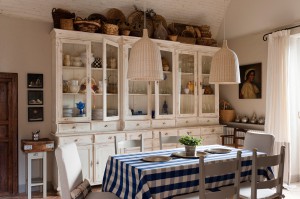 Andrea's personality and style is clearly reflected in the interior design. As a keen traveller, she collects an eclectic mix of furnishings, fabrics and souvenirs from her extensive travels to Asia, Africa and around Europe. But she also loves to mix this in with modern Italian design as well as gems sourced from local flea markets. The result is a little bit of everything with several splashes of colour thrown in. Andrea loves vibrant colours!
Buonanotte Barbanera was first rented out just over ten years ago and yet the furnishings and decor feel as fresh today as back in 2005 when it welcomed its first guests. This reflects the tireless devotion Andrea has put into maintaining and constantly refreshing this special place to stay.
Andrea's love of colour is reflected just as much in her second property – Casa Giardino. Purchased a few years after Buonanotte Barbanera, it enjoys the same wonderful location in the heart of Spello and, yet again, each room has drawn its inspiration from a different trip. For the yellow bedroom, Andrea used many souvenirs she bought in Cambodia, Laos and Burma, whilst the blue room was inspired by her time on the Aeolian islands and reflects the deep blue of Sicily's sea contrasting with the white houses and ceramics. Other rooms derive their inspiration from Morocco and Cambodia.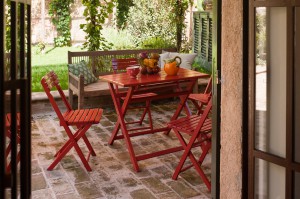 Or, for those travelling as a couple or a smaller group, there is La Casetta. Whilst Andrea's other villas can both sleep up to six guests, this is a bolthole for up to three people to enjoy. Again, you can immediately spot Andrea's taste, this time with influences from India and Burma but with a nod to Europe in the French chandelier purchased from a flea market in Copenhagen!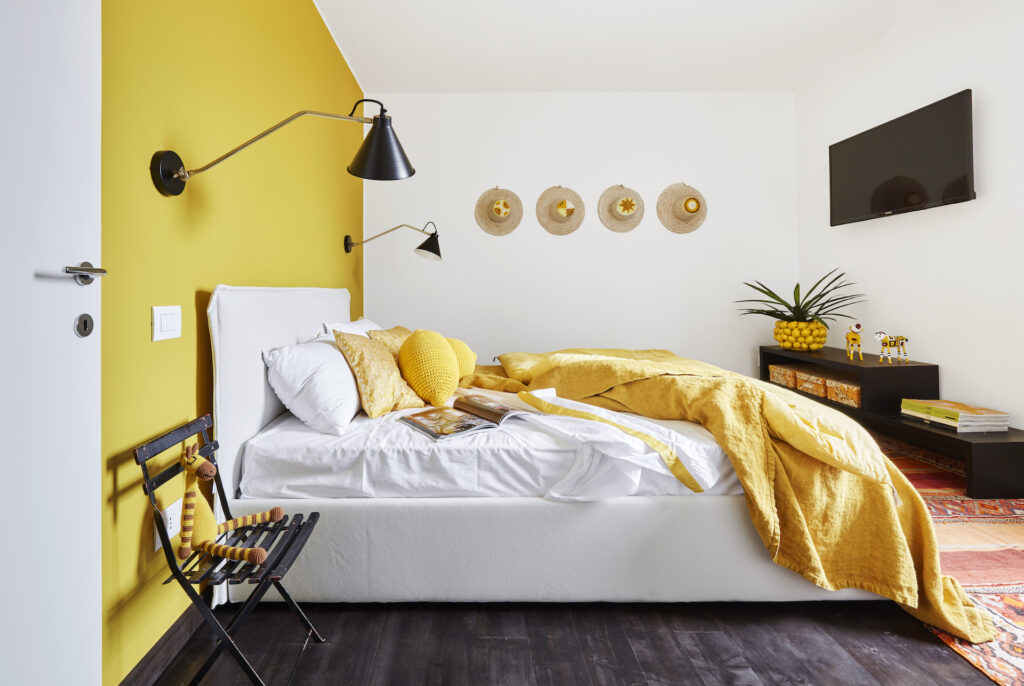 And finally, and most recently, Andrea has been lovingly restoring Apartment Giallo. As the name would suggest, Andrea has filled this property with bright shades of yellow. In Vincent Van Gogh's words, 'How lovely yellow is! Yellow stands for the sun.' And certainly, the shade brings endless light, warmth and happiness to this newest holiday rental in Spello.
Whatever the look Andrea creates, you can be assured that she would only ever put something in her rental homes that she would put in her own home. All her choices of decoration reflect her personal taste and are what she would feel comfortable in. All are a mix of old and new, imbuing her properties with a genuine warmth and style.
In 2015, Bookings For You were proud to start working with Andrea in promoting her stunning homes. Over the past two years, countless scores of guests have booked to stay here with Bookings For You and each one has returned with glowing testimonials and fond memories of their time in Spello.
"This is a place where beauty fulfils the senses and peace can touch our soul. May all who share their time in this enchanting creation feel the same! La Casetta is MAGIC and we loved every single moment in Spello." Alice (India)
"It's not easy to find a place to start when talking about Spello or Buonanotte Barbanera. First, the property is absolutely breathtaking. Each space from the master bedroom to the kitchen have each detail finely attended to. It feels more like home than a vacation space. Second, the views and surrounding village make you feel like you're in a book, nothing compares to the scenery, quaint cobblestone streets and lovely people. Lastly, you will not want to leave. After seven days of staying in Spello and visiting surrounding cities, we set off for Firenze. As we took our last drive (of the trip) down the hillside, I feel like I left a little piece of myself in Spello." April (California)