Italy is a wonderful destination to visit if you're looking for a luxury holiday. Here's our selection of some of the best luxury villas in Italy. We've picked our favourite properties from each region, offering the ultimate in luxury villa rentals.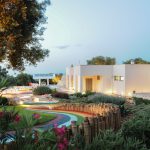 Villa La Cintura is a stunning luxury villa in Puglia. Sleeping up to 8 guests, it has been exquisitely furnished both inside and out. The result is truly stunning. With facilities including private swimming pool, jacuzzi, gym, games room and contemporary outdoor kitchen, it really does offer holidaymakers the ultimate in relaxation. However, if you can tear yourself away from the property for a few hours, it's also ideally placed to explore the wonderful sights of the area and with the coastline of this beautiful region in sight from the property, it's also just a short drive to the stunning beaches that Puglia is so famous for.
A bit further North in Le Marche, Monastero di Favori is a warm and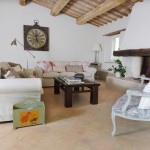 welcoming 7 bedroom villa sleeping up to 15 guests. Beautifully furnished by the owner, who clearly has an eye for interior design, it's a great example of a Le Marche villa that has been given a modern and contemporary feel whilst still retaining the character and feel of the original building. The villa enjoys 360 degree views of the beautiful Le Marche countryside and it is the perfect spot to relax and unwind, away from the stress of everyday life.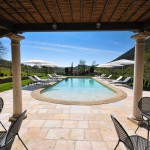 Just across the border in Umbria is a similar sized villa sleeping up to 14 guests. Chiesa del Carmine is a fantastic 8 bedroom luxury villa in Umbria. What is more, it also has a ground floor bedroom suitable for those with disabilities.
Our idea of luxury is also a property wher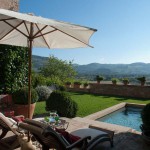 e you also have the option of additional services. For those that are interested, we can arrange sightseeing tours or trips for you to enjoy during your stay. And all these properties certainly come with the option of maid service or the services of a chef.  After all, what better luxury than the simple one of not having to make the beds in the morning? This smaller 3 bedroom luxury Umbria villa sleeping 6 is a great example of a property where additional services such as these are already included. A maid comes to the property every morning to make up the beds and perform light cleaning duties. This little touch adds a surprising amount of enjoyment to a stay!
But let's not forget neighbouring Tuscany.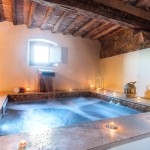 One of our favourite villas here is Villa and Spa Le Capanne, a luxury and elegantly furnished villa in Tuscany that boasts it's own spa with jacuzzi, salt room and massage area. What better way to unwind?!!
O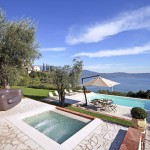 r, what about a luxury villa in the Italian Lakes instead? This Lake Garda luxury villa also has its own private wellness area, complete with large whirlpool tub, Finnish sauna, large shower and a relaxation area with comfortable beds. There is another whirlpool outside too, overlooking the infinity pool which in turn overlooks the beauty and magic of Lake Garda.
The best thing is that these properties is often actually the price. With rates starting from under £50 per person per night, these luxury villas are also extremely affordable.
All these villas are available from Bookings For You. Please get in touch if you'd like more information on any of the villas featured or if you would like some other Italian villa and apartment options.