We think Monopoli is one of Italy's best kept secrets and certainly lives up to its name which comes from the Greek words 'monos' and 'polis' meaning unique city. Situated in Puglia in the South East of the country, just a few kilometres from Polignano a Mare which can teem with tourists in the Summer months, Monopoli in contrast, never gets overrun. The pace of live is slow and relaxed and yet vibrant. The people here appreciate the simple pleasures of life.
The history of Monopoli is a long and varied one. Founded in 545 AD, it has since been under the rule of the Greeks, Romans, Normans, Byzantines, Swabians and Venetians. But in the 16th century, its strategic position meant that it frequently came under attack from Saracen and Turkish pirates, hence the building of defensive walls that are still visible today. These defences couldn't hold off the might of Charles V's Armada forever though and eventually Monopoli had a period under Spanish rule. It became a free city in 1545 and became part of the newly unified Kingdom of Italy in 1860.
What to see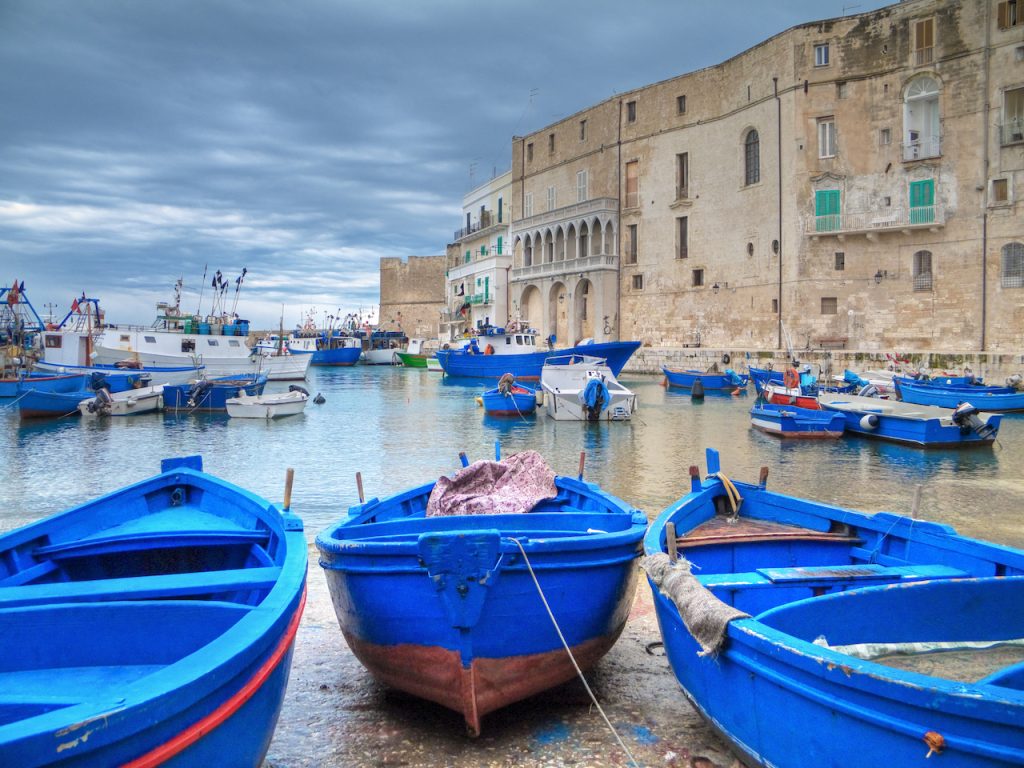 We think that any visit to Monopoli should start with its picturesque harbour. Monopoli is a prosperous fishing port and the Porto Vecchio is always bustling and lively. Don't miss the opportunity to watch the fisherman bring in their catch each morning or mending their nets in their traditional blue 'gozzi' rowing boats.
Monopoli's centro storico is absolutely charming and it's worth just setting a few hours to explore its narrow, cobbled streets and alleyways, lined with whitewashed shops, bars, restaurants and houses.
Other attractions worth seeing include the Basilica della Madonna della Madia. This Baroque cathedral was originally built in 1107 but was almost completely rebuilt in the 18th century. Legend has it that the Madonna della Madia came ashore here on a wooden raft, the logs from which were then used to construct the cathedral roof. Its interior is dramatic, furbished top to bottom in marble in hues of red, green and yellow.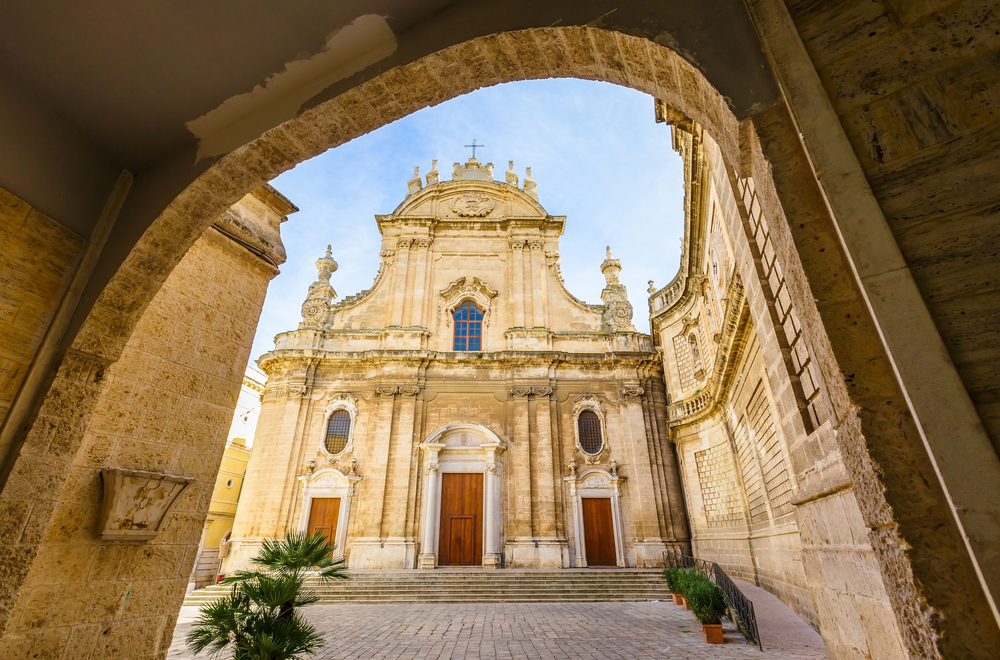 Of course, this is not the only religious building to be found in Monopoli. Others include the Church of the Purgatory next door (Chiesa del Purgatorio). Its doors decorated with skeletons hint at what is inside the adjacent chapel – the mummies of deceased Monopoli citizens.
Also not to be missed is the early 16th century castle built by Charles V and the remains of the defensive stone walls. The castle itself is a striking octagonal design. Situated on a promontory, it was built on the remains of a Benedictine monastery. Subsequently enlarged in the 17th century, the castle has also been used more recently as a prison but these days it's home to an Archaeological Museum.
Close to the castle is the 18th century Palazzo Martinelli-Meo Evoli, built in a Neo-Gothic style. A series of rooms surrounding an internal courtyard, it often hosts important art collections which are open to the public to view.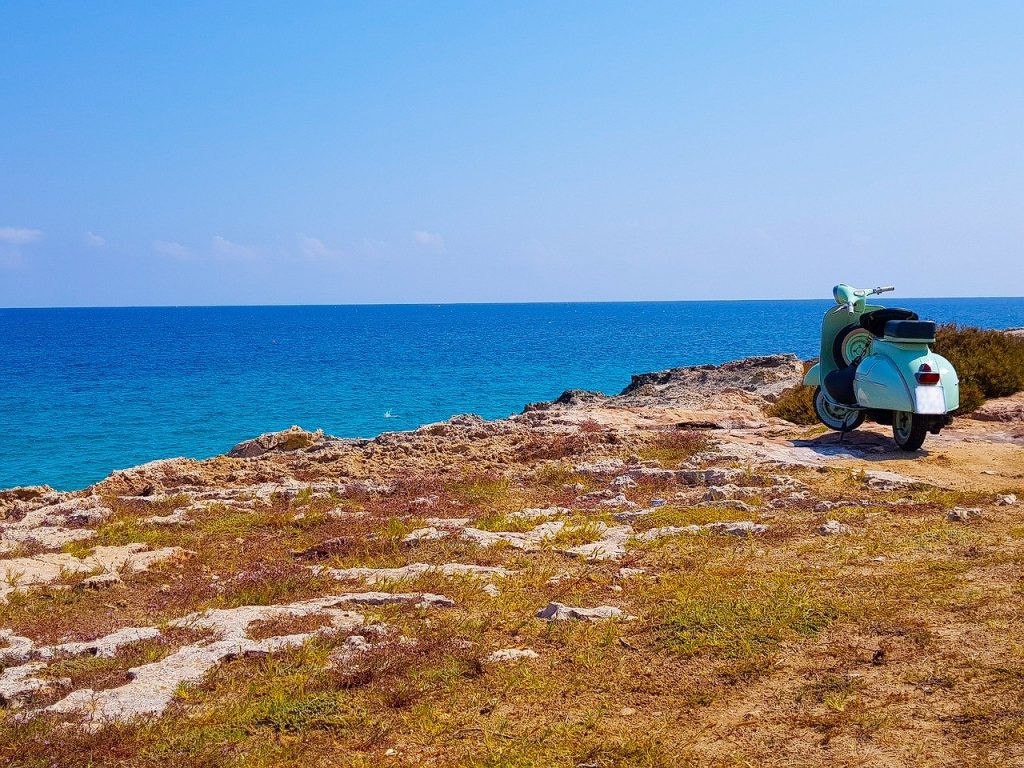 If you're looking to enjoy that slower pace of life, then a few hours at the beach is definitely in order! The Porta Vecchia beach sits just outside Monopoli's walls but there are plenty of others within easy reach including Tre Buchi, Cala Verde and Cala Susca.
Or if you fancy going further afield, then the famous caves – Grotte di Castellana – are just 20 km away. At a cool 18 degrees all year round, the caves are certainly a place in which to cool off from the heat of the Summer sun!
And make a point of visiting the lighthouse in Monopoli at some point at the end of the day. This classic red and white building is perched on a cliff top just along from the port and the views from here at sunset are breathtaking.
When to visit
With a thriving local community, we think Monopoli is an ideal destination to visit all year round. But, you may want to think about trying to coincide your visit with one of the many sagre (food festivals) that it plays host to.
There are around 20 festivals that take place between May and September each year in Monopoli, all revolving around food and wine! These include the Poverella courgette festival in the last week of May, the fried fish festival on the last Sunday in June, the focaccia festival, mozarella festival and pancake festivals all held in August and the orecchiette festival in September but there are many more to choose from.
The Bari Jazz festival runs across July and August each year. As the name would suggest, most events are in Bari itself but events do spill over into Monopoli and other nearby towns.
Alternatively, you may want to consider temperatures when deciding when to visit Monopoli. Puglia does see temperatures exceeding 30 degrees in the peak Summer months, so if you would prefer to sightsee when it's a bit cooler, it may be worth considering visiting in April, May, June, September and October when temperatures are a bit more pleasant.
Where to eat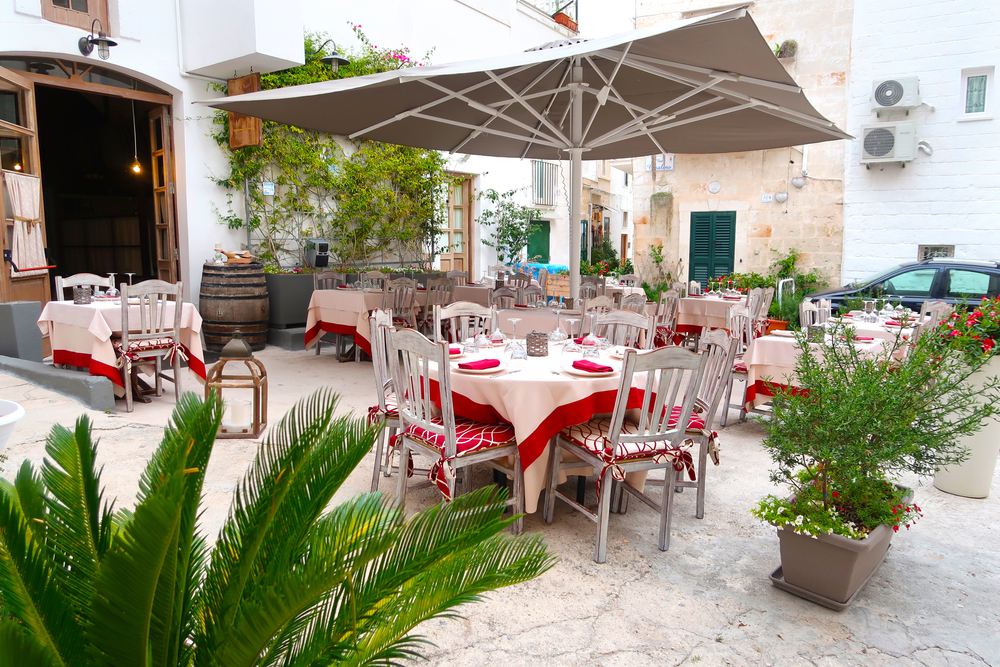 The style of food here is typical of the Puglia region in general – simple but delicious using freshly sourced ingredients.
One of our favourite restaurants is Trattoria il Brigante. There isn't anything that owner Antonio Bassi doesn't know about seafood. He gets up early each day to source the very best fish, octopus and shellfish to serve each day in his lovingly prepared authentic dishes.
Monopoli is also known as the 'citta delle cento contrade' (city of 100 hamlets) and certainly it extends far into the surrounding countryside. If you want to head out of the main city to explore further, then Masseria Contento Curatori in the Monopoli countryside is an authentic farm where you will have the pleasure of tasting typical Apulian dishes.
Where to stay in Monopoli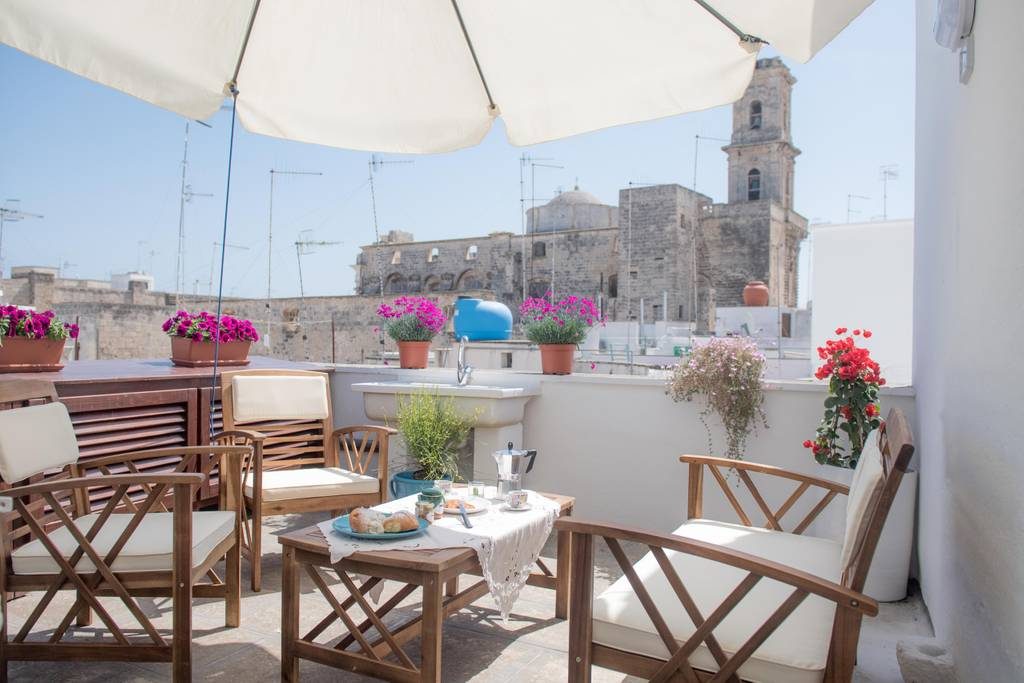 This 3 bedroom apartment in Monopoli is the perfect base from which to explore the city. Just a few steps from the beach but in the heart of the town, you'll find everything on your doorstep as well as a wonderful terrace overlooking the rooftops on which to unwind after a days sightseeing.
How to travel to Monopoli
The nearest airport to Monopoli is Bari which is just under a 50 minute drive away (55 km). It is also possible to fly into Brindisi. The journey time from here is a little further but should still be under an hour.
If coming by train, the fast train from Bari to Monopoli will take just 20 minutes. The train station at Monopoli is fairly small and it is possible to walk from here into the centre of the town. It will take around 10-15 minutes to reach the centro storico on foot.
We hope we've inspired you to visit Monopoli. If you'd like to explore more of Puglia, then take a look at our apartments and villas in Puglia for your next holiday here.