Otranto is Puglia's easternmost city. To be more precise, the Faro della Palascia lighthouse which sits approximately 5 km south east of Otranto, marks the Italian mainland's most easterly point. Otranto is nestled on the Strait of Otranto in the province of Lecce. This strait connects the Adriatic Sea with the Ionian Sea and on a clear day, you can actually look across the strait from Otranto all the way to Albania on the other side.
Otranto may not be huge but it is well worth spending time here during your Puglia holiday to explore its historic alleyways filled with colourful flowers and to make the most of its panoramic views.
What to see and do in Otranto
Otranto is situated in a stunning area of Puglia. The area between Otranto and Santa Maria di Leuca at the southerly tip of Puglia is part of the Regional Coastal park of Costa Otranta. This is a great place to enjoy some walks and hikes along the coastal pathways. Head just south of Otranto to the Capo d'Otranto where you can admire the Faro della Palascia lighthouse that for years has protected sailors from the cliffs below, as well as enjoying a wonderful walk and some incredible coastal views and unspoilt scenery.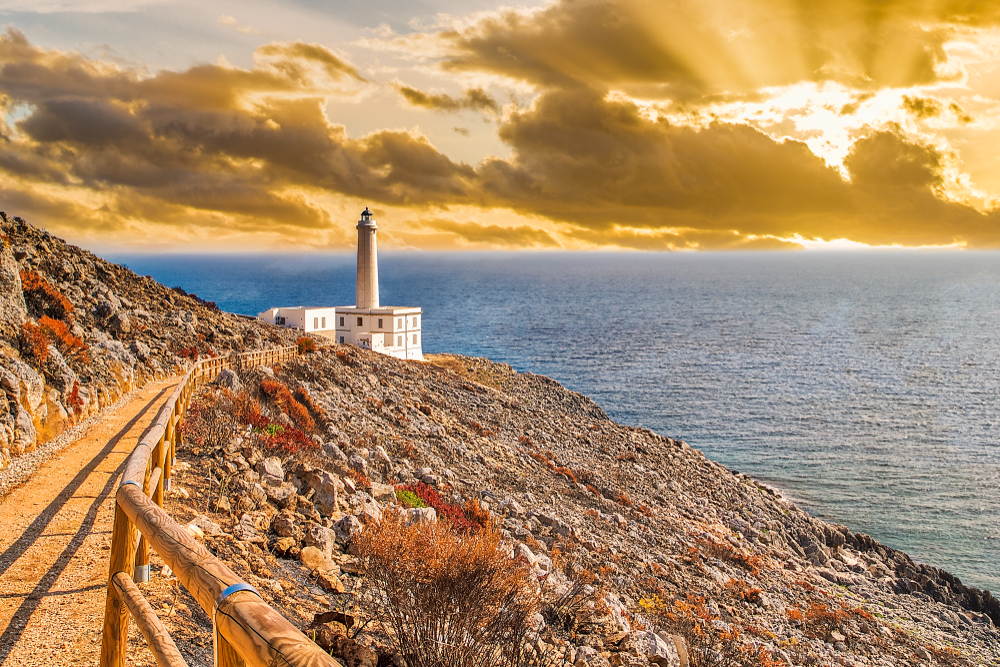 Also just outside Otranto but in the other direction is I Laghi Alimini. These two connected lakes (Alimini Grande and Alimini Piccolo) are a paradise for wildlife with a number of species of birds including flamingoes, black and white herons, nightingales, swans and eagles. Some of the other creatures that it is home to include newts, badgers, stone martens, water snakes and tortoises.
As the name would suggest, the Alimini Piccolo is the smallest of the lakes, at 2 km long and no deeper than 2 metres at any point. The Alimini Grande is the largest of the lakes measuring 2.5 km in length and with a depth of around 4 metres. The white, sandy beach here, backing on to the pine forest is well worth a visit on your Puglia holiday. However, also within this 2450 acre area is the famous beach at Baia dei Turchi. This beach is wild and unspoilt. Legend has it that Turkish warriors landed here in the 15th century before the Battle of Otranto.
If you're looking to enjoy a slower pace of life on your Puglia holiday, then Otranto can boast some other fantastic sandy beaches too. North of Otranto but before you reach I Laghi Alimini is the Mulino d'Acqua beach while closer again to Otranto is the Lido della Staffa, the Lido Atlantis and the Spiaggia dei Gradoni.
Back in Otranto itself, don't miss the Castello Aragonese. This massive fortified castle towers above Otranto with half of it facing the cliff edge and the sea and the other half facing inland where it is protected by a moat and keep. The current building dates back to the 15th century but it was built on top of an earlier fortress of Frederick II. These days, it is home to a museum and exhibition space. Incidentally, should you need any information during your visit to Otranto, the town's tourist information office is also situated near here in the Piazza Castello.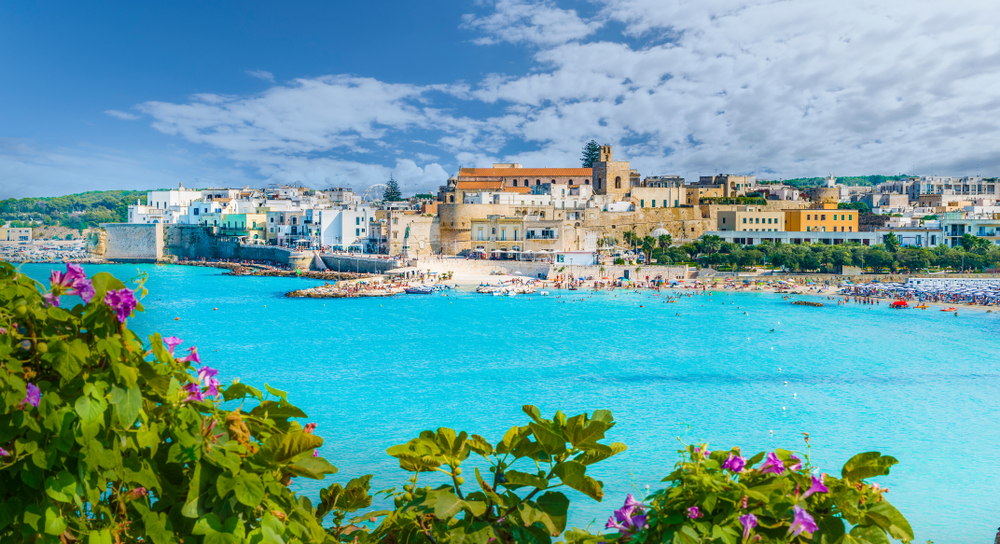 Also not to be missed is the Basilica di San Pietro and the Cattedrale dell' Annunziata, one of the largest churches in Italy which sits at Otranto's highest point. The latter is a Romanesque cathedral dating back to 1088 and home to the incredible 12th century mosaic floor that depicts the tree of life.
This isn't Otranto's only church though. Also worth a visit is the Chiesa di San Pietro which is a superb example of Byzantine architecture and which is home to a number of Byzantine frescoes.
Otranto also has a pretty port which has been in existence since Ancient Greek and Roman times thanks to its important strategic position. Whilst it may not be a very busy port, it's a very picturesque one with colourful fishing boats bobbing in the water and with plenty of bars and cafes to enjoy.
And it's worth spending a couple of hours of your Puglia holiday just exploring and getting lost in Otranto's narrow streets. Many are lined with souvenir shops selling everything from olive oil to ceramics and sandals as well as with restaurants and bars. Visitors will find the nightlife quite lively here.
Where to stay in Otranto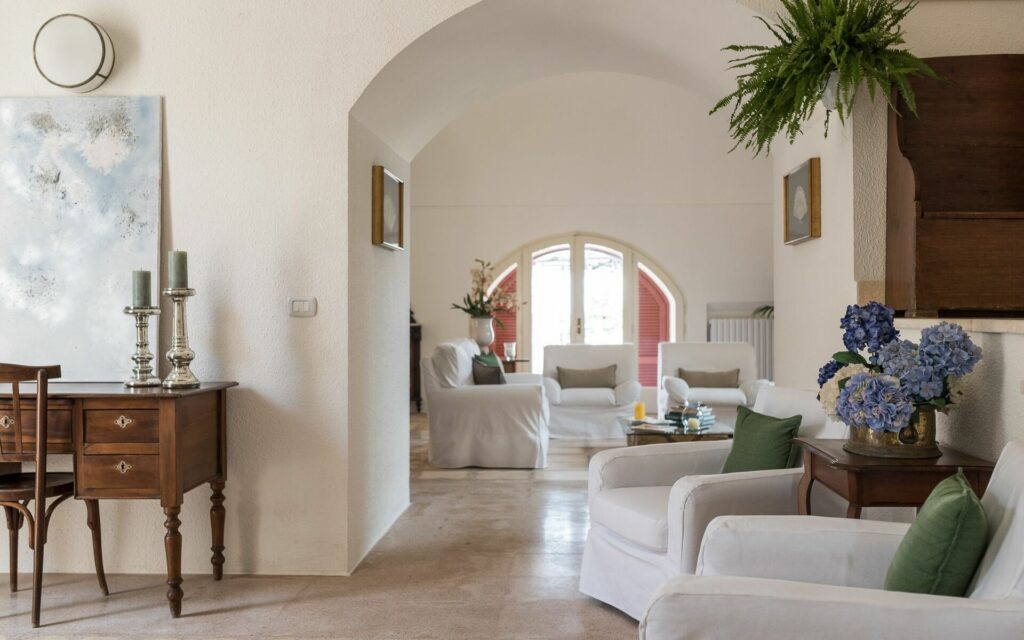 Masseria Luci is a stunning 5 bedroom Puglia masseria situated just outside Maglie from where it is an easy 30 minute ride on public transport to reach Otranto. With roots dating back to the 15th century, this is a truly historic Puglia villa that has been completed renovated and modernised to provide a stunning place to stay in Puglia.
Alternatively, how about Masseria Majestic, a beautiful Puglia villa 8 kilometres from the historic centre of Otranto.
How to get to Otranto
By air: The nearest airport is in Brindisi which is just under 100 km from Otranto. However Bari is just over a 2 hour drive away and is another option to fly into.
By train: Otranto has a railway station situated a short walk from the centre of town on the aptly named Via Stazione. Services in and out of Otranto are operated by the Ferrovie del Sud Est (FSE). To get from Otranto to some of Puglia's larger towns and cities such as Lecce and Gallipoli you will need to change at Maglie. Please note that on Sundays, trains are replaced by buses.
By car: Hiring a car is the easiest way to get out and about in Puglia. Otranto has 2 main car parks situated outside the main historic centre of the town.
By bus: During the Summer months from mid June to September, the Salento in treno e bus makes it easier for tourists to travel to Otranto on public transport.
Tempted to visit Otranto on your Puglia holiday? Then check out the Puglia villas and apartments available from Puglia villa rental specialists, Bookings For You.