Not surprisingly, the Bookings For You team are passionate about the advantages of opting for self catering accommodation in Italy. Renting a villa in Italy has so many advantages over hotel accommodation: More space and privacy, better value for money and a much more authentic holiday experience. One of the types of properties we probably love best in Italy are the trulli, hobbit style houses unique to Puglia. These ooze character and charm and yet, at the same time, often boast a wonderfully contemporary and stylish interior giving holidaymakers the best of both worlds. Here are our top 5 favourite trulli in Puglia available to rent for your next holiday in Puglia.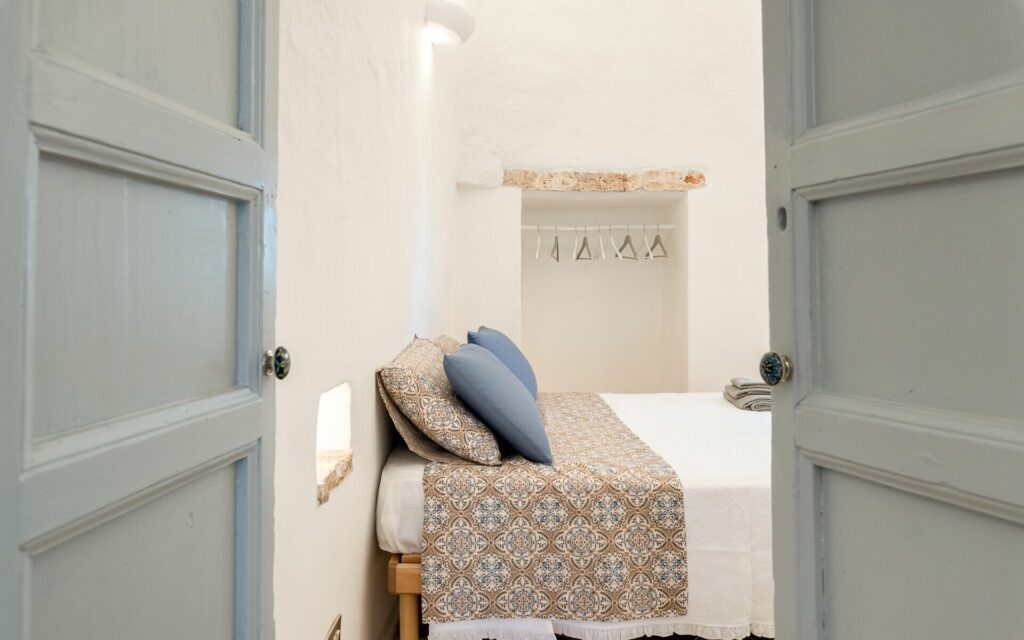 We love this 3 bedroom trullo in Puglia not least because it's situated between two of our favourite places in Puglia – Locorotondo and Cisternino – both of which certainly deserve their places in the list of 100 most beautiful villages in Italy. The use of muted pastel tones and natural materials have created a delightfully restful feel to the property's interior whilst outside, the gardens are immaculately presented. It's also a great option for families travelling with grandparents. As the property is arranged over two adjacent buildings, the parents and children can opt to sleep in one whilst the grandparents can enjoy a well deserved lie in in the other!
Sleeps 6
Prices from 33 euros pp per night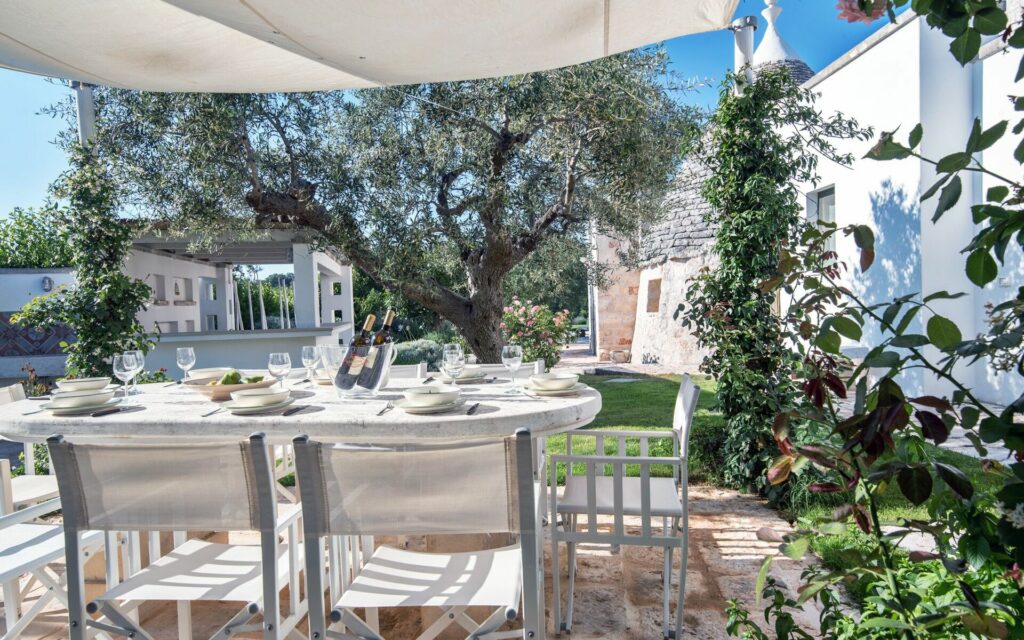 Another 'trulli' spectacular holiday rental in Puglia, this 5 bedroom property is perfect for families with older children or for groups of adults travelling together. The decor is simple but stunning. Each bedroom has its own unique style and character but all are equally appealing making it almost impossible to choose where you'd like to sleep! Just a short walk from a small village cafe where you can buy your bread each day and close to some of our favourite towns in Puglia – Locorotondo, Ostuni, Alberobello and Cisternino – we think that this property provides the perfect place to stay in Puglia.
Sleeps 10
Prices from 48 euros pp per night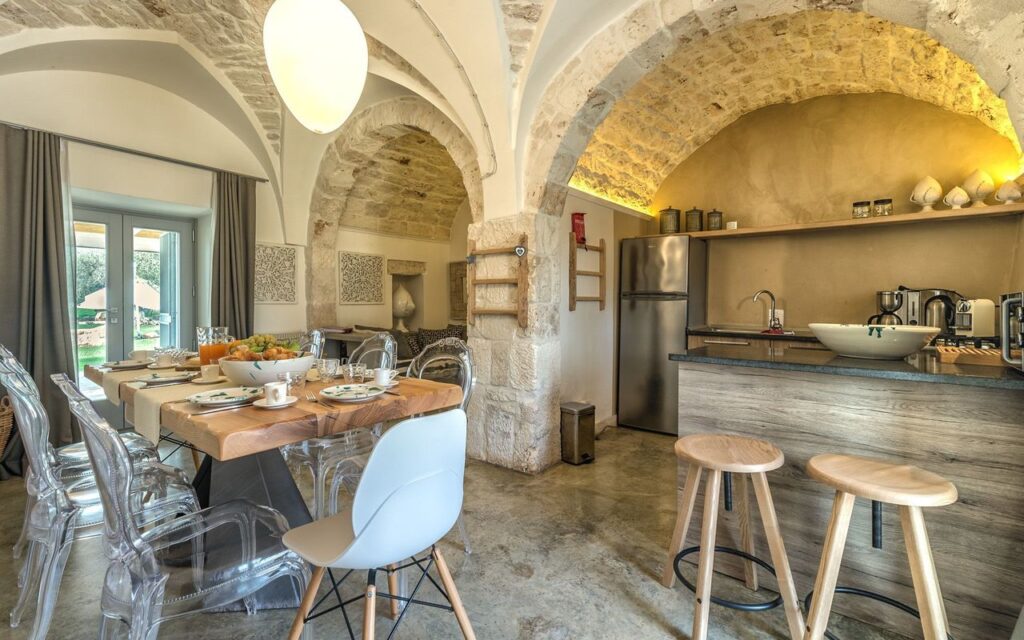 Villa Itaka is a super stylish Puglia holiday rental. Inside, warm contemporary tones throughout create a luxurious space to relax and unwind. But, what we love just as much as the stylish interior of this Puglia trullo is the equally stunning outside space. The owners have designed the outside space so cleverly that it becomes a real extension of the interior living areas. Relax on the cushions that adorn cleverly designed stone sun beds around the pool, lose yourself in your favourite book in the Asian inspired covered pergola, snooze in one of the hammocks or catch up on the news with family and friends on the comfortable seating in the covered verandah. There are so many areas to pick from, you really will be spoilt for choice!
Sleeps 9
Prices from 36 euros pp per night
This modern Puglia trullo ticks all the boxes. Arranged around a large courtyard with mature trees providing ample shade but with a large teak decked terrace adjacent to the pool offering plenty of sunshine for those that love the heat, this is one of those holiday rentals in Italy that you will struggle to tear yourself away from! We love the contemporary neutral tones and clever accents of colour in the interior that ooze warmth and give the property character and charm.
Sleeps 8
Prices from 72 euros pp per night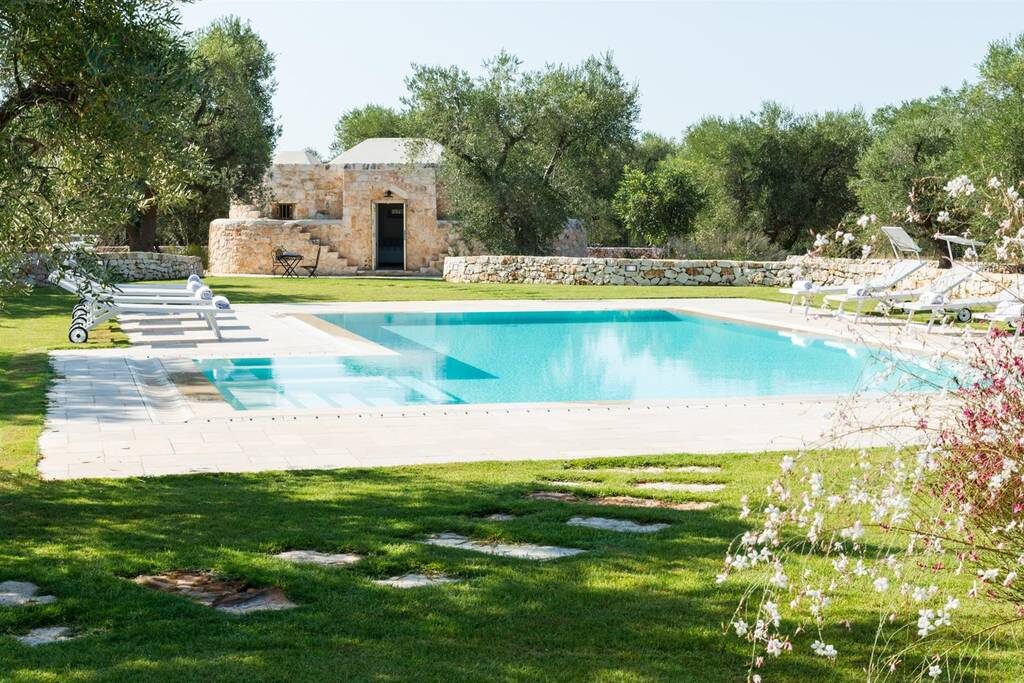 With the living space split over 3 separate buildings, this Puglia trullo is another great option for families travelling with grandparents. The main trullo is home to 2 bedrooms, a bathroom and a stylish open plan living, dining and kitchen area offering the perfect space for a family of four whilst the remaining bedroom suites are set in the grounds, giving grandparents the chance to holiday with you whilst still ensuring they can enjoy a degree of privacy. The gardens are immaculately kept with lush green lawns on all sides of a large private pool. There is a wonderful outdoor seating and BBQ area but for those who prefer to eat out, the nearest restaurant is just 4 kilometres away with plenty of other options available in the nearest town of Cisternino. Opt to stay here and you won't be disappointed!
Sleeps 8-10
Prices from 60 euros pp per night
Check out the full range of trulli and villas in Puglia available to rent from Bookings For You on our website.