One of the reasons I love Italy so much is its amazing food. Yes, the scenery, the history, the people, the art and architecture are all incredible too but the saying goes that 'the way to a man's heart is through his stomach' and that saying applies perfectly to me!
When you book an apartment or villa in the Italian Lakes with Bookings For You, you'll always have a well equipped kitchen in your holiday rental so that you can prepare some amazing meals without having to venture out. But, there are some great restaurants on Lake Maggiore well worth trying. We thought it may be helpful to share some of our favourites with you. We've chosen a mix of options to cater for all tastes and budgets and to ensure that you have a recommendation to try wherever you happen to stay.
BREZZO DI BEDERO
Officina della Pizza – This is lively pizzeria which is very popular with the locals and comes highly recommended.
Il Cortiletto – Initially discovered by one of Bookings For You's most loyal customers, this offers an excellent standard of food and with tables both inside and outdoors.
LUINO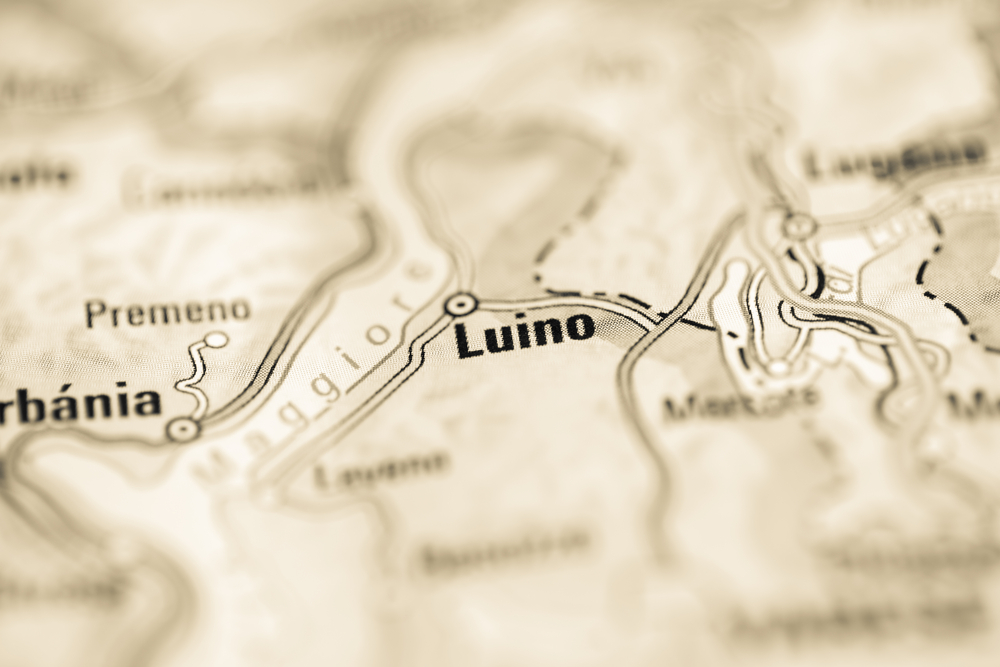 La Vecchia Pesa – This was one of our children's favourite restaurants in Luino when they were younger, no doubt won over by the complimentary drink on arrival, bountiful breadsticks and the most enormous pizzas! It's a very informal restaurant with a huge menu. It is also possible to get takeaway pizzas from here.
Al 29 Felice – This is a small family run restaurant serving excellent quality food from a very small kitchen!
Ciocco Bocco – For a 'cioccolato caldo', extensive range of teas and coffees or glass of wine and an aperitif, head to Ciocco Bocco. It's a café full of character and is well worth a trip one afternoon to soak up the atmosphere.
Hotel Camin – The owner of the hotel has invested heavily in his kitchen and his efforts have paid off. The hotel restaurant offers more formal dining of a high standard. In the Summer months, tables are laid out in the gardens to the front of the hotel.
Pasticceria Cerinotti – This is a great cake shop if you're looking for a sweet treat to go enjoy after your evening meal! They also serve great ice cream.
PORTOVALTRAVAGLIA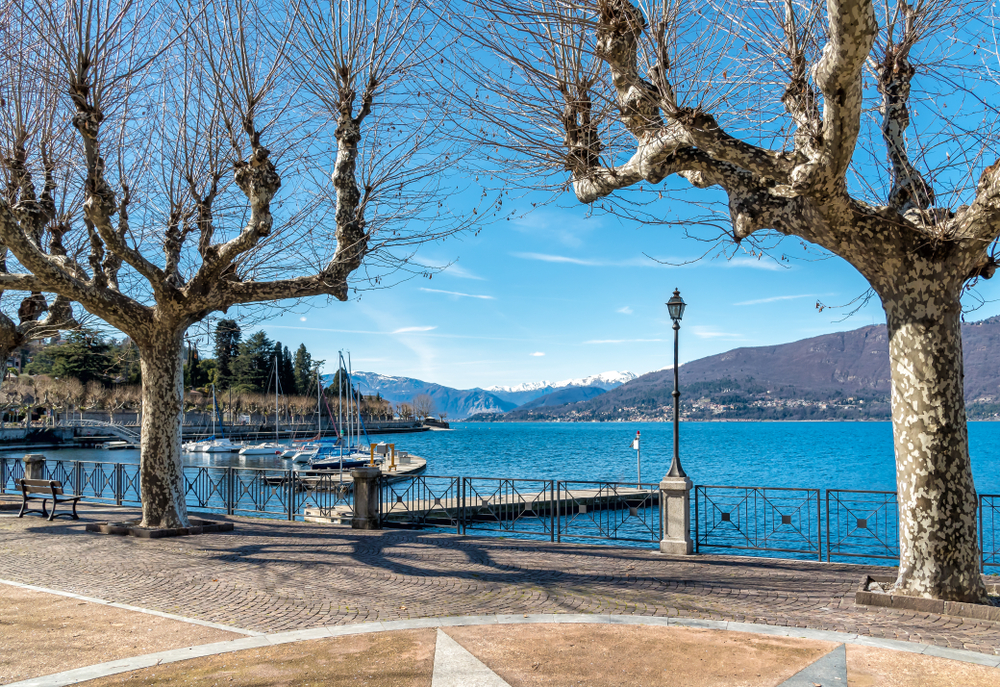 Andreas Restaurant and Bar – This is a modern, contemporary glass fronted restaurant right on the waterfront. Great place with wonderful food but it's not somewhere we would necessarily recommend for young children – more of a place for a nice dinner for 2 or a 'grown up' meal. Teenagers would be fine. It's worth booking ahead and asking for a table on the terrace to enjoy the wonderful lake views.
Albergo del Sole – This is a traditional hotel with an excellent restaurant serving delicious food.
Monte Sole – Situated on the lake road between Germignaga and Portovaltravaglia, this restaurant is also worth a visit. Renovated a couple of years ago, it has crisp white tablecloths and a vibrant, buzzy atmosphere. Again, it is very popular and can get booked up in the peak Summer months so it's worth booking ahead, particularly if you want a table on the terrace overlooking the lake. It's much more informal and relaxed and ideal for those with children. They serve great pizzas as well as pasta and meat dishes.
BRISSAGO-VALTRAVAGLIA
Osteria d'Alberto – Situated inland from Portovaltravaglia, this restaurant has a stylish and contemporary feel. Using the very best ingredients, we find that it gives some traditional Italian dishes a slightly European twist. Prices are higher than you'll find in many of the other restaurants in the area but it's worth a visit. In the Summer months, ask for a table on the terrace.
COLMEGNA
Camin Hotel – Owned by the same family as the Camin Hotel in Luino, this hotel has a superb restaurant in the most idyllic location overlooking the lake. As many of the hotel guests tend to eat in, it's worth reserving a table in advance. The food tends to be more expensive here than in many of the other restaurants in the area but it's of a high standard.
MACCAGNO
La Gabella – This is a busy restaurant on the lakeside in Maccagno with plenty of covered outdoor seating looking out on to the lake. Just follow the signs for the Golfo Gabella resort and it's right at the very end of the road past the apartment complex.
Restaurant Pizzeria Acquaduezero – This is a trendy, lively restaurant within the Golfo Gabella resort. It has tables outside on the terrace as well as plenty of seating indoors.
CANNOBIO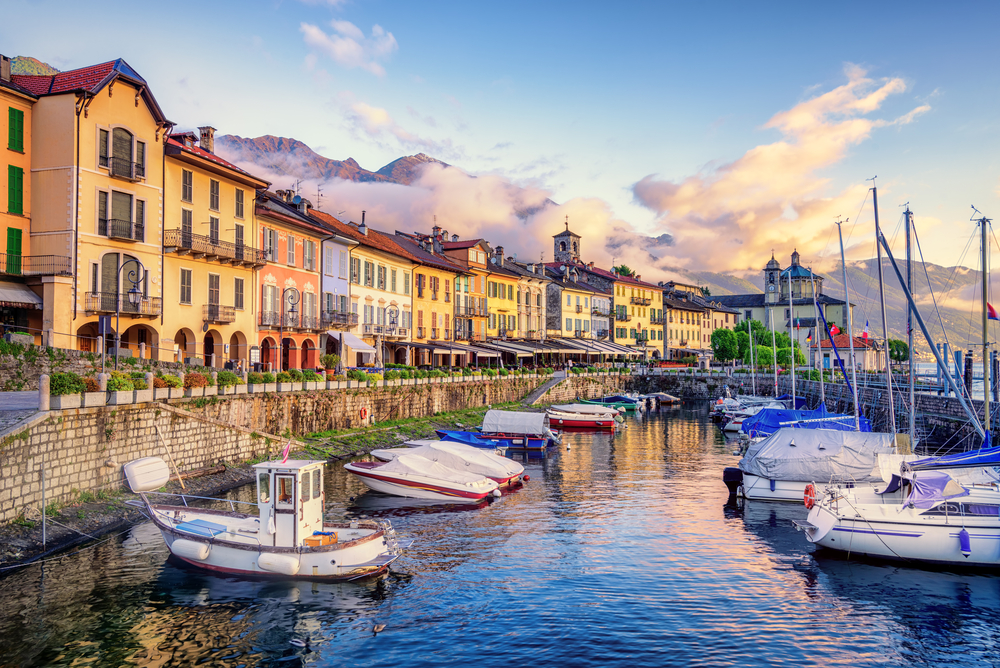 Ristorante Grotto Sant' Anna – This isn't a restaurant we have tried personally but again comes recommended courtesy of one of our guests and, based on TripAdvisor reviews, should be a safe bet.
CANNERO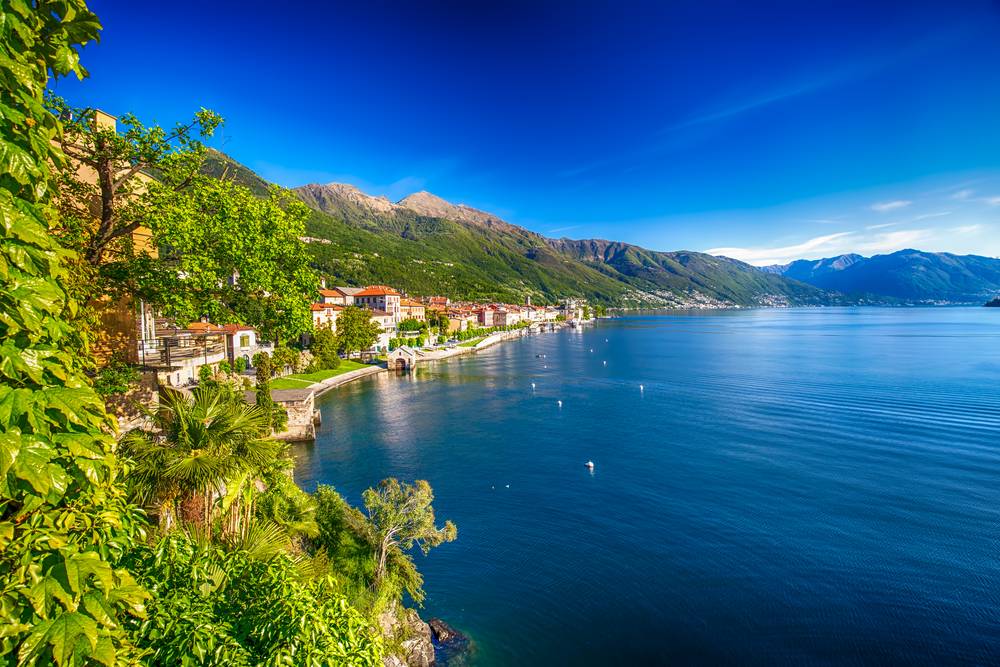 Il Cortile – Situated within a small traditional hotel, Il Cortile serves modern Italian cuisine. Please note that this restaurant tends to close off season.
STRESA
Il Vicoletto – This is a very popular restaurant tucked away in Stresa's narrow streets and comes highly recommended. As it is a small establishment, it's worth booking in advance as it gets filled very quickly. It offers more contemporary Italian cuisine of a very high standard.
Il Clandestino – Situated at Via Rosmini 5 in Stresa, this is a fine dining restaurant specialising in fish and seafood.
MASSINO VISCONTI
Trattoria San Salvatore – Occupying the site of an old monastery, this is a rustic restaurant enjoying the most incredible views as it's located 2500 feet above sea level. The menu is limited but the view more than makes up for this!
ARONA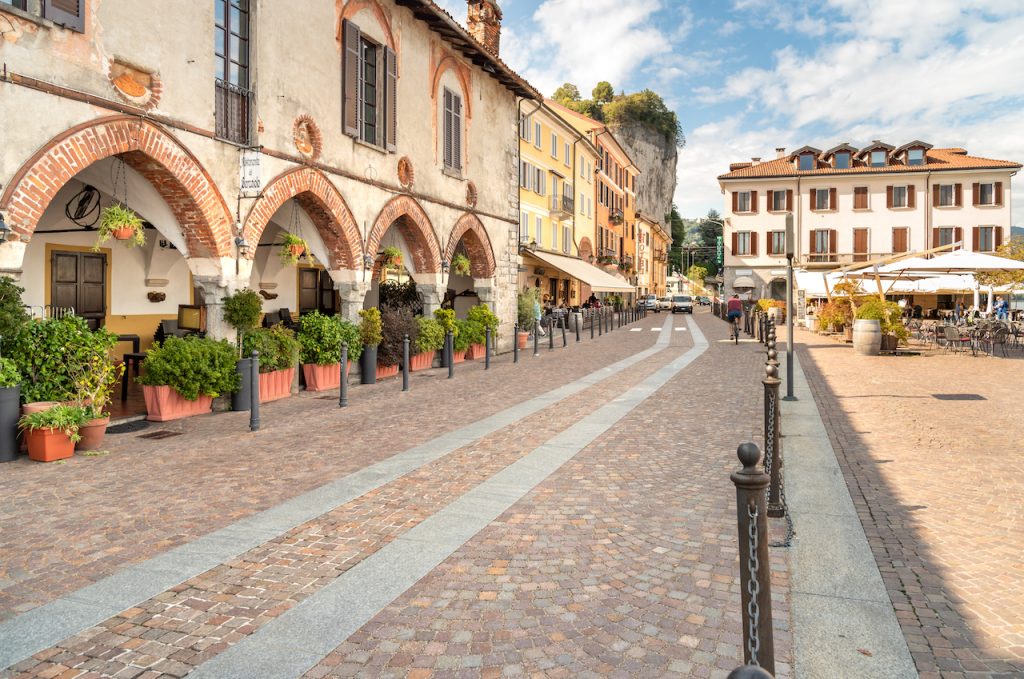 Ristorante Pizzeria da Aldo – a popular, lively restaurant in the Piazza Popolo in Arona. Large menu which includes pasta, meat and fish dishes and pizzas.
FERIOLO
Vistaqua – A contemporary lakeside restaurant serving equally contemporary cuisine including a range of antipasti, pasta, meat and fish dishes as well as pizzas and desserts.
LESA
Borgo Dan Giovanni – this is popular with the locals and serves excellent pizzas and a good general menu. It has a young English speaking owner. Parking is on the side of the road.
Il Rapanello – this restaurant serves only fish and seafood. The owner is very happy to make suggestions both for food and the wine and some English is spoken by the Summer staff.
Battipalo – A more upmarket restaurant with seating right by the lake and an English speaking owner.
PALLANZA
Ristorante Milano – this is an intimate and classy restaurant that comes highly recommended! It is right in the heart of the town on the lake at Corso Zannitello 2.
Osteria de Riccio – This is an excellent option for vegetarian visitors. Please note that the restaurant is closed on Mondays.
Del Largo Caffettaria – This is a popular cafe serving excellent breakfasts and homemade cakes if you're just looking for a sweet treat on your travels!
Arte & Pizza – Small pizzeria on Piazza Garibaldi in Pallanza
ASCONA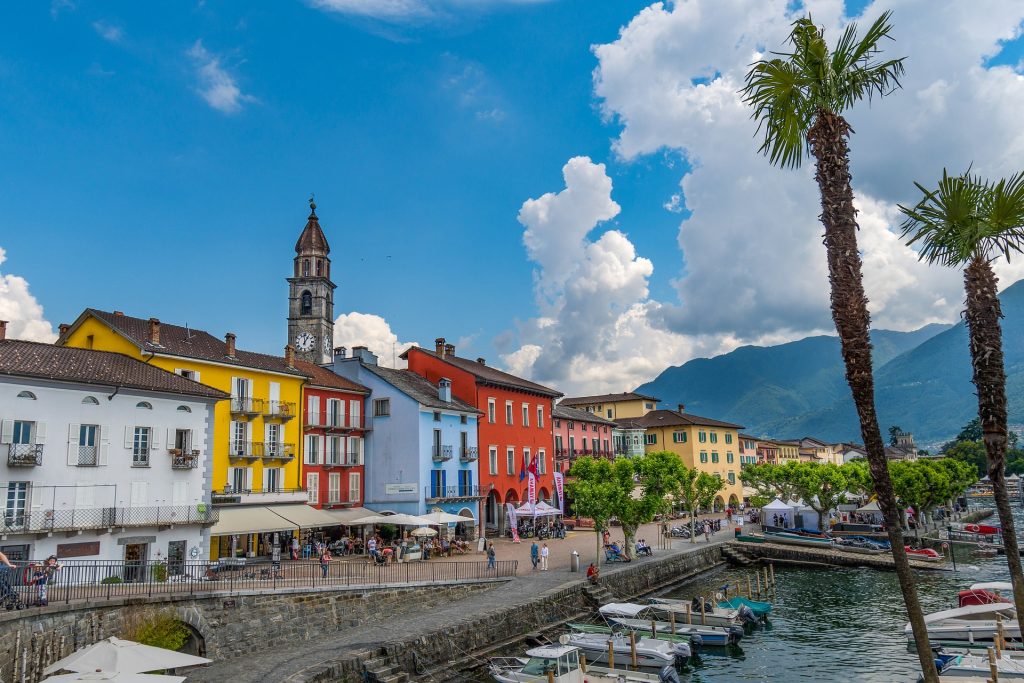 Ascona boasts no less than 3 restaurants with a Michelin star.
Ecco – Founded by German chef Rolf Fliegauf, Ecco is a contemporary restaurant that has been awarded not one but two Michelin stars. Located within the Giardino Hotel in Ascona, it's a beautiful setting and a perfect venue to celebrate a special occasion. Diners have the option of a 4, 5 or 6 course tasting menu but prices aren't cheap. Tables and vouchers can be purchased online.
Locanda Barbarossa – This is another high end dining experience located within the Castello del Sole resort in Ascona. The decor is stunning and the food top notch but again, it comes at a price!
Ristorante La Brezza – This is one of four restaurants within the Hotel Eden Roc in Ascona. Choose from a 4, 6 or 7 course tasting menu. Bookings can be made online.
LOCARNO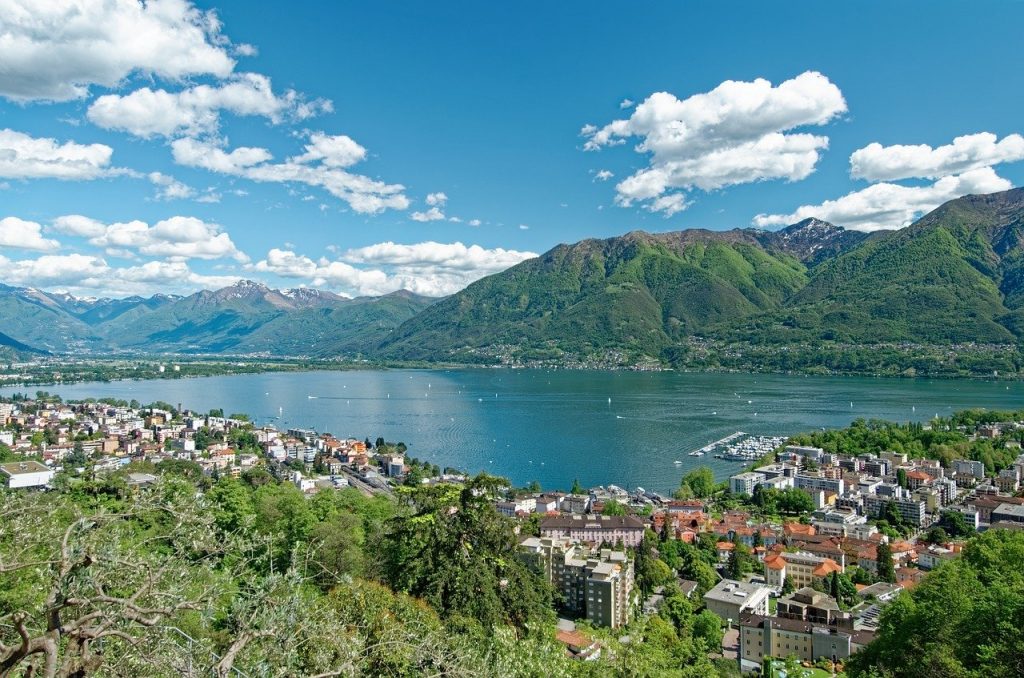 Gallery Arté al Lago – I have to admit that I am not as familiar with the restaurants in Locarno. The Swiss part of the lake tends to be much more expensive for dining out, so even I am exploring that area, I tend to head back over the border for dinner. However, if you're interested in fine dining, then Locarno also boasts a Michelin star restaurant at the lakeside hotel, Villa Castagnola. It's a stunning setting. We recommend you reserve in advance. Booking requests can be made via their website.
ENJOY DINNER IN THE COMFORT OF YOUR VILLA IN ITALY
We hope that these restaurant recommendations have whetted your appetite but, if not, another option is to hire your own personal chef for the night. If this is something you'd like to explore further, we are pleased to recommend the services of chef Marco Perocco. He can come to your home and cook up a delicious authentic Italian meal for you whilst you sit back and relax, or alternatively, he can come and run a cookery class for you, all in the comfort of your Italian Lakes villa rental. Alternatively, you can also enjoy this experience at his home in Sesto Calende. He will liase with you to create the perfect menu and to ensure that any special dietary requirements are met. Please do take a look at his website and get in touch with him directly for more information at booking@marcoskitchen.it. Mention 'Bookings For You' and you will also receive a complimentary bottle of prosecco if you do go ahead and book.
If you need any additional advice on the most suitable places to try, don't hesitate to get in touch with the Bookings For You team. If nothing on this list looks suitable, we may have some extra ideas up our sleeve that may tempt you! And, of course, for anyone booking an Italian Lakes apartment or villa in the Italian Lakes with Bookings For You, you will be able to take advantage of our exclusive concierge service which includes help with any restaurant reservations you may require.
And, of course, if you discover any gems on your stay on Lake Maggiore not on our list of recommendations, please let us know!