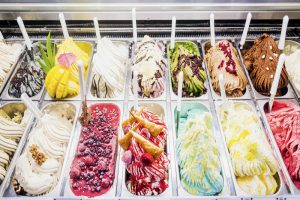 I have to admit to getting rather excited upon discovering the existence of a gelato festival in Italy. And to share another confession with you, this excitement rose even further when we discovered that this event doesn't just take place across one or two days, or in fact, across just one or two weeks but instead is held across a series of months and in eight different locations not just in Italy but also in London.
Kicking off in Florence later this month on 21 April, the event has four days in the Piazzale Michelangelo before moving on to Parma, Rome, Naples, Turin, Milan, London and Valencia before culminating in the finals back in Florence between 1 and 4 September. Each stage will include between 8 and 16 of the best gelato makers in Italy and there will be over 100 delicious flavours to try.
Even better, everyone has the chance to be a judge with the opportunity to buy a 'gelato card' online. This will give you the opportunity to try all the flavours on offer and then reward your favourite as the winner. Your vote, along with the votes of an expert panel will be combined and a prize then awarded to the best flavour during each stage with the best European ice cream announced during the final in Florence later this year.
The Bookings For You team are certainly already looking into coinciding one of our trips to Italy with one of the festival stages. It might be a bit short notice for us to get to Florence or Parma this month, but Rome, Naples or Turin might be possible in May and Milan looks more than achievable in June! Worst case, we'll definitely be heading into London this June to sample some of the amazing flavours on offer. Can't wait…!
If you would also like the chance to head over to Italy and be a part of this fantastic festival, we hope we can help you with some accommodation options for your stay. For those wanting to be part of the first or final stage in Florence, Bookings For You certainly have a number of apartments in Florence ideal for a short stay.