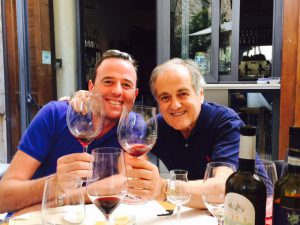 For those looking to enjoy a wine tasting experience in Umbria, look no further than spending a couple of hours with Roberto and his family at Enotica Properzio in Spello. Roberto is a larger than life character, and an impeccable host, whose knowledge of wine is second to none. Guests are warmly welcomed and treated to a superb array of wines accompanied by the most delicious, home made food. Located in the heart of Spello, a beautiful old town dating back to Roman times, the enoteca has tables both inside and outside, either at the front or in a more private rear garden.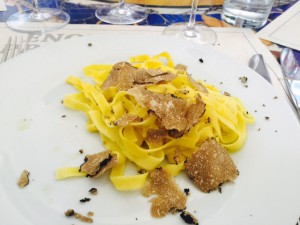 On arrival, we were shown to the rear garden, where we were seated around a large round table laden with glasses. During our Umbria wine tasting, we enjoyed the chance to taste some of the most spectacular wines, not just from the Umbrian region but also further afield in Italy including Marche and the Romagna region around Bologna. Each was accompanied by the most mouth watering food.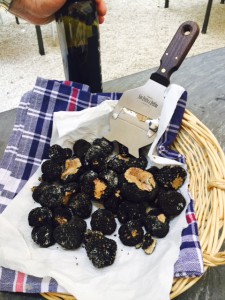 The appetiser included a selection of bruschetta, which was also an opportunity to savour some of the different varieties of olive oil on offer. This was followed by tagliatelle, handmade that morning and served either with tomatoes or fresh truffles, which were generously grated over the top and drizzled with a generous dose of olive oil. Yet more food followed including zuppa (soup) and a selection of cheeses, although we also had the option of choosing a meat dish if we had preferred. The food perfectly complimented the wines selected by Roberto and he was a fountain of knowledge, telling us all about the wines and answering any questions thrown at him. His style is relaxed and jovial and he is the perfect host.
Roberto is widely regarded in his field and, as such, is able to secure exclusivity on a number of excellent Italian wines. His pricing is also extremely competitive with generous discounts on wines versus pricing you will see elsewhere. For those who are tempted by the wines tasted, there is the opportunity to purchase bottles on departure. He ships wine all over the world and vouched that any wine we ordered would be delivered to the UK within a week. That's what I call service!
The experience is certainly the most memorable of any stay I have enjoyed in Italy and is not to be missed if visiting Umbria on holiday or business.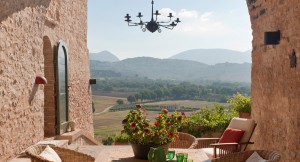 If looking for accommodation in the area, then why not spend a few nights at this 2 bedroom apartment in Umbria in the heart of Spello, just a few minutes walk from the Enoteca. So no need to worry about driving after sampling so many fine wines! Or for larger groups, there is a luxury villa in Umbria situated just a couple of minutes walk in the opposite direction. Both are available from holiday rental specialists, Bookings For You.