After the hectic festive season, we think that craving a bit of a peace and calm – and summer sun – is a perfectly normal thing to do.
However, we understand just how difficult it can be to find the perfect villa for your holiday; so we've curated a handful of villas which are ideal for couples looking for a romantic break in Italy this year. 
La Colombaia
Whilst this property is on the spacious side for a romantic break, we think that the stunning outdoor pool and dining area make this an ideal villa for couples. Based in the Umbrian countryside, it overlooks olive groves and rolling hills.
The property is also close to the Borgo della Marmotta estate, and guests are able to take advantage of their facilities during their stay — including their fantastic restaurant, if you don't fancy self-catering.
Roccamare Villa
This two bed villa in Tuscany is a great choice for sporty couples — the private complex includes a swimming pool, tennis courts, basketball court, football pitch, table tennis table and mini golf course.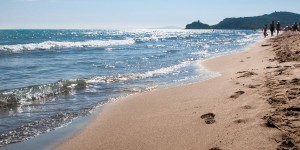 You can also upgrade your stay; we're able to arrange a range of gifts on arrival such as champagne, flowers or chocolates and strawberries, or include massage vouchers, half-board catering and even a cleaner as part of your package. This villa offers the perfect combination of villa privacy and the luxury of hotel facilities.
Palazzo Tronconi
There's nothing more romantic than good wine and delicious food, which makes Palazzo Tronconi a perfect destination for foodie couples. Couples will be able to indulge in a range of Italian culinary masterclasses and wine tasting tours during their stay, and learn from a true Italian master chef — Leonardo Grimaldi.
This beautifully decorated palazzo has been recently renovated, and provides luxury B&B accommodation. There are just five bedrooms, so you won't feel overcrowded — but there's still plenty of space for you to relax by yourselves.
Bellano Apartment
If you're looking for an apartment with spectacular views, this apartment overlooking Lake Como is perfect for your stay.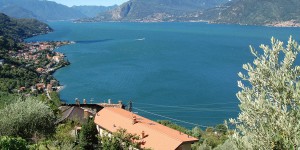 Recently renovated, the apartment is modern yet still retains its traditional charm. The lakeside town of Bellano is a short drive away, where you can get a boat to the many other lakeside towns and villages. The beach at Dervio is ideal for water-sports enthusiasts, offering sailing and windsurfing.
Palazzo dei Canonici Apartment
This apartment is in the heart of the lovely Italian town of Spello. It's beautifully decorated and full of character, with original stone walls and archways. The town of Spello is ideal for a romantic break; full of excellent restaurants and architectural sights.
Additionally, all guests receive a free wine tasting from the hosts at Enotica Properzio, a fantastic wine bar with over 2000 wines on offer.
Golfo Gabella Apartment
This one bed apartment has fantastic amenities, if you're looking for a hotel-style stay but with plenty of privacy.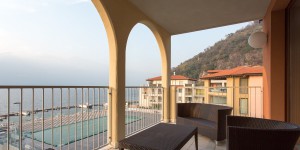 The site has swimming pool and jacuzzi, and tennis courts and water sports hire are both within walking distance. There is also a cafe, bar and restaurant — and guests are able to order a daily breakfast service should you wish to do so.