Cortona is a town in the Valdichiana (Chiana Valley) in the province of Arezzo in Tuscany. Thanks to Frances Mayes' book 'Under the Tuscan Sun' which became immortalised in a 2003 film, Cortona has become almost as well known as some of Tuscany's big cities, attracting thousands of visitors each year.
Cortona's history dates as far back as the Etruscan period and certainly, in the countryside around Cortona, it is possible to see a number of ancient burial sites, most notably the tombs of Melone I and II which both date back to the 6th century BC. However, these days, Cortona's streets are lined with buildings dating back to Medieval times.
What to do in Cortona
Cortona itself is a walled hilltop town that sits 600 metres above sea level. Its streets are narrow, cobbled and steep! In fact, only the Via Nazionale – Cortona's main street is without a gradient. Its main square is the Piazza dell Repubblica where you will find the Palazzo Comunale (town hall) sat above a series of massive stone steps. Take time just to wander around these ancient streets and visit some of the wonderful independent shops and cafes that you will find here. Perhaps sample a glass of the local wine – Bianco Vergine Valdichiana. Or, if you're looking for a souvenir to take home, then look out for Cortona's famous ceramics which are still manufactured and hand painted using methods passed down through several generations.
Cortona's hilltop setting means that visitors will fall just as much in love with the views from Cortona as with Cortona itself. We think the best views are to be enjoyed from the Santa Margherita Sanctuary and the Girifalco Fortress, Cortona's highest point. From the Etruscan walls that lead to the fortress, you can enjoy a panoramic view of the whole of the Valdichiana and can even catch a glimpse of Lake Trasimeno in neighbouring Umbria. Head here at sunset to see it at its most romantic!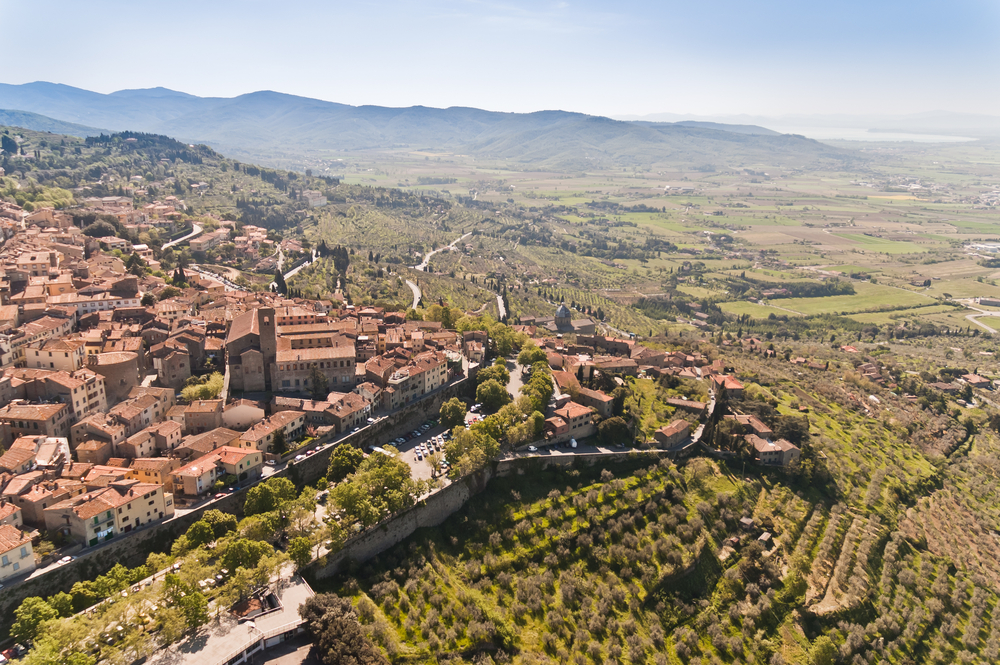 There has probably been a fortress here since the 5th or 6th century BC and over the years it would have had an important military role to play. However, what you see today will have gone through a number of substantial changes since then and predominantly dates from the 16th century. It has also had a number of other uses including as a prison in the 19th century and as a place of refuge during WWII. Part of the fortress is open to visitors and it's definitely worth taking a tour that starts in the courtyard with its dungeon and the guard's station, and don't miss seeing the four bastions – the Bastion of Santa Maria Nuova, the Bastion of Santa Margherita, the Bastion of Sant'Egidio and the Bastion of San Giusto.
The walk to the Santa Margherita Sanctuary up the Via Santa Margherita (or Via Crucis as it is also known) is the steepest climb you'll find in Cortona and probably isn't for the unfit amongst you! The road borders the old walls of Cortona and passes the gate where Margaret of Cortona entered the city back in the 13th century on her way to becoming Saint Margaret. Look out for 15 mosaic panels en route made by local artist Gino Severini in 1947 representing the Stations of the Cross. If you'd like to find out more about Saint Margaret, then it's worth visiting Cortona in May when annual celebrations are held in honour of her.
A trip to Cortona would also not be complete without a visit to the Museo dell'Accademia Etrusca e della Città (MAEC), where you can learn more about Cortona's history and where you can find a plethora of Etruscan relics. You'll be able to get a better understanding of the ancient history of Cortona and how the town developed through the Etruscan and Roman periods.
The other museum in town is the Diocesan Museum. If you're an art lover, then this must definitely be a stopping point on your visit to Cortona. Some of the most famous pieces of art here include the Annunciation by Fra' Angelico and Lamentation by Luca Signorelli. Signorelli was actually born in Cortona as have a number of other famous Italian artists including Renaissance artist Sassetta, Roman Baroque painter and architect Pietro da Cortona and futurist artist Gino Severini.
Whilst visiting Cortona, it is also worth heading just outside Cortona's ancient walls to the Franciscan hermitage of Le Celle. This was the first monastery to be built by Saint Francis of Assisi in 1211 and visitors can still visit St Francis's tiny cell which has been perfectly preserved as it would have been hundreds of years ago despite changes to the hermitage across that same period. Today, there are still a small number of friars who live here.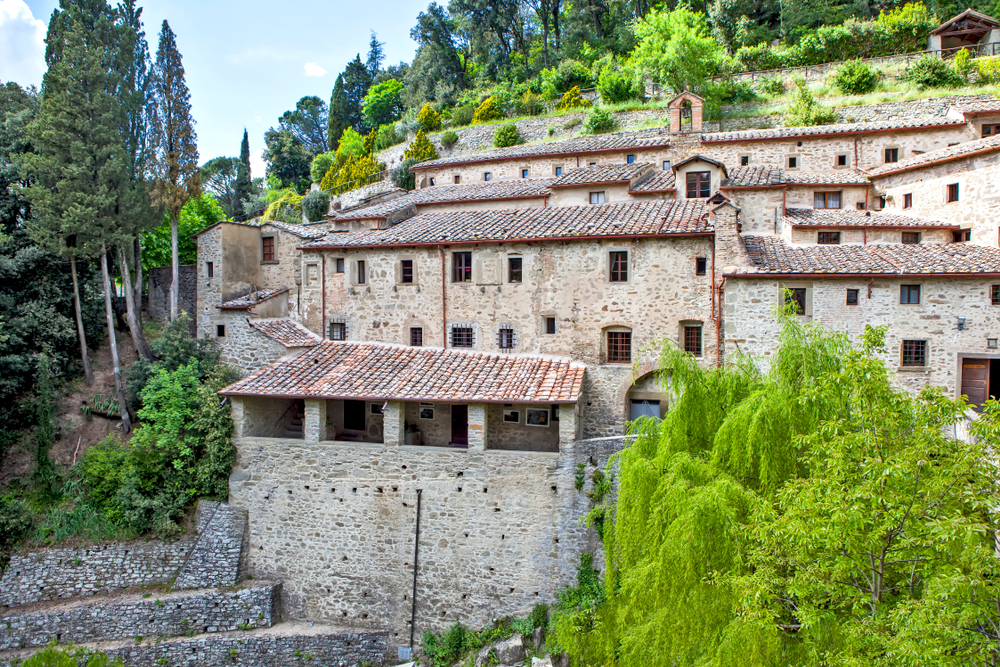 Also just outside the walls of Cortona is the Church of Santa Maria delle Grazie al Calcinaio. This Renaissance church was designed by Francesco di Girogi Martini and was built to mark the site of a miraculous appearance by the Virgin Mary at a lime kiln (calcinaio) here. Take a moment to admire the beautiful stained glass rose window by Guillaume de Marcillat.
Events in Cortona
Probably Cortona's most famous annual event is the Tuscan Sun Festival. Held every August, it features a series of concerts in the charming setting of the Teatro Signorelli.
Otherwise, there are other smaller events throughout the year. For example, you'll find an antiques market in Cortona on the fourth Sunday of the month in the Piazza Signorelli where up to 50 stallholders will sell their wares. And in May each year, there is the fiera del rame del fiore e del coccio, an annual fair celebrating copper, flower and earthenware crafts. Again, it is held in the Piazza Signorelli and spills out onto the Via Casali.
The following month in June, Cortona plays host to the Archidado Joust whose origins date back to the late 14th century when it was originally set up to celebrate the marriage of Francesco Casali, the Lord of Cortona, to Antonia Salimbeni. The wedding is still celebrated on the second Sunday of June each year. Visit Cortona then and you'll find the locals dressed in Medieval costumes, with flag bearing contests, Medieval markets and plenty of games and merriment to get involved in!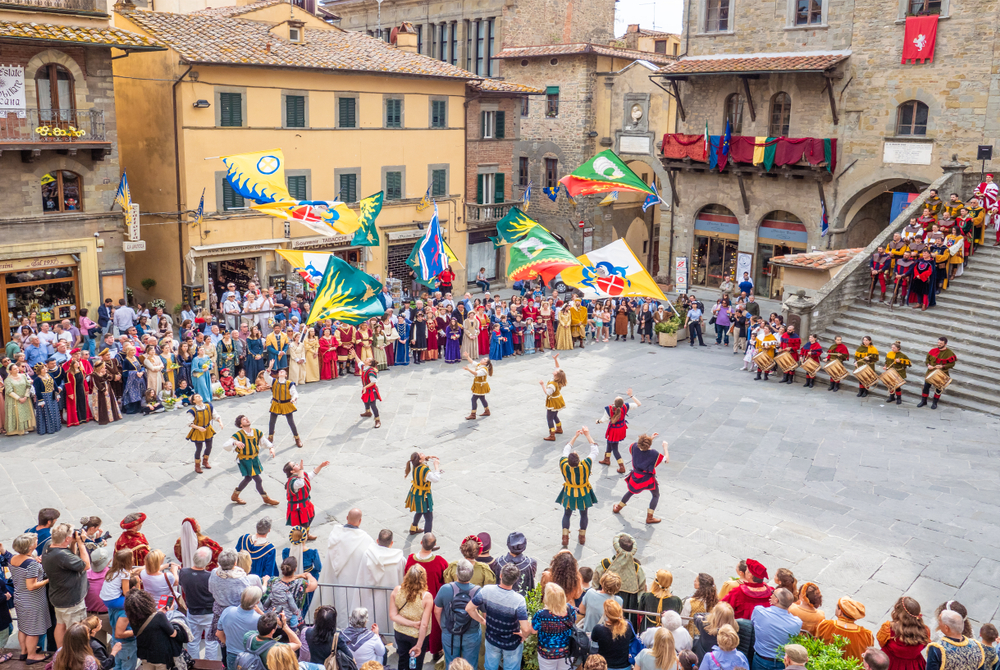 Late Summer and Autumn in Cortona sees a number of food festivals celebrating local harvests. These include the porcini mushroom festival every August in the Parterre Gardens along with our favourite, the Sagra della Bistecca (steak festival) also held in Cortona's public gardens. This is a great opportunity to sample the famous T-bone steak from the Chianina cattle that graze in the fields around Cortona. Or for those with a sweeter tooth, visit Cortona in September and you may be lucky enough to enjoy the chocolate festival that it plays host to annually.
Where to stay in Cortona
Cortona accommodation doesn't get much better than Villa Cortona, a stunning 4 bedroom Tuscany villa situated just a short drive from the town and set in stunning gardens with large private pool. If you're looking for an idyllic spot to retreat back to away from the hustle and bustle of Cortona, then certainly this Cortona villa ticks all the boxes!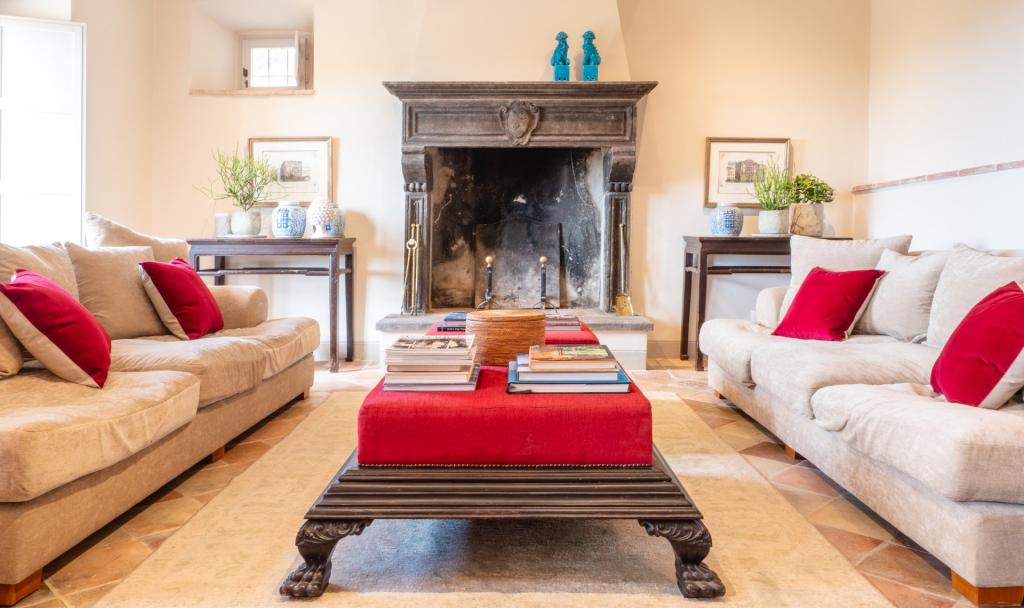 Alternatively, if you're looking for a hotel in Cortona, then check out Expedia for a great range of Cortona hotels at great rates.
Where to eat in Cortona
Visitors are spoilt for choice when it comes to Cortona restaurants. Some of our favourites include:
La Loggetta: Great location with a wonderful terrace to dine out on. We can highly recommend the tiramisu which is spectacular!
Osteria del Teatro: A popular haunt with the celebrity world!
Sartu: Delicious food created by a wonderful female chef with a real passion for her work.
Ristorante Tempero: Owned by Mara, a wonderful Brazilian lady, this is a great place if you like your meat. It's extremely family friendly too.
Caffe del Teatro: A favourite restaurant for the owners of Villa Cortona, head here to sample the wonderful pasta 'fatto a mano' (made by hand) by the owner and chef, Lilli. Incidentally, Lilli also has the keys to the Opera house adjacent to the restaurant and, if you're very lucky and she has time, she will be happy to show you this gem of a building.
Preludio: Fine dining in the heart of Cortona with a very extensive wine list to choose from.
Ristorante Cantanapoli: The best seafood restaurant in Cortona run by Mario who gets fresh fish and seafood delivered every morning.
Gelateria Snoopy: Scooping up the best gelato in Cortona, Gelateria Snoopy is located just off the Piazza Signorelli.
Caffe Vittoria: A great family run cafe. We think this is the best place for coffee and a cornetto, so if you fancy enjoying an authentic Italian breakfast with the locals or a rest from sightseeing, head here!
Or for a high end, fine dining option, head just outside Cortona to La Corte dei Papi where you will find a superb restaurant in the old cellars of the large impressive Tuscan property.
Alternatively, if you fancy choosing some of Cortona's finest produce and eating it in the comfort of your Cortona villa rental, then head to the weekly market every Saturday morning in Piazza Signorelli.
How to travel to Cortona
Once in Cortona, it is easy to explore on foot. If you're working out how best to get to Cortona, try out Omio. This is a really helpful site, aimed at simplifying journey planning. You can look at a variety of travel options – air, train or bus. Just enter your dates, departure and arrival destinations and it will allow you to easily compare the different options as well as to reserve tickets.
By plane: The nearest airport is Sant' Egidio International Airport in Perugia which is approximately 60 km away. From here you'll need to either take a taxi or hire a car. A pre-booked taxi will cost around 100 euros. Alternatively, you can fly into Florence (135km), Pisa (195km) or Rome (320km).
By train: The nearest train station is Camucia-Cortona train station, which is approximately 3 km from the centre of Cortona. Alternatively, if you are coming on the fast train from Rome, you may find yourself at the Terontola train station which is about 10 km away. From both stations, you will need to then either catch a bus or a taxi. Bus stops are conveniently located either next to or opposite each station. Tickets only cost a couple of euros and buses leave every 30-50 minutes Monday to Saturday and every hour on Sundays and public holidays. Buses will drop you off at the Piazza del Mercato in Cortona. Taxis should be available outside both train stations and a journey to Cortona will cost around 10-20 euros.
By car: It is easy to get to Cortona by car and the city has a number of parking options outside the city walls. Remember that blue lines means parking must be paid for whilst white lines means parking is free. Yellow lines are reserved parking areas, usually for locals. The most convenient parking is probably at Spirito Santo and from here, an escalator takes you straight up to the Piazza Garibaldi. Otherwise, there is a large car park at Piazza del Mercato. The walk into town from here is fairly steep but parking is usually plentiful. If visiting in peak season and you are struggling to find a space, one option worth trying is the parking at Misericordia. It's outside the cemetery and it's a much longer, steeper walk in. There are a number of other smaller parking areas too.