Menaggio is a popular town on Lake Como, boasting a very attractive lakeside promenade dotted with colourful flowerbeds and palm trees. Sitting on the Western shores of Lake Como at the mouth of the River Senagra, it's also a great spot from which to explore the other lakeside towns such as Varenna and Bellagio, making it the perfect spot to rent a Lake Como villa. Menaggio's history dates as far back as Roman times but what you see today really only dates back to Medieval times. The town has been a popular spot for tourists since the 19th century. Today, Menaggio remains a great base for any Lake Como villa holiday.
What to see and do in Menaggio
The lakefront in Menaggio is very pretty. Look out for the 10 metre tall, white Carrara marble statue of the female silk weaver (Monumento alla Tessitrice). The statue was commissioned by the Mantero family, owners of a nearby silk mill. It was made in 1990 by Francesco Somaini and dedicated to the female silk workers who, at one point, helped to make Como the silk capital of the world. Also on the lakefront is a lido with a large swimming pool and beach access. Built in 1934, the lido remains extremely popular today. If your Lake Como villa or apartment doesn't have its own pool, then the lido is a great place to go!
The town's main square is the Piazza Garibaldi. Visit Menaggio on a warm, dry, sunny day and we can highly recommend stopping to enjoy a coffee in this lakeside square. If you are visiting Menaggio in the Winter months, then you may well be lucky enough to find an ice rink set up in the square along with a Christmas market. Whatever time of year you visit, you'll find the Tourist Information Office here if you need any information during your Lake Como villa holiday.
Soak up the beautiful views from here before taking a stroll along the Via Calvi where you'll find a number of lovely shops selling everything from shoes to homewares and from clothing to food.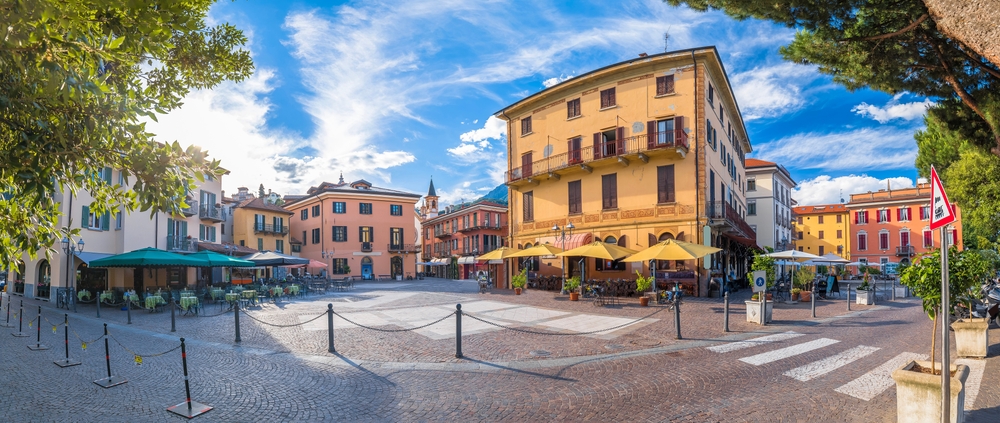 You'll also find the Church of Santa Marta half way up the Via Calvi on the right hand side. This boasts a number of important features. Inside, there are a number of interesting 17th century paintings whilst at the entrance to the church is a Medieval font. However, there is much to see outside too including some notable bas-reliefs. The oldest of these is a fragment from the tombstone of Lucius Minicius Exorato, a 1st century AD Roman official. The tombstone fragment was found in the lake in front of the Roman walls of Santa Maria Rezzonico but was transferred here in the 16th century by the humanist Francesco Calvi. Calvi believed that Menaggio got its name from that of Minicio. Another of the bas-reliefs is a 15th century depiction of the castle of Menaggio which is now also found on the town's coat of arms.
There is a second church in Menaggio which is also worth visiting. This is the Church of S. Stefano at the far end of Via Calvi. It is home to a number of important artworks including frescoes by local artist Tagliaferri and works by Castelli who came from Menaggio. Look above the altar and you will find a copy of a painting called the Madonna di Menaggio by Bernardino Luino. The original is in the Louvre in Paris. And finally the Altar of the Sacred Heart (Il Sacro Cuore) inside the church is heavily embellished with 17th century stuccoes by the maestri intelvesi. These were craftsmen from the Intelvi Valley who travelled all over Europe and who passed their craft from father to son.
As a general rule in Menaggio, if you head back from the lakeside, you'll discover the old town of Menaggio and find a much more medieval look characterised by narrow alleyways as well as steep stone steps and buildings. The very oldest part of the town is in the Via da Castello where you can take a walk along the huge perimeter walls that once bordered an ancient castle that has long since been demolished.
This castle dated back to the 8th or 9th century but was destroyed in 1523 by the Rhaetian militias. So, today, all that remains are some of the perimeter walls. However, it's a pretty walk. Look out for the 11th century Medieval bas-reliefs on the facade of the house at number 54 Via da Castello and for the 17th Church of San Carlo. The latter was built by Cinzio Calvi as a tomb for himself and his wide. Its Spanish style bell tower is a striking reminder that this area fell under Spanish rule in the 15th and 16th centuries.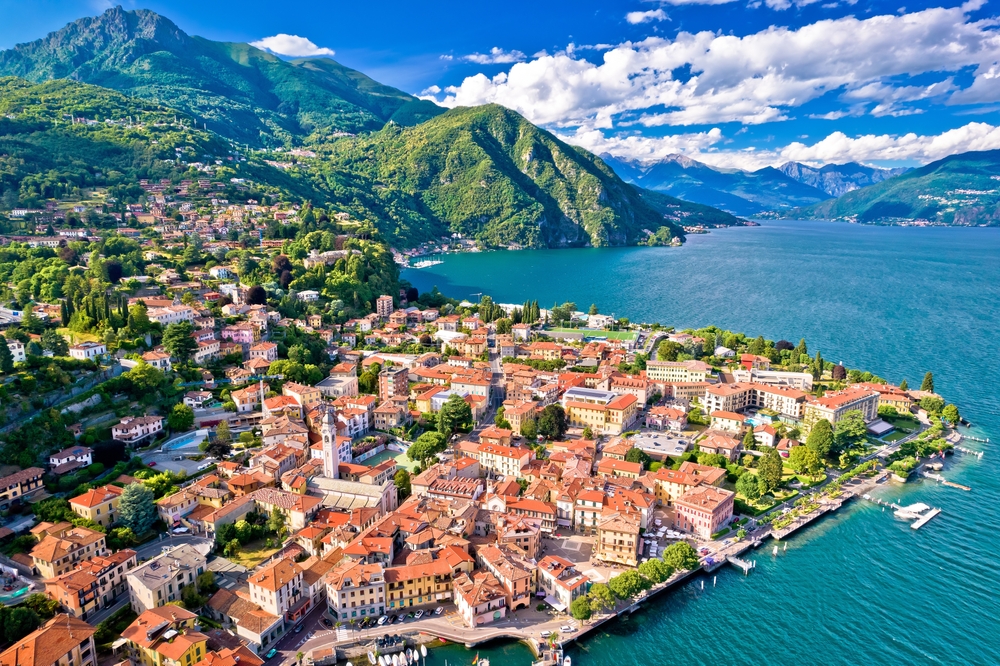 You'll also find a reminder of Menaggio's more recent history at the start of the Via da Castello. In April 1945, Mussolini refused to surrender to the National Liberation Committee Alta Italia and made his way from Milan to Lake Como, stopping in Menaggio en route on 25 April 1945. A series of panels mark these events, one of which is at the start of the Via da Castello. Incidentally, Mussolini was subsequently killed in nearby Mezzegra, shot dead by Italian resistance fighters on 28 April 1945.
Keep walking and head to the Via Strecium to admire the pretty bridge – Il Ponte di Caravaggio – that goes from one side of the Senagra stream to the other, above the waterfall that drops below. The bridge is extremely picturesque and at its central point you can find a bas-relief by Vannuccini. This represents San Giovanni Nepomuceno, the patron saint of bridges.
There are plenty of other fantastic walks to be enjoyed around Menaggio, so don't restrict your visit to its historic centre. Even if visiting from your Lake Como villa in the Winter, you don't need to let the adverse weather conditions stop you either! Far from it! Hire snow shoes and take to the nearby mountains of Monte Bregagno or Monte Garzirola.
Finally, those who play golf will want to pay a visit to the Menaggio and Cadenabbia golf course before they leave. This famous 18 hole course was originally founded by an English aristocrat in 1907, but it was completely redesigned in 1965. It still has a rather British feel and offers breathtaking views over Lake Como from its elevated position above the lakes western shore. Also of note is the clubhouse's magnificent library of golfing literature, said to be second only to that at St Andrews in Scotland.
Where to stay in Menaggio
This Lake Como apartment is a great base from which to discover Menaggio. Situated just down the lake in nearby Laglio, this penthouse apartment is within an easy walk of the lakeside and boasts exceptional lake views both from the private terrace and communal pool area.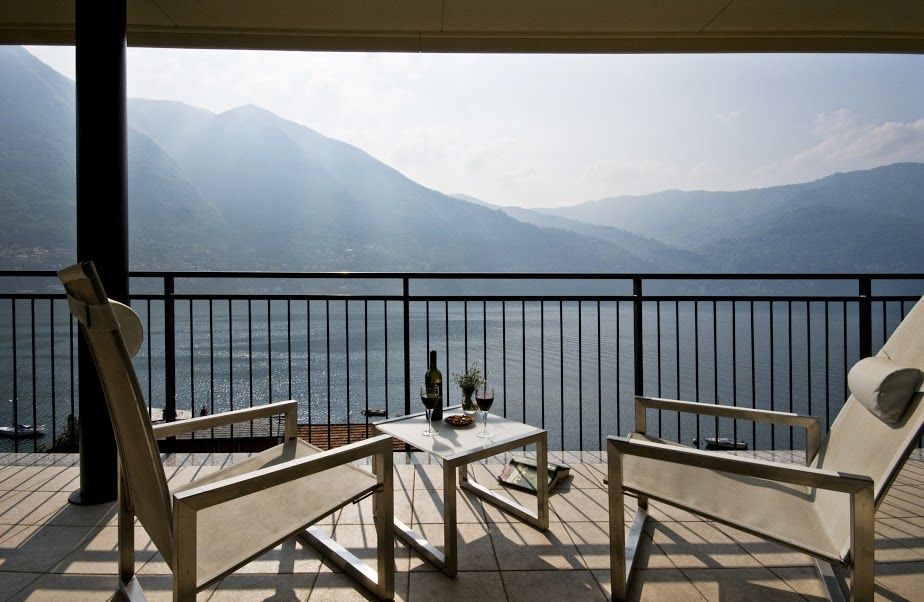 Alternatively, if you're looking for a hotel in Menaggio, then check out Expedia for a great range of Menaggio hotels at great rates.
Or, take a look at all the apartments and Italian Lakes villas available from award-winning holiday rental company, Bookings For You.
Where to eat in Menaggio
Our favourite restaurant in Menaggio is Il Ristorante di Paolo. It's a great restaurant with lake views offering delicious food. Prices are a little more expect than many of the restaurants in this area but we think it's well worth it. If visiting in the Summer, ask for a table outside on the terrace.
How to get to Menaggio
By plane: The nearest airport is a 50 minute drive away in Lugano. However you'll probably find more flights coming into Milan Bergamo which is approximately 65 km from Menaggio. Alternatively, Milan Linate airport is approximately 80 km away and Milan Malpensa airport is a couple of hours drive away.
By train: Menaggio does not have a train station. The nearest train stations would be in either Como or Varenna. From Como you can take the bus (C10) to Menaggio which will take just over an hour or you can use the public boat network to get from Como to Menaggio, just as you would if arriving in Varenna Esino by train.
By car: Driving to your Lake Como apartment or villa in Menaggio is relatively straightforward. From the direction of Milan, pick up the A9 Como – Chiasso motorway and take the last exit for Lago di Como before following the signs from here to Menaggio. From the direction of Lugano, exit the motorway at Lugano Nord and follow the signs for Gandria – St. Moritz. Once you have crossed the border into Italy, follow the 340 road to Menaggio. If you are coming from the other side of the lake, please note that there are car ferry services between both Varenna and Menaggio and between Bellagio and Menaggio.
By boat: Menaggio is well serviced by the boat network that criss-crosses Lake Como all day long. Check out www.navigazionelaghi.it for all the timetable information you will need.
Tempted to discover Menaggio for yourself? Then check out the Lake Como villas and apartments available to book from Italian Lakes villa specialists, Bookings For You.