Norcia is a small town located in the heart of Umbria in central Italy, sitting in the Valnerina Valley in the shadow of the surrounding Apennine Mountains. It has a long history, with traces of humans living here in the Neolithic age. However, Norcia's known history dates back to the Sabine people who lived here from the 5th century BC. The Ancient Roman Empire then moved in from the 3rd century BC and in the 3rd century AD, Christianity arrived. Both Saint Benedict (who founded the Benedictine monastic system and the first monastic Christian community in Italy) and his twin sister, Saint Scholastic, were born here in AD 480 and, as a result, Norcia became a pilgrimage destination and an important centre for Christians. In the Middle Ages, Norcia enjoyed periods of rule under the Savelli, Poli and Doria families.
These days Norcia is known for its rich history, stunning architecture, and delicious cuisine, and is a popular destination for travellers looking to immerse themselves in Italian culture. Unfortunately, more recently, Norcia became synonymous with the terrible natural disaster of 2016, when it was just a few kilometres from the epicentre of a 6.2 magnitude earthquake.
However, a few years on from this tragedy, whether you're a history buff, a foodie, or just looking for a peaceful getaway, Norcia definitely still has something to offer everyone. In this travel guide, we'll explore all that Norcia has to offer and provide you with tips and recommendations for making the most of your visit.
What to see and do in Norcia
There is no denying the immense damage that the 2016 earthquake caused to Norcia. As well as tragically causing the deaths of hundreds of people in this area, it also caused the collapse and destruction of many of Norcia's buildings including the Medieval basilica of Saint Benedict. However, whilst these people should never be forgotten, this tragic event should not define the town. It is not what Norcia is about. People did survive and their determination not to give up and to rebuild is inspirational.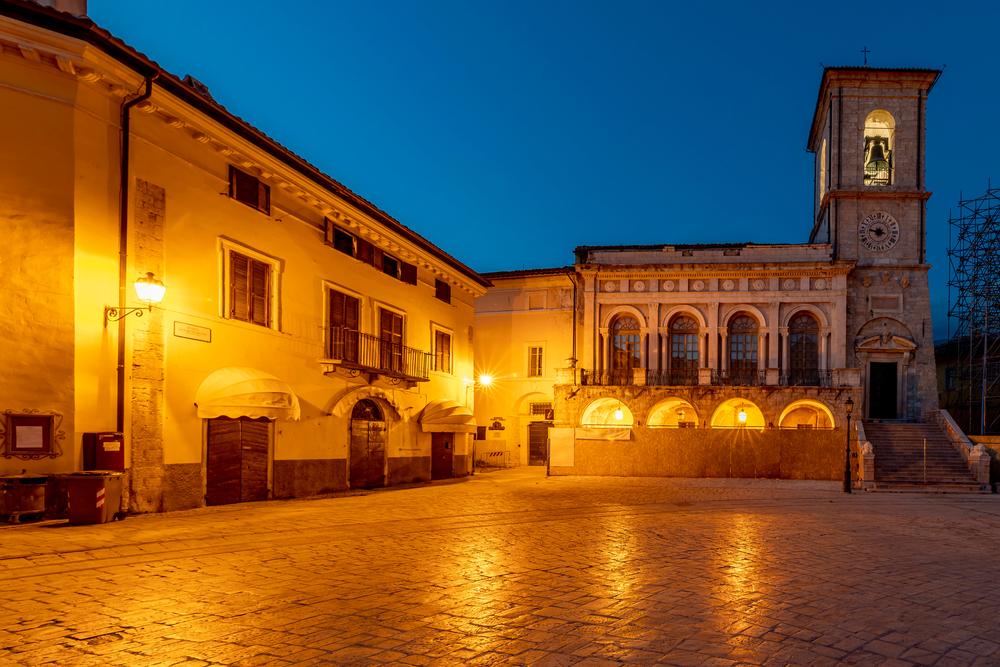 Yes, construction still continues but, even amidst the rebuilding work, Norcia's historic centre remains absolutely beautiful, filled with stunning architecture and winding cobblestone streets. Take a stroll through the town and admire the beautiful buildings, many of which date back to the medieval period. Be sure to visit the Church of San Benedetto in Norcia's main square (the Piazza San Benedetto). Dedicated to the town's patron saint, this church was badly damaged by the earthquake but which has now been restored and is open again to visitors. Other nearby piazzas are also well worth a visit including the Piazza del Mercato, home to some fantastic food shops.
Other buildings of note in the heart of Norcia are the Palazzo Comunale and the Church of Santa Maria Argentea.
Norcia also has a second claim to fame aside from St Benedict. This is its rich culinary heritage that continues to attract visitors. Norcia is home to an array of butchers shops that serve up an array of culinary delights. In fact, so famous is Norcia as an epicurean centre that the charcuterie shops here have their own unique name – norchineria. From here, the shop owners will produce incredibly high quality salamis, prosciutto and other foodstuffs centred around pork. Other food highlights you will discover in Norcia include delicious tiny lentils and mushrooms and truffles which have been foraged in the surrounding mountains. Pecorino and caciotta cheeses are also found in Norcia along with farro grain and chocolate. All can, of course, be washed down with some of the local wine.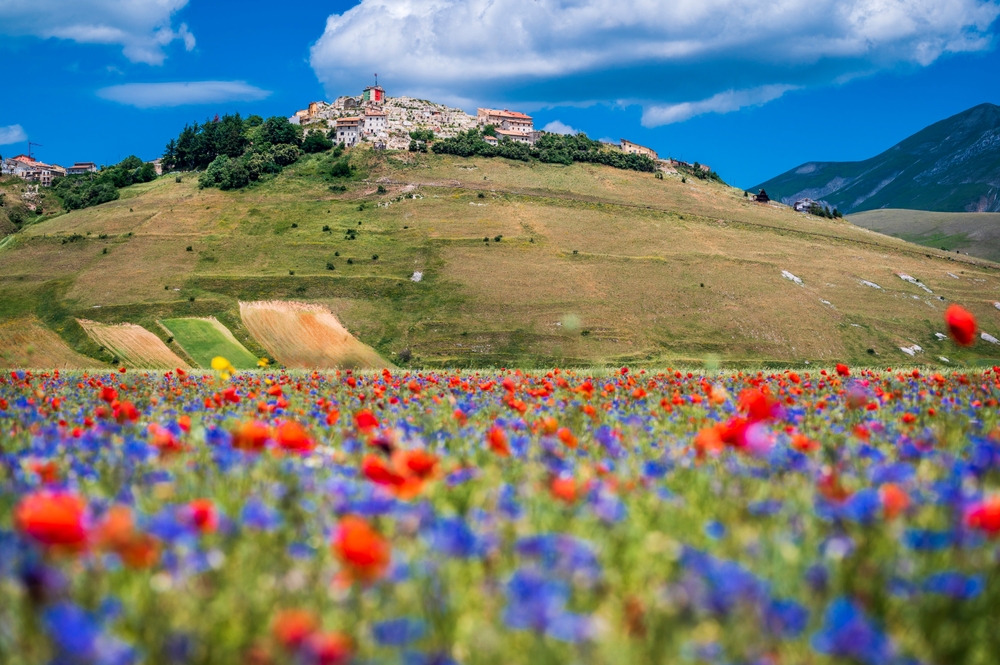 If you're heading to Norcia, it's also worth exploring the area immediately around the town. The adventurous ones amongst you will love the outdoor activities on offer including white water rafting along the nearby Nera River as well as horse riding and hang gliding. And hikers will love the chance to trek in the nearby Monte Sibillini National Park, home to some spectacular scenery and an array of wildlife including red and roe deer.
The nature lovers amongst you would be advised to visit Norcia in the Spring. In May, nearby Castelluccio is famous for its wild flowers. In May each year the entire valley around it erupts into a colourful display of blooms. The sight is truly spectacular. And whatever time of year you visit, it's worth discovering the hot springs nearby which are renowned for their healing properties.
Events in Norcia
One of our favourite events in Norcia is the annual celebration of its truffle – the Mostra Mercato del Tartufo Nero – which takes place at the end of February and beginning of March. Avid foodies will love this event since it involves infinite opportunities to sample this precious culinary delight. The treasured back truffle takes centre stage throughout the event and is available for visitors to buy in all its forms .
How to get to Norcia
By air: The closest airport to Norcia is Perugia San Francesco d'Assisi Airport, which is about 90 minutes away by car. From the airport, you can rent a car or take a taxi to Norcia.
By train: A railway line used to run from Spoleto to Norcia however it closed in 1968. However, you can take a train to Foligno, Perugia or Spoleto and then transfer to a local bus that will take you to Norcia. Once in Norcia, the town is small enough to explore on foot, but you may want to rent a car or bike to visit the surrounding area.
By car: For those coming by car, there is a large public car park just outside the main gates of Norcia.
By bike: The railway line that once ran from Spoleto to Norcia has been turned into a 50 km track which can be hiked or cycled. Make your way through the 19 tunnels and over the 24 bridges and past the 9 stations that would once have made up this train line.
Where to stay in Norcia
Norcia offers a variety of accommodation options, ranging from budget-friendly guesthouses to luxury hotels. For those who want to experience traditional Italian living, there are also several agriturismi (farm stays) available in the area. Head to Expedia to find a range of hotel, B&B and other Norcia accommodation options. Alternatively, if you are looking for a Norcia villa rental, get in touch with Umbria villa rental specialists, Bookings For You.
Where to eat in Norcia
Visitors to Norcia will be spoilt for choice when it comes to eating establishments.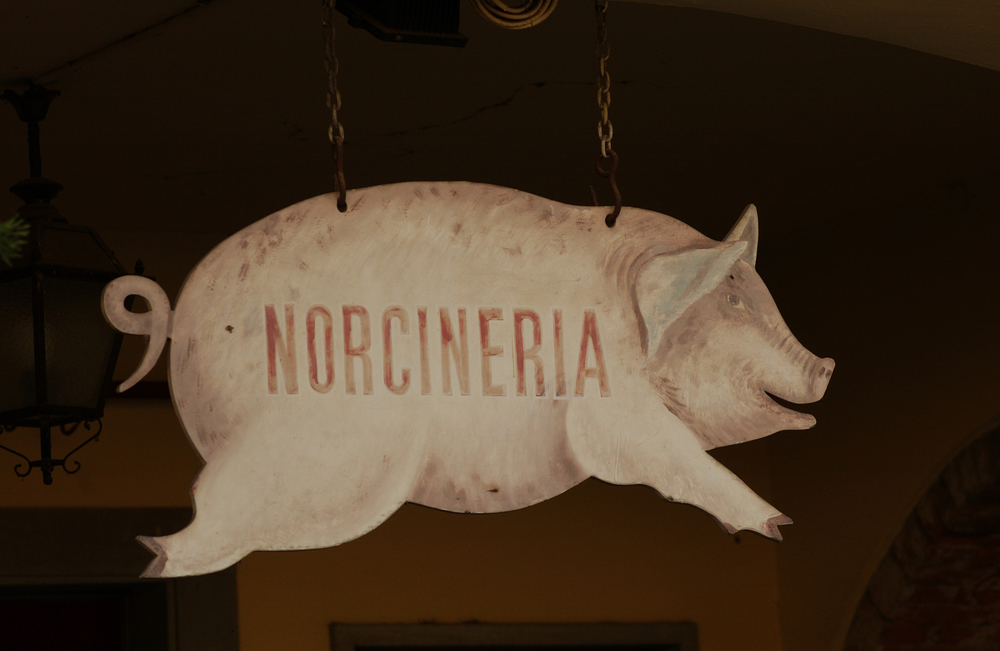 Head to Ristorante Vespasia, a Michelin star restaurant set in the stunning 16th century Palazzo Seneca for a fine dining experience. Guests will need to choose their menu options 24 hours in advance to ensure that the chefs can source the very best and freshest ingredients.
Or, for something completely different, but incredibly authentic, opt for Norcineria Ansuini Brothers Mastro Peppe and order one of their tasting boards.
If you're looking to try Norcia's signature dishes, then look for a menu that includes wild boar stew or the local specialty pasta dish – Pasta alla Norcina – which is made using the locally made sausage, porcini mushrooms, black truffles and cream.