If you're looking to explore a hidden Italy, away from the usual tourist crowds, then Sciacca should be at the top of your travel list. An historic fishing port situated between Selinunte and Agrigento on the South coast of Sicily, Sciacca is famous not just for the daily catch that the fishermen bring in but also for its ceramics and thermal baths as well as its annual religious festivals. It's not often on holidaymakers list of places to visit but its within easy reach of so many of Sicily's most famous sites and, in our books, is definitely worth a visit.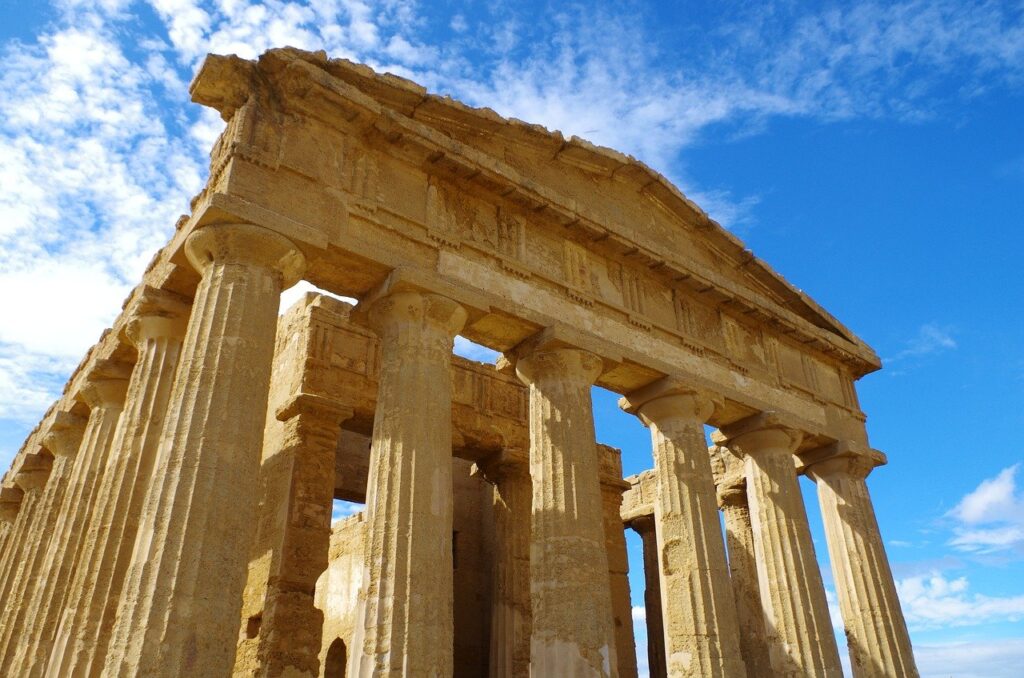 Pronounced 'shacka', the origins of the town go back centuries to ancient times. Thanks to its thermal springs, it became a thermal spa resort for the ancient Greeks in 7 BC and was known then as Thermae Selinuntinae. After the Greeks, came the Romans and they too used it as a spa town. And after the Romans, the Arabs used it as a trading port with strong links to North Africa, after which it continued to prosper for several centuries.
What to see and do in Sciacca

If we're honest, the modern part of town is unattractive and doesn't have much to recommend it to visitors but head down to the sea front to the fishing harbour to see the fishing boats at the port and sample some of the daily catch at the seafood restaurants that line the sea front. Just keep in mind that this is a large and fully functional harbour. As a result, it's not picture-postcard perfect, but it's a good opportunity to get a feel for what continues to be a thriving and vibrant fishing community and it's also a good place to enjoy views back towards the old town.
From here, take a stroll up to the main square – Piazza Scandaliato – where you can enjoy superb views onto the fishing port and sea below. Benches are arranged to make the most of the fantastic views or to engage in one of Italy's favourite pastimes – people watching!
From here, continue climbing upwards through the historic centre to the castle – Castello Luna – and old city walls. On your walk, you'll come across some interesting churches and buildings, many of which date back to the 16th century when the town was in its heyday. The latter include the Palazzo Steripinto whilst the religious institutions include the prominent Church of St Michael, the 12th century Church of St Nicholas, the Chiesa del Carmine, the former church of Santa Margherita and the Chiesa Madre. En route, make a bee-line for the Corso Vittorio Emanuele where you'll find numerous shops selling Sciacca's famous ceramics and majolica ware. These make great souvenirs of your time here.
A couple of pieces of advice before you visit Sciacca. Firstly, don't be surprised to see some buildings looking well cared-for whilst neighbouring ones look almost shabby and neglected – this is typical Sicily. It's completely authentic and gives visitors a real glimpse of what everyday Sicilian life is like. Secondly, a word of warning… Your walk in Sciacca will be pretty much all uphill and is quite strenuous so wear sensible shoes and be prepared to have a few stops to catch your breath en route!
In the past, one way to rest those tired feet and legs was to pay a visit to Sciacca's famous spa. The Stabilimento Termale is located near the centre of town and used to offer a number of treatments for various medical conditions or there was also a thermal swimming pool complex outside town – the Piscine Molinelli – but sadly, both have been closed for a few years now.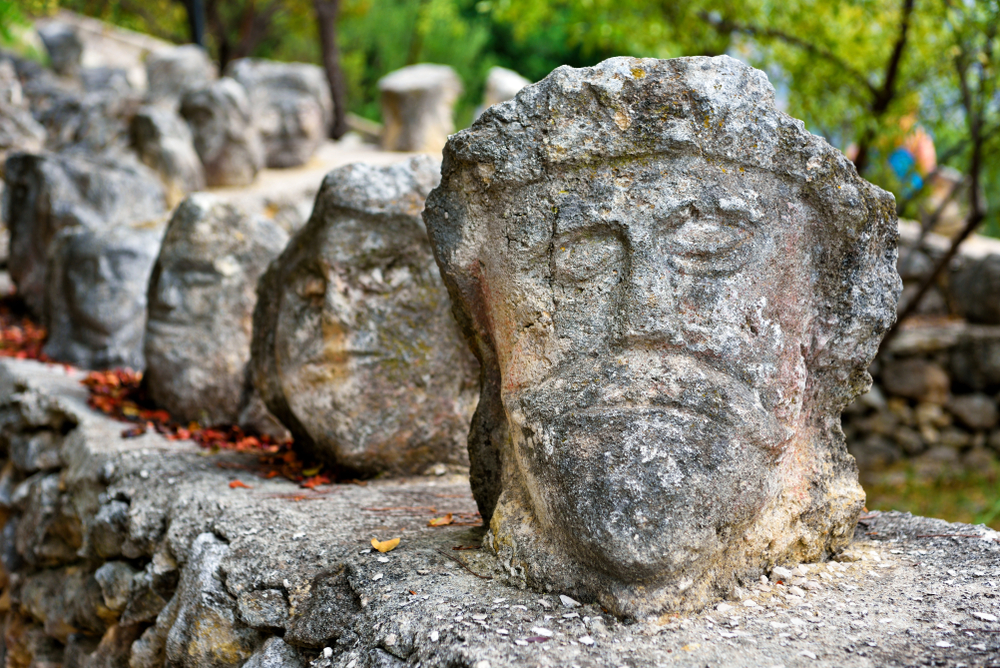 Whilst visiting Sciacca, you may also want to venture 10 minutes outside the centre to the Castello Incantato (Enchanted Castle). This is the creation of Filippo Bentivegna, a local artist who emigrated to America in the early 20th century but struggled to make a life there, returning instead to create a strange and unique world of his own, sculpting hundreds of stone heads in garden as well as painting a plethora of pictures which can now also be seen in his home. Both are open to visitors for a small entrance fee.
When to visit Sciacca
With a wonderful Mediterranean climate, Sicily is a great place to visit all year round. However, you may want to try and time your visit to Sciacca to coincide with one of the many festivals it hosts each year. Its annual carnevale held in February is a spectacularly colourful event and is one of the most important and well-known carnivals in Sicily rivalling that in Acireale. It kicks off on Shrove Tuesday when there is the symbolic handing over of the keys of the city to the King of Carnival – Peppe Nappa. For the duration of the event, Peppe Nappa's cart then constantly makes its way through the streets of Sciacca, distributing drìnks and grilled sausages until it is burned at the end of the celebrations whilst other larger-than-life floats also parade through the streets, all designed and put together by the various associations in Sciacca.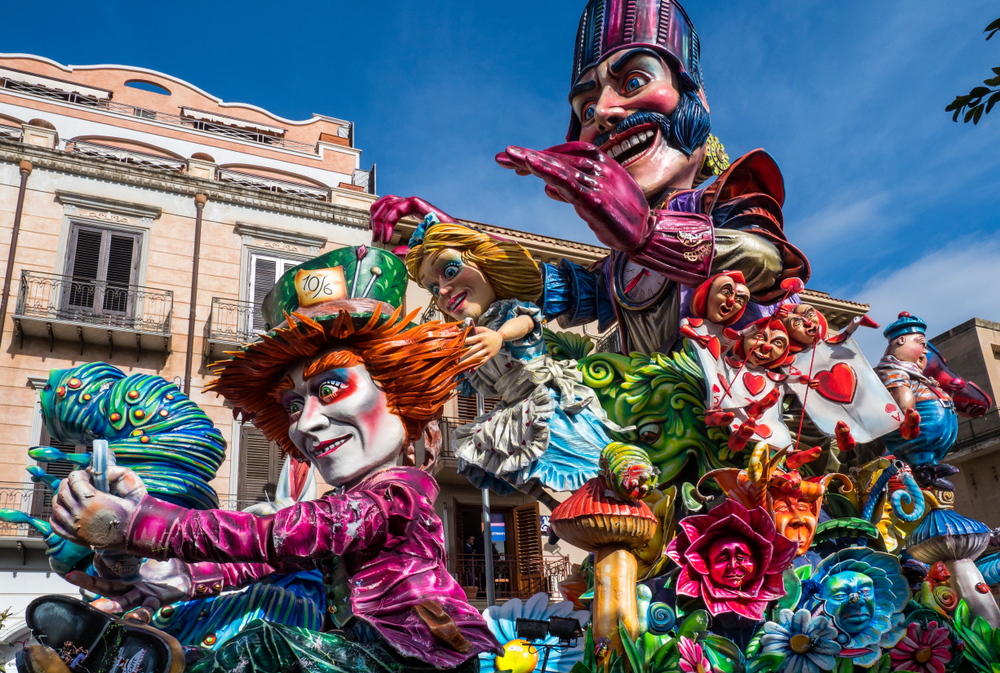 Or, visit in June during the celebration of San Pietro (the patron saint of net-makers, shipbuilders and fishermen) to witness a number of processions and events in the harbour area of Sciacca. These include a rather unusual competition during which young men scramble to reach the end of a slippery pole without sliding into the sea! It's certainly entertaining to watch!
Celebrations in Sciacca don't end there though. Head to the town in the height of the Summer and on 15 August you can join in the Festival of the Assumption when barefooted fishermen carry a statue of the Madonna through the town. This is a reenactment of am event that took place in 1626 when (the story goes), lightning struck during a pilgrimage procession, smoke rose from the statue and Sciacca was subsequently saved from the Plague.
Where to eat in Sciacca
Not surprisingly, Sciacca is home to some great seafood restaurants. One of our favourites is the Cantine de Gregorio. With both a winery outside town and a small restaurant – Le Stranizze – in the heart of the old town, both venues are worth visiting. Head to the winery itself to enjoy a wine tour before having dinner in the restaurant in the converted 8th century tower. Alternatively, head to the port in Sciacca to try out La Bottega del Porto or head a little further back from the shore to try Antica Osteria Della Vittoria, both specialising in wonderful fish and seafood.
How to get to Sciacca
Don't attempt to take a car into the historic centre of Sciacca. Most of the streets aren't wide enough to allow cars and those that can, are normally choked with traffic. Instead, we recommend parking just outside Porta Palermo, which will be less stressful than trying to make your way to the other car park in the more central Piazza Rossi. On the plus side, the narrow streets do mean that many are open to pedestrians only so exploring on foot is easy.
If coming by public transport, you'll need to catch a bus as there isn't an active railway station in Sciacca any more. Lumia run buses from Trapani to Sciacca and out from here to Agrigento in the East. Or if coming from Palermo, Autolinee Gallo run operate buses to Sciacca. Once in Sciacca, if you do want to head outside to visit the Castello Incantato, catch a bus from the Piazza Scandaliato.
Where to stay in Sciacca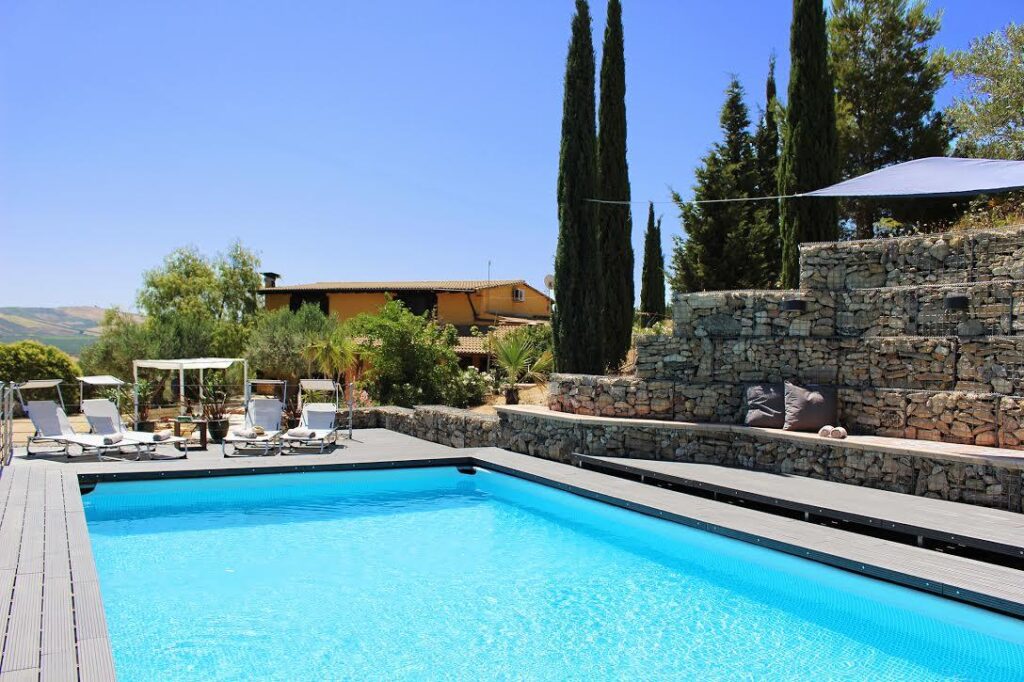 If you'd like to visit Sciacca and discover it in person, then this family friendly villa in Sicily is just a 10 minute drive from the historic centre of the town. Villa Lucchese can comfortably sleep up to 12 guests across 4 bedrooms and is set in an idyllic rural location, enjoying breathtaking valley views but its proximity to Sciacca means you can enjoy the best of both worlds – the peace and quiet of the countryside along with the hustle and bustle of authentic Sicilian life in the town.