Stresa is arguably Lake Maggiore's most famous lakeside resort town. It has been a popular tourist spot since the mid 19th century when it attracted artists and writers (including Ernest Hemingway who visited the town in 1948 and who set part of his novel 'Farewell to Arms' in the Grand Hotel des Iles Borromees) but its origins date far further back, first appearing in documents in AD998. Under the control of the Visconti family in the 15th century and subsequently the Borromeo family, its prominence continued into the 20th century when it hosted a number of key political conferences including a meeting between the UK, Italy and France in 1935 which re-affirmed the Treaty of Locarno and where agreement was reached to form the Stresa front to try and contain the threat of Nazi Germany. These days, Stresa itself is a busy and popular tourist spot and probably one of the only places on the lake where you will hear other Brits!
What to do in Stresa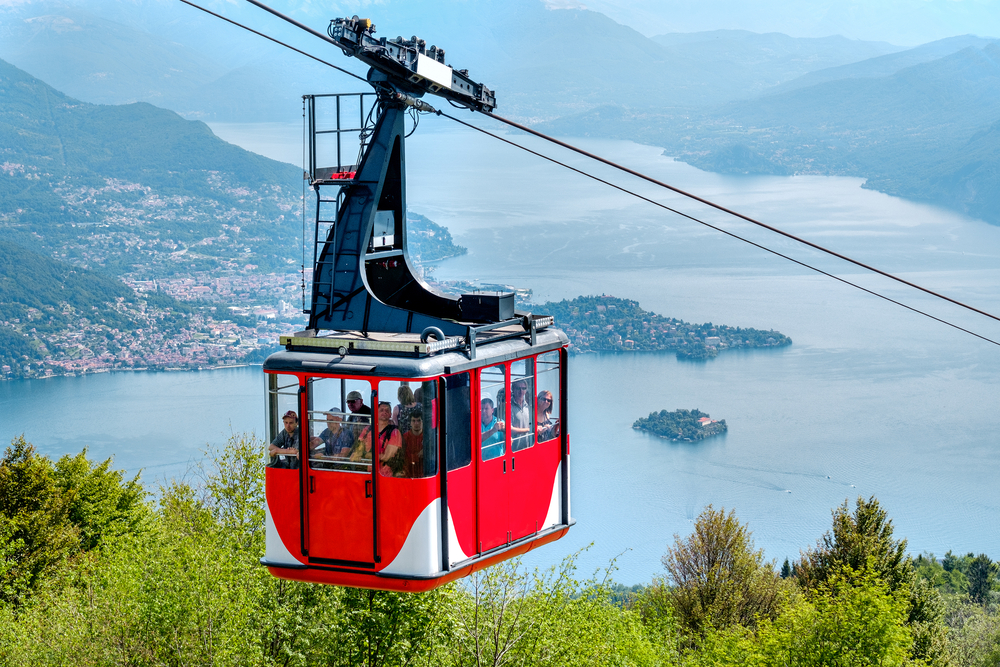 One of our favourite activities when in Stresa is to enjoy a ride on the Stresa-Alpino-Mottarone cablecar. It takes approximately 20 minutes to reach an altitude of 1.491 metres above sea level, from where you will be suitably rewarded with one of the most beautiful sights in Lake Maggiore – incredible 360 degree views from the Po Valley to the summit of the Alps. On a clear day, you will be able to see all 7 lakes from the summit (Lake Maggiore, Lake Orta, Lake Mergozzo, Lake Varese, Lake Comabbio, Lake Monate and Lake Biandronno). There is also a fantastic toboggan ride up here – Alpyland – which is great fun for all ages.
The cablecar actually has an intermediate stop where you are welcome to get off and explore the Botanical Garden Alpinia. The gardens tend to be quiet and peaceful attracting relatively few visitors but, if you're a nature lover you will appreciate the thousands of plants that it is home to. And the views of the lake from here are as stunning as they are at the summit.
Back at the shore, it's also worth visiting the Borromean Islands which sit in the lake just off the shore. Head to the boat terminal to catch one of the regular boats that go back and forth. If you're a few minutes early for your boat, then check out the pink granite mermaid statue nearby and take a seat on one of the benches nearby to wait for the boat to arrive.
There are 3 islands in total waiting to be explored – Isola Bella, Isola Madre and Isola Pescatori. On the first two, you'll discover historic palaces and exquisite gardens filled with rare plants and numerous species of flowers that flourish in the mild climate along with the famous white peacocks that strut around the lawns. Isola Pescatori is very different though. Simple fisherman houses contrast with the sumptuous palaces on the other islands.
You'll find another palace back on shore. Villa Pallavicino is a Neo-classical mansion dating back to the mid 19th century. Set in over 120 acres of gardens, it's home to an incredible array of wildlife including zebras, kangaroos, coatis, black swans, cranes and flamingos. It's a popular tourist spot and can be equally enjoyed by children and adults alike, the latter making the most of the picturesque flower-lined pathways. Magnolias, rhododendrons, roses and oleanders are just a few of the flowers that fill the gardens with colour throughout the Spring and Summer. Take a picnic to enjoy in one of the many picnic areas under the trees.
There are an abundance of other elegant villas to admire in Stresa, many of which are now hotels. Take a walk along the attractive waterfront to enjoy views of the Borromean Islands to one side and the Art Nouveau hotels on the other.
Events in Stresa
Stresa's principal event is the 'Settimane Musicali', an international classical music festival which is held annually in the Summer months and which will be celebrating its 60th year in 2021.
Where to eat in Stresa
Stresa boasts some excellent restaurants but it also has its fair share of tourist fare. Its worth heading away from the lakeside tourist spots to discover the more authentic restaurants beyond. Some of our favourites include:
Il Vicoletto – This is a very popular restaurant with the locals., offering contemporary cuisine of a high standard It is tucked away in Stresa's narrow streets and comes highly recommended. It doesn't have many tables so we recommend booking in advance to avoid disappointment.
Il Clandestino – Situated on Via Rosmini, this is a high end, fine dining restaurant specialising in fish and seafood.
Lo Stornello – Priding themselves on using local produce and ingredients, this restaurant serves up high quality food.
Osteria Mercato – Situated in Piazza Capucci, this restaurant prides itself on its modern and inventive approach to Italian cuisine.
How to travel to Stresa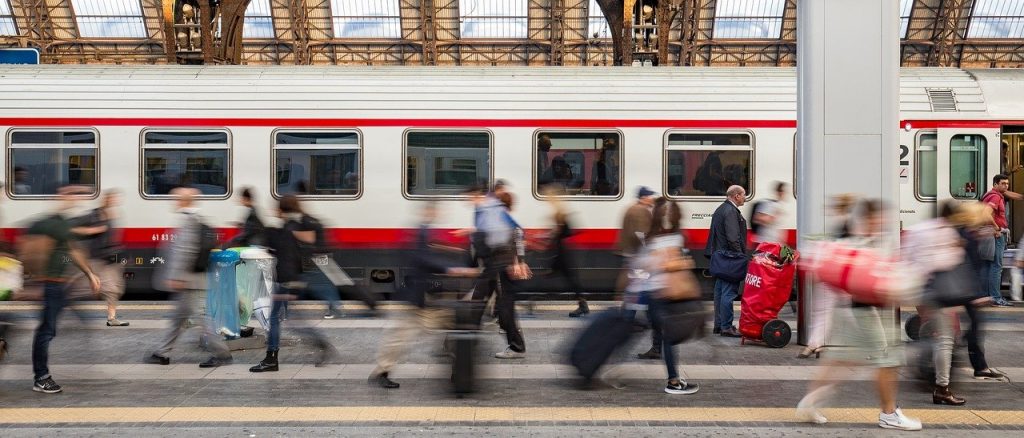 By train: Stresa is just over an hour from central Milan by train.
By car: Take the A8 motorway and leave at the A26 to head towards Gravellona Toce. Exit at Carpugnino and from here, follow the signs for Stresa.
By bus: Catch a bus from Lampugnano underground station in central Milan. The journey from here to Stresa takes approximately 75 minutes. Or, if flying into Milan Malpensa, catch the Alibus shuttle. This journey will take about 50 minutes but tickets must be pre-booked.
By taxi: A taxi from Milan Malpensa to Stresa will cost around 100-125 euros.
Where to stay in Stresa
Stresa has plenty of hotels to choose from but one great option is to opt for a self catering apartment in Stresa for your stay. This 3 bedroom Stresa apartment is on the outskirts of Stresa and an easy bus ride into the centre of town. Or this 2 bedroom apartment on Lake Maggiore is in neighbouring Baveno and again, is within easy reach of Stresa using public transport links.
Or take a look at all the other apartments and villas on Lake Maggiore to rent from Bookings For You.