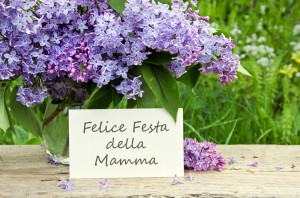 Whilst Mothers Day in the UK is celebrated in March each year, in Italy mothers are officially celebrated on the second Sunday in May. We thought we'd share an A to Z of Mother's Day for those who are thinking about celebrating this special day in Italy with your Mother.
A is for Assisi: Mother's Day was celebrated in Italy for the first time on 12 May 1957 in the city of Assisi thanks to the Reverend Otello Migliosi who was the parish priest of the Tordibetto Church. He made such a success of it that the following year, it was celebrated across the nation.
B is for Bellini: This drink was founded by Giuseppe Cipriani, founder of Harry's Bar in Venice. Even if you can't make it to Venice to enjoy one of these special cocktails, it's easy to make yourself. Just pour peach puree into a chilled flute glass, add prosecco and hand to your Mum to enjoy!
C is for cycling: For any Mums who are keen cyclists, what better way to spend Mother's Day than at the famous Giro d'Italia which will be taking place throughout the month of May.
D is for dinner: Families in Italy usually celebrate Mother's Day either with a special meal prepared at home or enjoy a dinner out. In fact, the second Sunday in May has become one of the most popular days in Italy to dine out.
E is for Mount Etna: Admittedly, one of our more tenuous links to Mothers Day, but I can't see any Mum out there turning down a trip to Sicily to get a glimpse of Europe's tallest active volcano!
F is for flowers:  You'll be sure to see plenty of flower stands in the piazzas in every town and city selling all sorts of wonderful arrangements to give to your 'mamma' this Mother's Day. Azaleas are particularly popular in Italy.
G is for gelato: Who wouldn't want to treat their Mother to some delicious gelato on Mother's Day?!! The gelato festival in Rome coincides with Mother's Day in Italy so head to this amazing city to sample unique and original flavours of this Italian-style ice cream and to learn about the fantastic world of gelato.
H is for heart-shaped cakes: The Italian pasticcerie will be full of heart-shaped cakes to buy for your Mum this Mother's Day.
I is for Italian Lakes: This is a great part of Italy to visit with your Mum and, in our opinion, May is one of the best times to visit. The flowers around the lakes are in bloom and there is usually plenty of sunshine to enjoy.
J is for Juno: Many argue that Mother's Day has it's roots in Roman tradition. The Romans certainly had a holiday – Matronalia – that was dedicated to Juno and on this day Roman mothers were given gifts.
K is for the knights of Narni: The Ring Race of Narni coincides with Mother's Day and is an amazing spectacle, when the whole town of Narni dresses up and heads back in time to the 14th century. 'Knights' on horseback, dressed in historical costumes, gallop and aim their lances at a suspended ring in the centre whilst, as with so many Italian festivals, local restaurants prepare delicious fare to eat.
L is for La Mamma: La mamma e sempre la mamma!
M is for Madonna: For many in Italy, going to church on Mother's Day morning is still an important part of tradition. The worship of the Madonna (mother of God) in Italy is strong and is seen as the perfect example of motherhood.
N is for nonna: Whilst grandparents may now have their own day of celebration in Italy in October in each year, a nonna is someone's mamma and, in our opinion, should be celebrated just as much on Mother's Day!
O is for Orticola di Lombardia: In 2016, this horticultural delight held in Milan coincides with Mother's Day. Treat your Mum to a day in the Giardini Pubblici, Milan's Public Gardens, for a stunning display of both native and exotic plants.
P is for prosecco: What better drink to toast your Mum with than a glass of cold, Italian bubbles…
Q is for quadrucci: Quadrucci is the name given to a category of pasta shaped in a tube…. admittedly, we think any pasta is perfect to feed your Mum on Mother's Day but whatever pasta you choose, cooking a dinner for her at home will be just the treat she deserves!
R is for Rome: The capital of Italy offers a superb destination for a mother and daughter weekend away with a whole host of sights to enjoy from the Colosseum to the Sistene Chapel.
S is for Sposalizio dell'Albero: Held on 8 May in the Northern Lazio town of Vetralla, this event again coincides with Mother's Day in 2016 and offers a great way for mother and daughter to spend the day together. Oak trees are decorated, horsemen offer bouquets of Spring flowers and new trees are planted while everyone enjoys a free picnic lunch.
T is for Turin: There is probably no city in Italy with as many historic cafes and it's a great place for a city break to mark this weekend with your mother. Certainly, it has more cafes per capita than any other Italian city and on Via Po, Turin's most famous street, every 2nd or 3rd building seems to be a cafe, confectioners or pasticceria.
U is for Uffizi Gallery: There surely can't be a more magical city to take your Mum to than Florence to celebrate this special day.
V is for Verona: Treat your Mum with a trip to Verona, a great city to enjoy a weekend break visiting the birthplace of Romeo and Juliet.
W is for wine: Italy is home to some of the oldest wine-producing regions in the world and today produces the most volume of wine of any country in the world! So why not raise a glass or two to your Mother this May?!!
X is for excitement: Yes, admittedly, we struggled with the letter 'X' but what better way than to create some excitement around Mother's Day by booking a surprise break away in Italy for her? Contact Bookings For You for some amazing properties available for an Italian weekend away.
Y is for yachts: With over 7500 km of coastline, there are plenty of opportunities to take your mother on a special boat trip however, what better place to whisk your Mum to than the Amalfi Coast where there are an abundance of yachting companies who can offer a superb day on the water for you both.
Z is for Zaccari: While the introduction of Mother's Day in Italy owes much to Reverend Otello Migliosi, it also owes much to Raul Zaccari who, in 1958 presented to the Italian senate, a bill to secure the creation of Mother's Day which was subsequently passed.