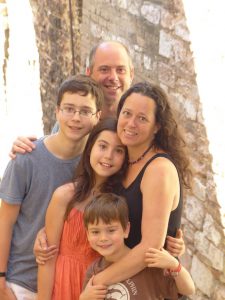 We are so pleased that the amazingly talented writer, Michelle Damiani, has allowed us to treat our readers to a few extracts from her book, Il Bel Centro. Michelle and her family (her husband, Keith, and three children) took the opportunity to spend the year in Spello, Umbria. A world apart from their lives in America, they arrived in Spello and immersed themselves in it's culture and people, making numerous lifelong friends and creating wonderful, everlasting memories along the way. Recording her experiences in a daily blog, Michelle went on to publish her writings, allowing her experiences to reach an even greater audience.
For me, Michelle couldn't have summed up everyday life in Spello any better than she has in the extract below, an account of 7 June in Spello.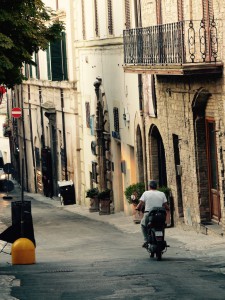 "There's a hum on Via Garibaldi. But then again, there is always a hum on Via Garibaldi. This is the main street of Spello, but there is more here than the bustle of commerce. There is a thread of connectivity. Each shop is a link, and together they form the tapestry that is the heartbeat of Spello. Every shop is run by its owner. Instead of having an indifferent teenager with an eyebrow ring pull your espresso in the morning, it's Letizia who owns Bar Bonci. Instead of walking into a restaurant and feeling like it is a puppet play and the strings are pulled from an office in the next city, you are seated by the owner. The art shop is run by the painter. Teresa who makes your panino at the panini shop also ordered the prosciutto and decorated the window. Because of this, every shop is its own little hub of motion. Every shop is a transverse thread on the loom, a weft to build upon. Since the owners work in their shops, the shops function as homes. With visitors popping in to say hello, to connect for a few minutes before moving on. This creates a cord between the shops and the community. And those cords are woven together with the shop owners themselves criss-crossing the street to connect with each other. I've spotted the chef at Drinking Wine having an espresso at Bar Bonci in the morning. And the butcher engaged in conversation with the painter on the sunny side of the street. Or Marcello lodged with Il Tribbio playing cards at a table outside Bar Tullia's side door. The people are the warp, the longitudinal threads across the weft—together they form the fabric of Spello.'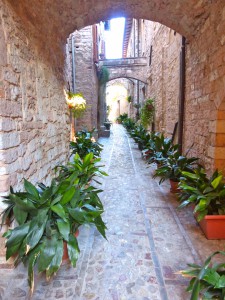 Spello is a truly magical place to spend a holiday. If you've been lucky enough to visit, then make the time to read Michelle's book, Il Bel Centro. It will instantly take you back to your time in this magical town. Or if you've not visited before, and have been tempted to see what all the fuss is about for yourselves, please contact Bookings For You at info@bookingsforyou.com to find out what accommodation options we have to offer for your next holiday in Spello.
But do take the time to read Michelle's fascinating book before you go. It really is a unique guidebook of the region and will genuinely enhance your experience, allowing you to understand the history, people, customs, and festivals of Spello and the wider Umbria region in a way that a standard guidebook just can't achieve. You'll arrive in Spello and instantly feel you know the town and it's wonderful inhabitants. And you'll certainly be hard pressed to find a warmer welcome anywhere else in Italy…