Puglia's shoreline makes up more than 10% of Italy's total coast, stretching 540 miles around the heel of Italy. Boasting some of the best weather to be found in Italy and home to 15 of Italy's 195 Blue Flag beaches, Puglia is the perfect Italian beach holiday destination. Enjoy our insider scoop on the top 10 best beaches in Puglia.
1. Marina di Pescoluse, Salento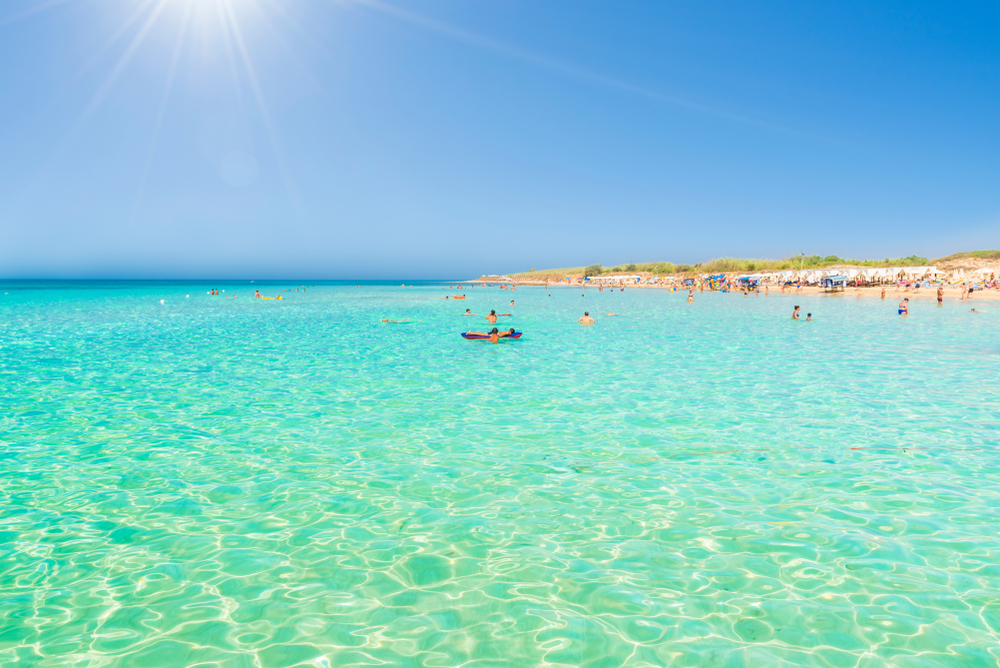 More affectionately known as the 'Maldives of Italy' because of its beautifully clean, almost white sand and crystal clear turquoise waters, this is a great family friendly beach in the very South of the region that stretches for miles. The sea is wonderfully shallow, making it ideal for children and you'll frequently find sandbanks poking up from the water. With plenty of lidos, restaurants and other facilities on tap, it's one of our favourite family friendly beaches in Puglia. It's also not where you'll typically find other international tourists. Most foreigners haven't discovered this far South in Italy yet so you'll get an authentic Italian experience during your time here.
Where to stay: This 3 bedroom villa in Puglia is just a stones throw away from the Marina di Pescoluse.
2. Cala Porto, Polignano a Mare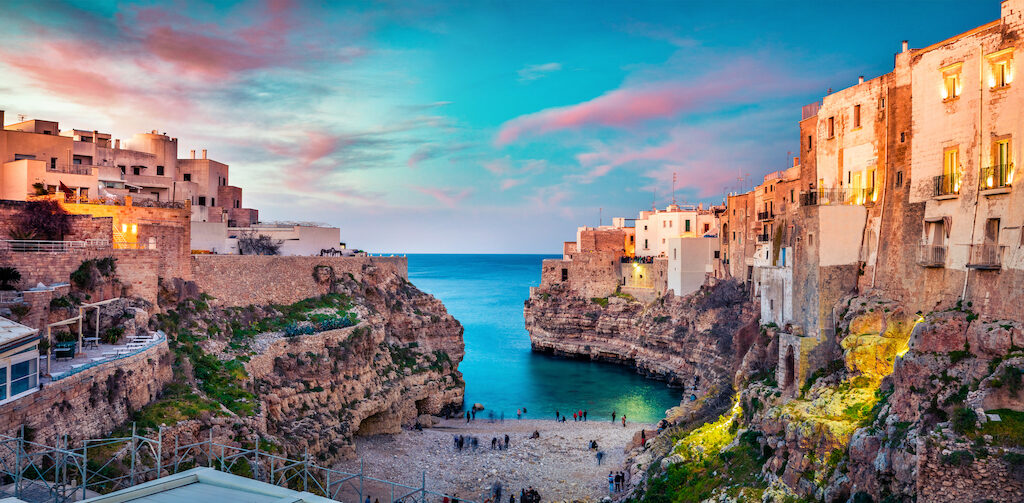 Also called Lama Monachile, this has to be one of the most photographed beaches in Puglia. The pretty pebbled beach here is tiny but we think it's pretty special. Lined by whitewashed houses sat atop limestone cliffs which contrast with the bright emerald coloured waters below, this is a picture postcard setting for your day at the beach.
Where to stay: This luxury 1 bedroom apartment in Polignano a Mare is the perfect base if you want to see the beach for yourself.
3. Torre Guaceto, Brindisi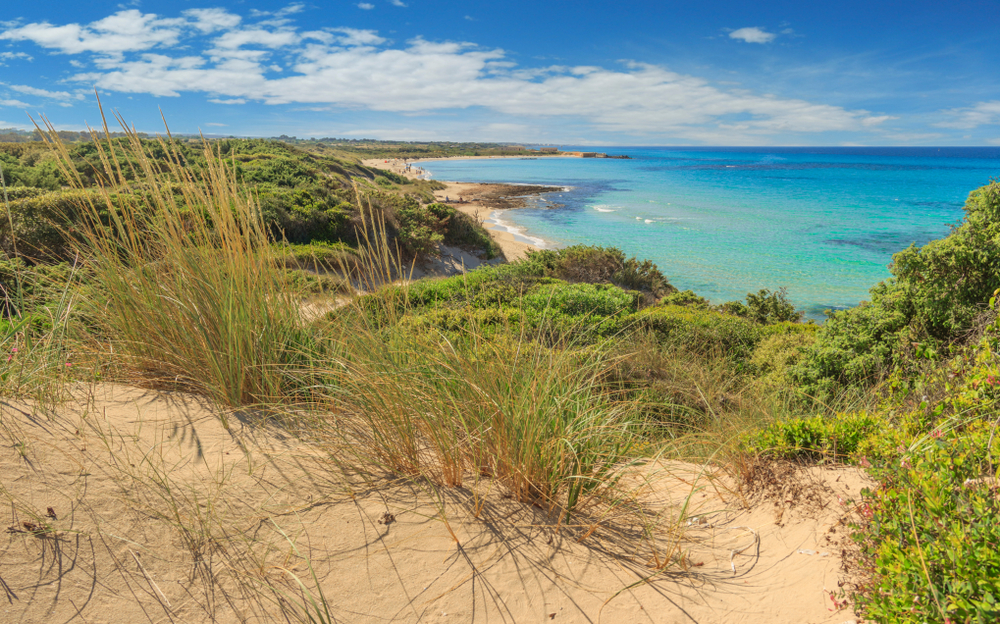 A protected marine area and nature reserve, the sandy beach at Torre Guaceto stretches over several kilometres and is overlooked by a 16th century watchtower. Park up and either walk to the beach or catch the little tourist train that goes regularly between the car park and the sand. Take your mask and snorkel to make the most of seeing the coral reefs and fish that swim close to the shore.
Where to stay: Opt for this family friendly villa in Carovigno, which is not just within easy reach of the beach but also within walking distance of the town.
4. Baia dei Turchi, Otranto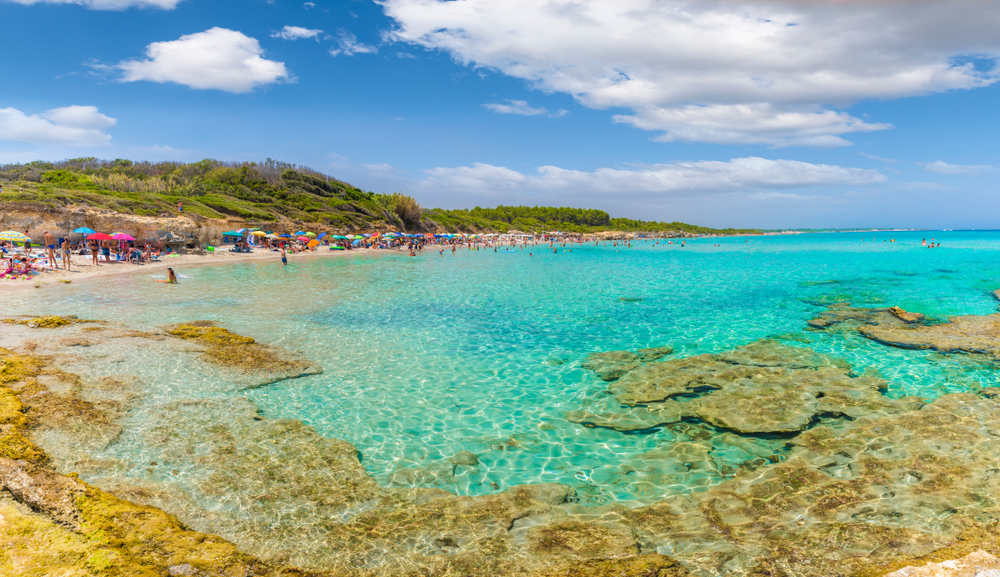 1.5 kilometres long, this fine sandy beach is reached on foot via thick pine forests and scrubland. The sea water here is crystal clear and wonderfully warm! Just be warned…. it can get busy in peak Summer months. We love it most at sunset when most of the crowds have left.
Where to stay: Opt for Masseria Majestic, a large villa in Puglia sleeping up to 16 guests and perfectly placed for those looking to explore Otranto and the beaches in this area.
5. Capitolo, Monopoli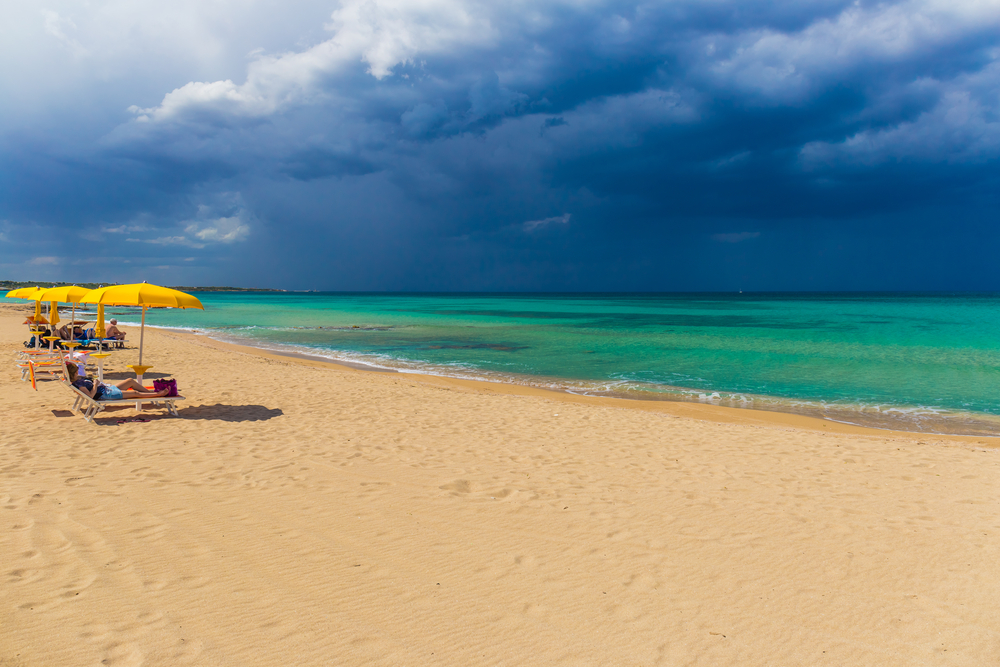 Monopoli has its own small beach in the heart of the old town but, head south of Monopoli to Capitolo to find longer stretches of sandy beaches that have been awarded Blue Flag status for cleanliness.
Where to stay: This 3 bedroom apartment in Monopoli is within a short walk of the beach in the town and just a few miles from the longer stretches of beach at Capitolo.
6. Baia delle Zagare, Gargano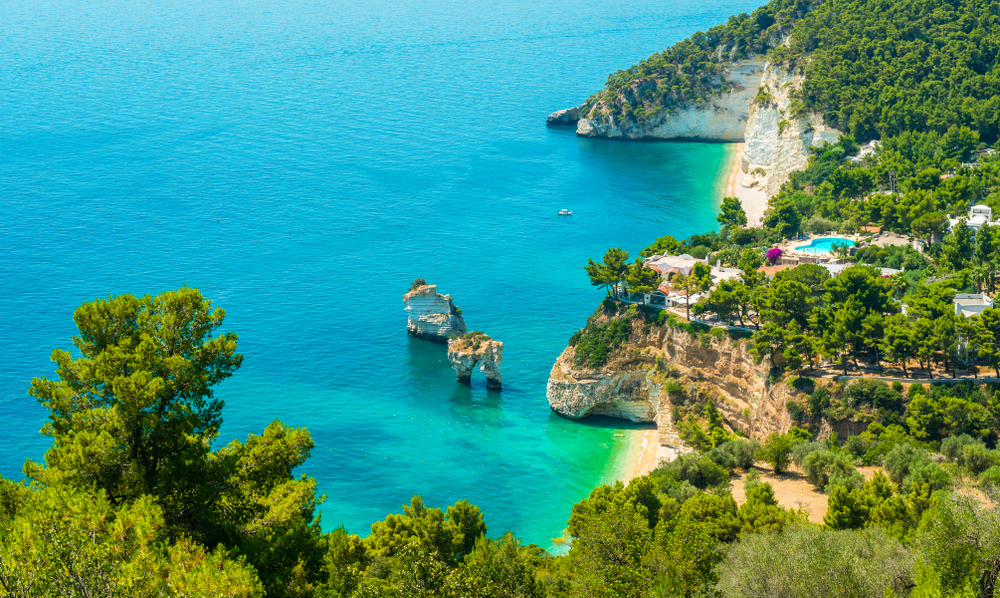 Also known as Mergoli Bay, this soft white sandy cove is about a kilometre in length and enclosed within massive limestone cliffs. Two huge rocks – faraglioni – that emerge from the sea give the bay a very distinct and beautiful appearance. It's not the easiest to reach though. To get access you'll either need to go through the Baia delle Zagare or Baia dei Faraglioni hotels (where you'll find a lift that goes down to the beach through the rocks) or you'll need to approach by sea on one of the daily boat trips that leave from Mattinata. Or, alternatively, there is a rather steep path from the main road to the beach. This will take you about twenty minutes and lead you through pine forests but the walk back up will take considerably longer! Daily visitor numbers are also restricted in order to protect the site.
7. Cala dei Pagliai, Tremiti Islands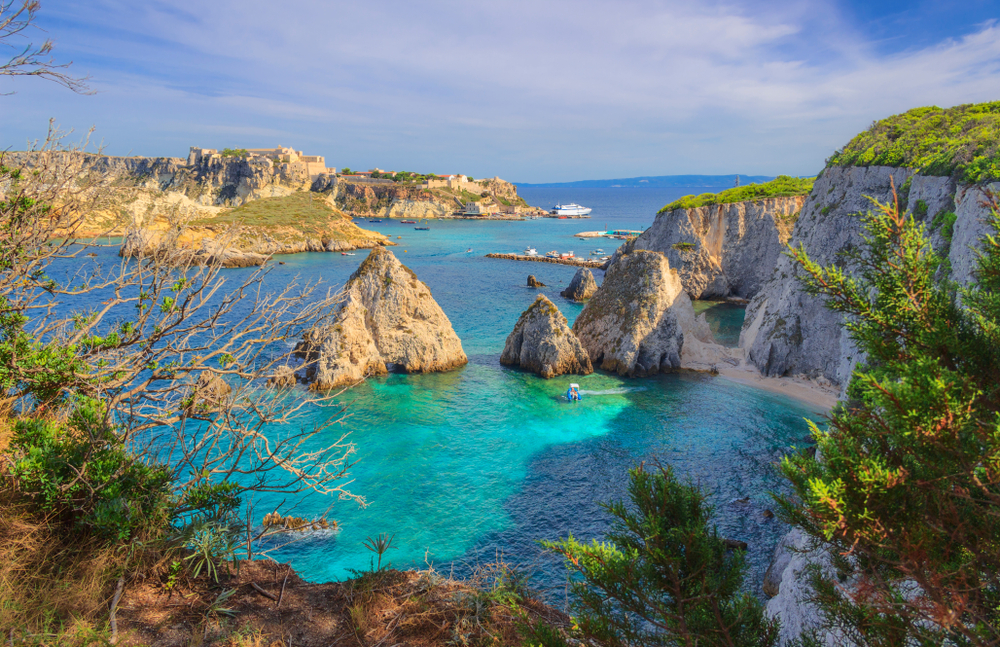 So many of the beaches on the Tremiti Islands are incredibly picturesque so it's hard for a top 10 list of beaches in Puglia not to focus exclusively on the Isole Tremiti. But we have decided to pick just one to include here as an example – the Cala dei Pagliai in San Domino. Possibly the most photographed beach on the islands, it is only accessible by boat. Its name comes from a series of rocks that are shaped like giant haystacks (pagliai in Italian).
8. Spiaggia della Purita, Gallipoli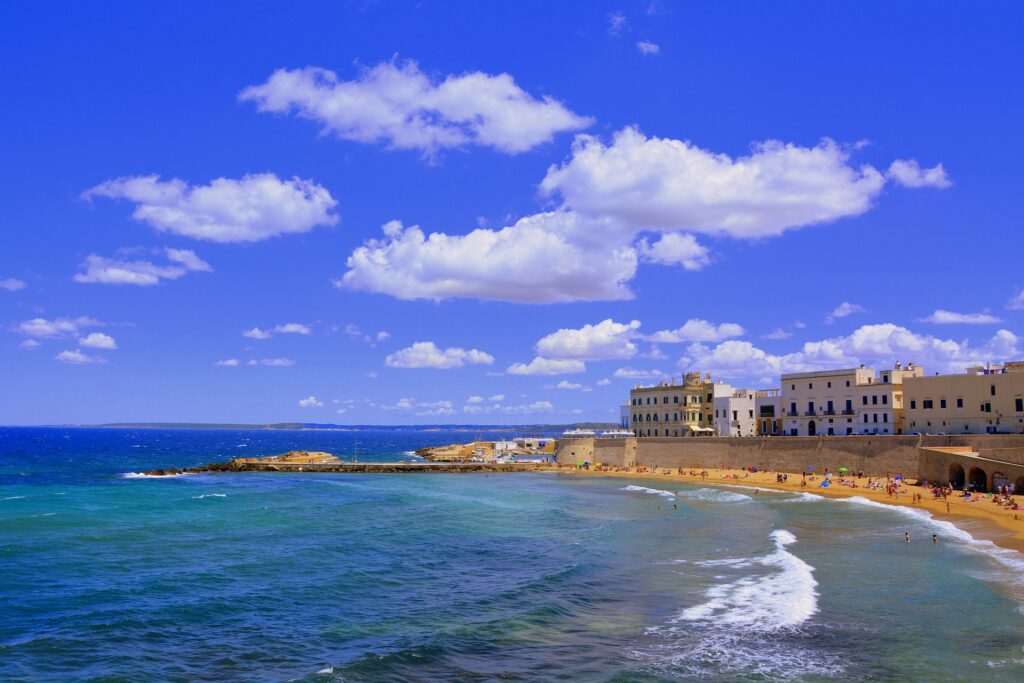 We love Gallipoli's small beaches and rocky creeks. One of our favourite spots is the Spiaggia della Purita, often referred to as Puritate by the locals. Set inside the historic town centre of Gallipoli, it's located at the foot of the city walls, close to the Gallipoli's waterfront restaurants and bars.
Where to stay: Casino Granturco is a fantastic 2 bedroom Puglia villa set inland but not far from the beaches of Gallipoli.
9. Spiaggia di Punta Prosciuto, Porto Cesareo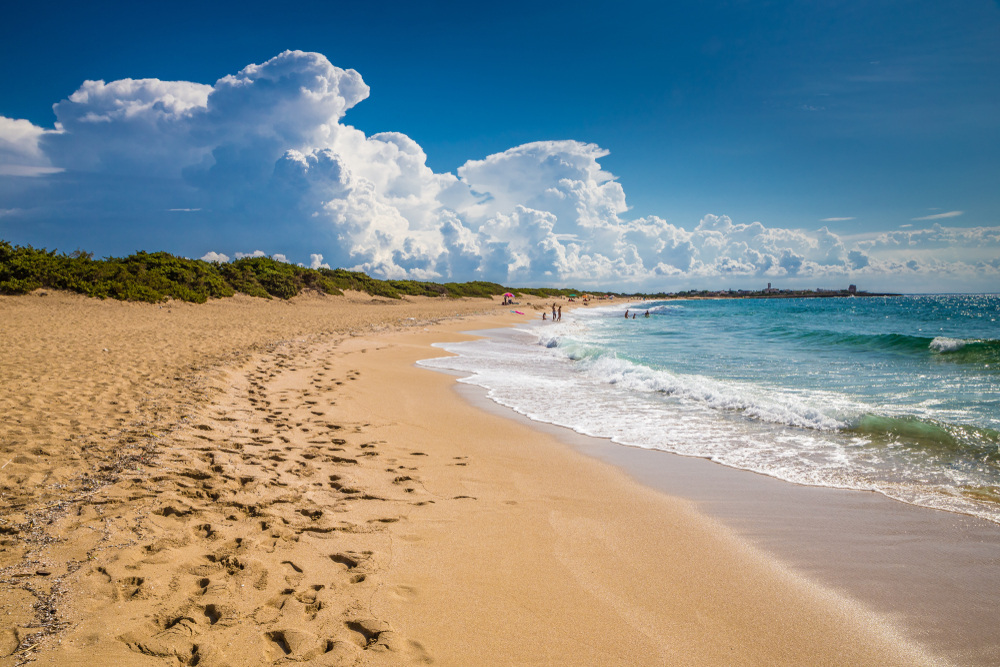 Clear waters and white sandy dunes, this is a great family friendly beach which is also perfect for those who enjoy water sports. Windsurfing and diving are both on offer here.
10. Spiaggia di Borraco, San Pietro in Bevagna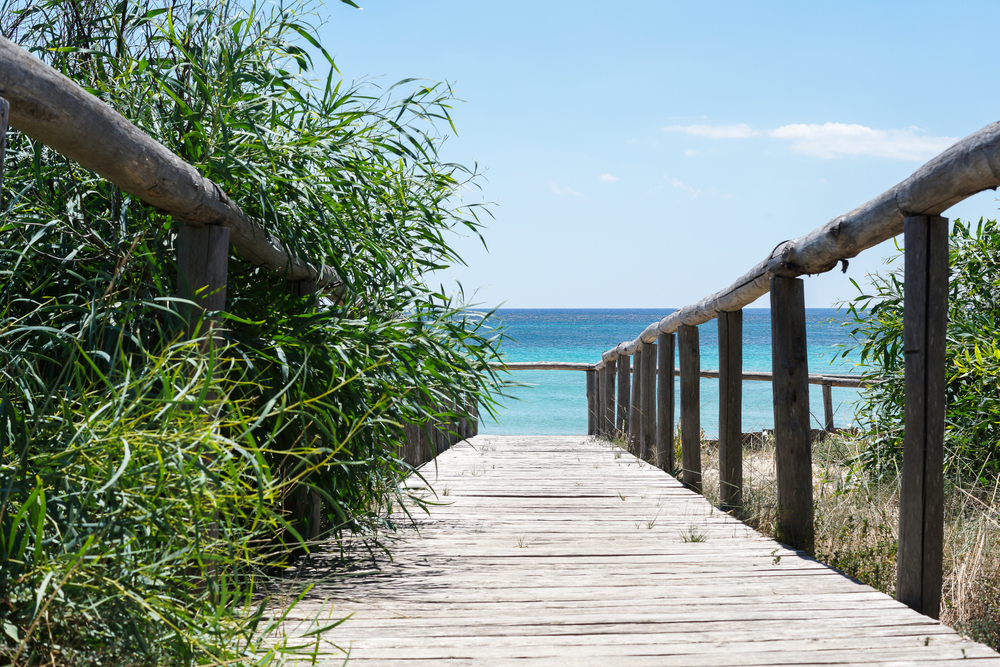 This is a beach which rarely gets discovered by foreign tourists but instead is frequented by locals and Italian tourists. As a result, you won't find rows and rows of neatly laid out sun loungers here and, for us, this low key approach is precisely the charm of the Spiaggia di Borraco.
If you can't wait to explore the best beaches in Puglia for yourself, and are looking for the perfect villa near the beach in Puglia, then check out our full portfolio of villas in Puglia or contact us to make the most of our personal concierge service.