Nestling alongside its more famous neighbour Tuscany, Umbria is a region that sits in the heart of beautiful Italy. The region is characterised by rolling hills and green fields dotted with picturesque walled hilltop towns and villages that will transport you back to an earlier era. Its towns and cities offer an abundance of sights for holidaymakers to enjoy. It was hard to pin down our favourites but here's our top 10 places to visit in Umbria! Do you agree with our choices?
Assisi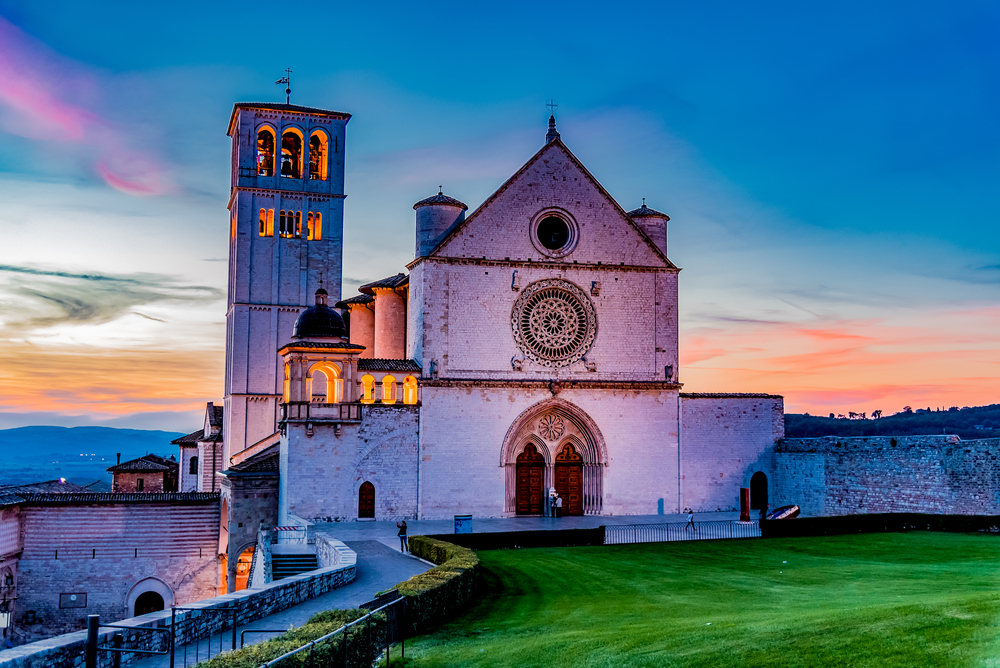 Assisi is arguably one of the busiest and most popular destinations in Umbria, with holidaymakers and pilgrims alike flocking to see the Basilica of St Francesco which dominates the town. This is an absolutely vast church, home to 13th century frescoes by Giotto (which depict scenes from the life of the saint) and to the tomb of St Francis himself. Divided into 2 parts – the darker, more sombre Basilica Inferiore and the lighter, brighter Basilica Superiore with its stained glass windows, you should set aside at least a couple of hours to truly do it justice.
But Assisi has plenty of other things to offer visitors too. These include the Medieval palazzi, the superbly preserved Roman Temple of Minerva, the Pinacoteca Comunale di Assisi (an art galley home to paintings by Giotto and Perugino amongst others) and the excavated Roman forum. We also love to just meander along Assisi's narrow streets which are lined with numerous small souvenir shops, cafes, restaurants and boutiques. These lead in all directions from the central Piazza del Comune (where you will often find market stalls selling arts and crafts).
With a wealth of incredible history to enjoy, we can certainly see why Assisi was made a UNESCO World Heritage Site in the year 2000. The only thing that we can say against Assisi? Well, the crowds that flock to the city do mean that prices tend to be slightly inflated here. You'll certainly find you can pay more for a meal out here than in some of the quieter towns nearby…. But don't let this put you off.
Perugia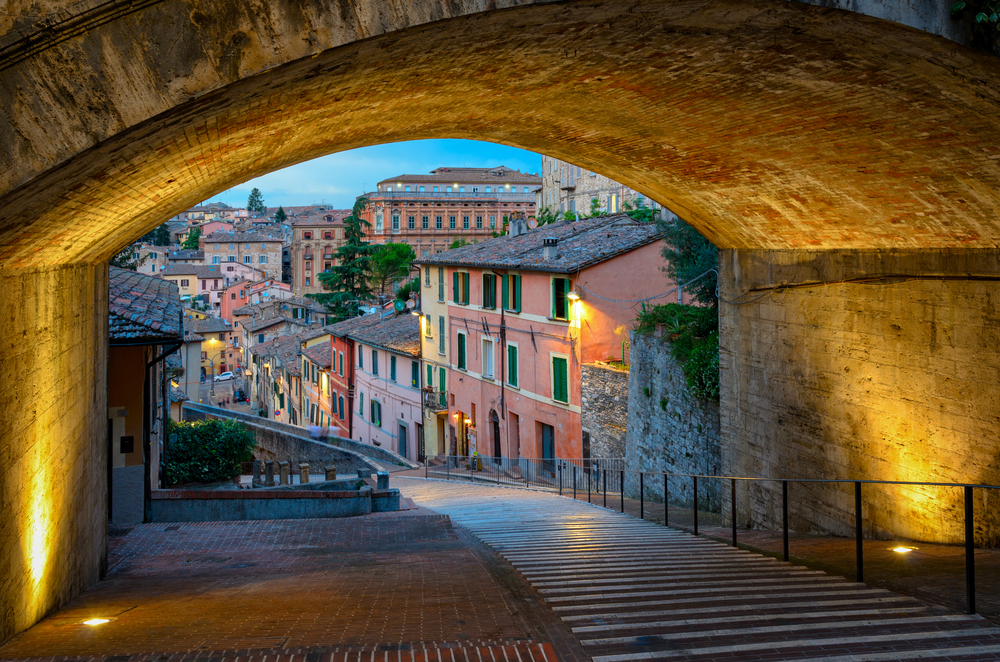 Perugia is Umbria's capital city and is a vibrant university town which revolves around its main street – the Corso Vannucci. The city dates back to the Etruscan and Roman Empires and evidence of these ancient civilisations can still be found in Perugia today. The Upper town is home to an Etruscan well dating back to the 3rd century BC whilst the outstanding Archaeological Museum of Perugia without doubt houses the largest collection of Etruscan and Roman objects in Umbria.
Another superb museum in Perugia that must be explored is the National Gallery of Umbria (Galleria Nazionale dell' Umbria) where you will discover one of the finest art collections in the world dating from the 13th to 19th centuries. There are 8 paintings by Perugino here as well as works by Pinturicchio and Piero della Francesca among others.
For something completely different, the city also plays host to an annual chocolate festival every October when you'll find that the town is filled with stalls devoted to all things chocolate, with free tastings to satisfy even the most ardent chocolate enthusiasts. But, thanks to Perugia also being the home of Perugina whose famous Baci (kisses) chocolates are widely exported, you'll find chocolate to be enjoyed here whatever time of year you visit.
Behind chocolate, our next biggest love is music so it's perhaps not surprising that Perugia makes it on to our top 10 places to as it's also home to the Umbria Jazz Festival. Held every Summer, Umbria Jazz is certainly the most important jazz festival in Italy attracting singers and musicians from all over the globe.
Spello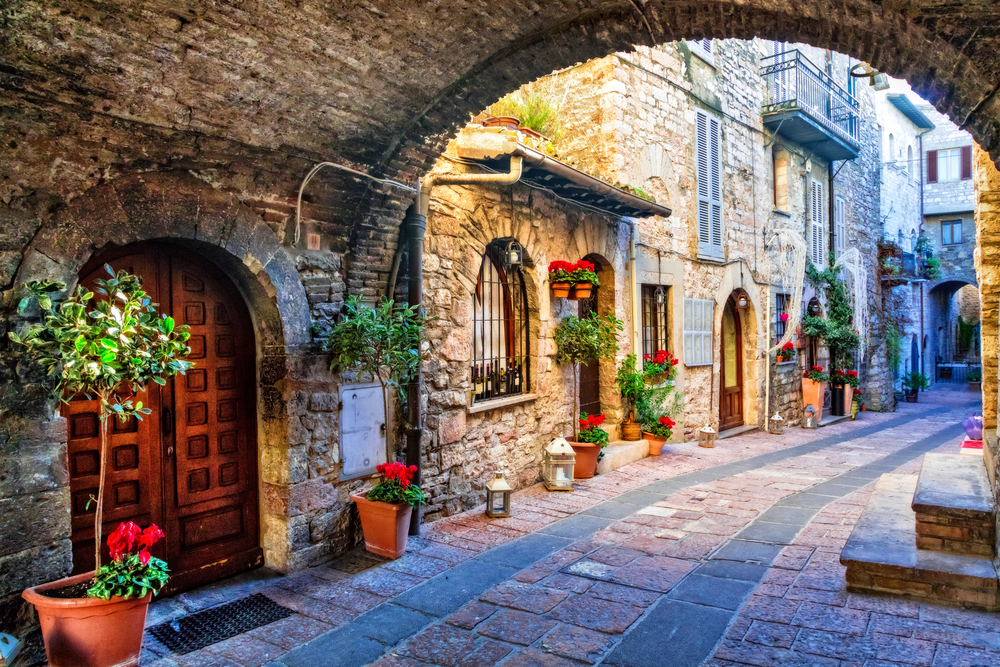 For some reason, Spello seems to have avoided the mass crowds of neighbouring Assisi. We can't work out why but we're certainly not complaining! It may not boast the rather breath-taking basilica of Assisi, but there is still much to discover here, including the superbly preserved remains of a Roman villa and beautiful churches such as the Baglioni Chapel, home to early 16th century frescoes by one of the greatest artists of the Renaissance, Pinturicchio.
In Spello, you'll also find the most charming flower-lined cobbled streets that you'll find anywhere in Italy. In fact, visit Spello during the Infiorata in May and June and you'll literally find the streets paved with flowers. Over 60 large flower murals carpet the narrow passages and alleyways, works of art that the locals have worked through the night to create but which are destroyed just 24 hours later.
We also think that Spello has some of the friendliest locals you'll find anywhere in Italy. Head to Enoteca Properzio where you'll enjoy a warm welcome and a wine tasting courtesy of the Angelini family, headed up by the larger than life Roberto. Or head into superb restaurants such as La Cantina and La Bastiglia where you'll receive just as warm a welcome and platefuls of the most delicious local cuisine.
This 1 bedroom apartment in Spello is perfect if you'd like to stay in Spello and discover all it has to offer. Or, if you're after something larger, this villa in Spello offers the ultimate in luxury and is within walking distance of all the wonderful shops and restaurants.
Orvieto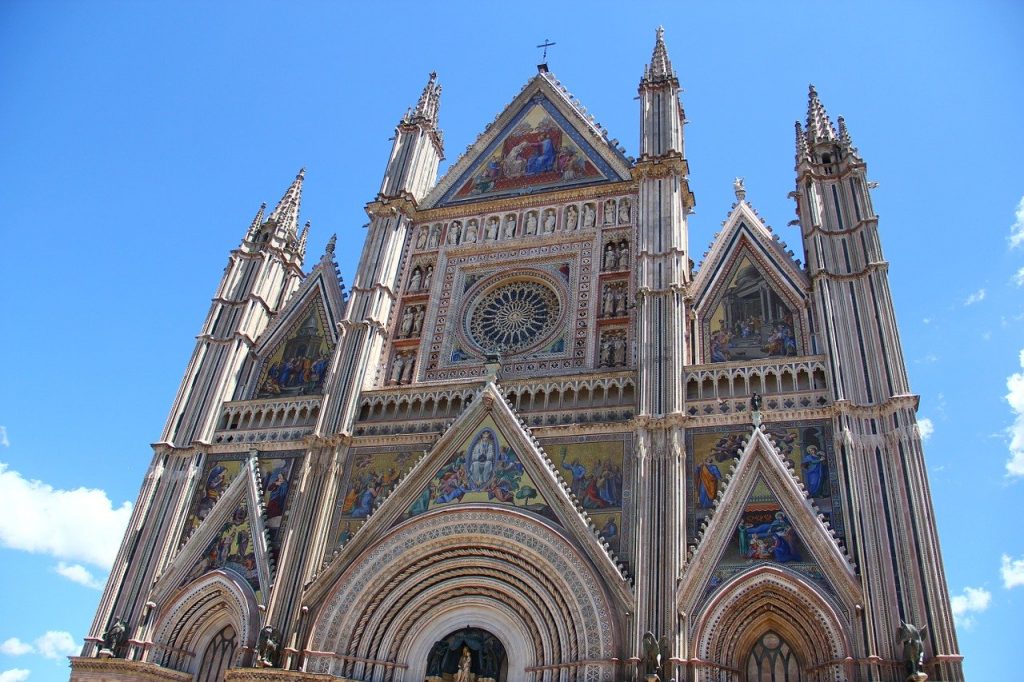 Orvieto is divided into a more modern (and frankly duller) lower part and an elevated older hilltop area. We'd suggest you ignore the former which was constructed post WWII and make a beeline straight for the higher part of the city which we think is truly enchanting.
For us, the cathedral in the heart of the old town is the highlight of a trip to Orvieto. We think it boasts the most beautiful facade you will ever see on a cathedral. Constructed in the 14th century, it is a wonderful example of a successful fusion of both the Romanesque and Gothic styles of architecture.
But to truly explore Orvieto, you also need to head underground and see what is literally beneath your feet. There are over 440 caves in total to explore, dating as far back as the Etruscan era. The history of this network of tunnels is fascinating. A guided tour will give you a glimpse into the varied uses they have had over the years, from being used as bomb shelters during WWII to being a place to keep pigeons and to press oil in earlier times.
Also below ground is St Patrick's Well. Measuring 175 foot deep and 45 foot wide, 496 steps lead to the bottom via two spiral staircases (one for people to go down and the other to come back up). These lead to a bridge from where people could access the water. Originally built for the papacy who used Orvieto as a hilltop refuge to ensure that they had water even during a siege, it's an incredible feat of engineering… and it's also a lovely cool spot if you're needing to escape from the heat of the Summer sun.
Foligno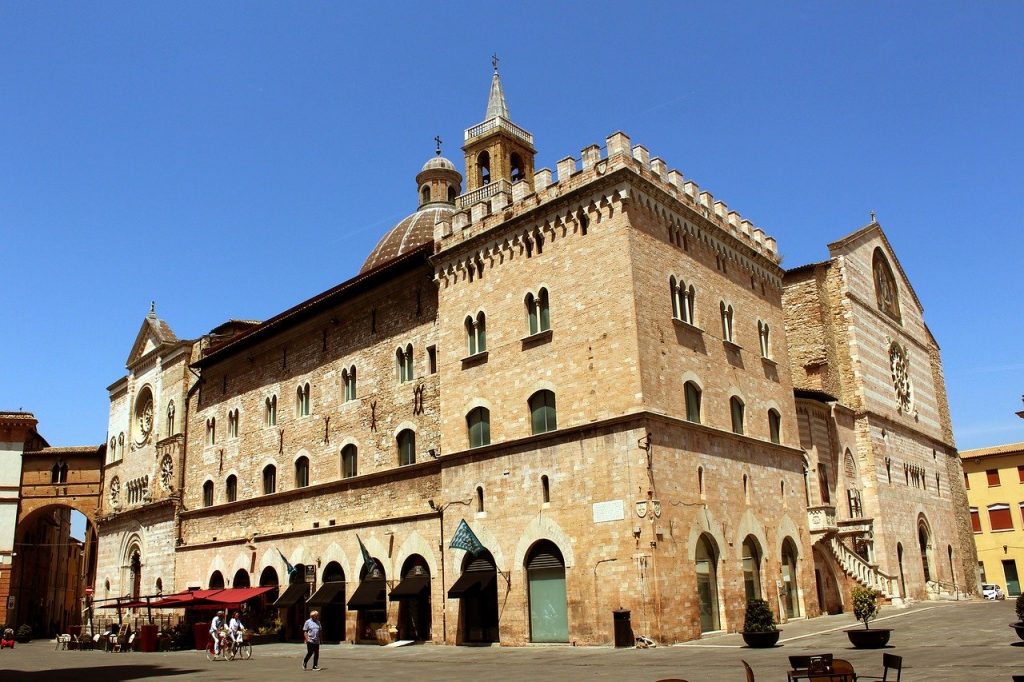 Due to extensive bombing in WWII, Foligno perhaps doesn't have the character or history that some of our other top 10 towns have. However, we still think it deserves a place on our top 10 places to visit in Umbria.
Unlike most of Umbria's towns, Foligno has been built on the flat plains and does not have the striking elevated position of towns such as Assisi, Spello or Orvieto. A good starting point of any visit to Foligno is the central Piazza de Repubblica and the Piazza Duomo. Keep an eye out for the 12th century cathedral and town hall as well as the Pretorio, Orfini and Trinci Palaces.
Foligno also boasts an extensive list of events for holidaymakers to enjoy throughout the year. The most famous of these is the Giostra della Quintana. This tournament takes place in both June and September when knights compete through jousts on horseback. Each time, the event is preceded by parades with local residents dressed in full Medieval attire. The town also holds an annual jazz festival in June as well as a celebration of one of Italy's most famous foodstuffs – pasta – each Autumn. Foligno is very much a town where we think holidaymakers can enjoy a slice of authentic Italian life.
This 2 bedroom apartment in Foligno is just outside the town and offers the best of both worlds – a quiet rural base but just a short drive from the hustle and bustle of Foligno.
Bevagna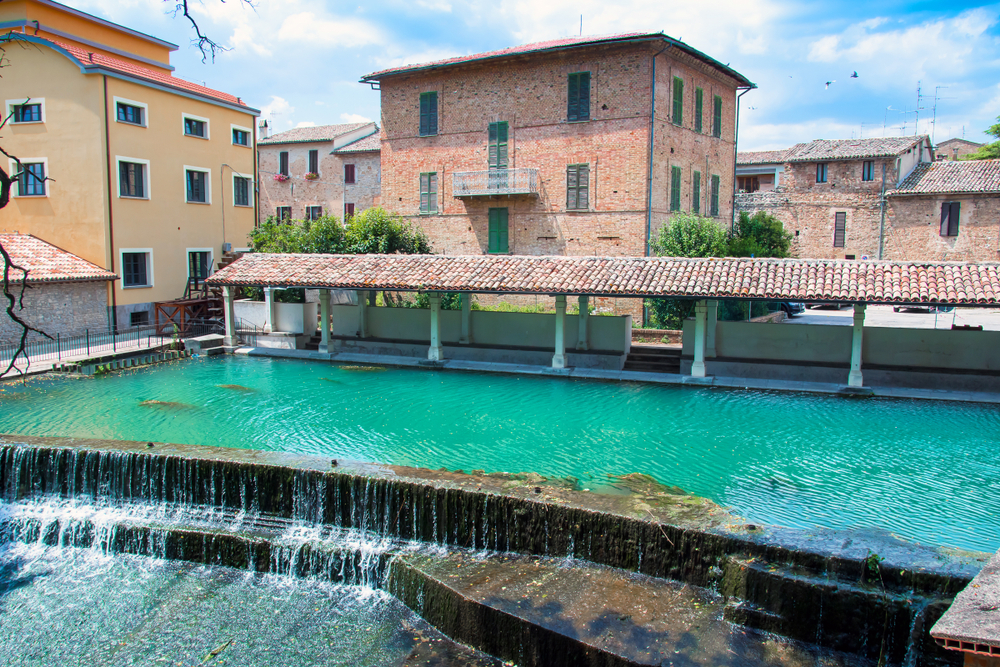 Bevagna is a quiet, sleepy town pretty much whatever time of year you visit. We think that this is part of its charm. It's certainly easy to see why Bevagna has earned its space in the list of 'borghi piu belli d'Italia' with its ancient Roman layout, glimpses of Roman walls and Medieval streets. Its central square – Piazza Silvestri – is home to the 12th century Palazzo dei Consoli and the 19th century Teatro Torti. Two Romanesque churches – the smaller San Silvestro built in 1195 and the larger San Michele – mark the only break from the largely Gothic architecture that dominates Bevagna's historic centre.
Visit in June and you will be lucky enough to join in the Mercato delle Gaite, an event that celebrates the traditions and trades of Bevagna's Medieval past including silk spinning, glass making, candle making and much more. The streets are strewn with hay and in what is almost like a piece of live theatre, residents re-create what life would have been like all those years ago with market stalls, inns, blacksmiths and potters all ploughing their trade. Not only that but you'll find the four quarters of the town competing in various Medieval games. As with so many of Italy's festivals, it's also a chance to try the very best of the delicious local cuisine washed down by local wines.
Montefalco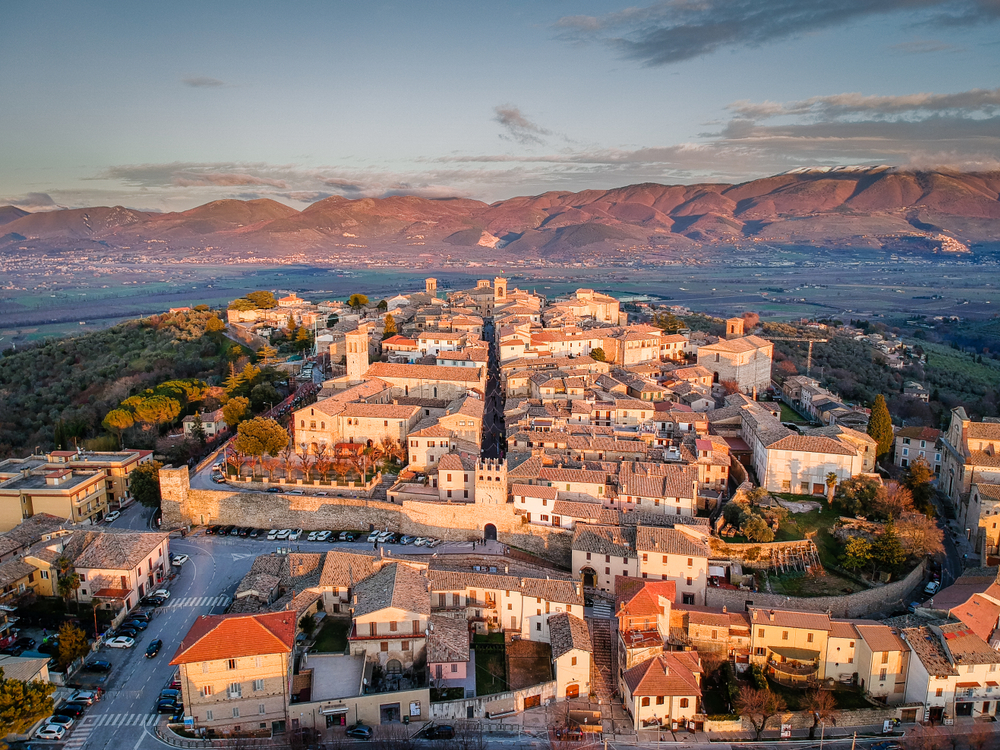 We absolutely love Montefalco, not least because it's famous for its wine production. The famous sagrantino grape is grown on the fertile plains around the town and is used to create the wonderful Montefalco Sagrantino and Montefalco Rosso wines. If you want to learn more or try it for yourself, why not visit during the annual Terre di Sagrantino held every Easter, or visit on the last Sunday in May when you will find cellar doors flung wide open to allow guests to taste the wines directly from the producer as part of 'Cantine Aperte'.
But Montefalco is also a great place if you're avid foodies like us. It has a plethora of fantastic restaurants crammed inside its walls… so many that a week here wouldn't allow you to do them all justice. Some of our favourites include Enoteca L'Alchimista, Locanda del Teatro, Olevm and La Foresteria.
The hilltop town itself is set in the shape of a starfish with five main gates providing access to five roads that all lead uphill to the central five-sided piazza – Piazza del Comune.
If you'd like to check out Montefalco for yourself, then take a look at this spacious 2 bedroom apartment in Montefalco. Set within the city walls, it's the perfect base from which to savour the food in Montefalco's restaurants and to sip the wine in its cantinas!
Trevi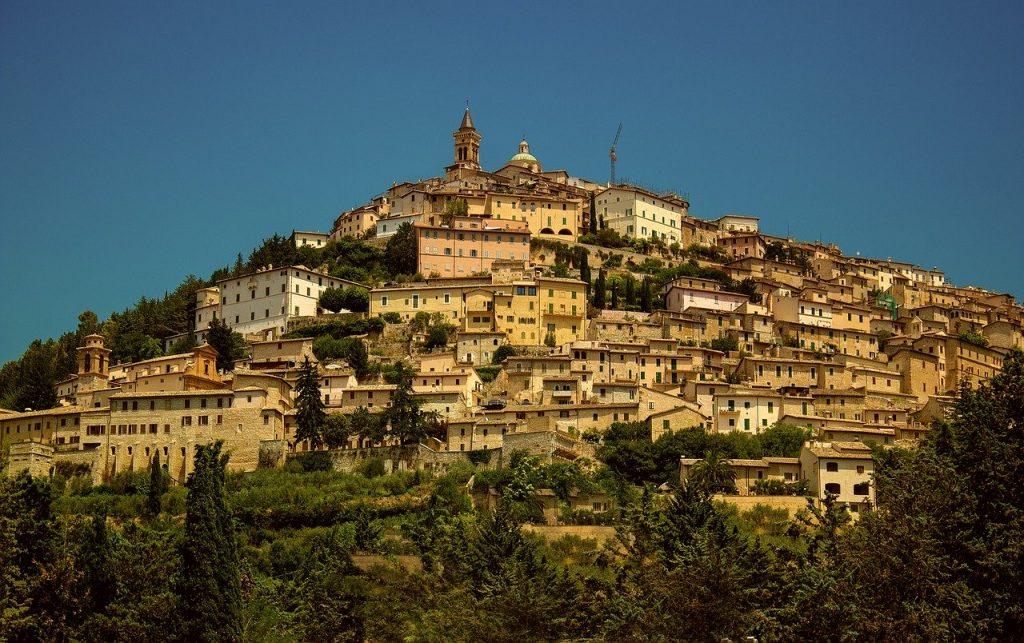 Another of the 'borghi più belli d'Italia', Trevi is a picturesque hilltop town enjoying some of the best views you will find in Umbria. Like Montefalco, it is absolutely passionate about its local produce. This time it's not wine that it celebrates though but olive oil, not surprising perhaps given the acres of olive groves that surround the town. Trevi considers itself very much the 'oil capital' of Umbria and is home to a museum – Museo della Civilta dell' Ulivo – which educates visitors about the cultivation, production and preservation of olive oil.
The town was founded by the Romans and its still possible to catch glimpses of its ancient ancestors today in the 1st century walls. There are also a number of noteworthy Medieval structures to be admired such as the town gates (Porta del Bruscito, Porta del Cieco and Porta San Fabiano), the 12th century Churches of St Emiliano and St Francesco and the Palazzo Comunale, home to the pinacoteca where you can find works by artists such as Pinturicchio and Spagna.
Spoleto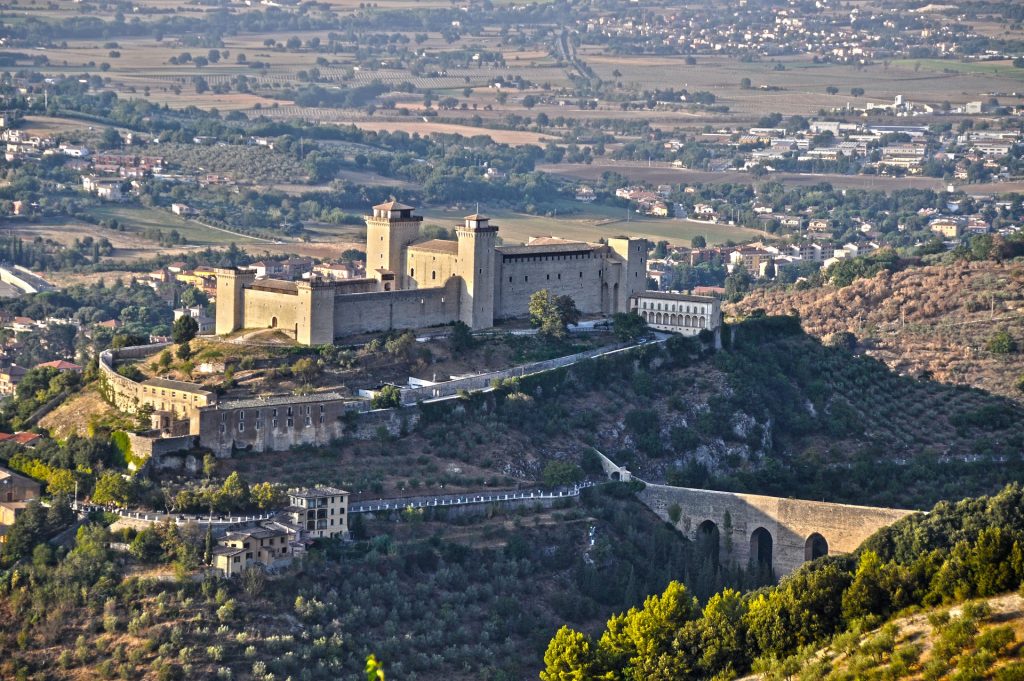 One of Italy's hidden gems, Spoleto sits slightly off the tourist trail but, in our opinion, should not be missed. Arguably the town's most famous attraction is the Ponte delle Torri, a spectacular 14th century aqueduct standing at 240 metres wide and 76 metres high and supported by 10 gigantic arches. However, there is much more to be discovered here.
Start in the heart of Spoleto, at the Piazza della Liberta or the Piazza del Mercato (where you'll also find Spoleto's daily market) and set aside a few hours to navigate Spoleto's charming streets. En route, be sure to look out for the many Roman remains, among them the Roman theatre, the 1st century Arco di Druso and the Casa Romana (Roman House) which supposedly once belonged to the mother of the Emperor Vespasian.
Other noteworthy attractions worth a visit include the Duomo, home to works by Fra Lippo Lippi and Pinturicchio and the Rocca (castle).
Spoleto can also lay claim to be the region's cultural capital, home as it is to one of Europe's most prestigious music festivals held across June and July each year. Set up by composer Gian Carlo Menotti in 1958, the Festival dei Due Mondi (Festival of Two Worlds) runs for 3 weeks and is a contemporary arts jamboree with a vast array of concerts to enjoy across many different genres including opera, dance and drama.
Todi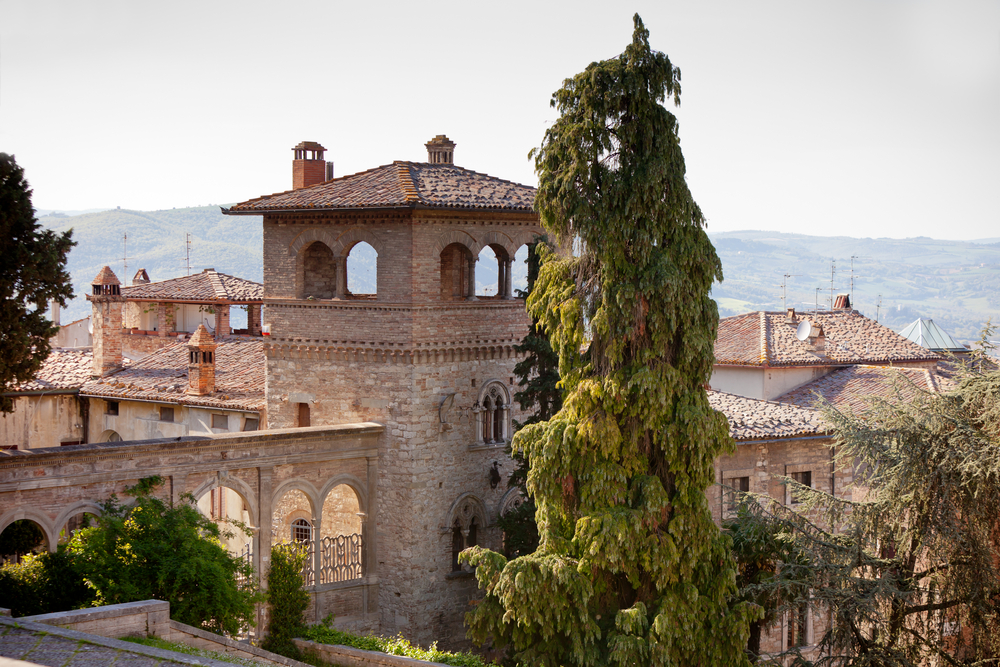 Like so many of our top 10 places to visit in Umbria, Todi has a long, rich and interesting history to discover. Buildings that have survived since Roman times and which are still visible today include the Roman basilica and forum whilst the Piazza del Popolo is home to Todi's Romanesque-Gothic Cathedral. This square has often been named as Italy's most perfect Medieval piazza, flanked on two sides by palaces – the Palazzo dei Priori, the Palazzo del Popolo and the Palazzo del Capitano – and with a beautiful Duomo at its heart.
But, just as with Orvieto, there is plenty to be found under your feet here too. The Piazza del Popolo was built on top of a series of Roman cisterns (Cisterne Romane) and visitors can now enjoy the opportunity to discover these for themselves.
However, to enjoy a different perspective on the town, head instead to the Church of San Fortunato where you can climb the 153 steps of the church tower to enjoy some fantastic views over Todi to the countryside beyond. Since Todi itself is set some 410 metres up, the views are pretty spectacular. Another nice view point is from the Piazza Garibaldi.
Not to be out-done by all the other towns and villages on our top 10, it won't come as a surprise to hear that Todi has its own festival. Held each year at the end of August or beginning of September, the Todi festival is a 10 day extravaganza of music, ballet and arts. Another good time to visit the town is in the last week of March, when antiques dealers and bargain hunters from all over Italy converge in the Piazza Comunale looking to buy sell a variety of antiques including furniture, ceramics, rugs and paintings.
Tempted to discover these towns for yourself on a holiday in Umbria, then check out our villas in Umbria available to rent for your next trip. Or, to find out more about the other villages and towns in Umbria, take our look our A to Z of Umbria.