Venice needs no introduction. A truly unique city, it's a magical place to visit whatever your age. But it certainly holds a particular appeal when seen through the eyes of a child. They seem to love the fact that its streets are made of water whilst its buildings rise straight up out of the canals. This is itself can make Venice very child friendly – after all, there is no traffic to contend with in the heart of the city. That's not to say that Venice doesn't pose its challenges for families with children. But it's definitely a city that should be on your family's bucket list. In terms of how much time you need to do it justice…? Well, in our opinion, a couple of days is plenty of time to explore this colourful floating city. Here's our guide to the top 10 things to do with children in Venice.
1) Create your own carnival mask
Venice is world famous for its carnival masks. The Venice carnival (Carnevale di Venezia) is an annual festival which takes place in February and which ends on Shrove Tuesday. Carnival masks were originally worn to the festival to protect peoples identity and dissolve any sense of social hierarchy. All across Venice you will be able to buy one of these masks in the many shops that line the canals. But children also have the opportunity to create one for themselves in a fun Venice mask making class. We highly recommend you give it a go if you are tired after a busy morning exploring the city. It's definitely an activity that will be fun for all the family.
2) Take a ride on a gondola
This is a must when visiting Venice. It is a brilliant way to see the city from a different perspective, winding your way through the narrow canals and under bridges. It is an amazing experience for the whole family, however young or old they are. The more formal gondolas are quite pricey but if you want a ride that won't break the bank, then there is a type of gondola called traghetti which can take you across the canal for just a couple of euros.
3) Visit the maze at Villa Pisani
If you haven't already got lost in the winding Venice streets then why don't you visit the medieval style maze at Villa Pisani. A 30 minute drive from the centre of Venice, it was built in 1720 and is in the grounds of the beautiful 18th century villa. The villa itself holds a lot of history. In 1807 it was seized by Napoleon after his conquest of Venice. Later on, in 1934, the palace was used for talks between Hitler and Mussolini. You are now also allowed to enjoy a tour inside the villa to admire the incredible paintings of greek gods that are housed there.
4) Visit Murano
Murano is an island in Venice which is known for its glass blowing. This fascinating industry has been a tradition here for hundreds of years.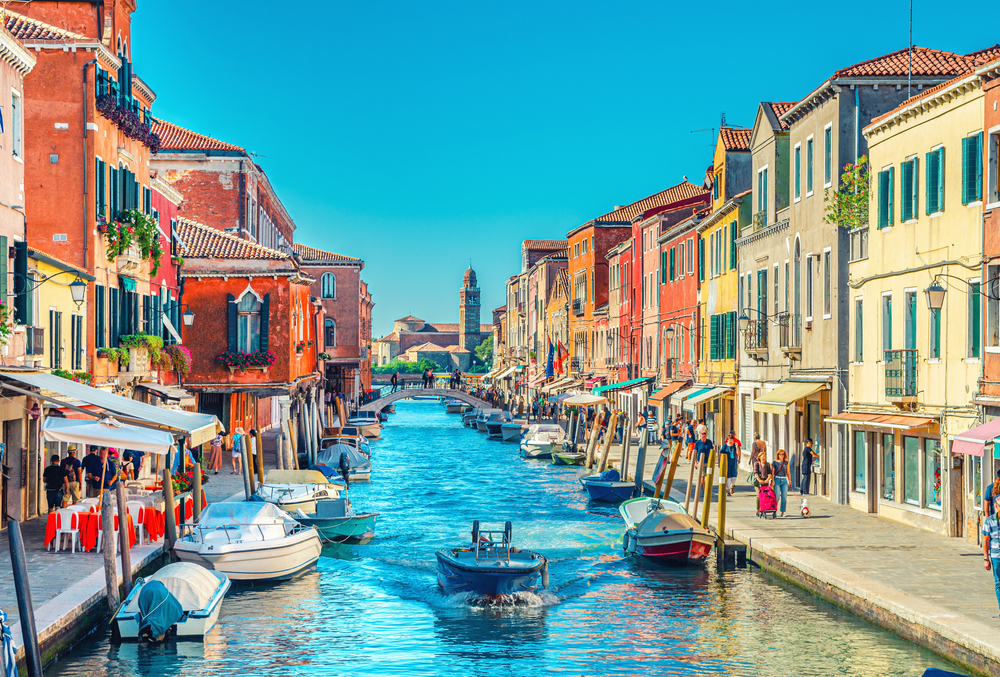 Children always enjoy taking a guided tour of Murano which can incorporate a demonstration of glass blowing techniques. In Murano you will also find the Museo del Vetro where you can learn more about the history of the industry and admire the incredible pieces of glasswork on display. On your visit you will be able to buy some beautiful pieces to take home with you…. that's if you have space in your suitcase!
5) Visit the Campo san Polo
In the evening, this part of Venice comes alive and it is the perfect place to take your kids whilst you are relaxing with an aperitif. There are lots of squares and piazzas where you will find kids running around playing various games together and also allows you to get a glimpse into authentic Italian culture.
6) Climb to the top of the Campanile di san Marco
The Campanile di San Marco was built in 1902 after the previous one collapsed. It was originally built as a lighthouse to help boats navigate into the lagoon.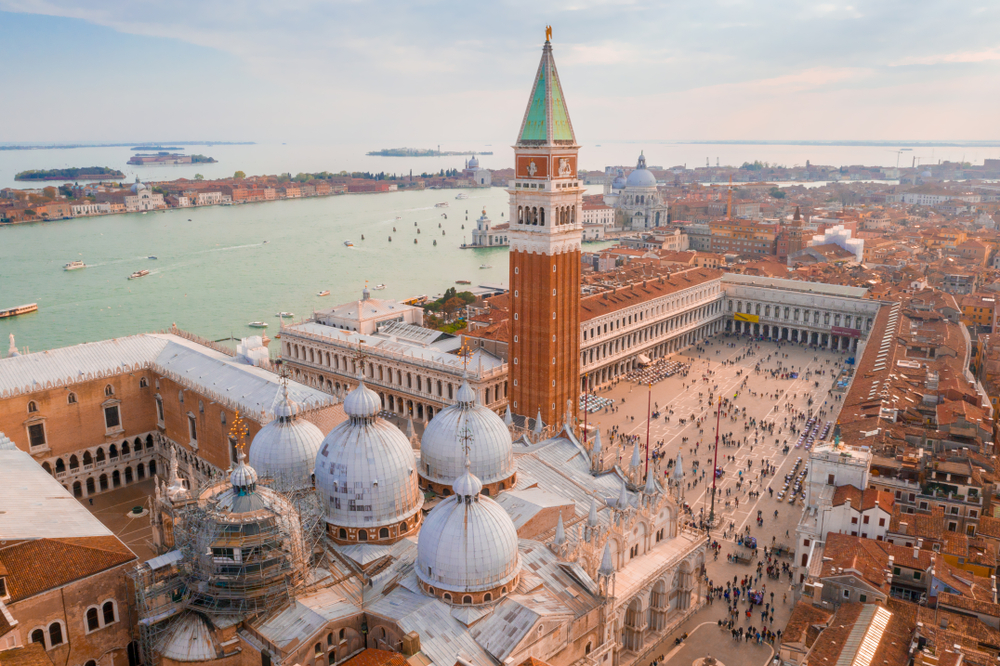 323 steps take you from the ground floor to the top where you will enjoy views over the city and lagoon including St Mark's Square below. On a clear day, you may even be able to spot the Alps in the distance from here! Don't worry if you think your little one's legs won't manage the climb! They have now installed a lift into the tower too!
7) Cool down with some gelato
You can't visit Italy without enjoying some gelato and Venice offers a huge variety of gelateria. We recommend you try one of the traditional Italian flavours which all kids love such as stracciatella, fior di latte or pistachio. The city is full of gelateria so you won't struggle to find one. Don't forget to also try some of the more traditional Italian cuisine on your visit to Venice too such as bigoli in salsa or some of the fresh seafood served in the local restaurants.
8) Broaden your mind in the natural history museum
The museum is found in the Fontego dei Turchi, which was built as a palazzo for the Pisaro family in the 13th century. It is one of the most famous buildings in Venice and has been the natural history museum since 1923. The collections have grown over the years and you can now discover over 2 million finds here spanning over 700 million years. These include fossils, skeletons and over 40 thousand volumes of marvels, if you are a fan. It is a great experience for all the family and there will be something for everyone to look at.
9) Go lion spotting
As you stroll through the city of Venice, keep your eyes peeled and you will notice a number of lion statues. For example in the Piazza san Marco there is a winged lion sat on top of a granite column outside the Doge's palace.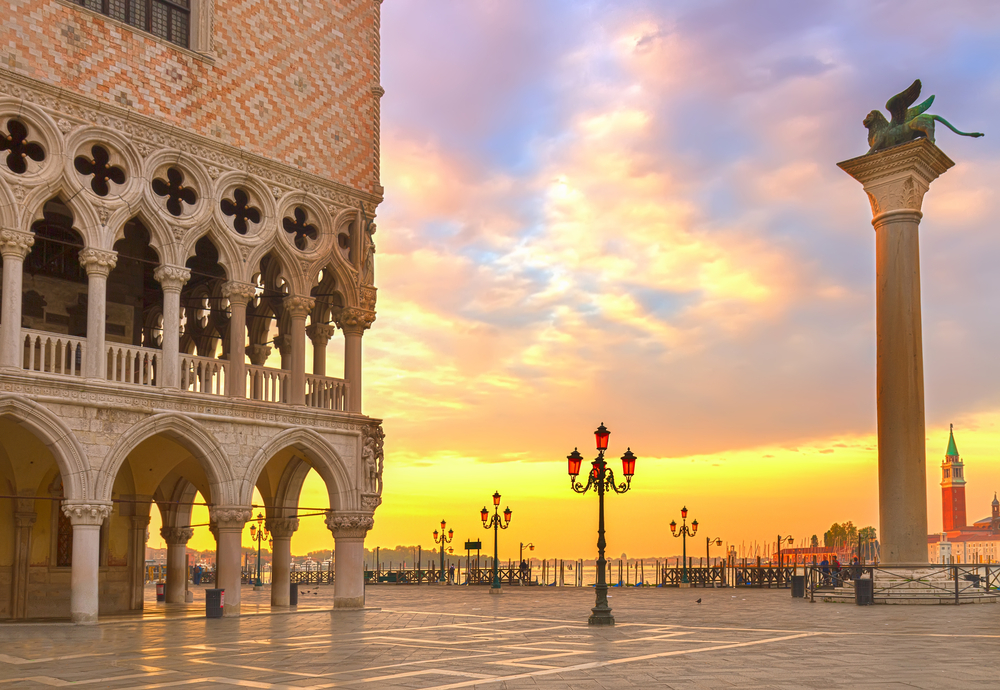 This lion has come to symbolise the city and its patron saint, St Mark. Get your children to see how many lions they can spot throughout the city. It's a great treasure hunt activity for your children to enjoy and will cleverly allow you to explore more of the city on foot.
10) Take a trip to the beach
You may be surprised but there are sandy beaches on the Venice lido which offer the perfect break from the city, especially if you are visiting for a longer period of time. Most of the beach is taken up with sun loungers and umbrellas which you can rent but there is a smaller section where you will also be able to relax, unwind and just build sand castles after a few days of exploring the city.
Find out even more things to do in Venice courtesy of our friends at Get Your Guide.