We are huge fans of the Puglia region. With long, hot Summers, delicious food, fantastic beaches and just as beautiful inland scenery, nothing beats a Puglia holiday! You'll find that in the Summer months, many of its towns and villages are sleepy during the day. Instead, the time to explore Puglia's towns is in the evening which is when they really come alive. It's then that you'll find locals enjoying their daily passeggiata, people enjoying dinner out and holidaymakers browsing the many shops and small stores that line their streets.
So today, we thought we'd share with you our top 10 towns to visit next time you're enjoying a Puglia holiday. We're also firm believers that the best way to discover a town is through its locals so we've also included our favourite tours of these Puglia towns so that you can best discover them for yourselves.
Alberobello
Arguably Puglia's most famous town, Alberobello is one of Italy's UNESCO world heritage sites, famous for the 1400 trulli that you will find there that date back to the 15th century. Head here on your next Puglia holiday and make a bee-line for the pretty Rione Monti to buy a souvenir of your visit. Also check out the best views over the trulli from the Belvedere Santa Lucia (located adjacent to the Chiesa di Santa Lucia). From here, you can enjoy an elevated position over Alberobello's centro storico. Find out more in our guide to Alberobello.
Where to stay in Alberobello: Masseria Alberobello
Best tour of Alberobello: Alberobello walking tour (2 hours)
Bari
Puglia's capital city, Bari has the interesting claim of having the longest seafront of any Italian town or city. Spend your time in Bari's old town that leads from the Basilica to the Cathedral of San Sabino. Keep an eye out for Bari's womenfolk that, even today, sit outside their front doors kneading their pasta dough and creating Puglia's most famous pasta – orecchiette.
Best tour of Bari: Bari walking tour (2 hours)
Carovigno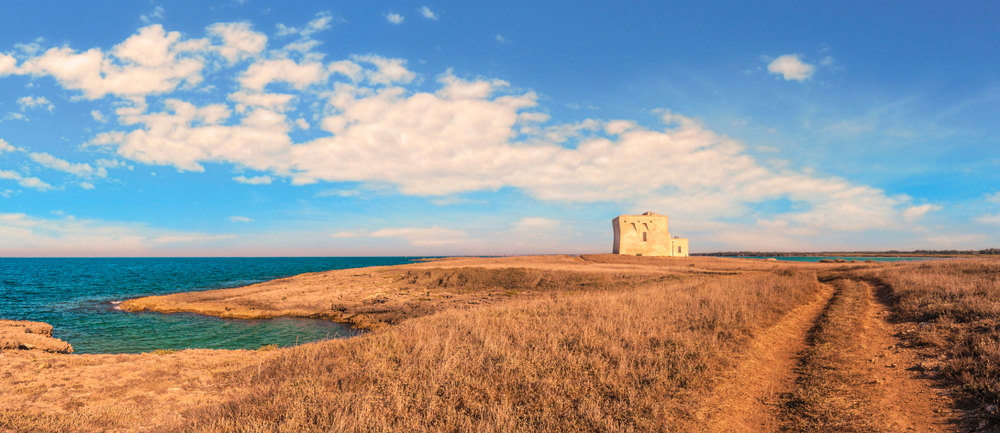 Like so many of Puglia's towns, Carovigno is characterised by whitewashed buildings that stand within its city walls and towers. These white walls are in striking contrast to the caramel-coloured castle – Dentice de Frasso – that sits in the heart of the town. Take time to explore Carovigno's narrow alleyways on your next Puglia holiday and, whilst here, also make sure you head to the nearby coast where you will find the Torre Guaceto Nature Reserve, a beautiful stretch of protected coastline watched over by a 16th century defensive tower.
Where to stay in Carovigno: Villa Carovigno
Cisternino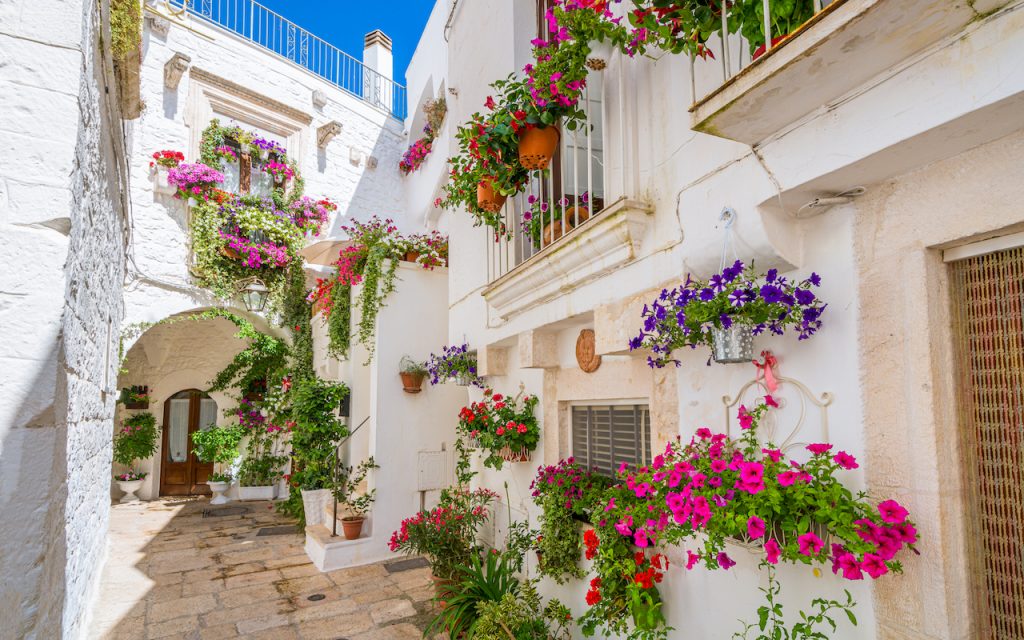 On the list of Italy's 'borghi piu belli', Cisternino's whitewashed houses and narrow streets provide a blank canvas for the plethora of flowers that spill from window boxes and balconies all over the town. Charming and delightful, Cisterino's historic centre has remained unchanged for centuries. Explore its narrow streets and take time to take in the views from the many viewpoints that look down over the surrounding countryside.
Where to stay in Cisternino: Trullo Geco
Best tour of Cisternino: Cisternino walking tour (2 hours)
Lecce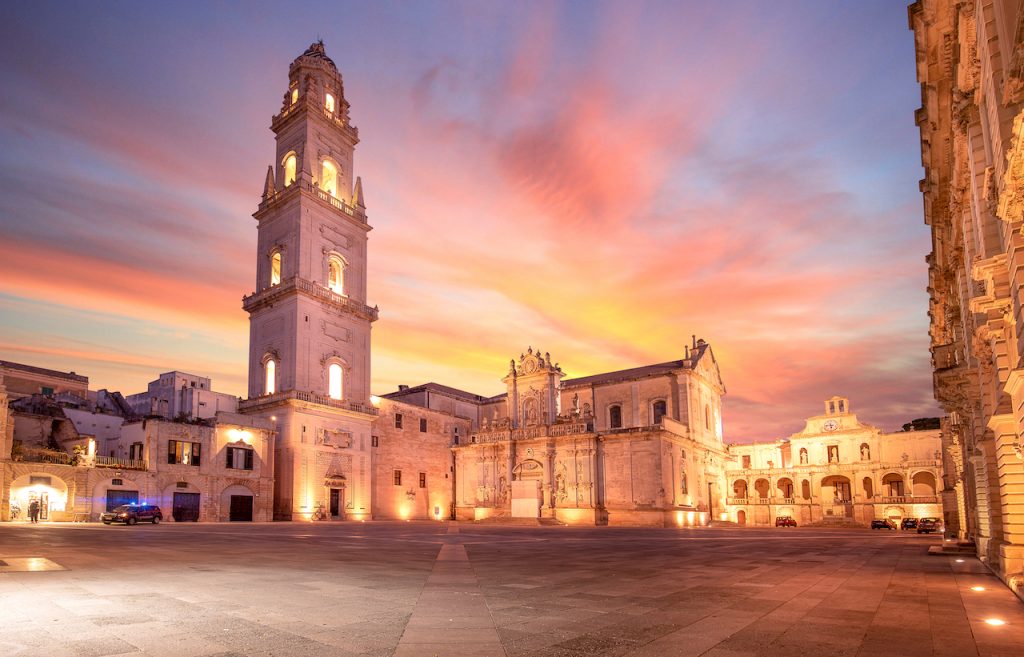 Puglia's 'Baroque jewel', Lecce feels very different to the other towns on this Puglia top 10. You'll find the locals enjoy a siesta between 2 pm and 5 pm each day so make sure you start your visit after then when you'll find the streets have a real buzz to them, lined with independent stores, hip bars, cafes and restaurants. Start your trip in the main piazza – Piazza del Duomo – where you'll find the 15th century cathedral and work out from there.
Best tour of Lecce: Lecce street food and walking tour (2.5 hours)
Locorotondo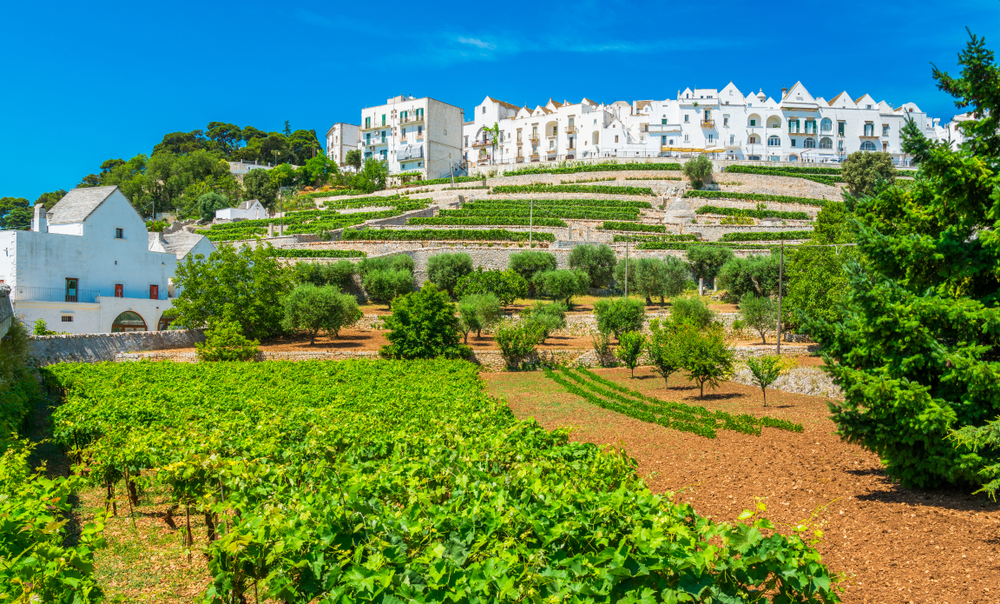 Easy to spot thanks to its elevated position, circular shape and whitewashed buildings, Locorotondo is often affectionately referred to as the 'balcony of the Valle d'Itria' and certainly, its hillside perch is a great place from which to admire the surrounding valleys, dotted with olive groves, trulli and vineyards. These vineyards provide the grapes for Locorotondo's famous sparkling white wine – Locorotondo Spumante DOC – as well as its dry white wine – Locorotondo DOC.
Best tour of Locorotondo: Locorotondo walking tour (1.5 hours)
Martina Franca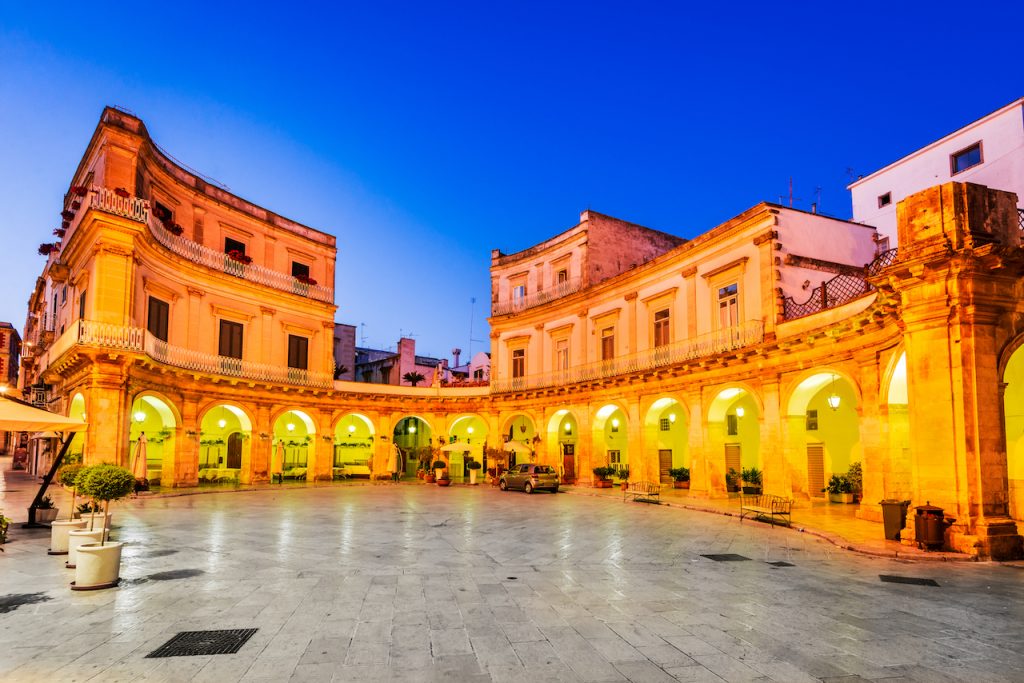 The largest town in the Valle d'Itria, Martina Franca is made up of a maze of winding streets and alleyways dotted with everything from simple whitewashed buildings to 18th century palaces. Start your visit in the heart of the town at the Piazza Plebiscito where you will find the Basilica di San Martino before heading for the nearby Piazza Roma, home to the Palazzo Ducale, one of the most impressive examples of Baroque architecture to be found within the town. Discover the oldest part of the town – the lama – where you can still see the traditional pointed rooftops.
Where to stay in Martina Franca: Trullo Itaka
Best tour of Martina Franca: Puglia wine and food tasting tour (1.5 hours)
Monopoli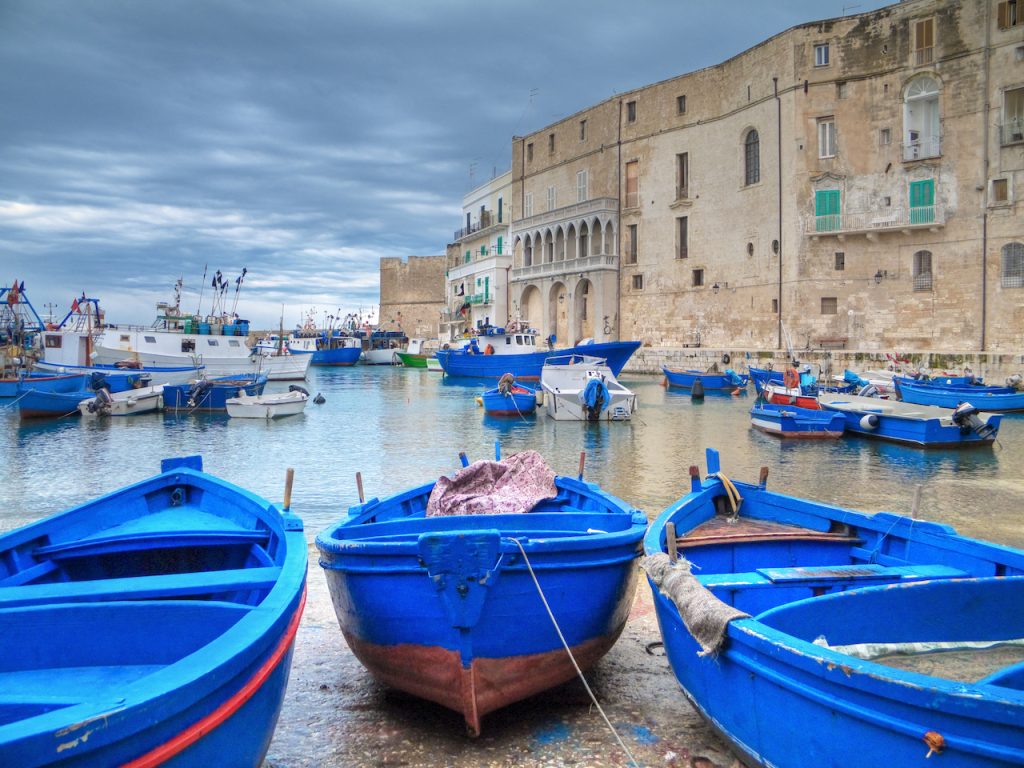 Monopoli is well worth the trip on your next Puglia holiday, particularly to discover the town's centro storico and fishing port. Here you'll be charmed by the old fishermen's boats, whose vibrant blue contrasts with the whitewashed harbour walls behind. Also make sure you visit the 16th century octagonal castle, not just to admire this impressive building but also to enjoy the superb views from the top. Find out more in our guide to Monopoli.
Where to stay in Monopoli: Apartment Monopoli
Best tour of Monopoli: Monopoli walking tour (1.5 hours)
Ostuni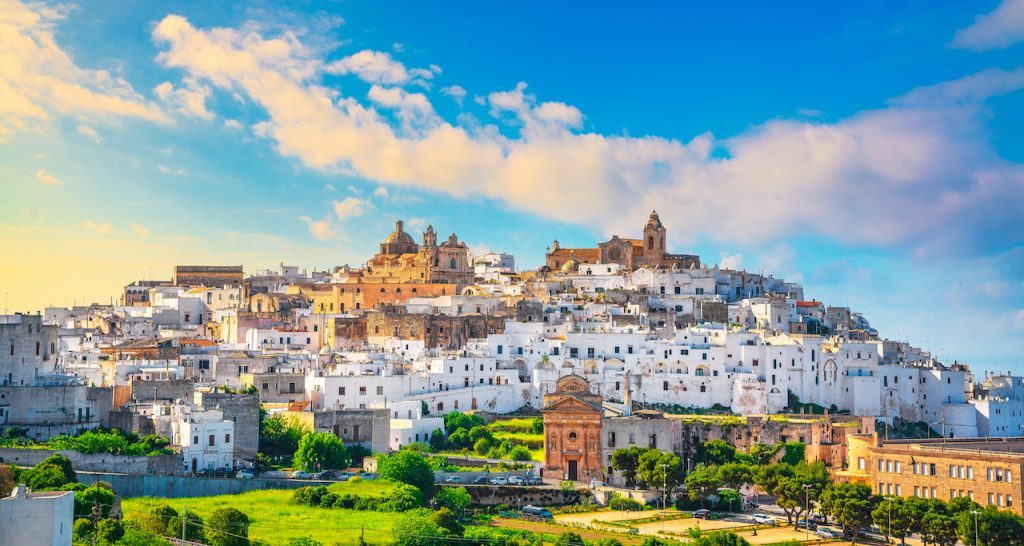 Known affectionately as 'The White City', Ostuni is the easiest of Puglia's towns to spot from a distance thanks to its striking collection of white-washed houses. We can happily spend hours exploring its labyrinth of narrow streets and alleyways. See if you can find the famous Porta del Paradiso as you explore. It's actually nothing more than a door but it's beautifully painted and a great place to get some rather cool holiday snaps! You might also want to think about visiting Ostuni on a Saturday to coincide with the local weekly market held from 8 am until 1pm in the Via Gabbriele d'Annunzio. Find out more in our guide to Ostuni.
Where to stay in Ostuni: Trulli Nicoletta
Best tour of Ostuni: Ostuni walking tour (1.5 hours)
Otranto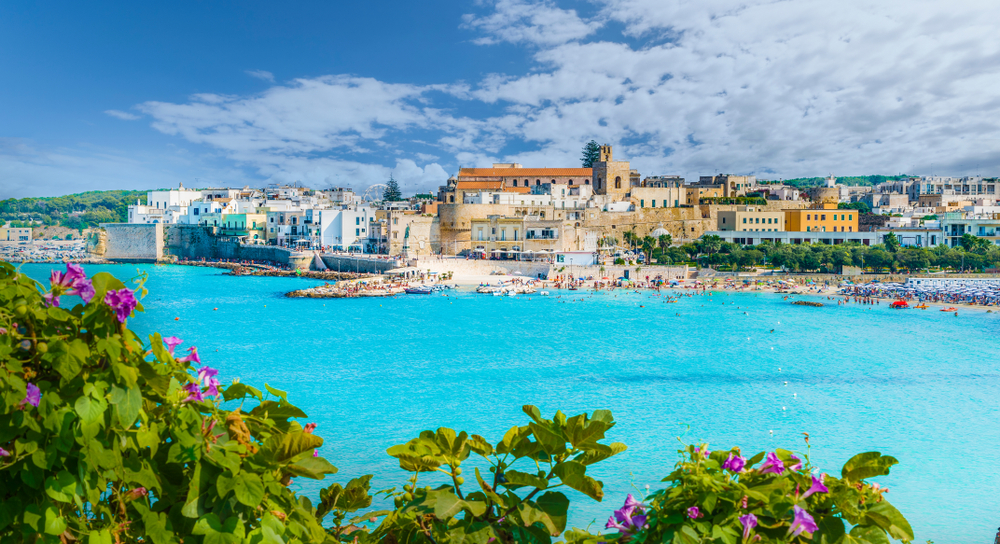 Otranto is a stunning seaside city that is not to be missed on any Puglia holiday. A tour of its beautiful historic centre leads you time and again to panoramic viewpoints across the sea towards Greece and the Balkans. Head to the Torre Matta on the sea front for some sweeping sea views. Also don't miss the opportunity to head inside the 11th century Cattedrale dell' Annunziata, famous for its incredible 12th mosaic floor which depicts the tree of life.
Best tour of Otranto: Otranto walking tour (1.5 hours)
Polignano a Mare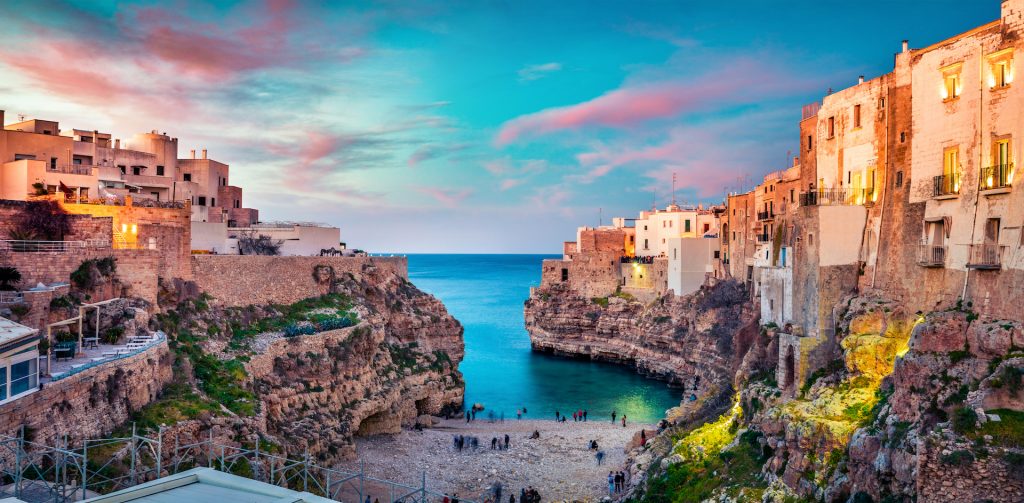 Polignano a Mare is a charming coastal town with whitewashed streets leading to three panoramic terraces with views of the Adriatic Sea. In recent years, it has become famous for hosting the annual cliff diving championships. If you fancy diving off Polignano a Mare's cliffs for yourself during your Puglia holiday, then you'll find plenty of others doing so from a lower height throughout the warm Summer months.
Where to stay in Polignano a Mare: Apartment Agrumi
Best tours of Polignano a Mare: Polignano a Mare boat tour (1.5 hours) and Polignano a Mare walking tour (1.5 hours)
Still have time to explore more during your Puglia holiday? Then, check out all the other Puglia towns and villages to create a detailed itinerary for your trip.