With the UK release of the latest James Bond film, No Time to Die, it's got us thinking about how often Italy is used as a film set for big Hollywood blockbusters. It comes as no surprise to us that Italy is used time and time again as the setting for famous films. After all, what more beautiful a backdrop could you ask for, or more varied for that matter. Filming on the idyllic shores of Lake Como couldn't be more different than shooting in the Chianti countryside, on the Amalfi Coast's dramatic coastline or on the sandy beaches of Puglia.
So, here's our round-up of the top film locations in Italy (along with some of the best films to watch if you fancy escaping to Italy from the comforts of your living room!) If you're planning a villa holiday in Italy, then these films will definitely get you in the mood! So sit back, relax, have the popcorn at the ready and settle in to enjoy some of our favourite films offering you the perfect opportunity to dream of that next holiday in Italy….
Italian Lakes
The Italian Lakes must be one of the places in Italy most frequently used by the James Bond franchise filmmakers. Lake Como featured a couple of times in Daniel Craig's first foray into the Bond franchise in Casino Royale (2006). The final scenes were filmed at the lakeside Villa La Gaeta in San Siro whilst the earlier scenes when he was recovering from the torture suffered at the hands of La Chiffre were filmed at Villa Balbianello.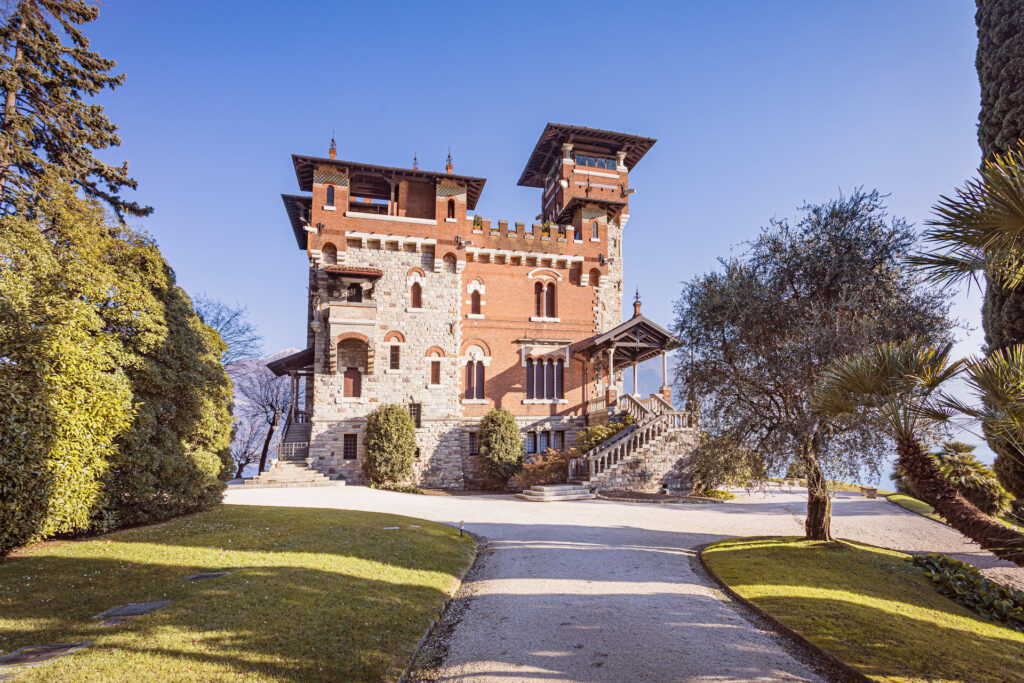 It's not just these stunning Lake Como villas that have caught the eye of the James Bond film directors though. Two years later in 2008, Quantum of Solace featured a dramatic car chase around Lake Garda in its opening sequence that took viewers from the village of Malcesine all the way down to Riva del Garda. And who can forget the incredible opening sequence in GoldenEye when Pierce Brosnan dives off the dam? Well, that was filmed at the Verzasca Dam which sits high above the valley and river flowing into the beautiful Lake Maggiore.
It's not only the directors of James Bond that clearly have a soft spot for Italian Lakes villas and scenery though! In 2004, Ocean's Twelve was filmed at Villa Erba and Villa Oleandra both on Lake Como. Handy for one of its principal actors, George Clooney, who had bought a house on Lake Como back in 2001! And the beautiful Villa Balbianello was used not just for Casino Royale but also by the Star Wars franchise for Attack of the Clones.
Check out our Italian Lakes villas if you fancy living it up like these movie stars!
Tuscany
Tuscany has featured in so many major films over the years that putting together a list of which and when would be almost impossible! Most recently, in 2020, the village of Monticchiello and the Tuscany countryside around Montalcino was the setting for the aptly named Made in Italy. The story revolves around a father (played by Liam Neeson) who returns to Tuscany with his estranged son (incidentally played by Neeson's son in real life, Micheál Richardson) to renovate their old family villa. Admittedly, the film doesn't get great ratings but if you love Italy, I reckon you can't help but love this film!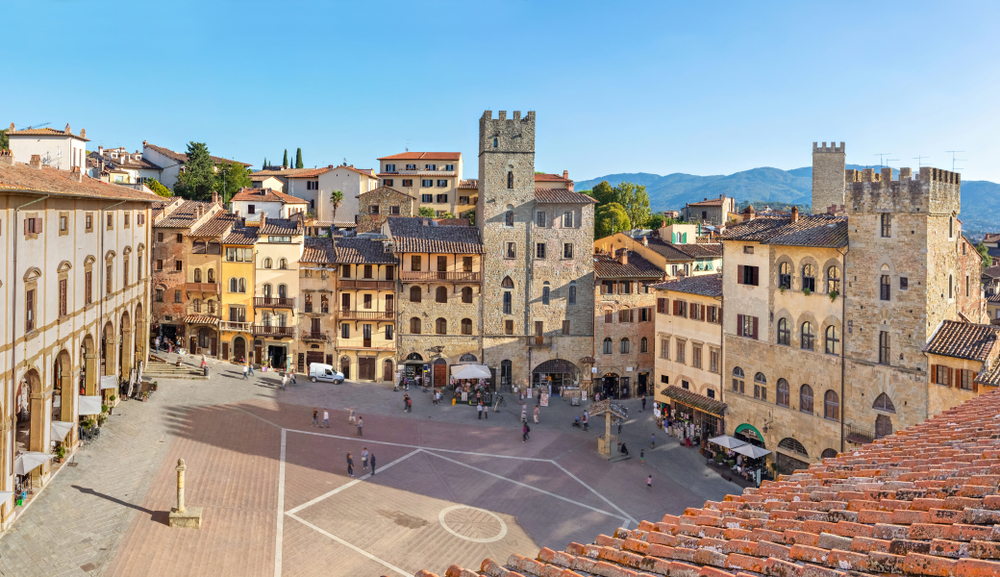 Just a couple of years before that in 2018, Tuscany was also where you would find the villa in Call Me by Your Name. As with Made in Italy, audiences back then were probably just as much swept away by the stunning Tuscan setting as much as the romantic storyline! And there are plenty of others we could name. Watch Russell Crowe in Gladiator and you'll see scenes from the beautiful Val d'Orcia, whilst head further back to 1999 and you'll find a number of scenes shot in Arezzo in Life is Beautiful. And how could we not mention The English Patient, Under the Tuscan Sun and one of our all time favourites – Room with a View.
Fancy exploring the beautiful Tuscany landscape and its cities for yourself? Then check out the Tuscany villas available for rent from award winning Bookings For You.
Amalfi Coast
Probably the most famous film set around the Amalfi Coast is The Talented Mr Ripley starring Matt Damon. Ischia and Procida, twin islands in the Bay of Naples, were probably used most frequently in this particular film but Positano was also used as a backdrop. A few years later, A Good Woman shot scenes in Amalfi, Atrani and Ravello as well as in Sorrento. And, you may be surprised to hear that Under the Tuscan Sun is not set solely in Tuscany but also has some scenes set on the Amalfi Coast. You'll find the actress playing Frances Mayes strolling casually through the streets of Positano and along its beach.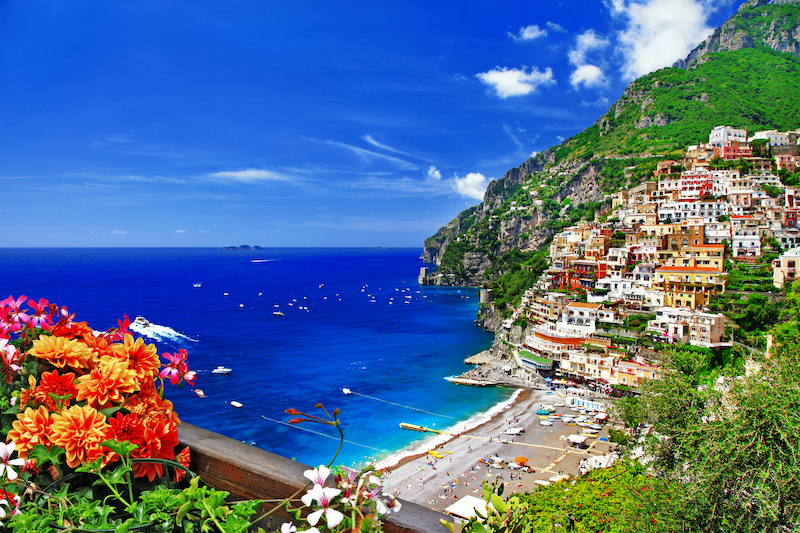 Bookings For You have this stunning Sorrento villa available to rent should you wish to stroll through those same streets!
Basilicata
Used as the backdrop of the latest Bond film, No Time to Die, Matera is Basilicata region's most famous city. A totally unique city, the film features a dramatic car chase as Bond takes his Aston Martin DB5 from the Piazza San Pietro Caveoso to the cathedral in Piazza Duomo, past the historic white sassi (cave dwellings) that were abandoned in the 1960s but have been beautifully renovated and restored since.
Whilst Matera may be one of Italy's newest tourist destinations, the city is actually the third oldest in the world and so it's not probably not surprising that it has also served as the backdrop for two very 'Biblical' films. Firstly for Mel Gibson's Passion of Christ and also for the Jerusalem scenes of the re-make of Ben Hur in 2016.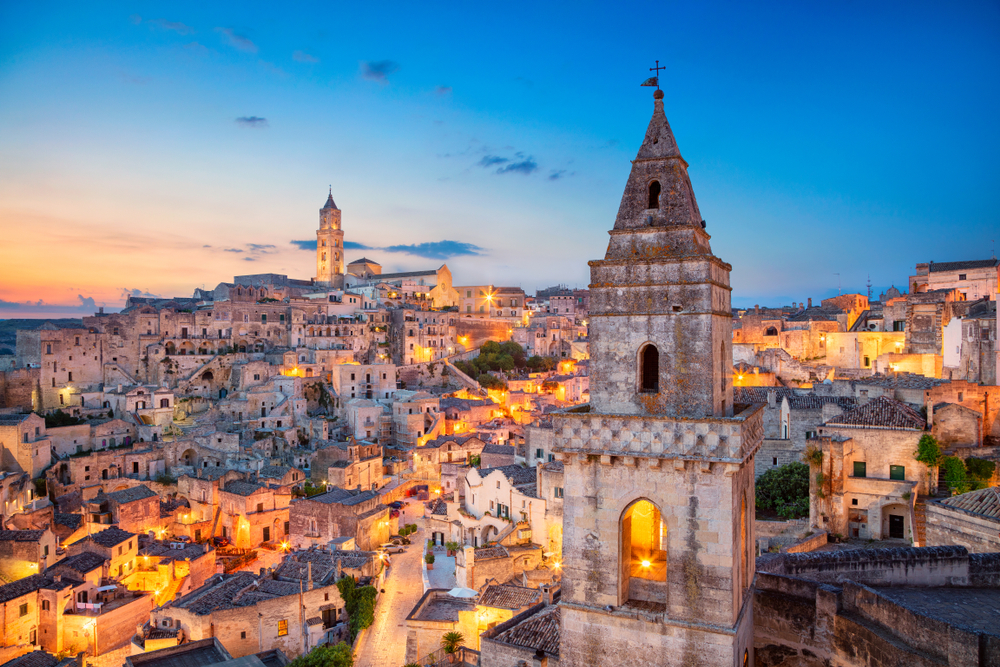 Puglia
Matera wasn't the only setting in Italy to feature in No Time to Die. The bridge scene (which Bond, surprise surprise, jumps off in the opening sequence!) was actually filmed in neighbouring Puglia at the Ponte Acquedotto, a two tier Roman bridge in the town of Gravina di Puglia.
Apart from the latest Bond movie, Puglia has not really drawn the attention of international film makers as much as some of Italy's more well known and established tourist destinations have. But if you are looking for something that accurately portrays the landscape and scenery of this region, then it's worth checking out the 2014 film Walking on Sunshine. This 'feel-good' film with its upbeat 1980s soundtrack introduced many to one of Italy's best kept secrets for the first time.
Explore Puglia for yourself at one of our Puglia villas.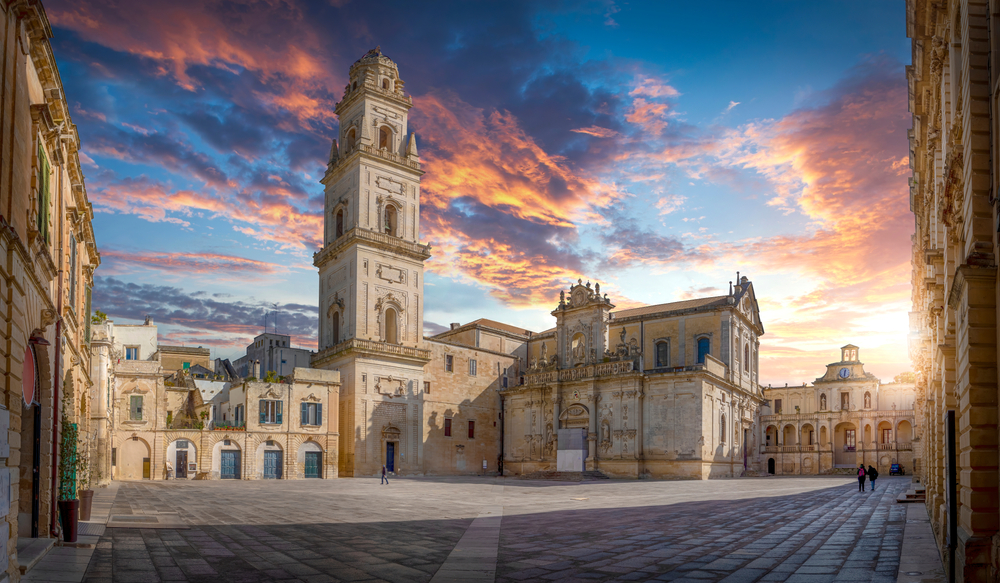 When you're ready to find your very own filmset and make your own Italy holiday memories, then find your perfect Italy villa with Italy villa rental experts, Bookings For You.