Alberobello is arguably Puglia's most famous town, thanks to the plethora of trulli that it is home to. There are around 1400 trulli dating back as early as the 1400s to be discovered in a very small area here. A trullo (singular of trulli) is a traditional building found only in Puglia. We think it's almost best described as a 'hobbit house' with a very distinctive cone-shaped roof, which you will sometimes find decorated with white symbols. The buildings are typically made from local limestone.
There are a few stories about how these buildings came to be in Alberobello. One legend claims that the trulli were constructed in such a way to avoid the paying of taxes imposed on landlords by the Spanish King who ruled this region. The trulli roofs were constructed without using any mortar, allowing them to be easily dismantled. In other words, should an inspection be ordered by the King, landowners could literally dismantle the roofs of their trulli. After all, if the building doesn't have a roof, then how can it possibly be someone's house and therefore why should someone need to pay taxes on it?!! Once the tax collector had left, the residents would, according to this tale, just put the roof back on. As you can imagine, this wasn't so great for the peasants that actually lived in these houses but, nevertheless, this supposedly went on until the 1700s when the king changed their status to a 'royal' town, releasing them from tax-dodging preferences of their feudal landlords.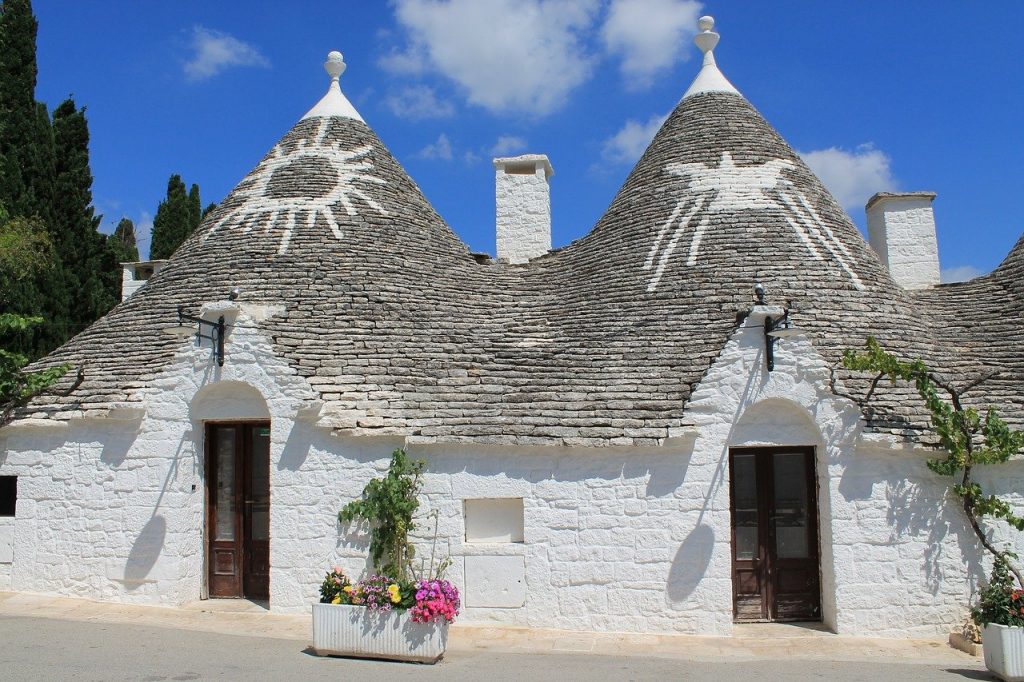 However, many have questioned this story. After all, the process of literally taking off and putting back on a roof is not a quick and easy one! As a result, there are other tales which are equally plausible. Another, for example, claims that, in fact, this part of Puglia was once an enormous forest and it was forbidden to erect any permanent buildings here which would have changed the nature of the forest. The peasants that worked the nearby land therefore built temporary structures stone by stone, and without mortar using the plentiful rocks to be found in the Valle d'Itria.
Certainly, the name Alberobello also backs up this theory. After all, its literal meaning is 'beautiful tree'. However a number of scholars challenge this meaning further. They say that the name of the town actually derives not because of the existence of a forest but from a single tree called the 'arbor belli' or 'tree of war.' In short, the meaning indicates instead that there was discord among various factions for the land where Alberobello now sits. Both the Counts of Conversano and the Duchy of Martina wanted to increase their revenue by colonising the area, allowing their peasants to live there and act as their subjects.
Whatever you believe, today, Alberobello is one of four UNESCO World Heritage sites that can be found in Puglia and, in our opinion, a visit should be included on any trip to Puglia.
What to do in Alberobello
The town itself is split into two main parts – Rione Monti and the Rione Aia Piccola. We recommend that you spend a couple of hours simply walking the streets of Alberobello and a good place to start your tour of Alberobello is in the Rione Monti quarter, home to over 1000 trulli. Head uphill along the main street here, lined with tourist shops, small boutiques and the occasional cafe. Head to Aia Piccola and you'll find half as many trulli, but it's equally (if not more) charming and provides arguably a more authentic look at these beautiful buildings. As you wander the streets of Alberobello, look out for the Casa d'Amore. This was the first trullo to be built using mortar, built by Francesco d'Amore in 1797 immediately after the King changed the status of Alberobello and building could be completed without restrictions. A small plaque on the front of the building marks the event whilst inside, it's now home to the tourist information office. And also keep your eyes open to spot the Trullo Siamese, so-called because it has two entrances into the one building.
No visit to Alberobello would be complete without spending the time to better understand the history of these beautiful buildings. The best place to do so is to visit the Trullo Sovrano. This is the largest trullo in Alberobello, unusually home to two internal floors and a winding staircase and now home to a small museum. To learn more about the history of the trulli, visit the Museo del Territorio, with exhibits and tools on display explaining how people used to live. Not all museums in town are about the trulli though. Alberobello is also home to a small museum – the Museo Dell'olio – educating visitors about olive oil production in this area.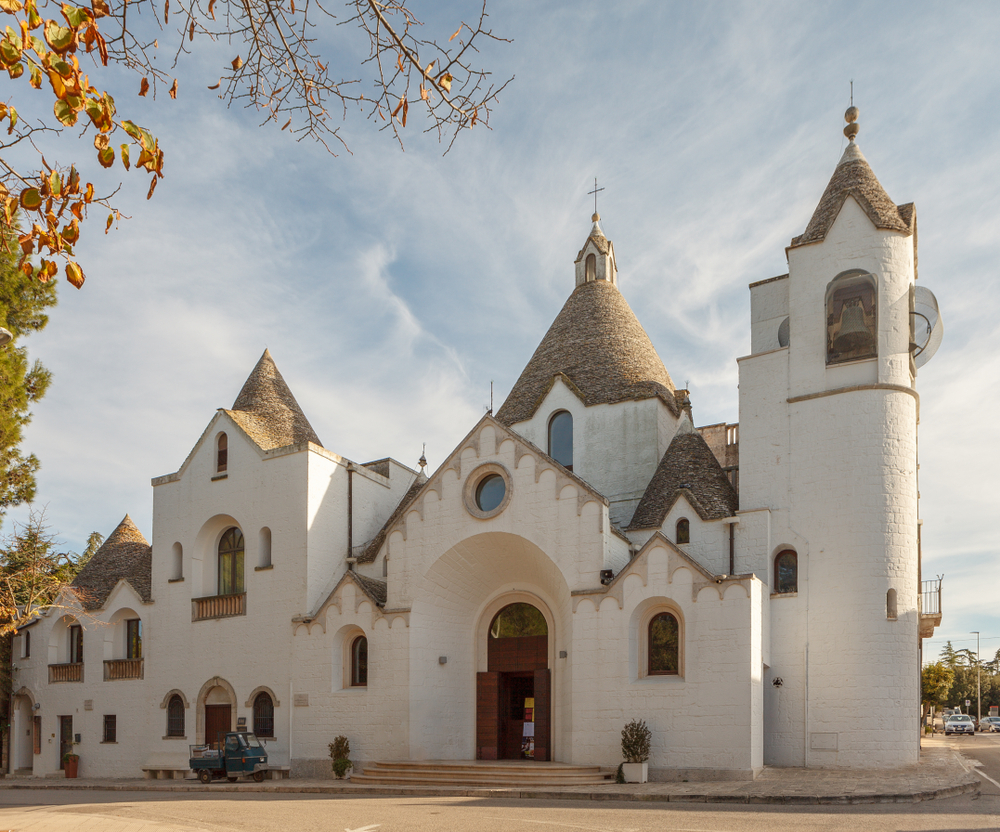 Other buildings worth searching out during your visit include the Church of Sant' Antonio, the only trullo church anywhere in the world! Other churches in the town include the relatively plain but pretty Parrocchia Santuario Basilica S.S. Cosma E Damiano and the Chiesa di Santa Lucia (Alberobello's patron saint) which is worth a visit even if only to enjoy the view of all the trulli from the Belvedere Santa Lucia viewing platform here.
Events in Alberobello
The annual Alberobello light festival is one of the prettiest festivals in the region. It takes place every Summer across July and August and is when Alberobello's historic old centre is lit up with thousands of lights. In 2016, to make the 25th anniversary of Vincent Van Gogh's death, Alberobello's trulli were illuminated with hundreds of stars to remember one of the painter's most well known works 'Starry Night'.
And then at the end of September each year, the town is lit up again, this time to mark the 3 day event of the Feast of Saints Cosmas and Damian. There is a small chapel in the town that honours these saints, and celebrations include both religious and secular events. Celebrations are kicked off with a cattle fair on the 25th of the month, followed on the 26th by a day of music and celebrations on the streets, when you'll find numerous bands and food stalls throughout the town. At nightfall on the 26th, the lights in the town are switched on, ready to guide the way for numerous pilgrims who arrive on foot from nearby towns and villages, forming a great procession during the night and into the early hours of the 27th September. And all these events culminate in a spectacular fireworks display on the 28th.
And, of course, whatever time of year you visit, you can always enjoy the weekly market in Alberobello held every Thursday morning.
Where to eat in Alberobello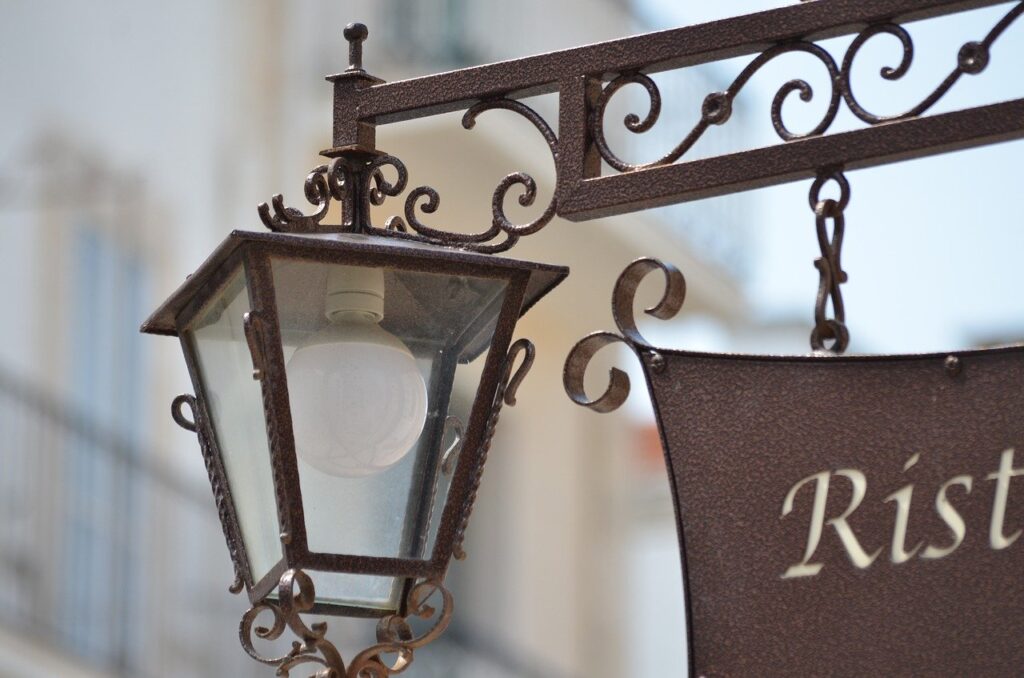 Our favourite restaurant in Alberobello is La Cantina, an authentic Italian restaurant serving typical Puglian food. It's best to book ahead though to avoid disappointment – the restaurant is small and seating is limited.
Alternatively, if you're looking for a light lunch or somewhere to enjoy an aperitivo in Alberobello, head to Paco Wines enoteca and winery. First and foremost a wine bar and wine shop, it does also serve some great cheese and meat boards.
Or, instead, try a sandwich unique to Alberobello for your lunch instead. Invented in 1966 by Pasquale dell' Erba who owned a grocery store on a street between the Corso Vittorio Emanuele and the Via Cesare Battisti, the aptly named Pasqualino sandwich includes (in this order) tuna, capers, salami and cheese sandwiched between bread. It's a delicacy that can be ordered only in Alberobello but any grocery store or deli counter in town should be able to prepare one for you.
Finally, wherever we go in Italy, we always like to make time for a gelato and Alberobello is no exception! Our favourite gelateria shops in Alberobello are Gelateria Gentile and Arte Fredda.
Where to stay in Alberobello
One piece of advice for those planning to visit Alberobello. The town does get busy so, if you're visiting for the day, we recommend you get there early before the coach loads of holidaymakers arrive. Alternatively, another way to avoid the crowds is to actually stay there, allowing you to be there before they arrive and after they have left!
This trullo in Alberobello is in the heart of the town and provides the perfect place to stay. Comfortably accommodating two people, the interior is relaxing, with an incredibly luxurious over-sized tub to soak in after a day sightseeing. We also love the private terrace with views over Alberobello's rooftops.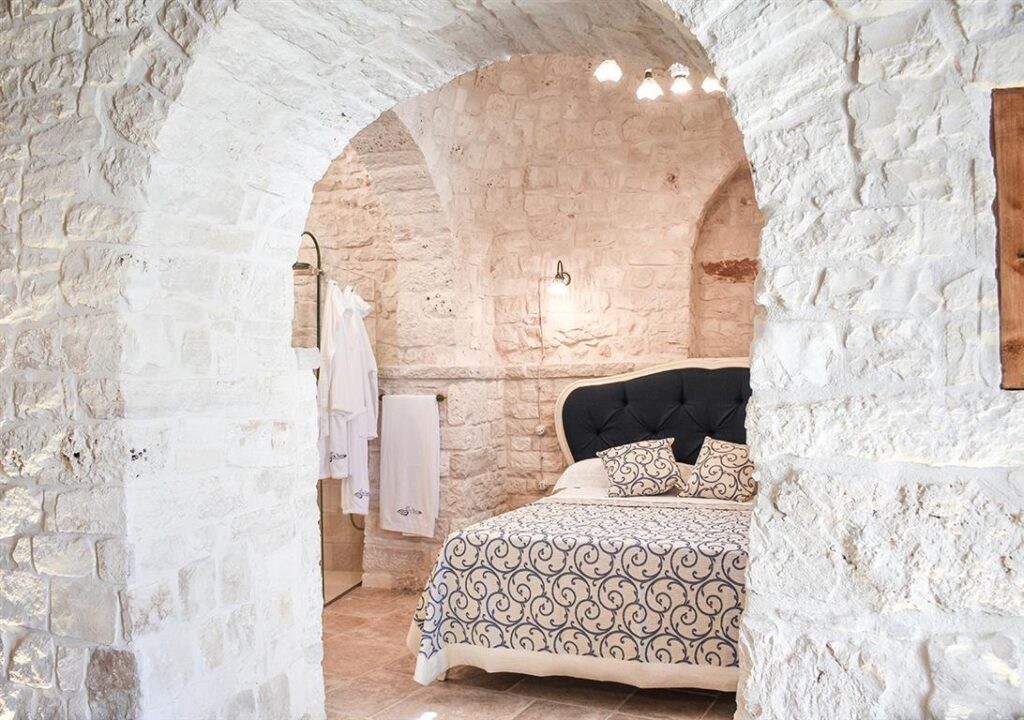 Or, if you're travelling with a bigger group, then this masseria in Alberobello can sleep up to 10 people and ticks all the boxes. It has been lovingly restored and can boast a stylish interior that cleverly combines contemporary and traditional design, whilst outside, beautiful terraces surround a stunning private pool.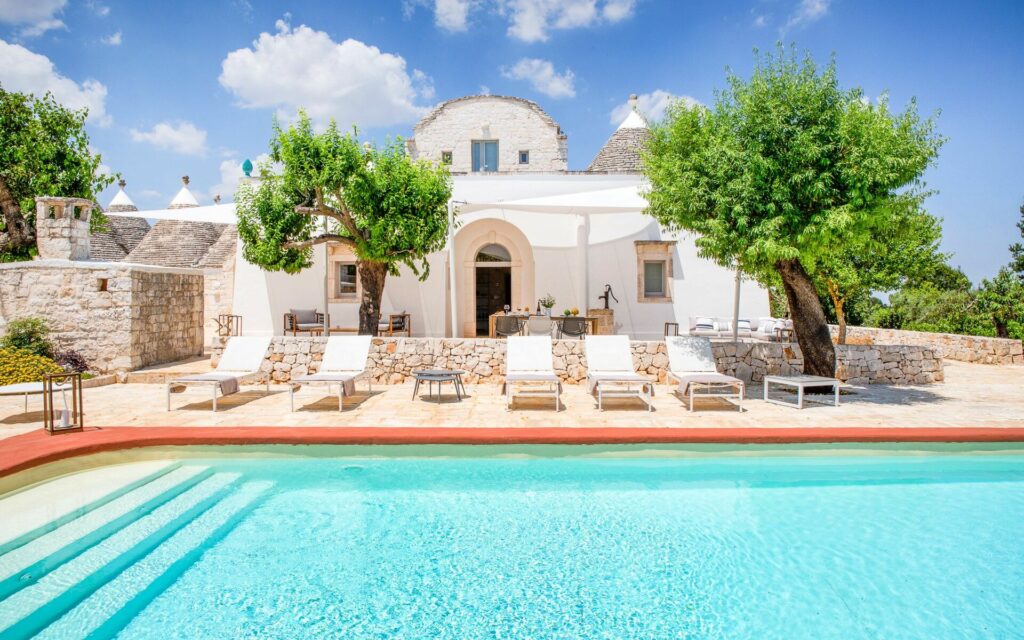 Or take a look at all the full range of Puglia villas to rent available from award winning Italy holiday rental company, Bookings For You.
How to travel to Alberobello
By plane: The nearest airports to Alberobello are Bari (65km) and Brindisi (75km). From here, you'll need to catch a train or hire a car.
By train: Alberobello does have its own train station which is about a 10 minute walk from the historic centre of the town. It's easy to catch a train to Alberobello from a number of towns in Puglia including Bari, Brindisi, Lecce and Martina Franca using the Ferrovie Sud Est (FSE).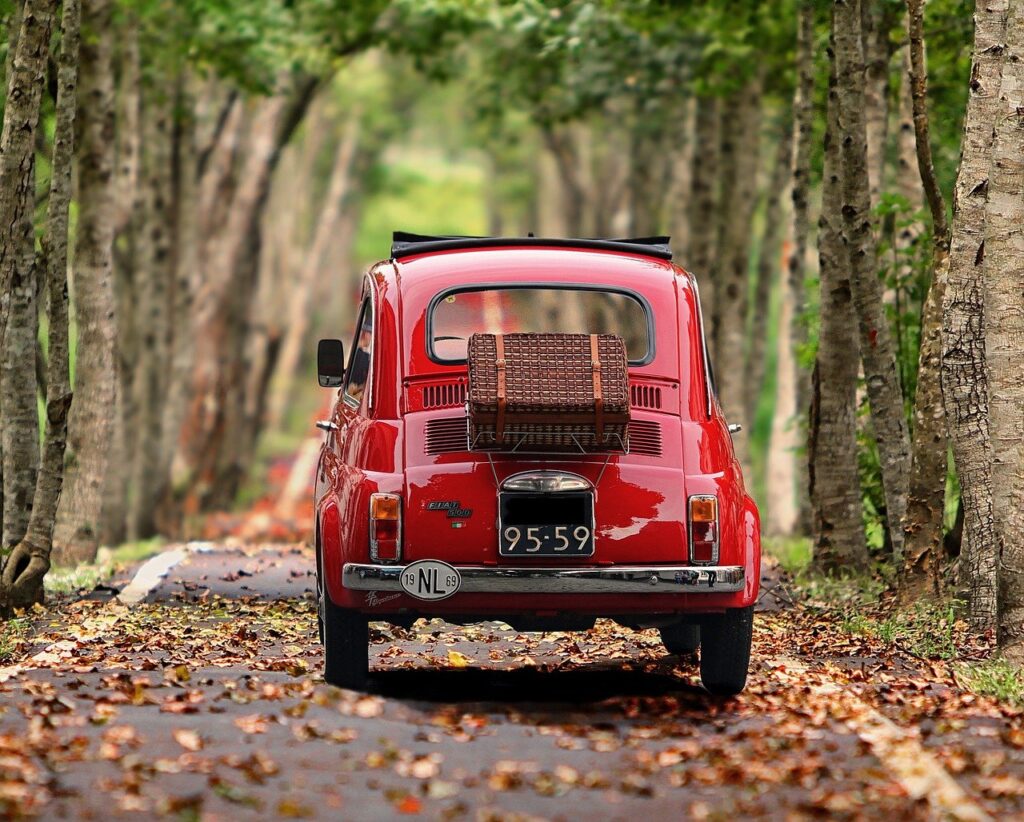 By car: It is easy to drive to Alberobello. Upon arrival, there are three well-signposted car parks in town near the Rione Monti.