A walled Medieval hilltop town in Tuscany, Volterra sits just over an hour South West of Florence. Its history stretches back centuries, all the way to the 8th century BC to the time of the Etruscans when it was known as Velathri. The walls that you see today date back to the end of the 4th century BC though. The 7300 metres of walls were designed to protect Volterra's centre as well as the surrounding fields from foreign invasion. At the end of the 3rd century BC, Volterra passed under Roman rule, becoming a municipium (a distinct state under the jurisdiction of Rome). At this time it was known as Volaterrae (from which its current name derives). Much later, it was conquered by the Florentines before coming under the control of the Medici family in 1530 when the Republic of Florence fell, before finally forming part of the Kingdom of Italy in 1860.
These days, Volterra also attracts a new crowd of visitors, drawn by the links it has to Stephenie Meyer's popular Twilight series of books. We think that, whatever your reasons for visiting, Volterra should be included on any Tuscany villa holiday.
What to do in Volterra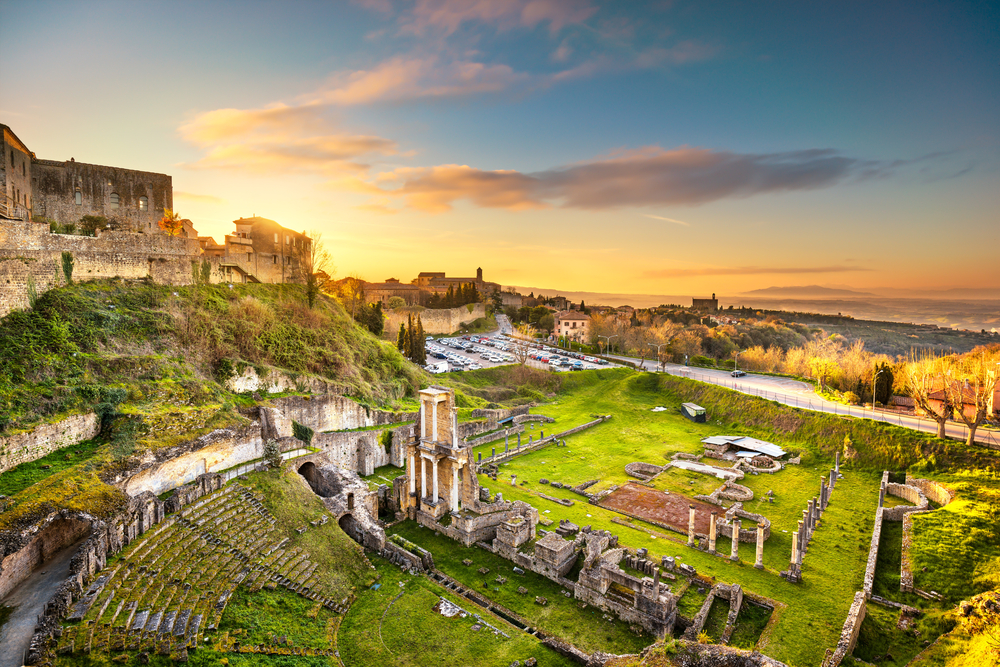 It's very easy to while away a few hours just exploring Volterra's winding cobbled streets sprinkled with a plethora of Roman, Etruscan and Medieval structures. Start your visit at one of the incredibly well-preserved original gates – the Porta dell'Arco – but it's worth visiting all the 6 gates at some point during your visit, including the Porta Diana, the Porta San Francesco (where you can still see traces of the original frescoes), the Porta Fiorentina and the Porta San Felice where you'll enjoy some terrific views over the surrounding countryside.
Some of Volterra's most impressive Etruscan remains (layered with both Roman and Medieval remains) can be found at the Etruscan acropolis located in the Parco Enrico Fiumi at the highest point in Volterra. Here you'll find the remains of a water cistern and plumbing system which includes the Augustinian pool as well as two temple buildings dating back to the 2nd and 3rd centuries BC.
From here, you're very close to the 15th century Medici Fortress that dominates Volterra and the surrounding countryside. Originally built to defend the city and keep the citizens under control, it's now home to a high security prison so this is definitely an attraction not open to tourists! That said, it does run a prisoner rehabilitation programme whereby the public can attend cene galleotte evenings to enjoy a gourmet meal prepared and served up by inmates.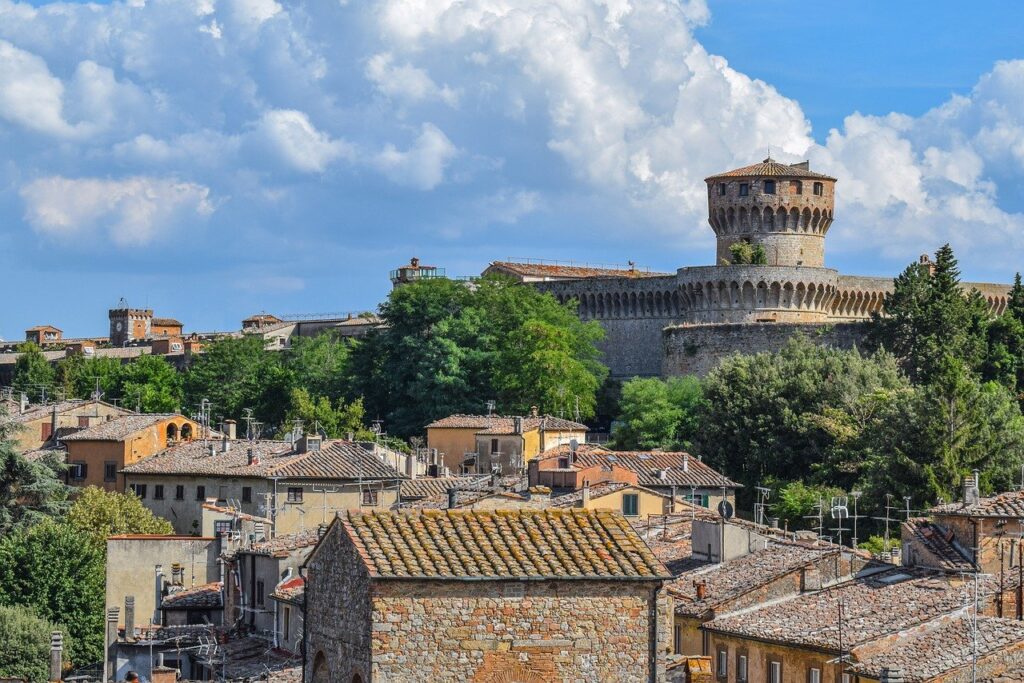 The town is also home to some extremely impressive Roman remains including a Roman theatre which dates back to the 1st century AD and, behind it, remains of 4th century Roman baths and Roman forum. One of the best preserved Roman theatres in Italy, it's open daily between March and November but at other times is only open at weekends. But, don't worry! If you visit outside these hours, you can still enjoy good views of it from the free viewing area on the Via Lungo le Mura del Mandorlo above. In fact, whatever time you visit, it's always worth enjoying this perspective on the ruins as it's much easier to see the vaulted corridors that connect the stage with the back of the theatre from up here.
If you are eager to learn more about Volterra's ancient history, then one stop on your tour must be to the Guarnacci Etruscan Museum. The museum itself is one of the oldest in Europe dating back to 1761. Inside, its main attractions include the bronze statue – Shadow of the Night – depicting a long nude figure, a terracotta sculpture of two people lying on a bed, a 1st century urn cover – Urn of the Sposi – and the Stele di Avile Tite, a giant slab of Etruscan limestone.
Volterra's sights aren't limited to ancient remains though. The town is also home to the oldest town hall in Tuscany – the Palazzo dei Priori. Make sure you look above you to the Torre del Porcellino (Tower of the Piglet) to spot the stone wild boar at the top. Just a minute's walk from here is the Duomo. Dating back to the early 12th century, the cathedral underwent significant modifications during the Renaissance period which means that the building you see today is a fascinating mix of Romanesque and Renaissance styles with a Romanesque facade but with a rich, gilded ceiling and ornate frescoed chapels inside. The cathedral is also home to some notable works of art including paintings by Andrea della Robbia, Mino da Fiesole and Benozzo Gozzoli as well as to an octagonal marble baptismal font by Andrea Sansovino which dates back to the very beginning of the 16th century.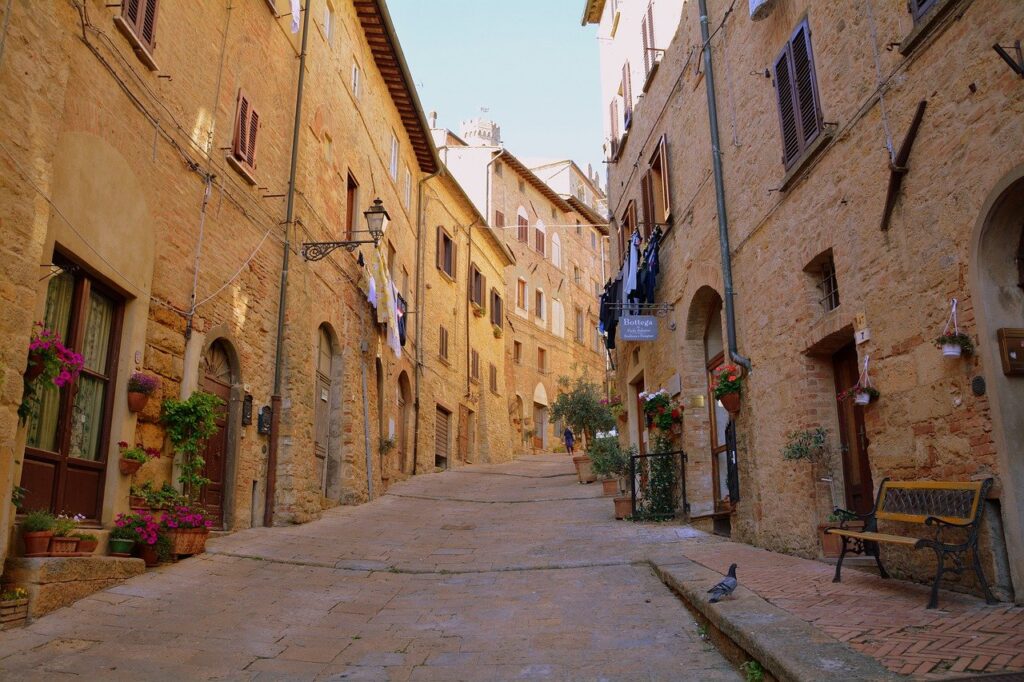 A plethora of other works of art, including Rosso Fiorentino's Deposition, can be found in Volterra's Pinacoteca (art gallery) which you will find in the 15th century Minucci-Solaini Palace.
Events in Volterra
On two Sundays in August, the residents of Volterra celebrate their Medieval past as part of Volterra 1398. Visit on these days and you'll feel like you've stepped 600 years back in time as citizens wander around the streets in Medieval costumes to celebrate. Look out for the stalls selling Medieval dress if you want to blend in with the locals!
Volterragusto is an event that is perfect for keen foodies. It takes place at a variety of times throughout the year (including March, late October and early November) reflecting the foodstuffs harvested or produced at that time. It showcases the very best local produce, including cheese, white truffles, olive oil and chocolate.
Finally there is Tartufo Marzuolo when visitors will be able to wander round a number of stalls in the Piazza Priori to buy and sample the local produce, including the famous March truffle.
Where to shop in Volterra
Volterra is renowned for its hand-made alabaster creations and if you want to pick up a souvenir to remember your visit by, then you won't do better than visit one of the many handicraft workshops in the town.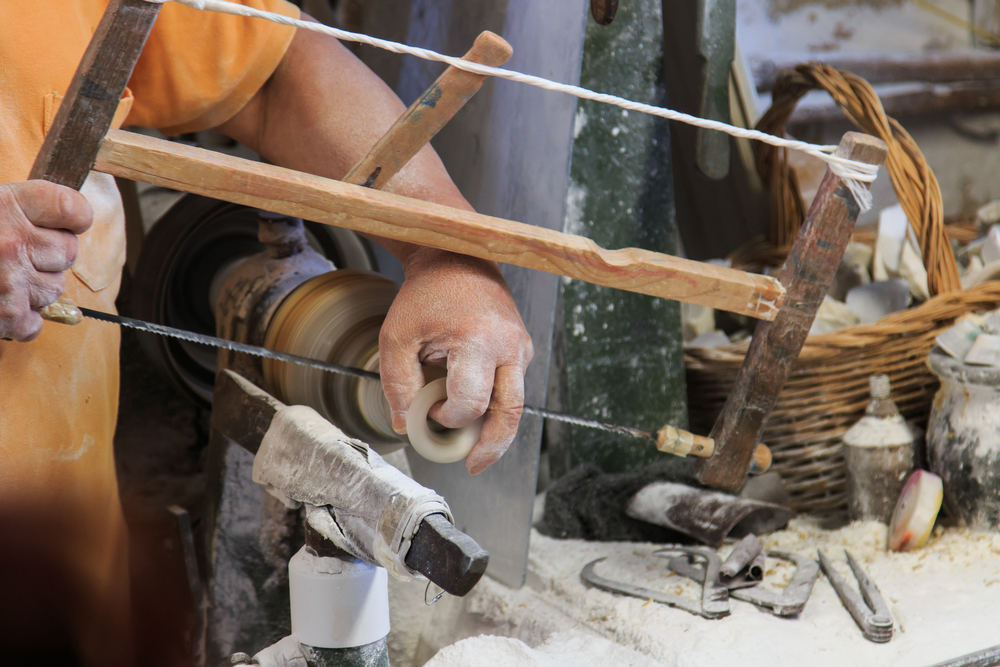 If you want to find out more about this tradition of alabaster carving, then head to the Alabaster Eco-museum first. This will explain in detail the excavation, production and sculpting of the rock as well as giving you the opportunity to see some alabaster creations, both ancient and modern.
Where to eat in Volterra
Dolceria del Corso We reckon that this is the best cake shop in Volterra so definitely worth making a bee-line for!
Ristorante Pastinaca A great option for vegetarians where chef and owner Debora Galvano has a creative and inventive approach to cooking with a focus on organic and zero-kilometre produce.
Where to stay in Volterra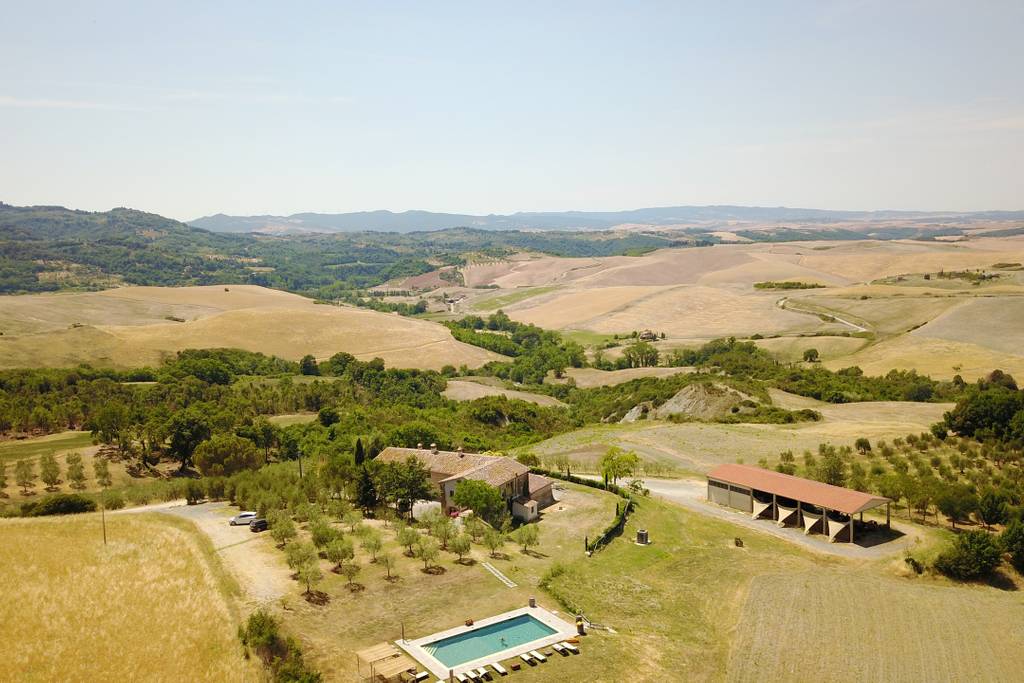 Villas in Tuscany don't get much better than Villa le Capanne, a luxury Volterra villa situated a few kilometres from Volterra's historic centre. It's the perfect place to stay to explore this most stunning of towns and comfortably sleeps up to 20 guests, also making it the perfect luxury Tuscany villa for a large group of friends or family.
How to travel to Volterra
By train: The nearest train station is at Volterra Saline – Pomarance, approximately 10km from the historic centre of Volterrra however this is quite a small station so it's worth checking train timetables before you go at www.trenitalia.com. Otherwise, there are larger train stations at Cecina and Pontedera. All these stations have bus links to Volterra.
By bus: Buses tend to be good value for money, fairly punctual and run regularly to a number of nearby towns and cities.
By car: Travelling by car is probably one of the easiest ways to reach Volterra. Just be aware that this is a hilltop town and so the last couple of kilometres will be on quite steep, winding roads. There is both paid and free parking available.
By plane: The nearest airports are in Florence (85 km) and in Pisa (62km). From both airports, it's easy to hire a car or catch a bus or train to Volterra.