Umbria has perhaps never attracted the same number of tourists as its more famous neighbour, Tuscany, but offers just as much to see and do. The hilltop towns and villages are a delight to explore and the landscape just as spectacular. Whilst you may be familiar with the more well-known towns and cities to visit in Umbria, there are a wealth of activities and sites left to discover off the beaten track. Here's our list of the top 60 things to see and do in Umbria including some rather unusual attractions and activities which you will be hard pressed to find in the regular guide books.
1. Make a pilgrimage to Assisi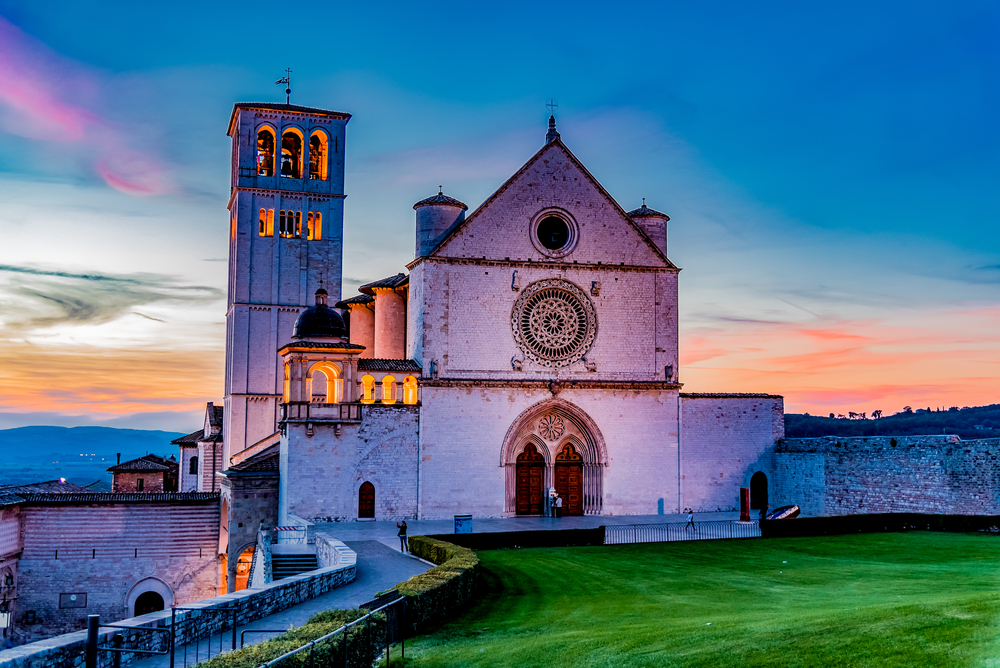 The birthplace of St Francis, today Assisi remains an important pilgrimage site amongst Christians who head to the Basilica of St Francesco to pay their respects. It's also an extremely popular spot for tourists. As well as the basilica, the town has plenty of other sites to explore. The city is a UNESCO World Heritage site precisely because of the wealth of historical buildings and art collections available to view. Park at the top of the city and you can walk down to the basilica via the Roman Temple of Minerva, the excavated Roman forum and the Medieval palazzi. We recommend heading there first thing or last thing in the day to avoid the crowds. If you want to head into the basilica itself, then make sure your shoulders are covered and any clothing comes below the knee.
Stay at this villa in Assisi if you're keen to explore Assisi for yourself.
2. Step inside Orvieto's duomo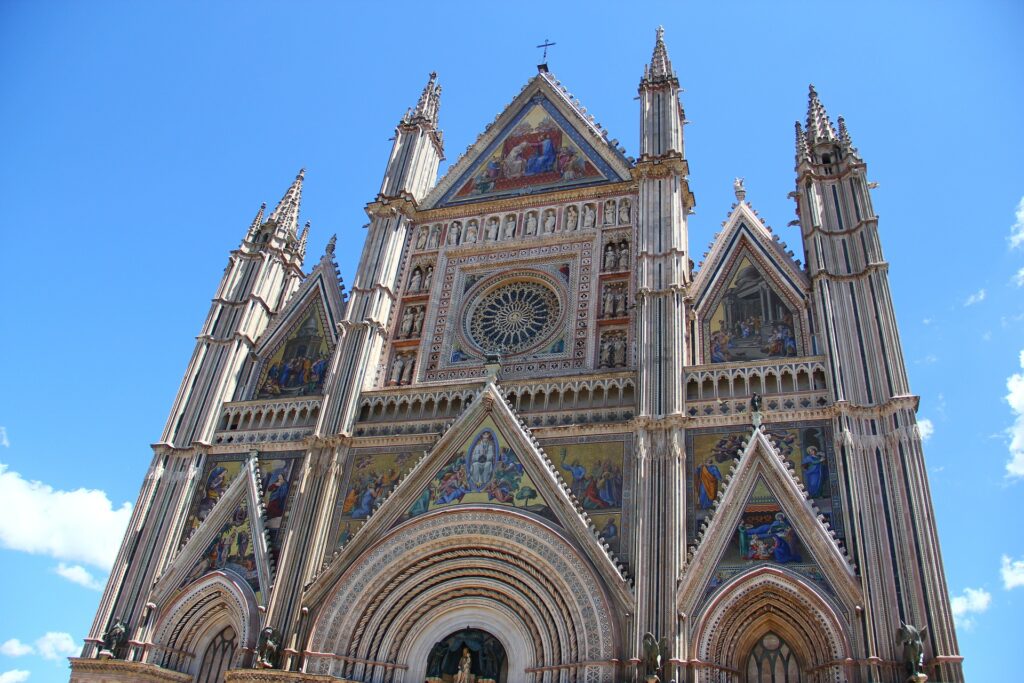 The Duomo at Orvieto must be one of the most memorable and spectacular duomos in Italy. The Italian Gothic style cathedral boasts an extremely ornate and intricately decorated 52 metre-tall façade, with mosaics and stained glass bringing an incredible amount of colour to its frontage.
3. Head underground
Also in Orvieto, the other main attraction not to missed is St Patrick's Well. Over 50 metres deep and 13 metres wide, 248 steps lead down into the bottom of the well via a spiral staircase whilst another staircase brings visitors back to ground level. Alternatively, for a more expansive view under Orvieto's streets, take one of the underground tours where you will be able to wander around the network of tunnels, passages and living spaces. Guides will bring the history of the tunnels to life. You'll see the Medieval dovecotes where pigeons were kept for food as well as a much more recent 20th century bomb shelter. Orvieto is not the only place where there as many wonders below ground as above ground. In Narni, head underground to see an incredible 12th century church that also doubled up as a wine cellar in Napoleonic times as well as a Roman cistern, a torture chamber used by the Inquisition and a prison. And finally, there is the largest of all the underground experiences – the Monte Cucco Caves. The caves here are more than 30 km long and more than 900 metres deep. There are three guided tours to choose from. The shortest is about 2-3 hours long and the longest around 5 hours. An 800 metre path will take you from the parking area to the cave entrance and once there you will make your way to the heart of Monte Cucco, through stalegtites and stalegmites, caverns, labyrinths and tunnels. The experience is suitable for those aged 8 years and older but is not suitable for the elderly or infirm.
Book a tour of Orvieto.
4. Enjoy a passeggiata in the smaller villages of Umbria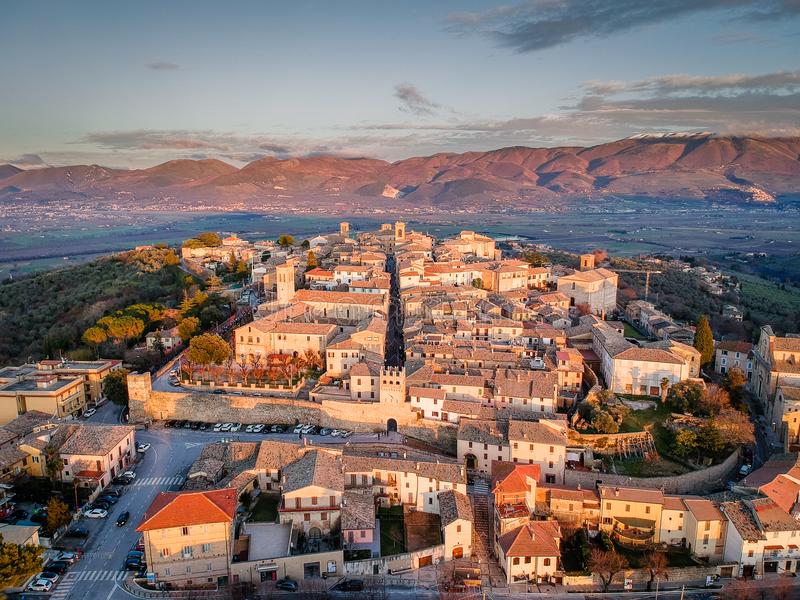 Whilst you may be familiar with Umbria's larger towns and cities, there are plenty of other towns and villages worth exploring. To make the most of your time in Umbria, don't miss out on seeing the smaller villages too. There are a plethora of villages in Umbria that are among the 'borghi piu belli d'Italia' (most beautiful villages in Italy). These include Bevagna, Castiglione del Lago, Bettona, Arrone, Corciano, Deruta, Massa Martana, Montefalco, Paciano, Passignano sul Trasimeno and San Gemini and but this is by no means an exhaustive list. Take a look at all of the villages on the list at the official website.
This Umbria apartment in is in the heart of Montefalco, one of the borghi piu belli that this region boasts.
5. Head to the beach for an afternoon of water sports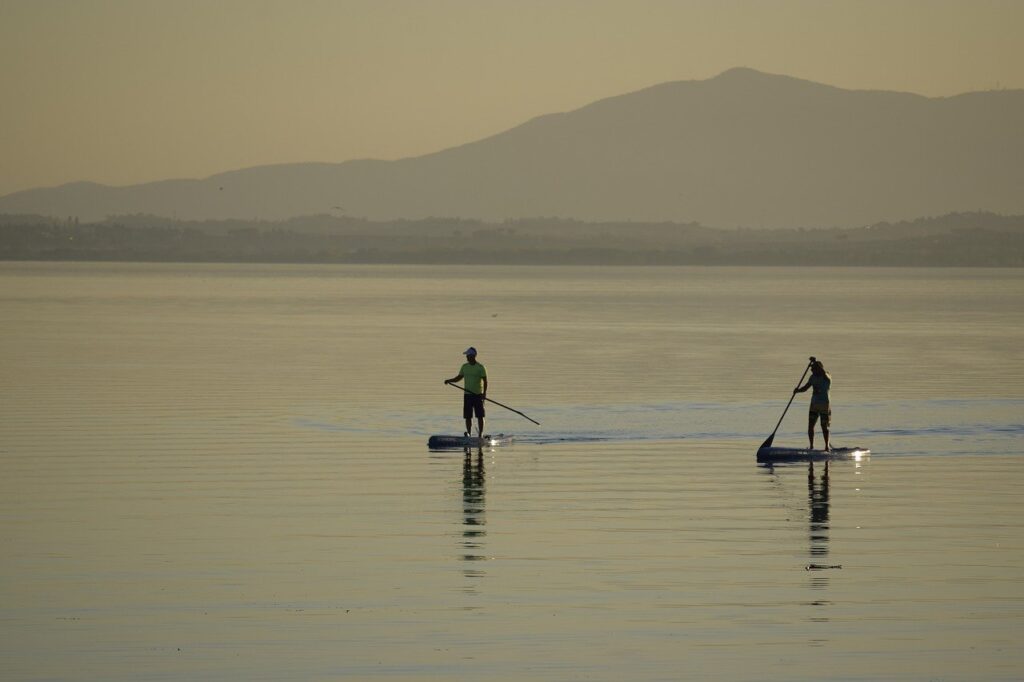 Whilst Umbria may be landlocked, it doesn't mean you can't spend the day on the beach. Head to Lake Trasimeno and you will find a number of lakeside beaches. You can also try your hand at a number of more sedate water sports here. Windsurfing, kitesurfing and wakeboarding are all growing in popularity on the lake. There is also a wakeboarding park in the heart of Perugia. This offers a purpose built towing system as well as some ramps for those more experienced wakeboarders looking to test their skills. Or if you fancy learning to sail, there are a number of sailing schools in the area of Lake Trasimeno which offer tuition and lessons. Head to either Castiglione del Lago, Passignano or Tuoro sul Trasimeno where there are sailing clubs with qualified instructors on hand to help.
This villa in Umbria is just a short drive from Lake Trasimeno.
6. Play a round of golf
Umbria perhaps doesn't have the number of golf courses you'd expect given the rural nature of its landscape but those that do exist should satisfy the serious golfers amongst you. One of the top golf courses in Umbria is the Antognolla Golf Course, where golfers can play a round enjoying the incredible far reaching scenery and views of the Medieval castle of Antognolla. There is also a practice green, putting area and chipping green here. Other courses include the Golf Club Lamborghini, a 9 hole course perfect for beginners, and the Golf Club Perugia, another 18 hole course that also offers lessons for children aged 6 and above.
7. Go shopping in Perugia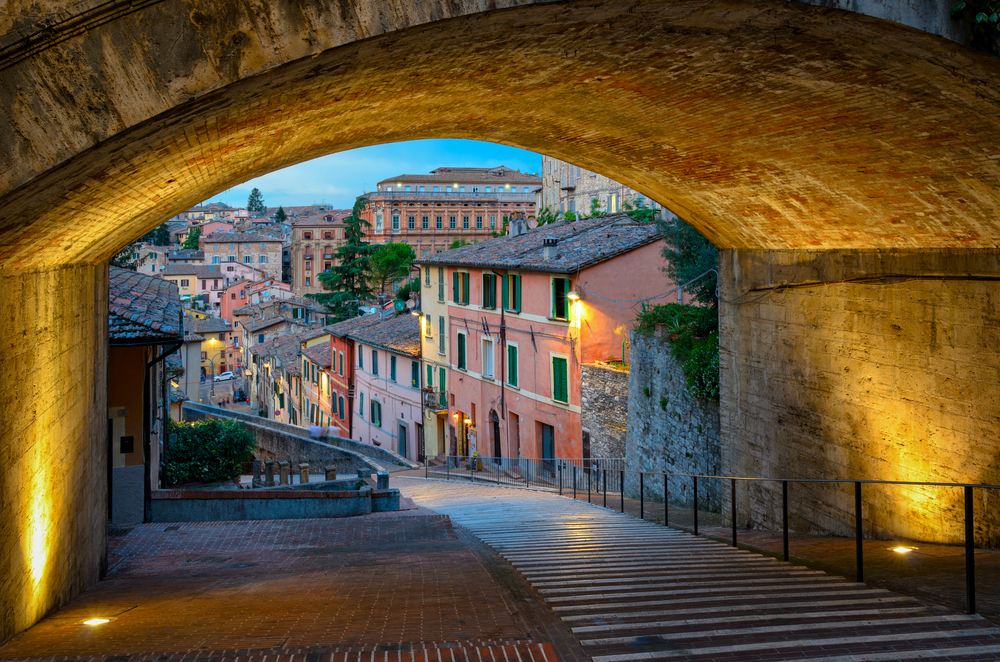 Umbria's main city, Perugia, has a vibrant, cosmopolitan feel. If you fancy doing a spot of shopping, then make your way to its main street – Corso Vanucci – which has an abundance of shops and boutiques. At one end of this street you will also find the Piazza IV Novembre, Perugia's main square which is home to the Duomo, Fontana Maggiore and Palazzo dei Priori. Otherwise, if you're more of a foodie, then the Mercato Coperto is worth a trip too. Situated just off the Piazza Matteotti, this is a permanent covered food market.
Enjoy a walking tour of Perugia.
8. Spend a day at the water park
If you want to cool off from the heat, then a trip to one of the region's water parks is a good idea. There are a few to choose from but those with the best reviews are the Tavernelle Water Park, Flex Beach in Foligno and the Umbertide water park which boasts both indoor and outdoor swimming pools and a couple of waterslides. The Chico Mendes park in Terni is another option. Whilst it may not have waterslides for the younger members of the family, it makes up for it in other ways. It boasts a man-made lake and beach area as well as four swimming pools, a fitness area, children's playground as well as plenty of areas to just relax and sunbathe, a restaurant and spaces for live entertainment in the peak months.
9. Enjoy a wine tasting experience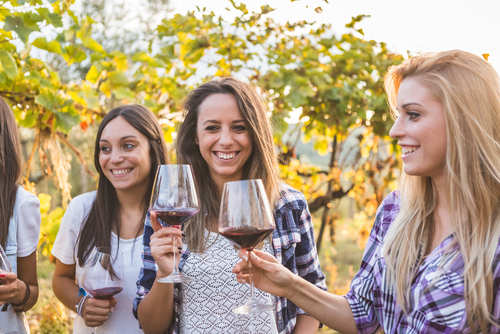 Umbria is famous for its wine, with some of its more famous wines being the white Grechetto and the red Sagrantino and Sangiovese grapes. We would be happy to recommend some vineyards and olive groves to visit during your holiday in Umbria if you have an interest in wine. Some of our favourite wine-makers include the Arnaldo Caprai vineyards in the Montefalco region, famous for their signature sagrantino red wine, the Avignonesi vineyards and Casanova di Neri. Each of these vineyards offer tours and tastings. For something a bit different, head to our favourite enoteca. Situated in the heart of Spello, Enoteca Properzio is a wine lovers paradise. Stocked floor to ceiling with some of the region's best wines, it's a great place to enjoy a wine tasting courtesy of larger-than-life owner, Roberto, and his family. Wine tastings can be enjoyed over dinner. The family makes the most delicious fresh pasta which is worth a try, particularly their pasta with fresh truffles when in season! If you want to learn more about wine, then another option is to head to the Museo del Vino in Torgiano. The building is filled with wine related artefacts and paraphernalia.
Enjoy a winery tour in Umbria
10. Explore the beauty of Montefalco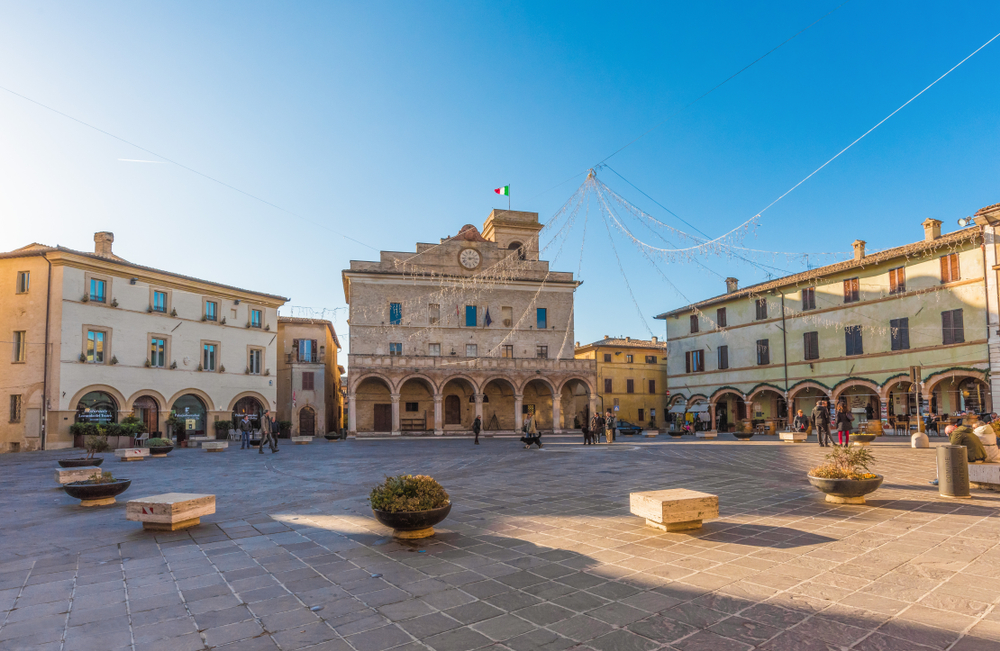 Montefalco lies at the heart of Umbria's wine production with vine cultivation in the area dating back to Roman times. The town is beautiful and not to be missed, not least because its home to a couple of our favourite restaurants in Umbria – Locanda del Teatro and L'Alchimista. Visitors will find many of Montefalco's shops revolve around food and wine. The town also plays host to a couple of key events each year. If you fancy learning more about wine, then visit during the 'Terre del Sagrantino' held every Easter. You'll have the chance to taste the wines as well many of the other local foodstuffs including honey and olive oil. Alternatively, visit on the last Sunday in May and you can make the most of the 'Cantine Aperte' when you can taste the wines directly in the cellars or vineyards where they are produced. And let's not forget the 3 weeks of celebrations in the town in August or the 'Festival Calici' in Montefalco in December.
This Montefalco apartment is the perfect place to stay to discover the beauty of this incredible town.
11. Enjoy a truffle hunting experience
Head to Umbria at the end of February and your visit will coincide with the famous Mostra Mercato del Tartufo di Norcia, an event celebrating the famous black truffle. But, of course, you can pick up all manner of truffle-based products from the town all year round. Another great experience is to actually head out with an experienced truffle hunter and his dogs and see for yourself how they find this amazing delicacy. A truffle hunting experience in Umbria can often be followed by lunch enjoying the fruits of your labours! You can find three types of the fungus here – the black truffle, white truffle and the less well known scorzone (Summer truffle). We recommend you wear long trousers (to avoid getting bitten or scratched by the undergrowth) as well as sensible shoes as you will be walking through woods. If you would like more details on where you can book this experience, please don't hesitate to get in touch.
12. Brave the rapids on a white-water rafting trip
The Nera River in Umbria has ample opportunities for both beginners and the more experienced to enjoy a white-water rafting trip. Whilst it won't be the wildest white-water rafting excursion you'll experience, it's great for beginners and the Sibillini mountains are a stunning backdrop. Contact info@raftingumbria.it for more details. This company also offer other experiences such as canoeing and canyoning so it's a great starting point for those looking for more adventurous outdoor activities to enjoy during their stay.
13. Enjoy a cookery class or chef service
Bookings For You can organise cookery classes or organise a chef's dinner for our guests at any of our villas in Umbria. Please let us know if you would like us to help organise this for you. You will have a variety of menu options to choose from and we can cater for all dietary requirements. The other option is to head out and enjoy a class somewhere else. One possible option is to enjoy a class in Enoteca Properzio in Spello. Here, the Angelini family also run cookery classes from a purpose-built cookery school to the rear of the enoteca. They offer half day classes in English run by trained Michelin chefs and accompanied by a wine tasting. More details can be found at www.enotecaproperzio.com/cooking-class. You can book online or we can book it on your behalf. Just let us know if you need our assistance. Of course, there are plenty of other cookery schools and classes available at other locations within Umbria, some of which are run by a typical Italian 'nonna' who always loves to share her knowledge built up over the years and passed from generation to generation. Wherever you go, you will find that the cuisine is all about using the best quality, local ingredients. Many dishes feature heavily in prosciutto and cured sausage as well as the region's famous truffle. Please get in touch if you would like the details of other options locally.
Enjoy a winery and olive mill tour in Montefalco.
14. Enjoy a photography experience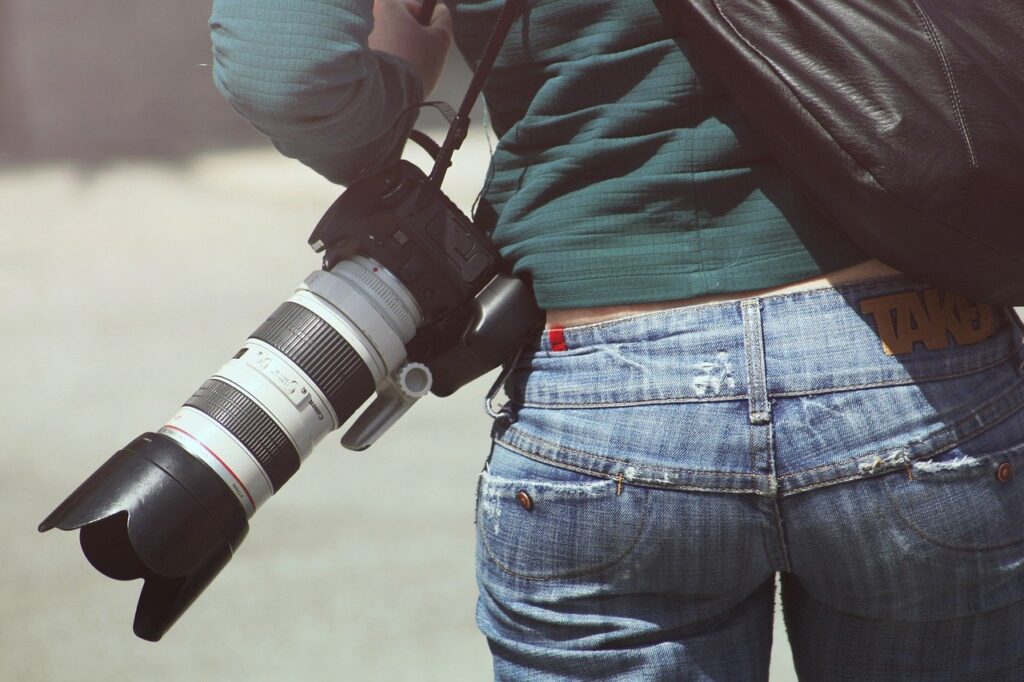 Here at Bookings For You, we're conscious that a holiday is a precious time to make new memories. If you would like to capture these memories, there is the opportunity to enjoy a photography service. A professional photographer can take snaps of you and your family or friends either at the property or on the estate or in a location in Umbria of your choosing. For more details, get in touch with the Bookings For You team.
15. Rent e-bikes
Even if you're not that active normally, e-bikes are a fantastic way to explore the area without the effort required on a 'standard' pedal bike. We're massive fans of this more lazy way of cycling! Steep hills are a breeze with an e-bike! However, for those that do want to burn off some calories, then you can choose a harder setting on which to pedal. It's a wonderful way to explore the amazing scenery that the area offers. There are a number of bike rental shops around Umbria. A couple of examples include one in Spello and Trasimeno E-bike but a google search will reveal plenty of others. If hiring from Spello, then don't miss the chance to cycle along the 'Olive Road' through olive groves and vineyards all the way from Spello to Assisi.
This Spello apartment is the perfect place to stay if you fancy cycling from Spello to Assisi.
16. Hire mountain bikes or road bikes
If you're a keen cyclist and the suggestion of e-bikes was a bit tame for you (!!), then why not consider hiring mountain bikes during your stay in Umbria. What better way to burn off those extra pasta calories up and down Umbria's hillsides!! Or if you want something a little more sedate, then there is a lovely flat cycle ride is around the shores of Lake Trasimeno. BikeMap have thousands of suggested routes to choose from if you want to plan ahead or, alternatively, your chosen bike hire centre or local tourist information centre will be able to suggest some itineraries for you to try.
17. Go horse riding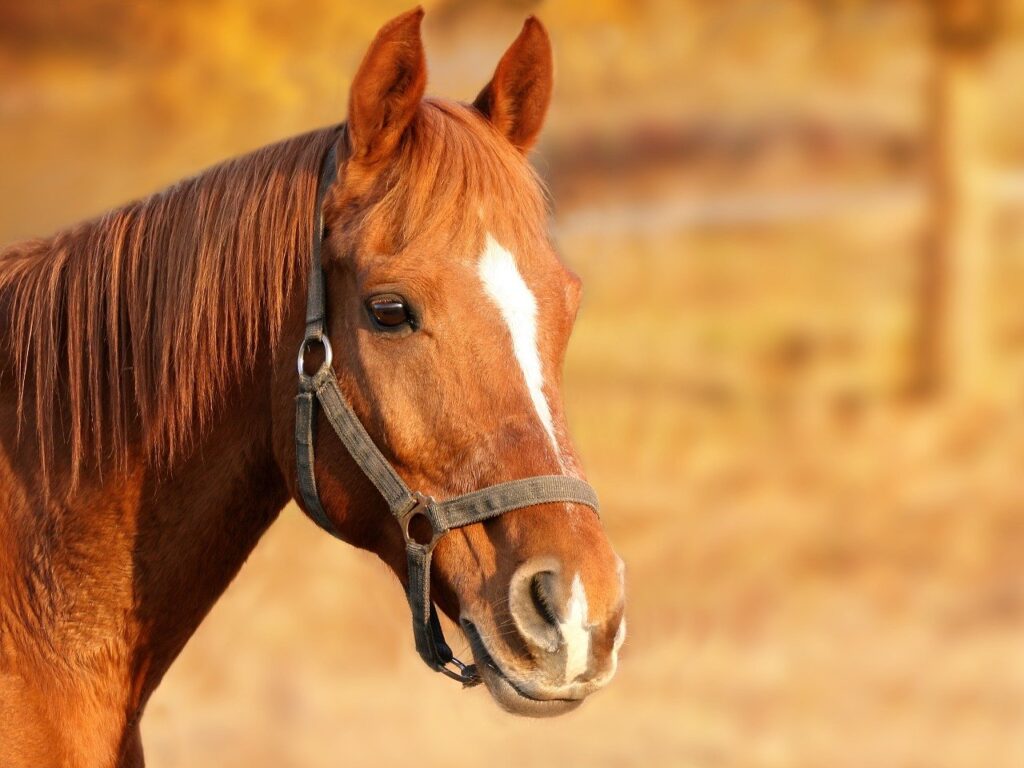 Another option is to park the wheels and head out on horseback instead. There are a number of places in Umbria where you can enjoy horse riding. Whether you're an experienced rider or a beginner, there will be treks to suit you. One example is Natura and Cavallo Ranch in Paciano which offers a variety of trekking options for all abilities or the Marana equestrian centre half an hour north of Perugia which offers riding lessons and trekking in the area between Monte Tezio and Monte Acuto but there are plenty of others all over the region. Please just get in touch with us if you'd like more details.
18. View 1.5 million year old trees
Head to Todi to visit the 'Foresta Fossile di Dunarobba'. Discovered in the 1970s, the trees aren't actually fossils at all but instead the trunks have been preserved and mummified by the clay in which they have sat for thousands of years. Believed to have been giant sequoias, the largest are up to 10 metres tall and 1.5 metres wide. Don't miss the opportunity to visit the centre of Todi whilst you are here. The town is a mixture of Roman, Medieval and Etruscan architecture and boasts a beautiful piazza (Piazza del Popolo), a couple of excellent examples of Renaissance churches and a good museum.
19. Stock up on foodstuffs In Norcia
Unfortunately, Norcia was the site of an earthquake in 2016 which tragically destroyed a number of its more historic buildings. But don't let this put you off visiting. The town needs the support of tourists and it's a wonderful place, not least because of the amazing quality of food it produces. The fields surrounding the town are filled with lentils but probably its more famous for its truffles, pork and wild boar. It really is a little piece of paradise for foodies. The town is full of norcinerie, shops selling local meat, cheese and other products. You'll see boar's heads proudly displayed on many of the walls outside and cured meats will hang from every available spot inside. The main truffle season is between January and April, and in February there is a festival dedicated to the famous black truffle. Market stalls fill the streets and piazzas.
20. Go paragliding
Umbria offers a number of flight schools offering paragliding and the strong updrafts that prevail all along the Western side of the Apennines make it a prime spot to enjoy this sport. The first option – Monte Cucco – is ideal for both beginners and experienced paragliders and even hosts stages for the hang-gliding world championships. Otherwise, there are several departure and landing options in the Sibillini Mountains and in Castelliuccio di Norcia, in the Subasio Mountains (where you can fly over Assisi) and the Pennino Mountains in between Umbria and the neighbouring region of Le Marche.
21. Go hang-gliding
If you want to take to the skies in another way, then why not enjoy a hang-gliding experience in Umbria. The Piano Grande is the perfect spot to enjoy this sport. Tandem rides are available for beginners. Or further North, the Parco Regionale di Monte Cucco is another favourite spot for hang-gliders.
22. Take a hot air balloon ride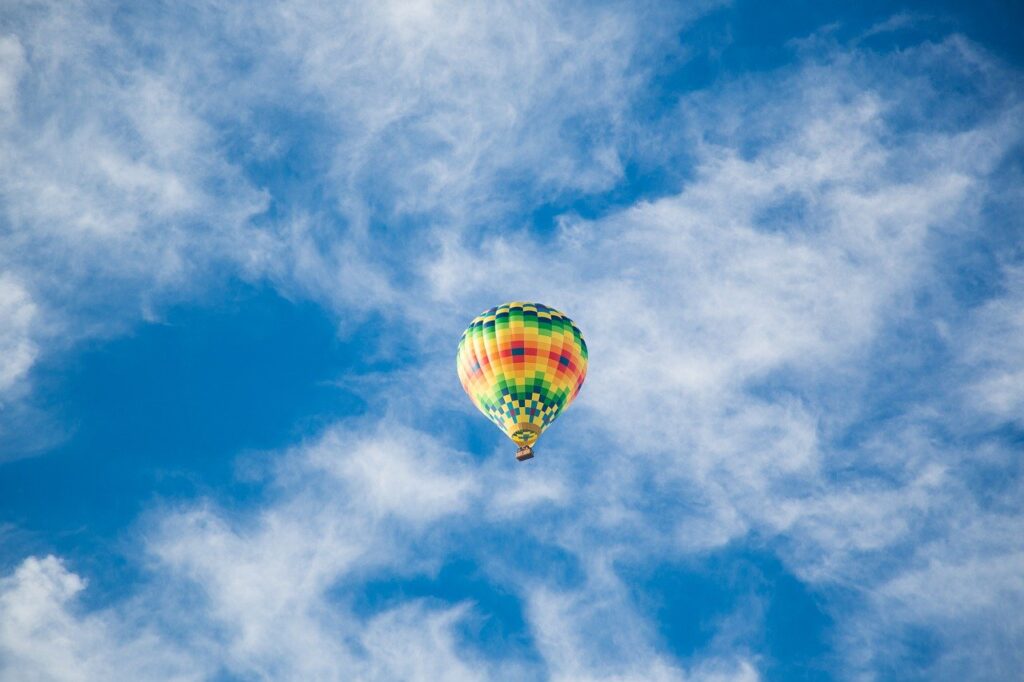 If you fancy seeing Umbria from above, then how about a hot air balloon ride? There are a number of companies that offer them. An easy way to view options is to take a look at Viator, a TripAdvisor owned site which allows holidaymakers to book tours, trips, tickets and experiences with many offering free cancellation up to 24 hours before arrival. We think that a hot air balloon is an incredibly special way to view the beauty of the region, flying above vineyards and olive groves.
Book a hot air balloon ride in Umbria.
23. Find out more about how extra virgin olive oil is made
Umbria is arguably as famous for its extra olive oil production as it is for its wine. Enjoy a visit to an olive farm where you will have the opportunity to enjoy tastings and learn how the olive oil is made. Or pay a visit to the Museo dell' Olivo in Torgiano which will give you an insight into the long history of olive oil production in the region, dating back to Roman times. It is probably Trevi that would stake the claim to be the 'oil capital' of Umbria though. There is another museum here devoted entirely to educating visitors about the cultivation, preservation and production of olive oil.
24. Use Umbria as a base to explore the other neighbouring regions of Italy
Dependent on where you are spending your holiday in Umbria, you can use your base in the region to also explore other regions of Italy. To the West, Umbria is bordered by Tuscany, home to some incredible cities such as Florence, Pisa and Siena as well as numerous beautiful smaller towns and villages, whilst to the South is Lazio and to the East is Marche, a relatively undiscovered region of Italy.
25. Visit the village markets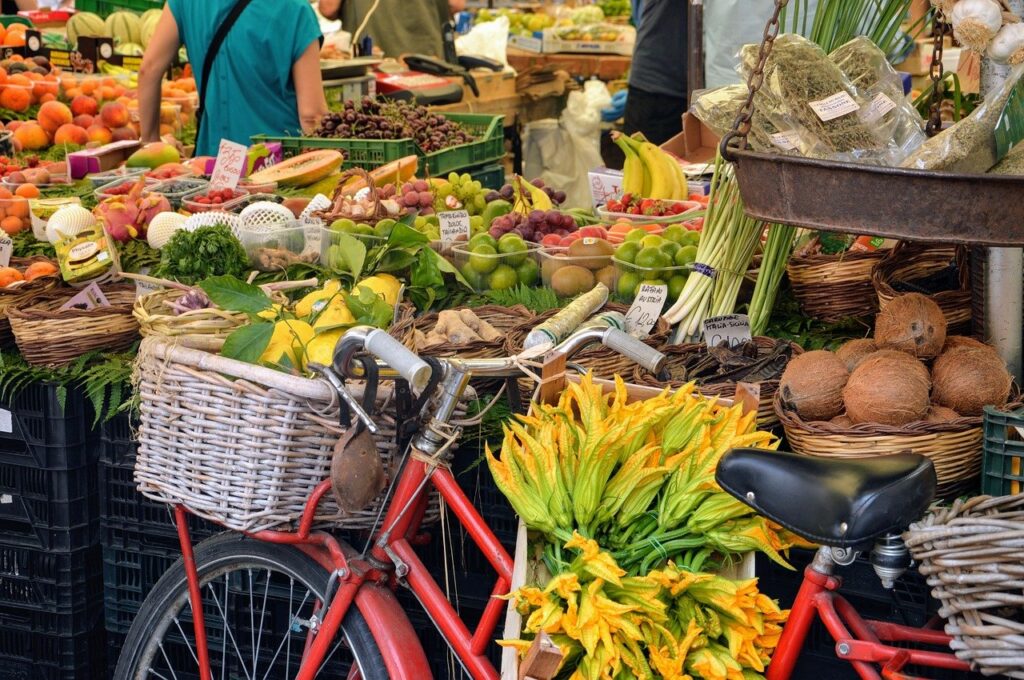 The most authentic and enjoyable ways to shop during your holiday in Umbria is by visiting one of the many weekly markets. You'll pick up some incredible meat, fish, fruit and vegetables here as well as clothing, shoes and leather goods. The best way to find the nearest markets to you is to visit your nearest local tourist information office. Markets typically run in the morning and it's worth heading early to get the pick of the produce. On Monday, you have a market in Assisi and Marsciano, on a Tuesday there is one in Gubbio, on Thursday try the market in Citta di Castello or Orvieto, on Friday head to Bastia Umbra, on a Saturday make your way to Orvieto as well as to Citta di Castello every third Saturday and Gubbio every second Saturday, and finally, Spoleto has a Sunday market. Some of the larger towns such as Perugia and Terni also have permanent covered food markets, open every day of the week.
26. Visit the thermal baths and enjoy a spa experience
Umbria is home to a number of thermal baths – 'terme' – including more modern spas where you will pay an entrance fee to access the thermal waters collected either in indoor or outdoor pools as well as free open-air springs. The most well-known include the baths of Fontecchio in Citta di Castello and the thermal baths of Teme S. Felice in Spello. Many of the bath waters are famed for their healing properties. However, visitors from the UK should be aware that many Italian spas and baths have a much more institutionalised feel than those in many other countries, with a focus on healing and rehabilitation rather than on just relaxation and beauty. For a more modern experience, try the Ancient Baths of Triponzo in Cerreto di Spoleto. This is a stunning spa with four thermal baths, personal treatment rooms, solarium, restaurant, SPA suite and much more. Alternatively, for a very different spa experience, head to Spello. Here, the Angelini family offer spa treatments in the heart of the town. They offer 3 main types of treatment using either oil, saffron or flowers. For more details take a look at their site – www.enotecaproperzio.com/experience.
27. Cross the Ponte delle Torri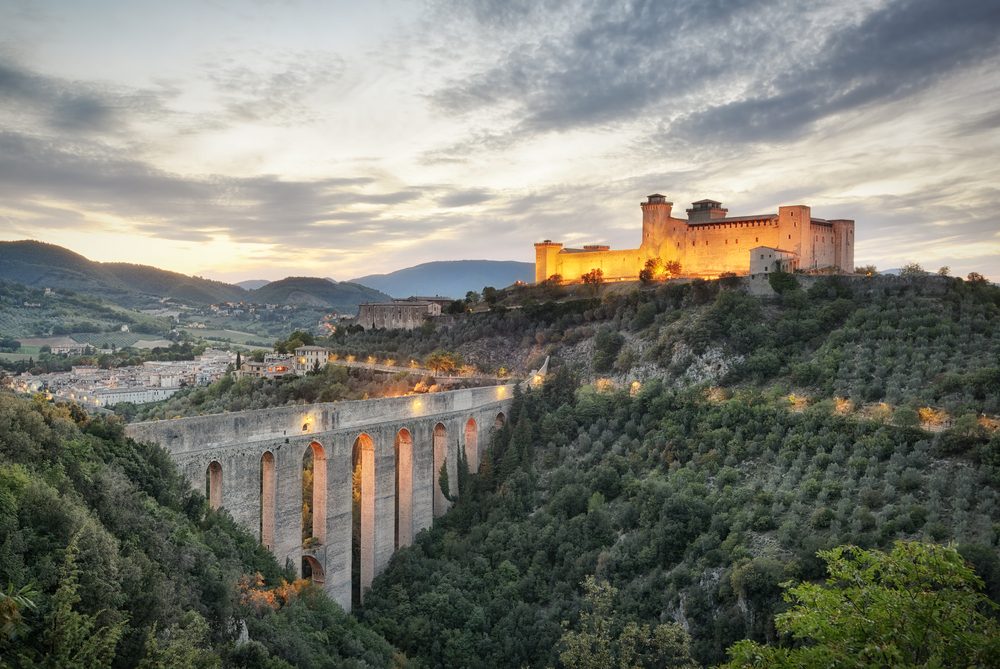 The Ponte delle Torri (Bridge of Towers) is Spoleto's impressive 14th century bridge, rising 80 metres high and measuring 250 metres across. It's worth heading to a viewpoint on the East of the town to see it in all its glory but it's also well worth walking across it, not just to take in the marvellous views from the top but also to explore the myriad of pathways that lead through the woods and countryside on the other side.
28. Get close to the animals at a nature park
With over 100 acres to explore, the Citta della Domenica nature park is home to numerous species of European animals, including deer, as well as farm animals which children are welcome to approach and pet. However, it's also home to some species from further afield such as kangaroos, reindeer, yaks and llamas as well as numerous species of birds and reptiles and is perhaps most famous for its mascot – the Asinara donkey – a white species of donkey with blue eyes that the park saved from extinction. You have the choice of exploring on foot or catching the little train that makes its way around the park. There is also plenty of other entertainment on hand. The park brings to life traditional fairy tales and there are rides and play equipment for children to enjoy as well as live shows throughout the day. Arguably a little tired, it's still a pleasant day out for those with young children.
29. Take a Vespa tour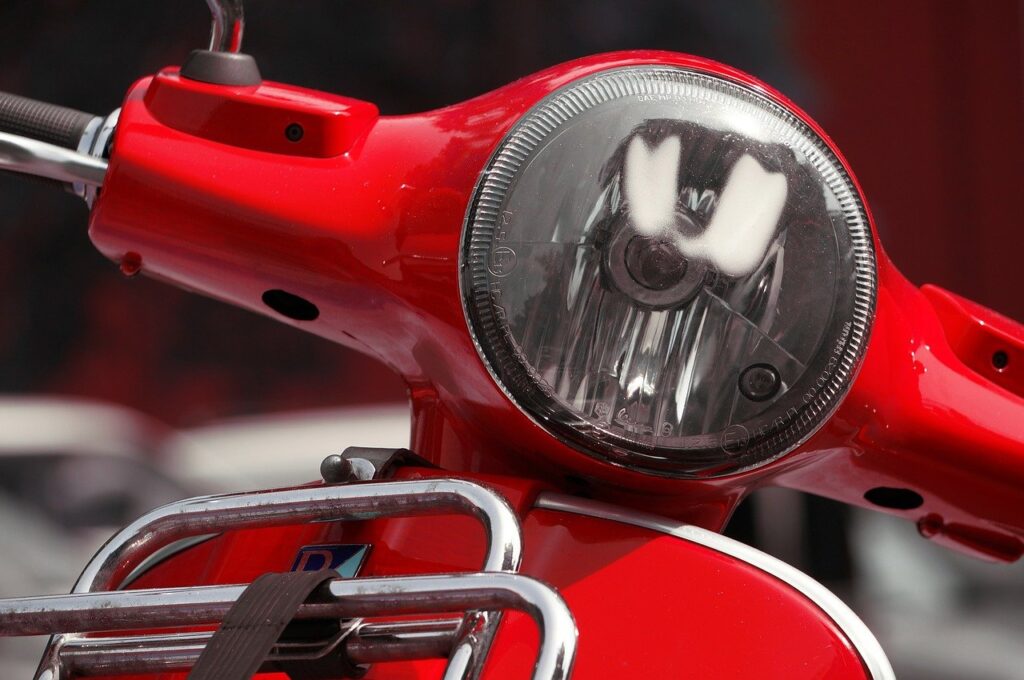 Do as the locals do and take to the roads on your very own Vespa for the day! It's a great way to navigate the narrow streets but do be careful on the roads. Some of the smaller rural roads aren't always perfectly kept so you need to watch out for potholes. If you are interested, then book through a reputable company.
30. Explore scenes from the movies
It's not surprising that Italy has formed the backdrop to many a movie and film lovers can easily craft their sightseeing around famous film sets. Umbria is no exception. Some of the Oscar winning film 'La Vita e Bella' was filmed in Terni in Southern Umbria however whilst you would expect 'My House in Umbria' starring the wonderful Dame Maggie Smith and Timothy Spall to be set in Umbria, most of the film was actually filmed on location in Rome, Milan, Tuscany and in various film studios.
31. Go canyoning
For the adventurous amongst you, there is the opportunity to go canyoning in Umbria. Under the expert tutelage of an experienced guide, you can spend the day descending incredible river canyons and waterfalls, sliding and jumping off the limestone rocks and cliffs into the crystal-clear waters below. One of the key locations to enjoy canyoning in Umbria is in the Valnerina. Here, in the Roccagelli gorge, you can descend down seven successive waterfalls, the largest of which is 16 metres high. And let's not forget the Pago delle Fosse, also in the Valnerina, which is an ideal route for beginners to attempt their first canyoning descent. However, there are also other locations where you can try out this sport, not least at the Gorge of the Rio Freddo in the Monte Cucco Regional Park.
31. Go caving
Not content to enjoy sports above ground, there are plenty of opportunities to enjoy a hobby underground too. For caving enthusiasts, there are a number of places to visit. In the South East of the region, La Risorgenza in the Valnerina is one option however there are probably few better places to go caving in Umbria than in the Monte Cucco Regional Park situated further North.
33. Take a boat out on Lake Trasimeno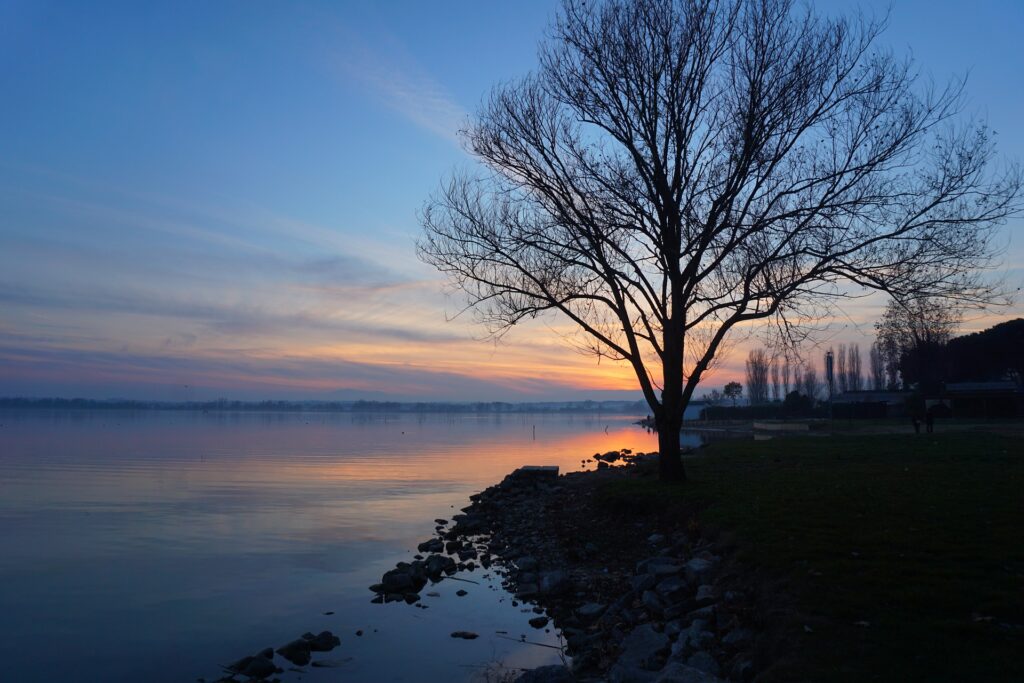 The shallow waters of Lake Trasimeno are a wonderful place to cool off from the heat of the Summer sun, but whatever time of year you're visiting, it's also a great place to enjoy a boat trip. There are regular ferries from Castiglione del Lago out to the two islands in the centre of the lake – Polvese and Maggiore. (The third island is private). But, if you're celebrating a special occasion, or fancy something extra special, private boat charters are also available. Moor up and explore the nature reserve on Isola Polvese. The island isn't large and can be walked around in about an hour. Or head to the busier, more bustling atmosphere of Isola Maggiore where there are a number of shops and restaurants catering to the tourist market at the quayside, a lace museum as well as a lovely walk to the summit where you can enjoy lovely 360 degree views from the 13th century church.
34. Visit the world's tallest man-made waterfall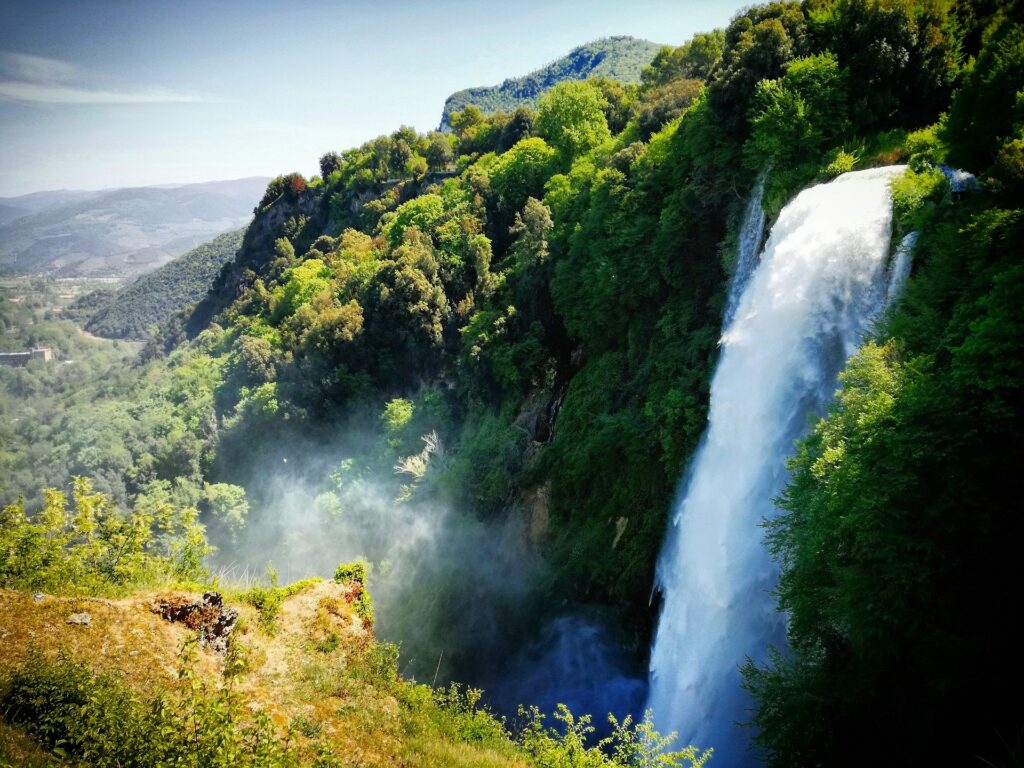 The Cascate delle Marmore (Marmore waterfalls) are the second tallest in Europe and the largest man-made waterfalls in the world. Dating back to Roman times, the falls cascade down a drop of 165 metres. Make sure you check the website ahead of your visit to ensure you are there when the waterfalls are switched on. There are different paths you can take to explore the falls however all are rather bumpy underfoot and involve a number of stairs so it's not necessarily suitable for the very young, elderly or infirm. Head to one of the paths and you can stand on the lovers balcony. Be warned though… if you do take this route, take some waterproofs with you. The spray from the waterfalls will ensure you get rather soggy!
35. Monkey around in the tree-tops
Umbria has a number of tree-top adventure parks including the Nahar Adventure Park, situated just a few kilometres from the Marmore Falls. A series of tree-top pathways, bridges and zip slides will take you through the canopy of walnut and poplar trees. There are plenty of other similar parks in the region, all challenging your climbing skills.
36. Go Hiking
Umbria's beauty lies just as much within its rural countryside than in its main centres. There is no better way to explore this than on foot. In the North East of the region is the Monte Cucco Regional Park. With an abundance of beech woods and beautiful meadows, it's a paradise for nature lovers and the perfect spot for a good walk. For the energetic amongst you, climb to the summit to experience the best views. Alternatively, you can enjoy a hike through the Monte Sibillini National Park, the Monte Subasio National Park or through the colourful plains of Castelluccio di Norcia.
37. Witness a unique race in Narni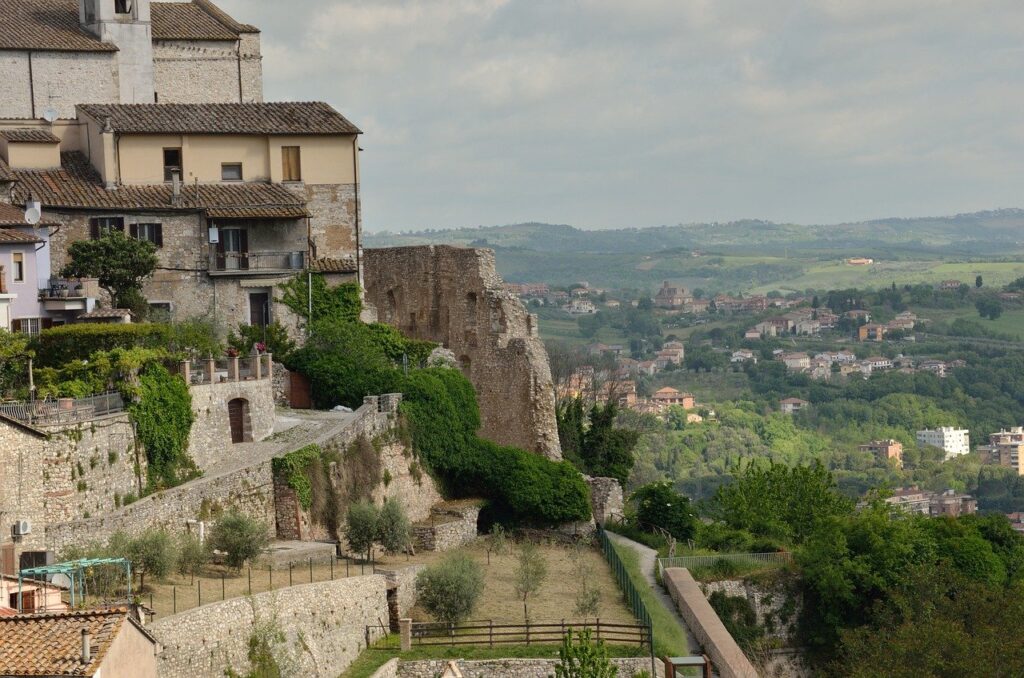 One of Umbria's more unusual events, the Corsa all' Anello in Narni is a race between three teams to transport their candle to the Basilica of Sant' Ubaldo, not an easy task when each one weights an eye watering 400 kg! The spectacle attracts thousands of visitors each year.
38. Shop for cashmere souvenirs to take home
One of the products Umbria is famous for is its cashmere. You'll find cashmere outlets in many of the region's towns and cities. In fact, the region is home to over 500 companies all dedicated to the production of this most luxurious of fabrics – cashmere – giving the region the nickname 'Cashmere valley'. Some of the most famous brands include Spagnoli, Cucinelli, Lamberto Losani and Fabiana Filippi.
39. Explore the Roman remains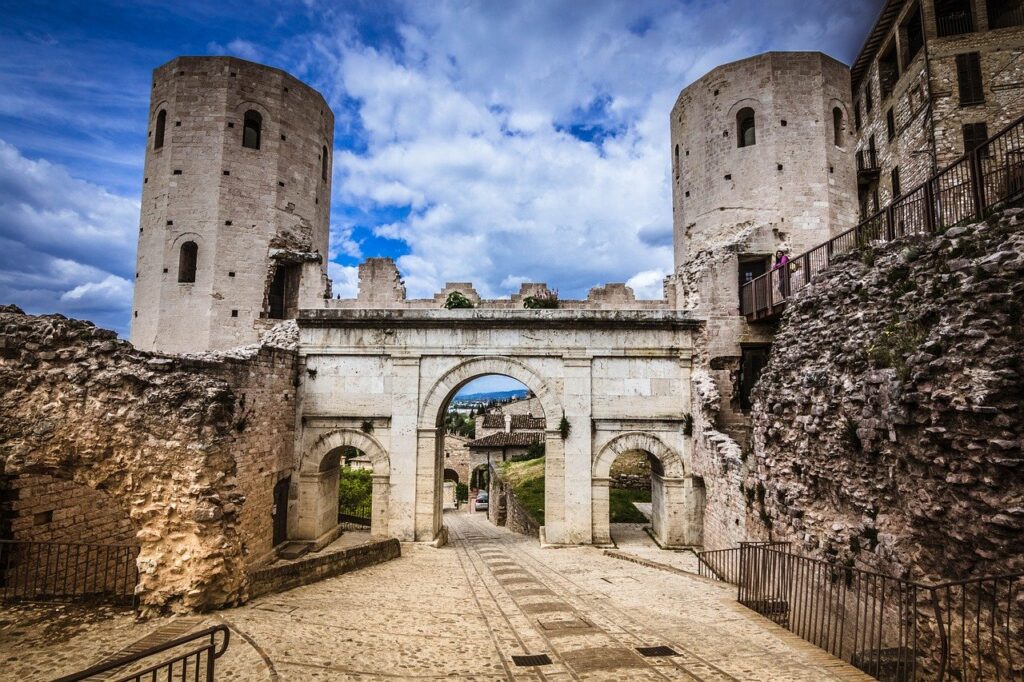 There are a number of Roman sites worth exploring in Umbria. It would be impossible to include a complete list here but some of the most notable include the Roman remains in Spello where three Roman statues decorate the town's main entrance – Porta Consulare. Spello also has a newly opened museum at the base of the town. The modern, glass structure is a world away from the mosaics it holds within it. Or head to Todi which has some huge Roman cisterns under its piazza, to Gubbio where there is one of the largest Roman amphitheatres, or to Bevagna where there a well-preserved mosaic brings alive the town's Roman past as do the partial remains of a Roman amphitheatre. Or pay a visit to Spoleto where the town's Roman amphitheatre is still used today for performances, particularly during the Spoleto festival, and where you can head underground to explore an important Roman house that historians believe could well have been inhabited by the mother of Emperor Vespasian. Not to forget the most well-preserved site of all. Umbria's most complete set of Roman remains can be found at Carsulae. Home to original Roman roads, complete with the grooves from ancient cart wheels, a theatre, amphitheatre, temple, basilica and forum, Carsulae has a magic to it and you will feel yourself transported back to Roman times.
40. Enjoy some jazz
Umbria has a number of excellent music festivals to enjoy throughout the year, the most notable of which is probably Umbria Jazz. Held every Summer in Perugia, it attracts some of the world's best jazz musicians. There are a variety of concerts to enjoy, some of which are free but you will need to pay to watch the headline performers. If you're visiting at the other end of the year, then head to Orvieto instead to enjoy their smaller jazz festival. Held in the run up to New Year's Eve, visitors will find plenty of jazz events to enjoy. Or in June Foligno holds its own jazz festival. The Festival of Two Worlds is another big music festival in Umbria. This is held annually in Spoleto but features not only jazz but also opera and classical music as well as dance.
41. Listen to some blues
If you're more into blues than jazz, then check out Trasimeno Blues instead. This is held every Summer in various locations around Lake Trasimeno and over the years has attracted an impressive variety of artists.
42. Officially go mad in Gubbio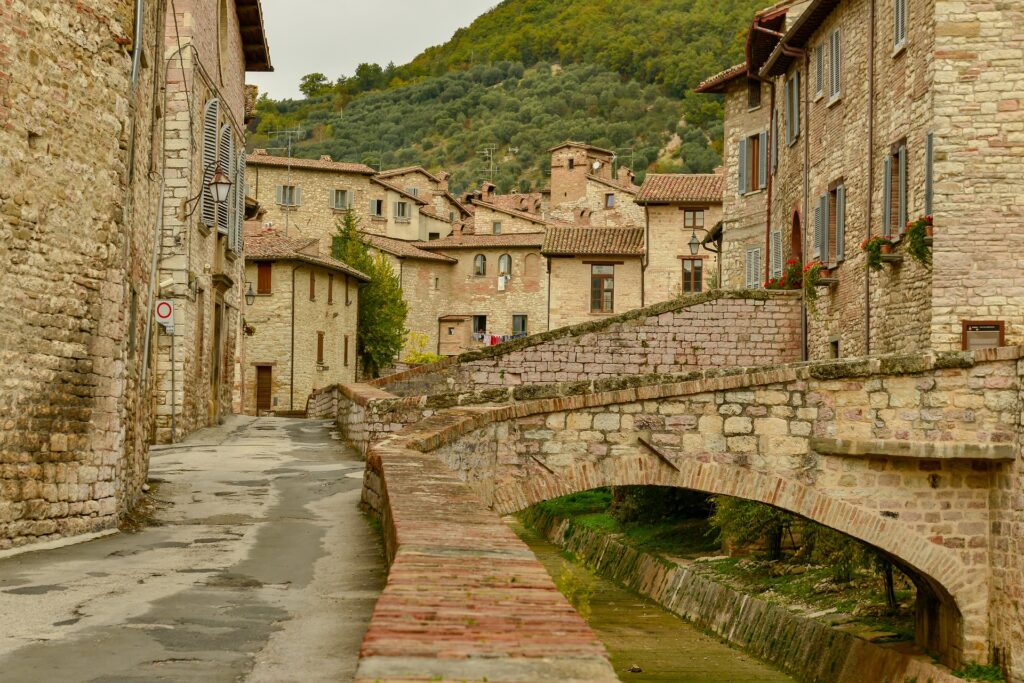 Head to the 'Fountain of the Madmen' (Fontana dei Matti) in the centre of Gubbio where, legend has it, visitors can obtain a license proclaiming them to be a 'madman of Gubbio' by walking around the fountain three times and then being baptised by the fountains' waters. You'll need a native citizen of Gubbio to officially perform the ritual though however if you can't find an obliging native to assist you, visitors can still purchase an honorary citizenship nearby!
43. Head to the site where Pontius Pilate died
According to legend, Pontius Pilate's body is said to be at the bottom of Lake Pontius in the Sibillini Mountains. Whether the story is true, who knows, but it's a beautiful spot. If you're really lucky, you may head there when the waters turn a mysterious red colour. Caused by the rare freshwater crayfish that inhabit the lake, the red colour adds to the mythology that surround this setting.
44. Head up the mountainside in a basket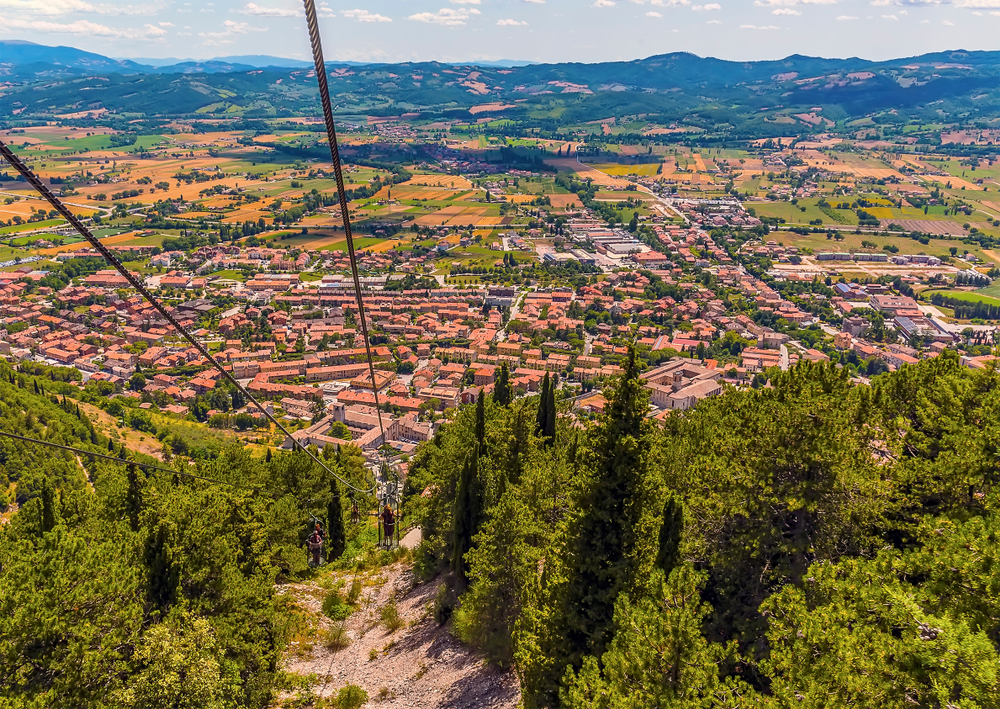 Head to Gubbio to brave the rather unusual cable car. Here you'll find metal baskets which whisk visitors two at a time from Gubbio up the steep sides of Monte Ingino. But, be warned, it's not an experience for the feint hearted or those with a fear of heights! However, if you are brave enough, then the marvellous views will provide more than ample reward for your bravery.
45. Marvel at the flowers at the Infiorata in Spello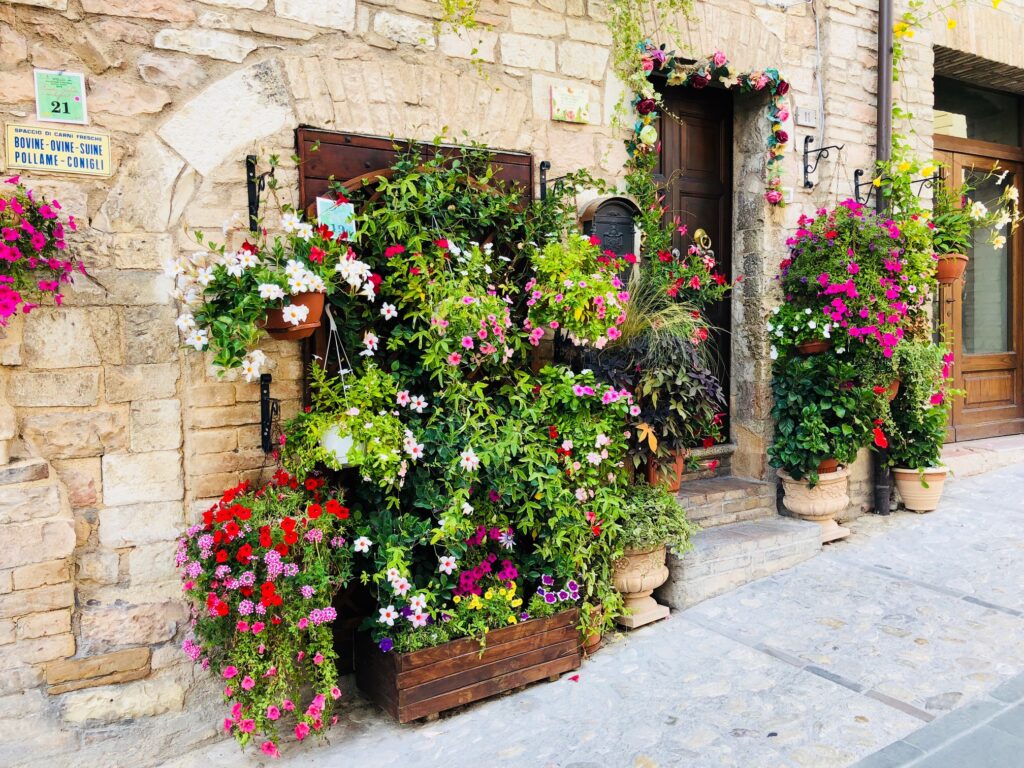 Spello is a town filled with flowers whatever time of year you visit. Window baskets spill over with vibrant, colourful flowers bringing colour and warmth to this wonderful town. However, there is no time of the year when these displays are more incredible than at the end of May. At this time each year, the Infiorata of Corpus Domini is held. This is a truly marvellous floral spectacle where the streets of the town are literally paved with floral displays. Artists and local residents all start work on their masterpieces at the same time on the Saturday and work throughout the night in order to have their finished pieces complete for judging time on the Sunday. Awards are given for the most spectacular creation.
This villa in Spello is the perfect base from which to enjoy this incredible spectacle.
46. Explore an abandoned village
You often hear of villages being abandoned in Italy, as residents have moved out in search of jobs or have headed elsewhere for other reasons. There are a number of villages like this in Umbria. Civita di Bagnoregio had just 10 residents at the time of writing, whilst the village of Scoppio near Spoleto was abandoned back in 1950 after years of terrible earthquakes made life untenable there. They are fascinating places to explore though and well worth a visit.
47. Head to the palio
Whilst holidaymakers may immediately think of Tuscany when it comes to the palio, Siena is not the only city in Italy to play host to a palio. Head to Foligno in Umbria to watch the spectacle of the Palio della Quintana. It's an incredibly exciting event during which ten horsemen (each representing one of the city's wards) must gallop along and insert their lance into a ring whose diameter decreases with each run. There are three jousts each year – in February, June and September – and so holidaymakers have three opportunities to view this historic, bright and colourful event. Or head to Trevi in October to enjoy the Palio dei Terzieri, a unique event where over 300 participants dressed head to foot in costumes from the 1200s, race three wagons through the streets. The winner is the team that reaches the keys to the tower first and rings the bell.
48. Savour the delights at a food festival
As well as festivals that revolve around music, there are numerous festivals in Umbria whose main focus is food. Some of our favourites include the Olive Festival (Festa dell' Olivo) and the Sagra della Bruschetta in the Spring as well as Trevi's October sagra where you will have the chance to taste a unique variety of black celery. Another option is in Foligno which hosts the 'First Courses of Italy' each September and October. Top chefs, food critics and manufacturers all converge on the town in a celebration of the nation's favourite foodstuff – pasta.
49. Shop for antiques
There are plenty of antiques fairs in Umbria for you to enjoy a rummage through in the hope of picking up a bargain. Some of our favourites include the one in Pissignano held on the first Sunday of the month, Assisi's antiques market held on the second Sunday of the month, the ones in Citta di Castella and Castiglione del Lago on the third Sunday of every month and the one in Trevi every fourth Sunday of the month.
50. Experience chocolate heaven
For the chocaholics amongst you, there can be no better destination than Perugia in the Autumn. Every October, it plays host to Eurochocolate, a festival entirely devoted to this sweet treat. However, if you're visiting at another time of year, you can still get your chocolate fix. Perugina chocolates – Baci – are known the world over and it's possible to visit the chocolate factory where production takes place. The factory visits include complimentary tastings, a trip around the museum and views over the factory floor itself via a raised walkway so you can see the chocolate being made for yourself.
51. Take time to just sit and enjoy the views
Umbria is wonderfully rural and picturesque so set aside time to stop the rushing and sightseeing just to sit and marvel at the views. There are a number of incredibly beautiful sights. The Abbey of San Pietro in Valle is one of the quieter spots in Umbria, far from main roads and surrounded entirely by cypress trees. It enjoys incredible views over the valley below and is the perfect spot to immerse yourself in nature and enjoy some quieter, more peaceful time. Alternatively, the hills around the Piano Grande near Castelluccio are stunning and provide expansive views.
52. Go skiing
If you're heading to Umbria in the Winter months, then there is fantastic cross-country skiing to be enjoyed on Monte Subasio. In the Sibillini mountains, there are ski lifts on Colle le Cese and at Monte Prata. However, the snow can be a little unreliable so treat the opportunity to ski as a bonus.
53. See the world's biggest Christmas tree
Sticking with Winter for a moment, for those that visit in December and early January, you can behold the spectacle of what is claimed to be the world's biggest Christmas tree. Illuminated on the mountains above Gubbio. The tree is over 660 metres high, with more than 250 green lights and 300 multi-coloured lights as well as an additional 200 lights that make up the star on the top of the tree. The tree entered the Guinness Book of World Records in 1991 as 'the world's largest Christmas tree.'
54. Enjoy the spectacular flower meadows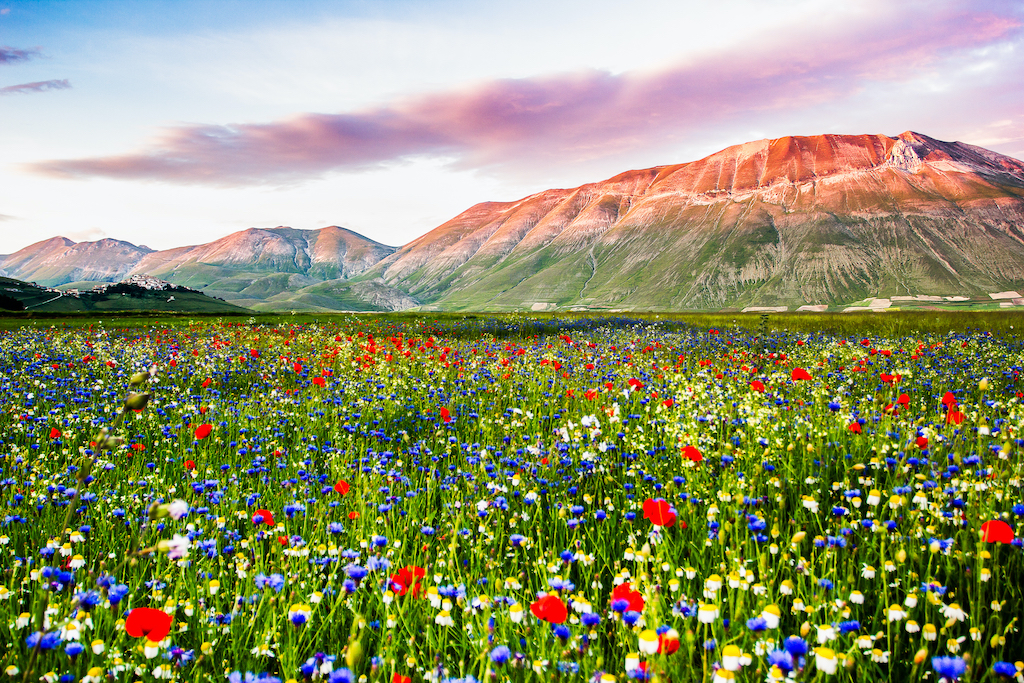 Head to Castelluccio, deep within the Sibillini mountains in the late Spring and early Summer to witness a blanket of wild flowers covering the plains. Crossing over the border between Umbria and Marche and with the snow-covered mountains forming a backdrop, the spectacle on the Piano Grande is truly beautiful. I don't think anything can prepare you for just how beautiful the sight is. If you can't make it here when the flowers are in bloom, you can still enjoy the spectacle of the 'Bosco Italia' all year round. Nestled on a hill a group of pine trees form a giant map of Italy.
55. Visit the birthplace of St Valentine
Terni is a small hilltop town in Umbria whose most famous resident was arguably St Valentine. In 1644, the residents of the city of Terni proclaimed Valentine their Patron Saint, also declaring him to be the Patron Saint of lovers at the same time. So, if you're looking to kindle some romance during your holiday in Umbria, why not head to what could arguably be called the birthplace of St Valentine's Day!
56. Discover the art of paper making in Bevagna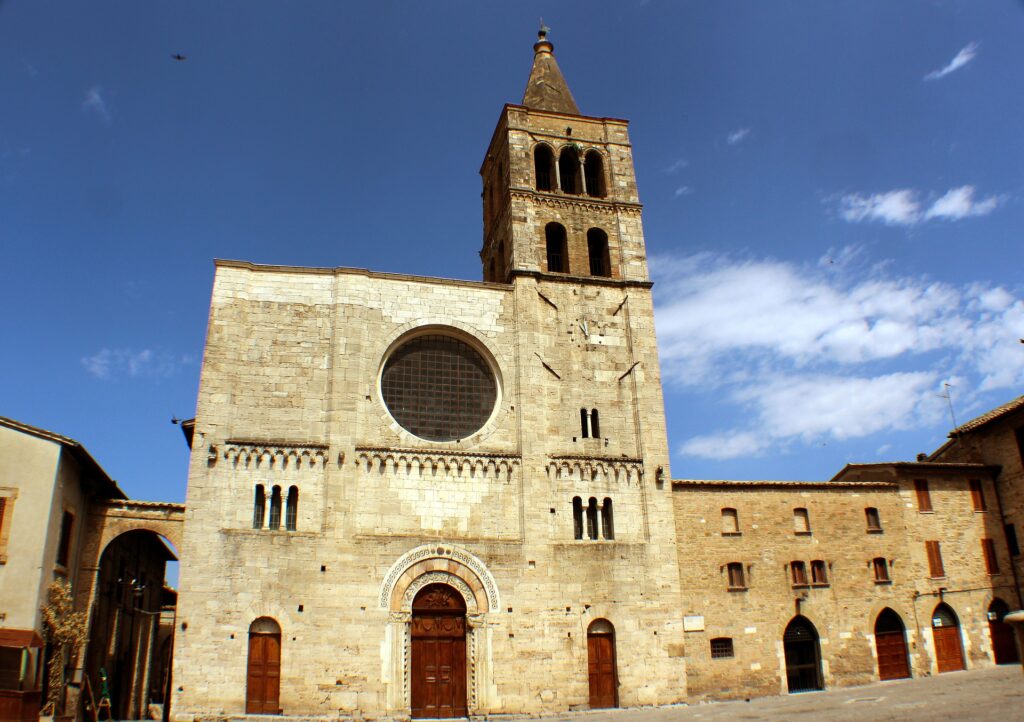 Italy has a long and illustrious history of paper making. Arguably, this history doesn't actually stretch to Bevagna itself however, as part of the Medieval festival the town holds each June – 'Mercato delle Gaite' – historically accurate workshops have been set up within the town, using technology dating back to Medieval times. One such example is a water-driven paper mill. The good news for holidaymakers is that this workshop is now kept open all year round so you can discover the art of paper making whatever time of year you visit.
57. Visit the tobacco fields of the Upper Tiber valley
Tobacco rarely springs to mind when you think of Umbrian agriculture but tobacco fields dominate the Upper Tiber valley and their pungent aroma fills the air.
58. Visit the skulls in the Museum of Mummies
Definitely not for the squeamish, the Mummy Museum in Ferentillo is home to a number of mummified bodies whose cause of death is made apparent in a number of cases. In all, there are 20 mummified bodies on display in glass cabinets, the most recent dating to the 19th century whilst the oldest is over 400 years old. One is kneeling with its hands together, its head tilted towards the ceiling whilst another seems to be emitting a permanent silent scream through its stretched mouth. Whatever their pose, the whole experience is certainly an eerie one.
59. Wander around the Park of the Monsters
You'll soon understand why this park is named the 'Parco dei Mostri' after you visit. Situated in the Garden of Bomarzo, the garden was commissioned by Prince Pier Francesco Orsini in the mid 16th century. His brief to chief architect, Pirro Ligorio, was to create a shocking garden and he certainly delivered, incorporating a massive screaming head, a giant war elephant and a tilting house intended to confuse the eye into this fascinating park.
60. Visit a museum
Italy is a country full of history and culture. Umbria is no exception. There are a number of museums to visit in Umbria, catering for a wide variety of tastes. Some have already been mentioned such as the olive oil museum in Trevi but others of note include the Museo della Porziuncola in Santa Maria degli Angeli (set up to educate visitors about the cult of St Francis), the National Gallery of Umbria in Perugia and the Palazzo dei Consoli and Museo Civivo in Gubbio. But there are many, many more.
If we've whetted your appetite enough, then take a look at the phenomenal apartments and villas in Umbria available to rent for your next holiday through Bookings For You.