Le Marche has some wonderful sandy beaches along its Eastern coastline. The coastline stretches a massive 180 kilometres along the Adriatic giving holidaymakers plenty of choice when it comes to where to take that bucket and spade! In fact Le Marche proudly boasts the highest number of Blue Flag beaches of any region in Italy so it's definitely the place to come if you're looking for a beach holiday in Italy. At many resorts you'll find both paid and free (spiaggia libera) sections. Whilst those from outside Italy may not be used to paying to access the beach, we usually recommend biting the bullet and shelling out a few euros to join the Italians on their sun beds! You'll often find that the paid sections occupy the nicest parts of the beach and it will provide you with access to more facilities as well as giving you a real flavour for the Italian way of life!
Some of the bigger, more well known beach resorts in Le Marche include the beautiful white sandy beaches and crystal clear waters of Gabicce Mare (situated in the Mount San Bartolo Park) and the 3km stretch of beach lined with rows of sun loungers and parasols in Pesaro. Pesaro itself is an attractive seaside resort, with a popular town centre. The Spaggia di Levante is probably one of the best beaches here for young children and is perfect for young children looking to swim in the sea. It has around a dozen fee-paying beach concessions, but there is also a free section opposite the southern end of Viale Trieste. Our favourite beach in Pesaro though is the more secluded quieter beach just north of the centre of Pesaro at Baia Flaminia.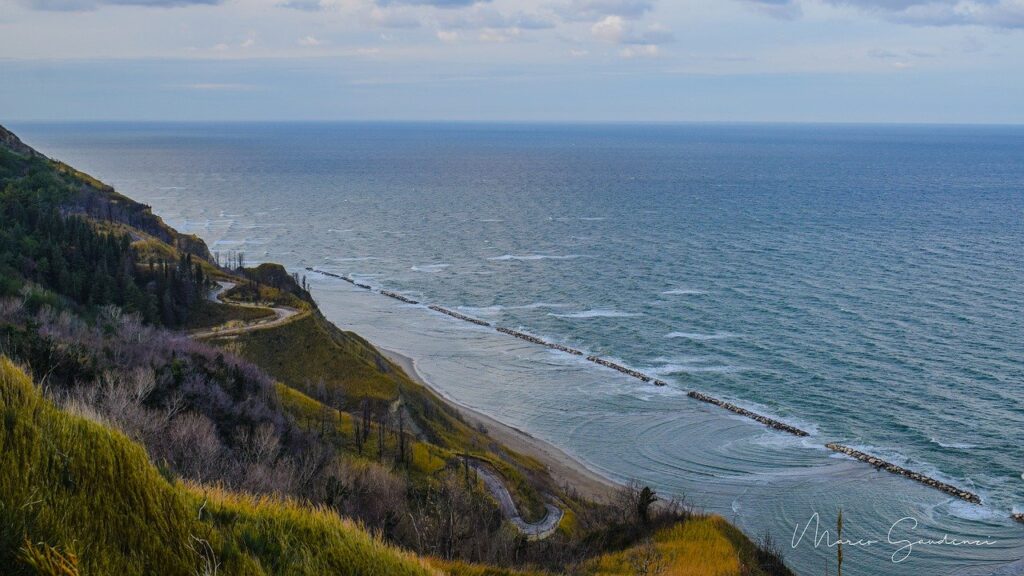 Senigallia and San Benedetto del Tronto are also larger beach resorts in Le Marche. At both of these beaches, you'll again find plenty of holidaymakers in peak season, a lively atmosphere and plenty of nightlife to entertain the younger adults. However, it's important to point out that the peak season is relatively short, typically running from mid July to the third week of August. Outside these weeks, even at these busiest of Marche beaches, you'll rarely, if any, find the beaches crowded.
Nestled on the Adriatic coast, just before the region's capital and the famous Monte Conero with its perfect, fine white sandy beaches, Senigallia is an ancient city, home to important historical buildings such as the famous Rocca Roveresca, which forms part of the ancient city walls. Senigallia perfectly combines the picturesque views of a typical traditional Italian town with the vitality of a modern city. It can boast 13 km of golden sand, including the famous Spiaggia di Velluto, literally translated as 'Velvet Beach'. Senigallia is also one of the Le Marche region's most popular towns for events and nightlife. The annual Summer Jamboree, an international festival of 40's and 50's American music, attracts tourists from all over the world every August with numerous concerts on the beach. Senigallia is also synonymous with good food so after your day at the beach you'll be able to find a plethora of excellent restaurants and cafés, among them Uliassi a two Michelin star restaurant! And if you're looking for some fun with your family or friends, do not miss the chance to get lost in the famous Labirinto di Hort (corn maze) just outside the city. It's an experience you will never forget… if you ever manage to escape that is!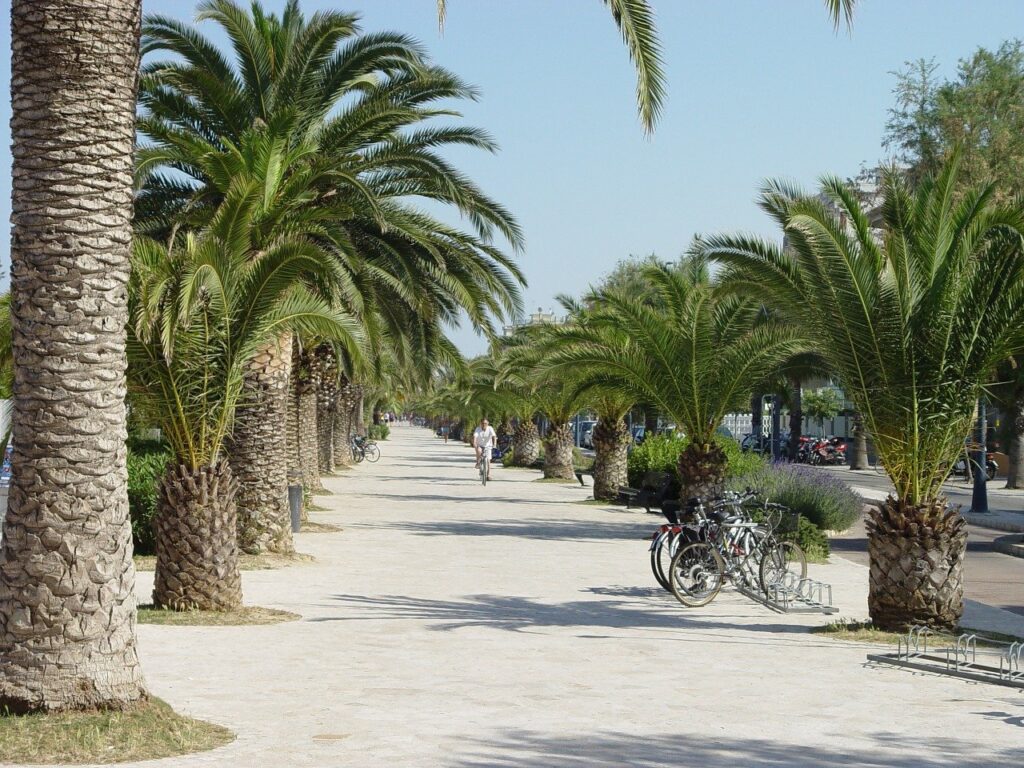 Back to Le Marche's beaches, San Benedetto del Tronto has an almost tropical air to it thanks to the thousands of palm trees that line its shoreline promenade. It's smaller than Senigallia but it can still boast around 8 km of wide sandy beach to enjoy.
And also not to be excluded is the beach at Fano. The beaches here are split in two, divided by a small fishing harbour. To the south is the quieter, pebbly Spiaggi Sassonia whilst to the north is the shorter, livelier and sandy Spiaggia Lido. Well equipped like Senigallia half an hour to the south, both of Fano's beaches are a great option for families thanks to the gently sloping sea bed which means that the sea stays nice and shallow for a long time.
Whilst not as large as these beaches, there are a number of medium size beaches in Le Marche worth a mention. These include the attractive beaches at Porto San Giorgio, the gravely beach at Pedaso (where you'll also find mussels being cultivated on concrete pillars in the sea) and the narrow beach at Porto Sant'Elpidio which backs on to woods of pine trees. Porto Recanati, Porto Potenza Picena, Porto Sant'Elpidio, Cupra Marittima, Grottammare and Civitanova Marche are also small to medium size beaches which we can recommend to visitors. If you are looking for a villa near Civitanova Marche, then check out Maison Oliveto, a stunning 4 bedroom villa in Le Marche.
And now to Marche's even smaller beaches. There are plenty of smaller resorts that lie below the limestone peak of Monte Conero which are well worth a visit. These include one of our favourites, Portonovo, with the beaches of Mezzavalle to the north and Due Sorrelle beach to the south. Also well worth a visit on this stretch of coastline is Sirolo which sits between the Spiaggia del Frate and the Spiaggia di San Michele, as well as Numana further south. The latter is the perfect romantic beach for couples and ideal for snorkelling.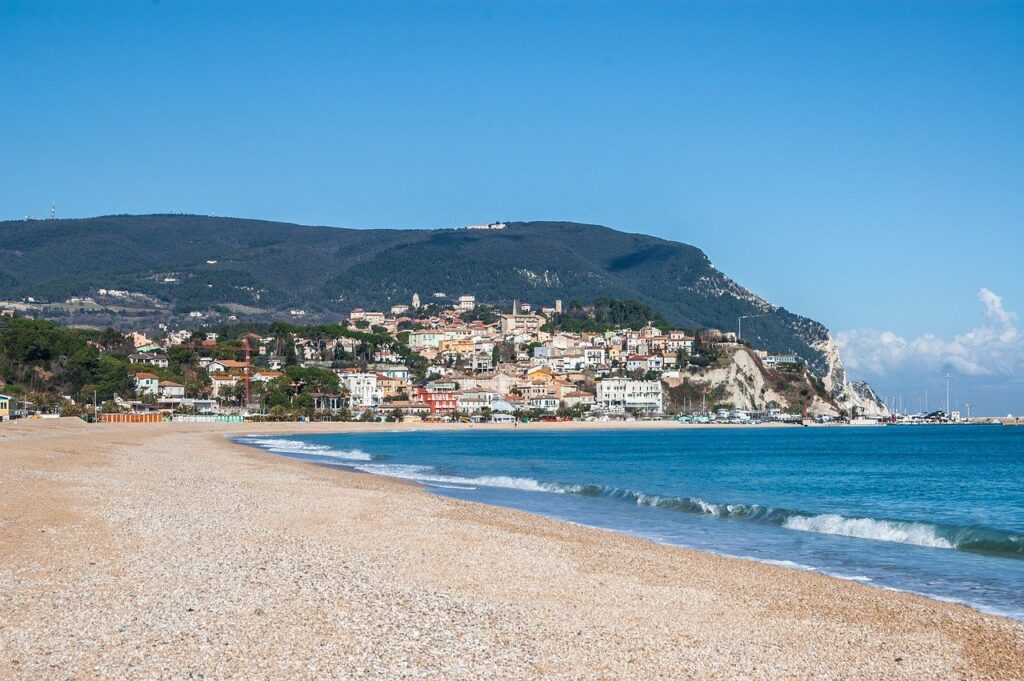 Arguably, this is the more attractive part of Le Marche's coastline, protected as it is by the Conero regional park. It's certainly a much wilder, more rugged natural coastline. Green hills roll right down to the sea with their excellent beaches and crystal clear waters, perfect for non-motorised water sports including windsurfing, paddle boarding and canoeing. These are the sort of beaches which tend to be more popular with Italian families who can't resist the temptation to return year after year!
Boats also leave from these three places to take holidaymakers to the smaller coves, only accessible from the sea.
Can't wait to enjoy Le Marche's beaches for yourself? Then check out the Le Marche villas available from Bookings For You.