Italy needs no introduction. It's home to some of the most iconic cities in the world and can also boast some of the world's most incredible scenery. It's also consistently the 5th most popular country in the world when it comes to tourist visitor numbers and this hasn't changed even despite a pandemic. Data from the end of 2020 showed that Italy had been the world's most Googled destination for post-lockdown holidays with almost 1.94 million annual global searches. Not that this came as any surprise to the team at Bookings For You!
But, with so much beauty on offer, the one thing that can be hard for holidaymakers to decide on is where to visit in Italy and where to stay in Italy. There are just too many choices! So we thought we'd try and make that choice a bit easier by sharing some of our favourite places with you.
Italian Lakes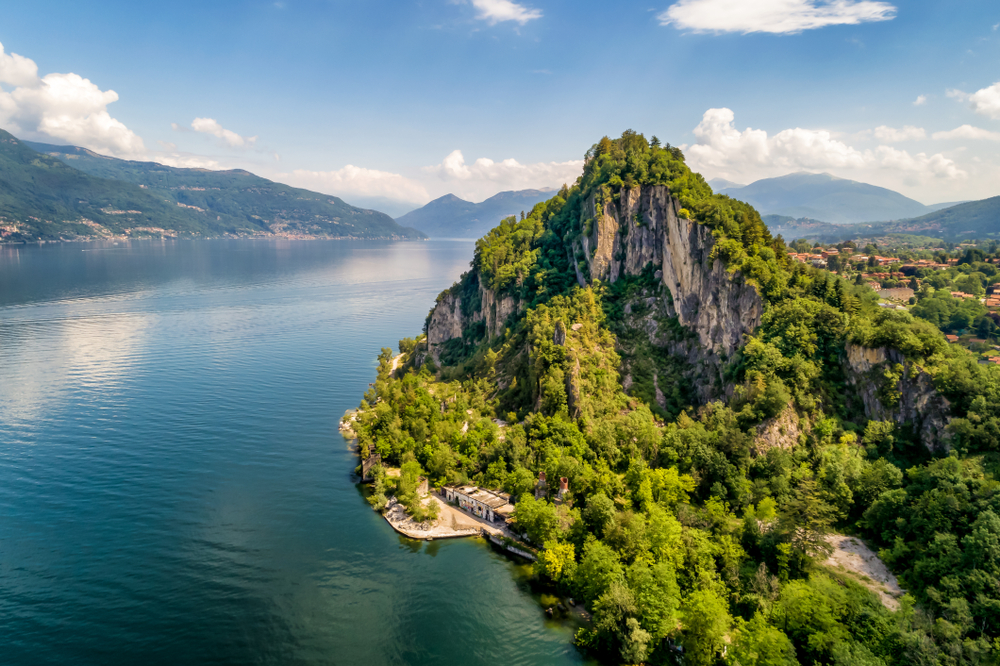 The Italian Lakes is one of our favourite places to visit in Italy. Fly into Milan and you can be at Italy's lake region within the hour making it extremely accessible too. It always amazes us that you can be in the hustle and bustle in the very heart of Italy's financial, fashion and design capital – Milan – and 60 minutes later can be on the lakeside beach taking in the stunning scenery. Lake Maggiore may be our favourite of the Italian lakes but Lake Garda, Lake Como, Lake Iseo, Lake Lugano and Lake Orta are all spectacular and all have plenty to offer.
If you're looking for where to stay in the Italian Lakes, then check out the Italian Lakes villa rentals available from Italy villa rental specialists, Bookings For You. Or, alternatively, check out Expedia for a great range of Italian Lakes hotels at great rates.
Umbria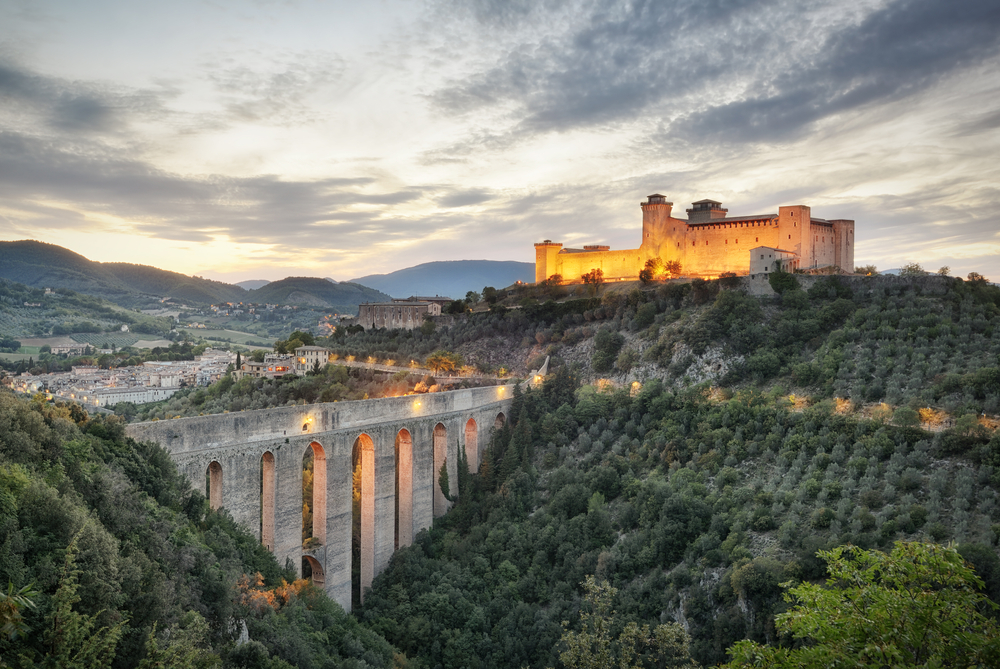 Umbria is, for us, one of the most authentic places to stay in Italy. It may not have the world famous cities of its more famous neighbour, Tuscany, such as Florence, Siena or Pisa, but it more than makes up for it with the charm and authenticity of its hillside towns and villages. Umbria can boast more 'borghi piu belli' than Tuscany and some of Umbria's towns – Montefalco, Spello, Spoleto and Orvieto – are amongst our favourite of any places to visit in Italy.
If you're looking for where to stay in Umbria, then take a look at the Umbria villa rentals available from Italy villa rental specialists, Bookings For You. Or, alternatively, check out Expedia for a great range of Umbria hotels at great rates.
Tuscany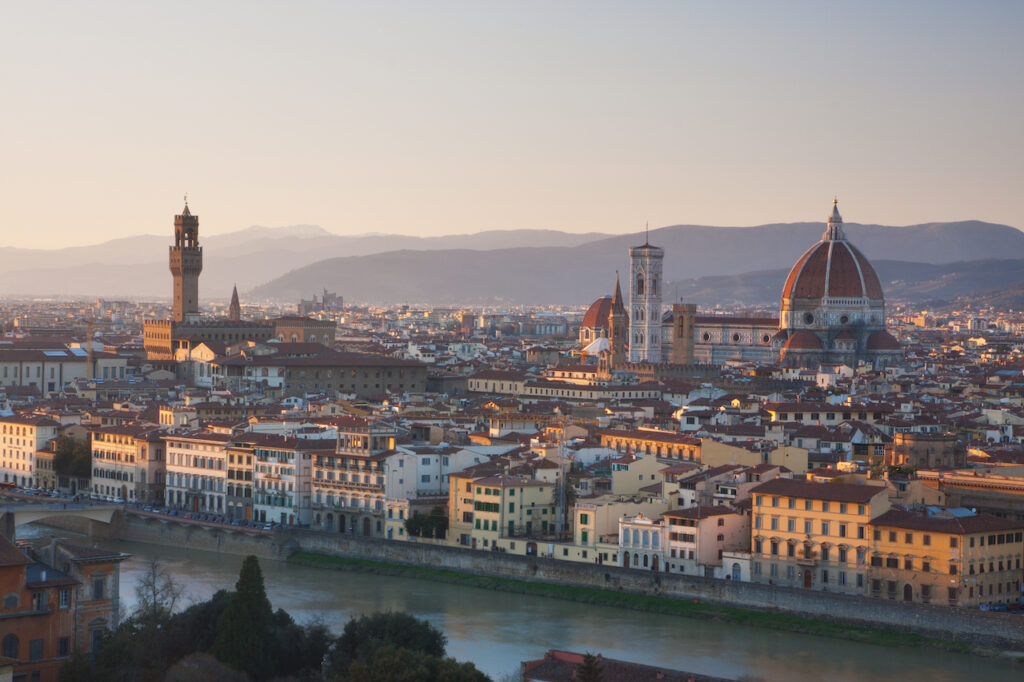 That's not to say that we don't recommend Tuscany in our list of top places to visit in Italy. Far from it, especially as the region is home to our favourite city in the world, Florence. Florence is an absolute delight for art lovers, home to the Uffizi Gallery and Galleria dell' Accademia. But it has plenty to offer others too, with a number of beautiful gardens to explore and some great shopping (particularly if you're on the hunt for leather goods)!
Tuscany is probably the 'oldest' place to visit in Italy and was part of the Grand Tour as far back as the 18th century. These days, holidaymakers continue to flock to the region, lured by its impressive wine making, its rolling countryside and long list of places to visit, among them Siena, San Gimignano, Lucca, Pisa, Montepulciano, Pienza and Cortona.
If you want to explore Tuscany for yourself, enjoy a stay in one of our favourite Tuscany villa rentals or opt for one of our apartments in Florence if you prefer to be in the heart of the hustle and bustle of city life. Or, alternatively, find your perfect Tuscany hotel on Expedia.
Sicily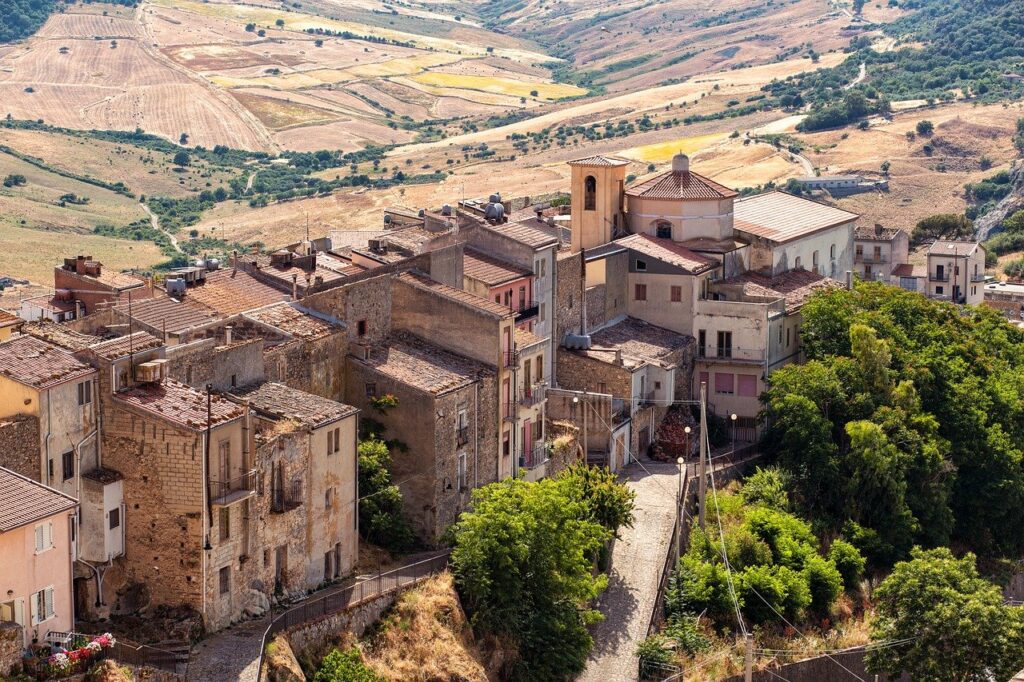 Sicily is a real melting pot of cultures and is one of the most fascinating places to stay in Italy. Historically, it has been influenced by both East and West and by Europe and Africa, making it one of the most fascinating places to visit in Italy. Holidaymakers head to Sicily as much to discover its incredibly well preserved ancient Greek and Roman remains as to lie on its beautiful beaches. And just as much to taste Sicily's incredible cuisine as to explore the fascinating art and architecture of its towns and villages. Not to mention holidaymakers being lured by the fascination of the island's famous volcano. Mount Etna is not only the highest active volcano in Europe but is also one of the most active volcanoes in the whole world.
Check out our Sicily villa rentals or find your perfect hotel in Sicily at Expedia.
Amalfi Coast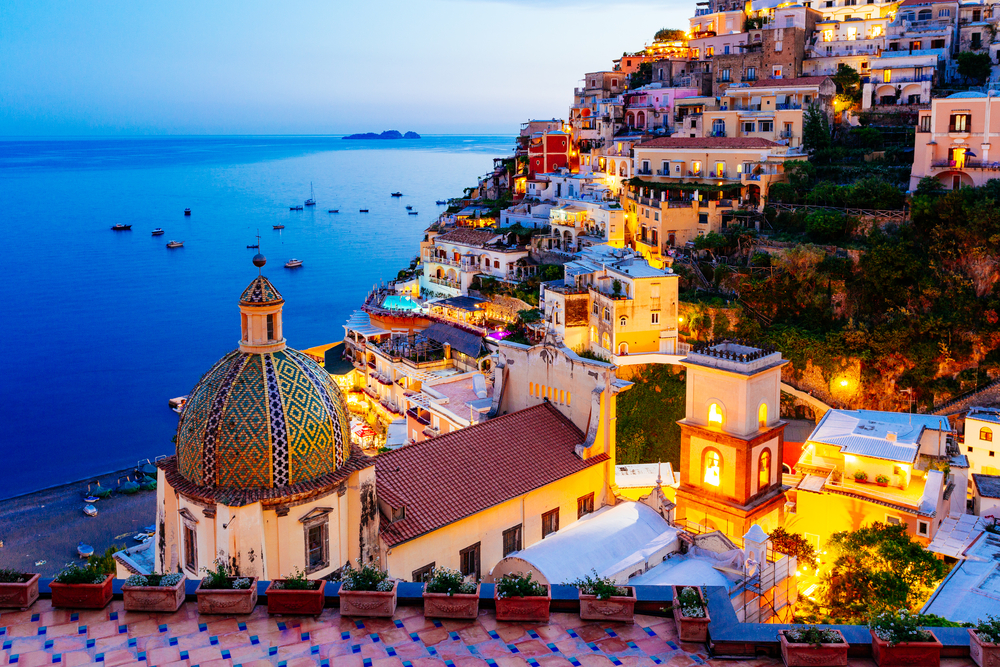 The Amalfi Coast is one of the most romantic places to stay in Italy and it has been seducing visitors for centuries. This is a place where you'll find super yachts and five star accommodation galore. The rich and famous will return time and time again, lured back by the sophisticated but laid back lifestyle that Capri and the Amalfi Coast both offer. However, the region has a simpler beauty about it too. Take a step back into the hills behind the Amalfi Coast's stunning cliffside towns and villages, and you'll soon discover a much more simple lifestyle among traditional farming communities whilst the glimmering turquoise seas below provide just as simple a living for the fisherman whose families have fished in its waters for centuries.
Find your perfect place to stay in Italy at one of the Sorrento villa rentals available from Bookings For You. Or, if you prefer to stay in a hotel, then take a look at the Amalfi Coast hotels available at Expedia.
Puglia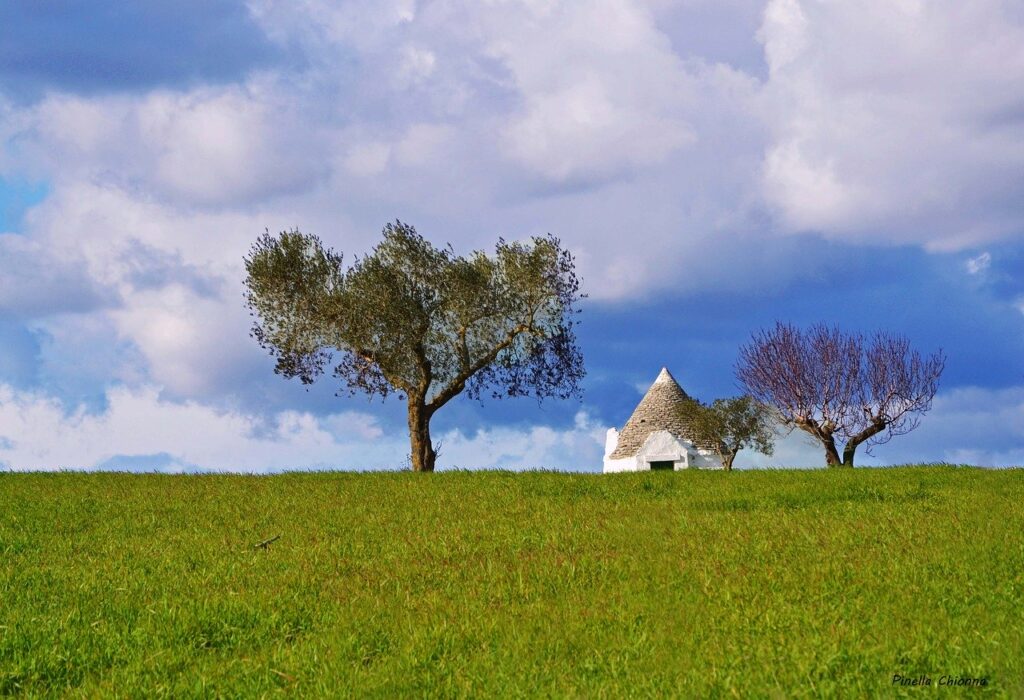 Puglia is fast becoming one of the most popular places to visit in Italy. Hardly a surprise perhaps when you take a look at its incredible coastline and stunning beaches or start to explore the plethora of charming towns and villages that are dotted throughout its idyllic countryside. Its hobbit-like trulli are like nothing you'll have ever seen elsewhere in Italy but are absolutely charming. And its coastal towns – Poligano a Mare, Monopoli, Bari and Otranto – have just as much to offer as its inland ones – Ostuni, Alberobello, Locorotondo or Lecce.
Check out the best places to stay in Puglia including our range of Puglia villa rentals or instead opt for one of the Puglia hotels available at Expedia.
Le Marche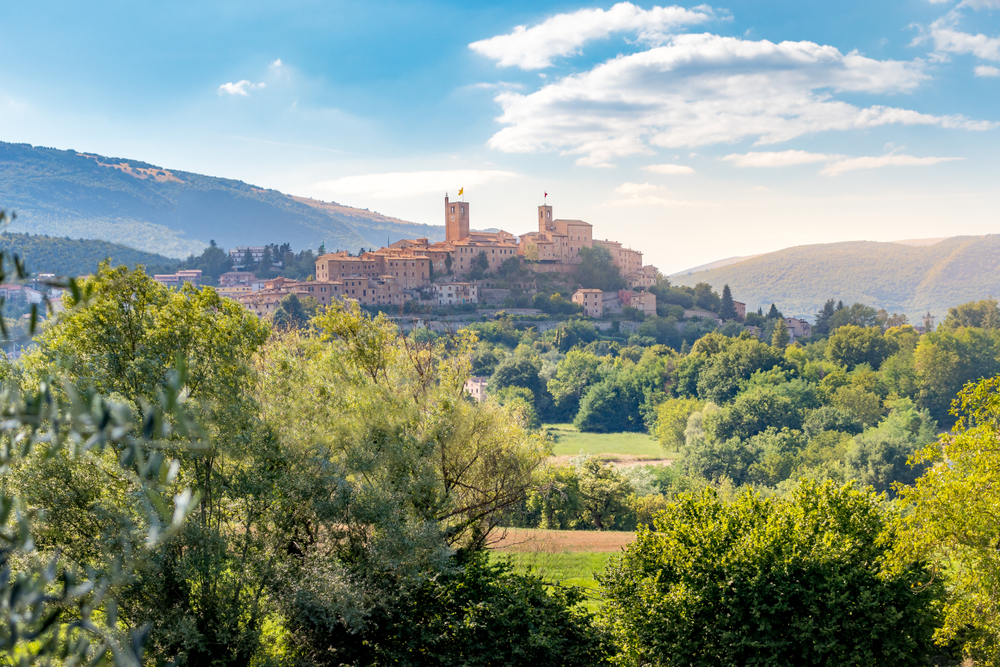 Another of Italy's hidden gems, Le Marche is one of the least well known places to stay in Italy. But don't let this put you off. Marche may be unspoilt by mass tourism but this doesn't mean it doesn't have anything to offer holidaymakers. Far from it. Le Marche's towns and cities can give any of the Tuscan towns a run for their money when it comes to Renaissance history, whilst its beaches can rival any of those further South in Puglia. And its inland scenery is just as dramatic and breathtaking as any you will find either in Umbria, Sicily or the Italian Lakes. Le Marche is definitely one of the up and coming places to stay in Italy and it's worth making a bee-line for it before everyone else does!
Bookings For You offer some of the very best places to stay in Le Marche.