Across the last few years, the travel industry has seen a huge increase in the number of holidaymakers looking for more sustainable, eco-friendly trips. There's no doubt that the impact of climate change has brought sustainability to the top of many people's travel agendas, especially when figures show that tourism is responsible for approximately 8% of global greenhouse gas emissions (this according to a 2018 study published in the scientific journal, Nature Climate Change). As a company, we're just as keen as holidaymakers to improve our eco credentials and, as part of this, we're always on the look out for eco-friendly rentals that are both built and managed with an awareness of their ecological impact in mind.
So, you can imagine how thrilled we were when we came across this eco-friendly villa in Sicily.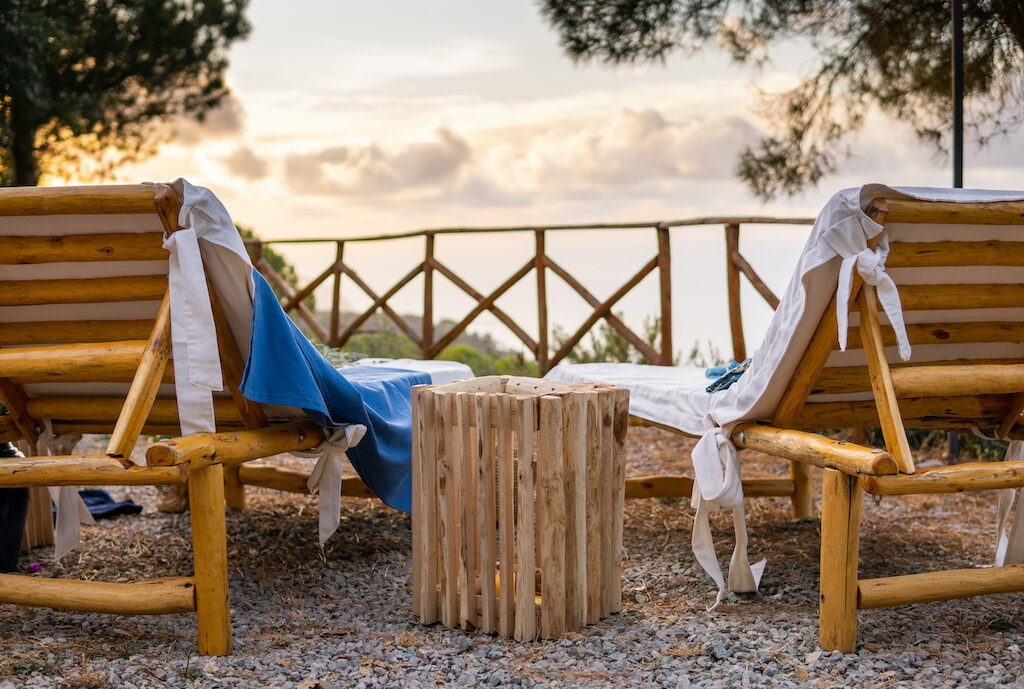 The property is situated in the very heart of the Pine Ridge Forest Reserve of the Parco Delle Madonie, a beautiful nature reserve home to an incredible array of flora and fauna including many endangered species. With pines, cork-oaks, corbezzoli trees and erica shrubs to the rear, and with incredible views of the deep blue Mediterranean sea and panoramic outline of the Aeolian islands to enjoy to the front, this is a romantic hideaway perfect for any modern-day castaways.
Its location means you have the pick of an array of incredible beautiful beaches on your doorstep along with the joys of some equally magical mountain trails to discover. For those who have youngsters or are just young of heart themselves, there is plenty to entertain you including outdoor tree top adventure parks along with swimming, dingy excursions and white water rafting at the ancient and incredibly striking Gole di Tiberio (Tiberius Gorge). Or, head to nearby Saint Mauro to enjoy a zipline ride 1650 metres across the canyon at a height of 1000 metres above sea level, reaching speeds of nearby 120 km per hour, suspended solely on a wire cable!
On a practical note, the house sleeps up to 4 people in 2 comfortable bedrooms, each boasting their own bathroom making it the perfect set up for either two couples or a family. Those with younger children can relax knowing that we can help provide the equipment you need to make your stay more comfortable.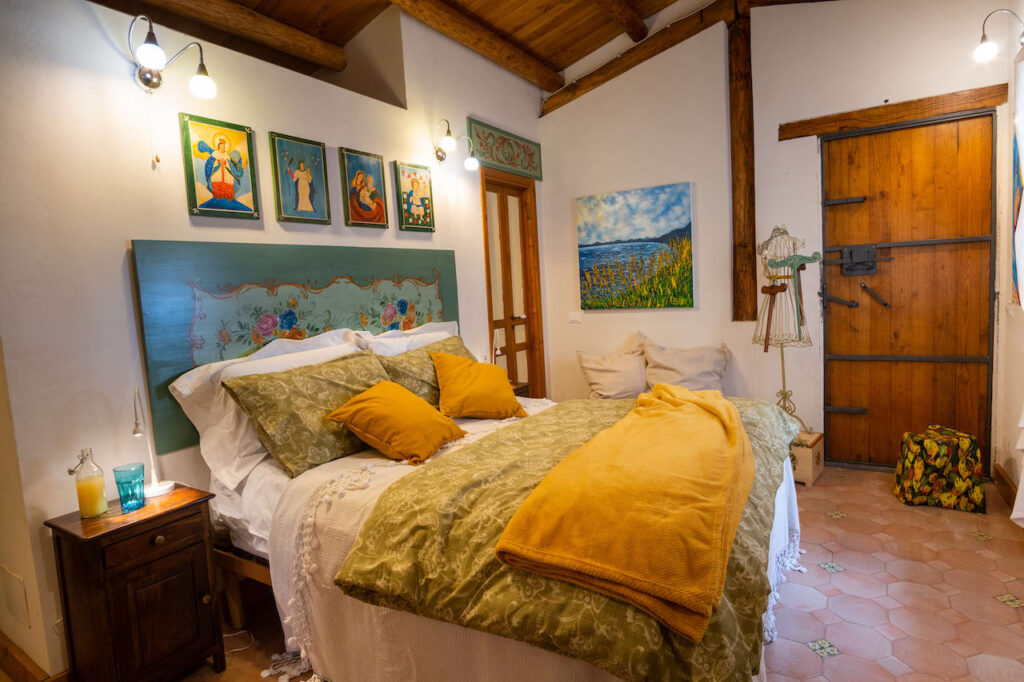 And, as for its eco credentials? Well, the property was built using only local materials and in keeping with traditional building methods. Beautiful stones were taken from a derelict barn and were individually sculpted to create the walls, chestnut beams were sourced from a local forest and the ceramics were hand-moulded locally by a dear friend of the owner. The roof was made from Sicilian clay coppi (curved terracotta roof tiles) that were salvaged from an old house and which date back 200 years, whilst the outdoor kitchen was constructed using a huge rock that was found on site when digging the foundations of the property. Some of the outdoor furnishings were even constructed using driftwood washed in on the nearby shores and upholstery was recycled and embroidered by local friends using antique sewing machines to make beautiful cushions. In short, nothing was wasted, there was a strong emphasis on re-use and recycling and local craftsmen were employed who are experts in their field.
On a day to day basis, the property recycles rain water collected on the roof to re-use, tackling a real issue that this part of the island has with drought. And inside, you won't find a bit of plastic in sight. This truly is a plastic-free zone. Even the kitchen utensils aren't made of the stuff!
All this has created a unique place to stay in Sicily, a holiday rental unlike any other, one that literally has a heart and soul in abundance. It's a home that oozes infinite charm. It's also a home that guests will want to return to again and again to re-capture that spirit of a simpler, more gentle time yet with all the creature comforts that modern living has provided us with.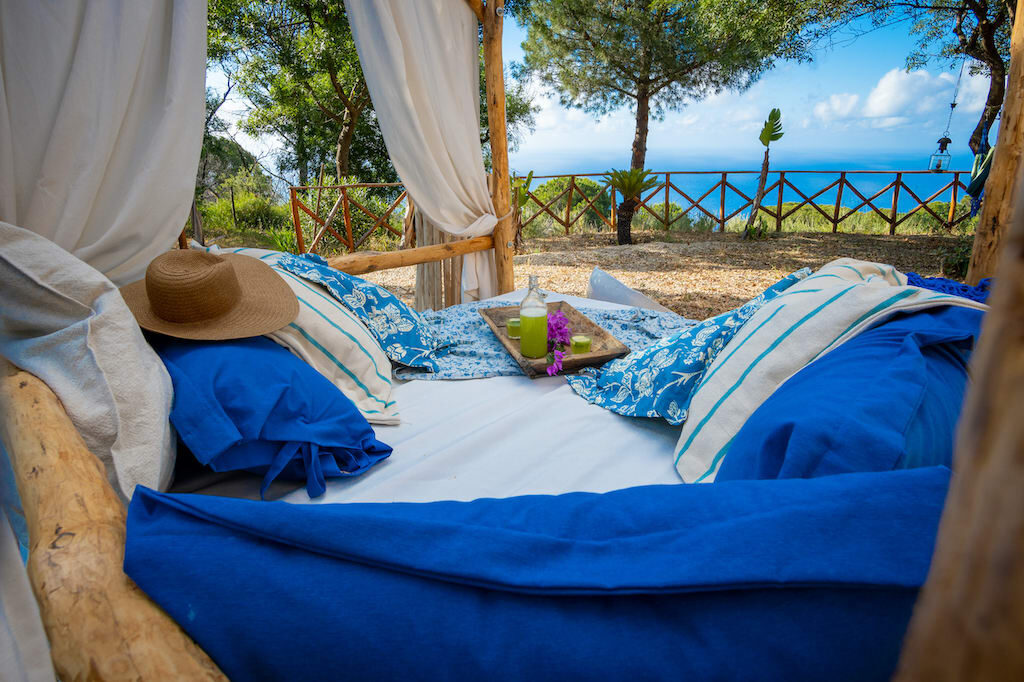 But don't take it our word for it. Here are some of the reviews from our first guests at the villa.
'Antonio's cottage is absolutely dreamy'
'The view from the cottage is incredible at any hour of the day and the cooking outside was an amazing experience!! We loved it!'
'An enchanting place to stay! Superb hospitality! Wonderful view at the Mediterranean Sea! We will never forget our stay at the cottage!'
'The place is absolutely fantastic with breathtaking views and fresh air. The lodge is very well equipped with all that you need and more. The outdoor kitchen is a magnificent plus for the evening or lunch time eatings. Antonio was a great host and he checked on us on daily basis. Very helpful host indeed.'
'We will definitely be back !'
We'd love you to experience Casa Terre di Bea for yourself. To find out more, or to make a reservation, head to Casa Terre di Bea on the Bookings For You website. We hope we'll see you in Sicily soon.