Here at Bookings For You we love to spoil our guests with a fantastic array of properties — especially those luxurious gems tucked away in some of the nicest corners on Earth. And, of course, 2018 is no different. We've been steadfastly adding numerous new properties to our website ready and waiting for you to visit next year; below is a hand-picked selection of some of our favourites. And, as ever, if you can't find what you're looking for, get in touch so we can help you pick the perfect property for you.
Umbria
Caidominici
This stunning farmhouse has eight bedrooms, with gorgeous surroundings. Traditional and cosy, this property has been lovingly restored by the owners to an exceedingly high standard. You won't be disappointed if you stay here — in fact, we bet you won't want to leave!
Good to know: There's a 20 metre solar-heated infinity pool, a cinema room, and the house is surrounded by miles and miles of 'official' walking tracks.
Perfect for: large families (and younger children)
Fonte della Pace
This property is a very calming place; you can't help but feel like it's a home away from home. Charmingly decorated, it has four decent bedrooms and a private salt water pool for guests to enjoy.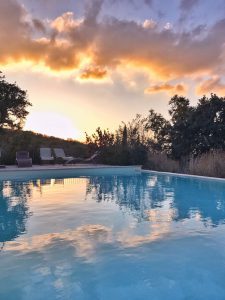 Good to know: There's air con, to counteract any summer heat, and the property is within walking distance of Il Casale restaurant.
Perfect for: Families and/or friends 
Italian Lakes
Massino Visconti
This modern and immaculate three bedroom villa in Massino Visconti has a lot on offer; the ground floor boasts is own contained one-bed apartment, whilst the rest is set over the first floor. This offers guests privacy from one another — ideal if you're traveling with friends or family units who would prefer to holiday more independently.
Good to know: There are a coupe of good restaurants within a twenty minute walk, and the property has fabulous lake views of Lake Maggiore.
Perfect for: Two couples, or friends
Colmegna
This ultra-modern one-bed apartment has been completely renovated for the 2018 season. The interior is fresh and funky, and it makes the perfect base for exploring the area.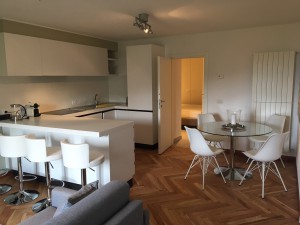 Good to know: The sofa can be transformed into a sofa bed should you need additional bed-space.
Perfect for: A couple or solo traveller
Puglia
Villa Corinne
This is one of those jaw-dropping properties; stunning architecture and beautifully furnished — this villa would even win over Kevin McCloud. The modern interior is functional too; each bedroom has its own shower room and there's a terrace with BBQ.
Good to know: There's no TV… but there are plenty of books (who watches TV whilst on holiday anyway?!). Also, the nearest beach is only 7km away.
Perfect for: Larger groups of family or friends
Trullo Coco 
This four bed villa is the epitome of luxury; it combines beautiful design with stunning views across the Puglia countryside. Trulli astounding (apologies). The interior mixes the traditional trullo with modern splashes of colour and drama; designed to invigorate and refresh.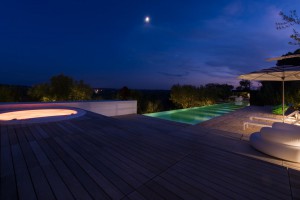 Good to know: There's an infinity pool and a jacuzzi (we bet you never make it inside!)
Perfect for: Larger groups of family or friends. But we won't blame you if you want it all to yourself.
Apartment Agrumi
This property packs a lot into it's four walls; the two double bedrooms are generously sized, and the kitchen and dining area are just as spacious. Outside, guests have use of a communal pool, spa and play area and are welcome to sample the produce grown on site.
Good to know: Massage treatments can be arranged, and the owner will be launching full spa facilities from early 2018
Perfect for: Couples
Trullo la Specchia
This four bed trullo sleeps up to ten, and is a fantastically warm and inviting place to spend a week or two (or more!) It's beautifully decorated; English country meets Italian tradition — it's absolutely stunning inside and out.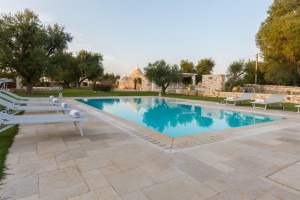 Good to know: The grounds include a hydromassage area
Perfect for: Family groups or friends