The heel to Italy's boot, Puglia is often overlooked by holidaymakers when researching their next holiday destination — and unfairly so. The region is beautiful, with fantastic seafood, dramatic coastlines, and hundreds of quirky trulli dotted around the countryside.
1. History and Culture
Puglia is steeped in history. The region is full to the brim with museums, dedicated to showcasing the traditions and customs of the area, with museums specialising in specific time periods — including the Roman era, Middle Ages, and modern history too. Its turbulent history has meant there are hundreds of medieval castles dotted around — many still in excellent condition (well, considering their age).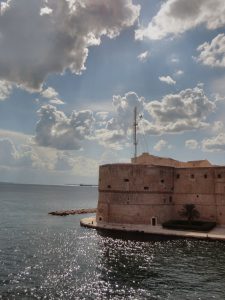 2. Food and Wine
Puglia is famed for its olive oil production, and produces around 40% of the nations total. Visit the olive oil museum in Fasano — located in an olive oil mill dating back to the 18th Century. The food in the region is local and rustic; some of the regions most famous food include orecchiette pasta and the creamy burrata — a rich cheese made of both mozzarella and stracciatella cream.
Great food deserves great wine, and you'll be spoilt for choice here as well. The area is Italy's biggest wine producing region, and its most famous for reds — Negromaro and Primitive being the two leading varieties.
3. Sightseeing
Of course, you'll want to stray away from your holiday villa and explore the local area. Head for Bari, Monopoli and Lecce. Puglia is also home to three villages which feature on the 'Borghi i piu belli d'Italia' list — a list of the most beautiful villages in the country — Cisternino, Locorotondo and Bovino are all well worth an afternoon moseying around.
4. Beaches
Puglia has the longest coastline of any Italian region, and has miles of gorgeous beaches and azure seas. Whether you fancy a day of sunbathing with a good book, or a day out on the water — you'll be spoilt for choice in Puglia. You may even spot of a dolphin or turtle (or two).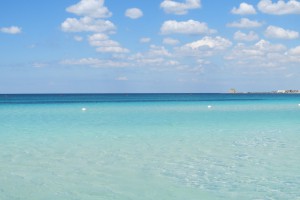 5. Weather 
On average, Puglia boasts over 300 sunny days every year. Thee summer season is longhand although temperatures can soar, at least you're guaranteed good weather. It's also an ideal destination for winter breaks with mild days and colder nights.
6. Accommodation
One of the most striking places to stay in Puglia are the numerous trulli dotted around the countryside. Dry stone huts with conical roofs, these were originally used as agricultural storage or shelters; many have now been redeveloped into luxury accommodation for visitors (and — of course — we have plenty for you to choose from).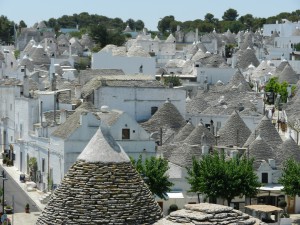 7. Nature
Puglia is breathtakingly beautiful — seemingly endless olive groves, dramatic coastlines and spectacular caves such as Grotte di Castellana.  It's also well worth visiting the National Park at Gargano; white limestone cliffs, turquoise seas and dense forests.
8. Architecture
Italian architecture is arguably the finest in the world, and Puglia is no different. From the town of Alberobello — a UNESCO World Heritage site thanks to over a thousand trulli which line its streets — to the Baroque style in Lecce, the region is rich in style and tradition.