For those looking for an easy day trip itinerary from Rome to Pompeii, look no further. We're thrilled to have a guest post from Georgia Alzapiedi, the brains behind BritVoyage today. As she has been there, done that (!!), we thought we'd ask the expert to tell us how best to visit Pompeii from Rome on a budget. Over to Georgia to tell us more…
A visit to the Eternal City is often the starting point for travellers to Italy. As the country's capital, Rome is packed with attractions to appeal to almost everyone: an array of churches, the Vatican City, art galleries, beautiful monuments and ancient Roman structures – including one of the Seven Wonders of the World. But what do you do when you've seen all there is to see, or if you've been there before?
I had dreamed of going to Pompeii since I was a child. It sounds ridiculous, but I vividly remember watching a documentary on the Vesuvius eruption in 79AD and telling my parents that I wanted to go there. There was something tragic but mysterious about an entire Roman city being completely wiped out and hidden by nature.
When planning my second visit to Rome, I realised I would have a free day once I'd seen all the attractions on my to do list. That was all I needed to grab the opportunity by the horns and take a day trip to Pompeii, and perhaps even make it to the top of Vesuvius. First I looked into booking an excursion, but found that came in on average at £140 per person, and we were a little tight on cash. Instead, I scoured travel websites on how to make the journey unaided and pieced together the information I found.
It transpired that a day trip from Rome to Pompeii is much easier and cheaper than you might expect. Here I'll be sharing my itinerary with you, so you can plan your own trip too.
Leaving Rome
It's easiest to travel by train so book tickets from Rome Termini to Naples Central Station. I used www.trainline.eu which sold tickets on the Trenitalia IC and Frecciarossa lines. IC trains take roughly 2 hours to get from Rome to Naples, whereas Frecciarossa (the faster, more modern and newer trains) only take an hour. I selected the 7.35am outbound and 7.30pm inbound to allow for the most time. When I travelled, a return journey for two people cost 138 Euros. For those on a budget, it may seem a steep price to pay, but to arrive in an hour and get the most time exploring Pompeii and Vesuvius, I was willing to pay!
It's that simple: print out your tickets and off you go! As an additional draw, I am under the impression that if you buy a flexible ticket, you have one chance to swap your travel time at the ticket office. I don't speak Italian so I didn't try, but it could be particularly handy if you want to extend your time to have dinner in Naples before the return journey.
Navigating Naples
You have made your outbound train and arrived in Naples. Follow the signs out of Naples Central Station towards Garibaldi Station and look for the Circumvesuviana line. It is quite clearly written on a blue sign, and you need to take a few steps down to the ticket office. The whole route is less than a five-minute walk.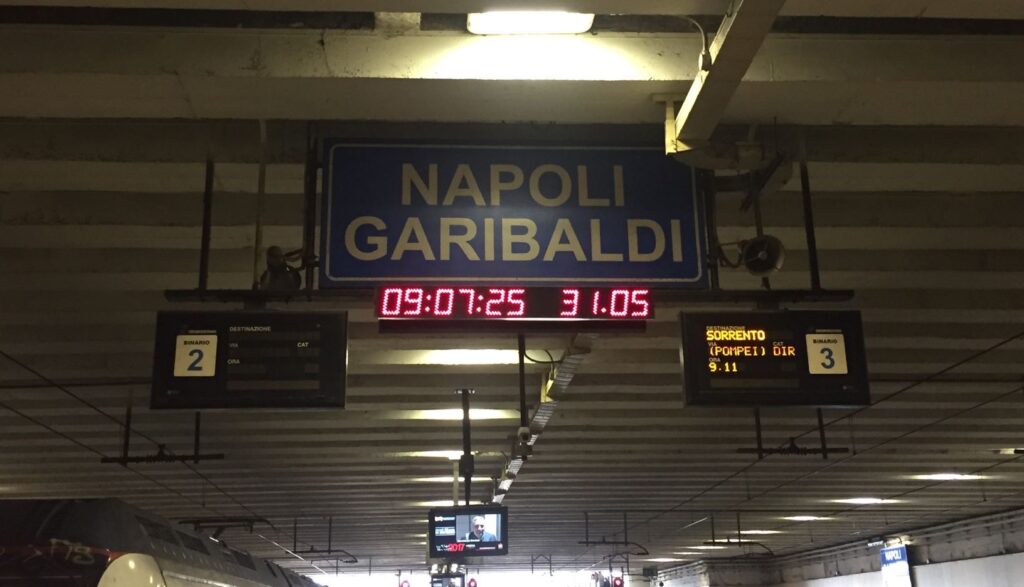 The ticket booths seemed to only take cash when I visited, but this may now have changed. Ask for a return to Pompei Scavi which is the closest station to the famous ruins of the Ancient Roman city of Pompeii. At the time, it cost 10.40 Euros for two of us. Be vigilant here. The ticket operator did not speak much English and only gave me two tickets even though I asked for two returns. We almost went through the barrier before I realised the tickets said 'single' and I had to ask the assistance of the barrier guard. Thankfully he explained the mistake and I got my second set of tickets! Punch your tickets into the blue slot to validate them and pass through the barriers, just like you would in any UK train station and make your way down to the platform.
At our point of travel, the Naples to Sorrento trains ran from platform 3. See the timetable on http://www.sorrentoinsider.com/en/naples-to-sorrento-train-schedule and watch the board as trains to two destinations run from this platform. Pompei Scavi – your destination – is about a 36 minute train journey and roughly 18 stops from Garibaldi.
The difference in setting between Naples Central Station and Garibaldi is noticeable and it's worth reminding you to remain vigilant as a tourist in a high-traffic city space, especially one where tourists are less common. Most travellers here were Italians who were likely travelling to work. Here I felt like I was experiencing the real Italy, the mundane day to day experience of locals that you'd miss if you booked a tour guide excursion.
The entire Rome to Pompei journey will take you around two hours, including waiting times at Garibaldi, which in my mind is perfectly reasonable for such an action-packed day.
Exploring Vesuvius
It's still early, and you have reached Pompei Scavi station. It's a charming, overground station with a square, orange brick ticket office building, ebbing true Mediterranean vibes. To reach the summit of Vesuvius you need to come out the train station and cross the road, where you will see a bus stop with a blue sign. This is the stop for the 'Big Blue Bus' which costs roughly 5.50 Euros for each return journey to the volcano.
We spotted men in red t-shirts promoting a guided tour to Vesuvius, but for 22 euros each but having spent a significant amount of money already, we decided it go it alone.
Based on my experience, once you get on the Big Blue Bus, the driver takes you about half way up the volcano. There, he pulls over and takes the payment for the journey. Do make sure you have the cash, or I suspect you'll be asked to disembark! Then, the driver takes you to about 800 metres up the volcano, where there is a national park ticket office and here you can purchase your entry tickets for roughly 10 euros each. Then you get back in the bus for it to take you to the 1 km pedestrian point. Check the return times on the bus before you leave.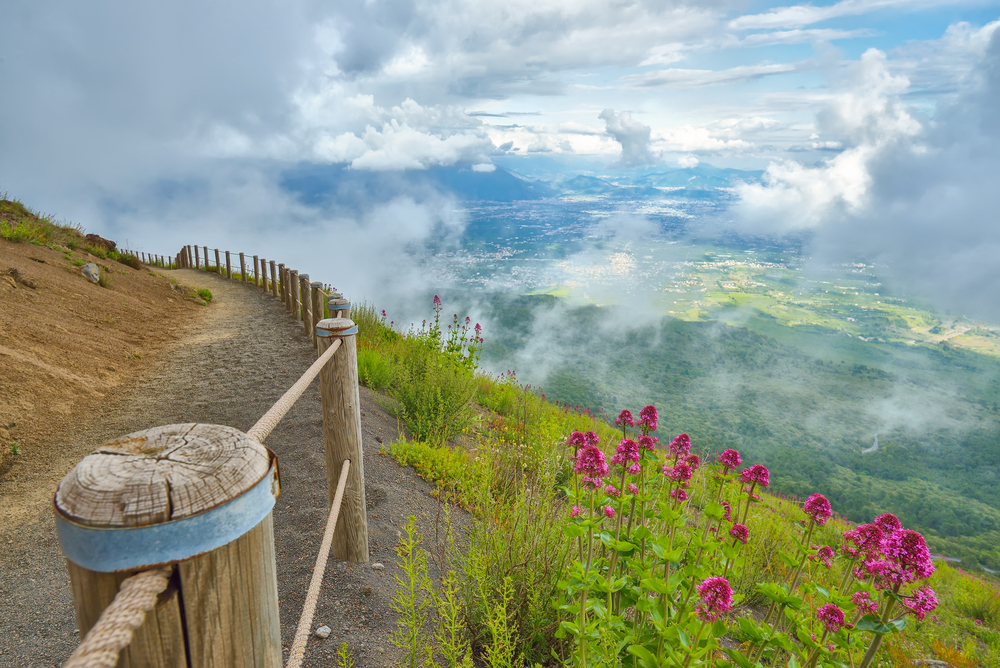 The summit of Vesuvius is a short climb from the pedestrian point. You'll pass a small collection of gift shops, selling trinkets from postcards to tiny pots of glistening, black rock from the volcano. There is also a really handy snack shop, selling ice-creams and bottles of water, which you might well need after a mini-hike.
I'd love to describe the view, but we visited on a misty day, and the panorama across Naples was completely shrouded. I'm told it's beautiful though! That said, we could still see the mouth of the volcano: Vesuvius is still an active volcano, so I was expecting a to see a hole full of lava but what you actually see is a huge crater filled with rubble and rock. Suddenly it makes sense – when volcanoes erupt they blast debris into the air. The very same thing that covered the city of Pompeii in 79AD. You might forget that it even is an active volcano but for the occasional plumes of steam which blast out every now and then from gaps in the rock.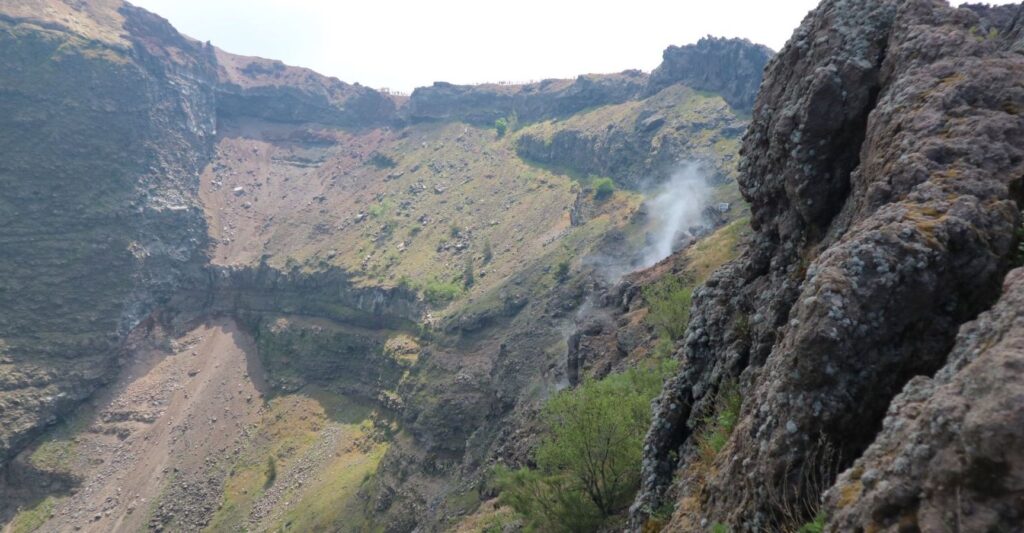 Now to see Pompeii
Once you have made your way back to ground level, disembark the bus and follow the signs towards the Pompeii Archaeological Site. There is a restaurant opposite the entry point for the archaeological site which is reasonably priced and serves tasty sandwiches and pizza, so we stopped there for a spot of lunch before entering. It was a good choice too, since there is little shade in Pompeii, and it's much larger than you'd expect.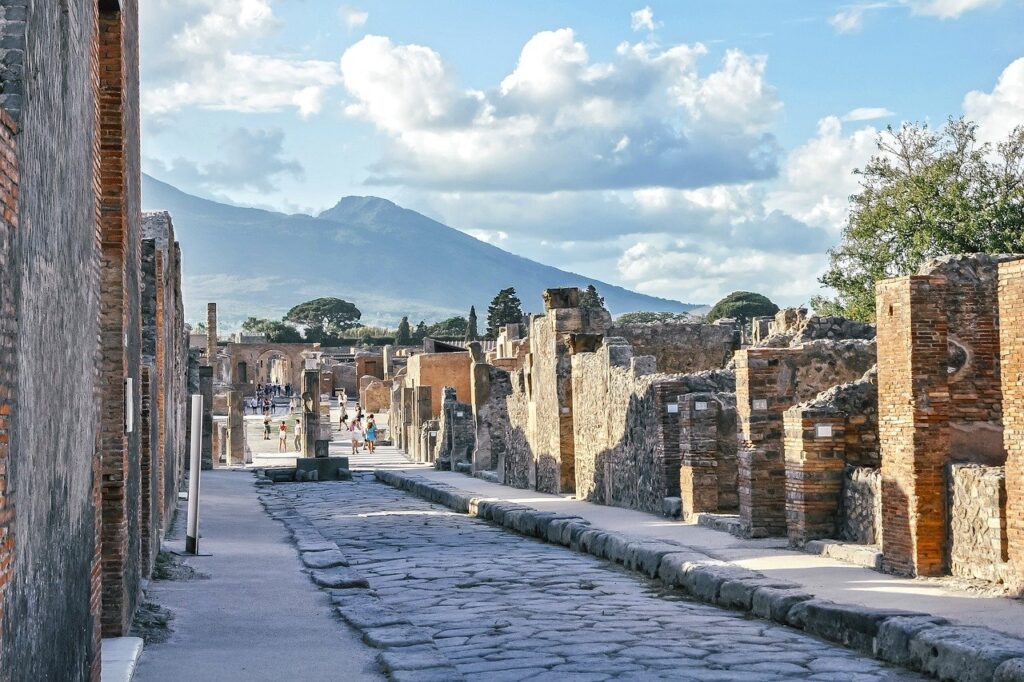 Entry to the archaeological site was around 13 euros each, which is so reasonable, considering we explored the city for three hours and still didn't manage to see it all.
The Return
To get back to Rome, all you need to do is retrace your steps. I found that the Circumvesuviana train was late, and someone on the platform told me that this was often the case, so leave enough time to get back to Naples Central Station for your return train.
Perhaps, if you have time, stop in Naples to try some pizza, or even consider moving your return journey time to a later departure if you bought a flexible ticket to spend a couple of hours in the city.
In comparison to excursions which were costing roughly £140 (160 Euros) per person, the two of us travelled by ourselves for less than 210 Euros in total. The whole day was amazing. Admittedly I was expecting a bit more from Vesuvius, but Pompeii was more fascinating than I had ever imagined.
My advice? Be brave and do it yourself. A day trip from Rome to Pompeii is much easier, and cheaper, than you think!
This guest post was written by Georgia Alzapiedi, who writes about dog-friendly and family-friendly UK travel on BritVoyage.com. It has been lovely to have her branch out into Europe for us today. Thanks Georgia!
www.facebook.com/britvoyageblog