Located not far from Lake Trasimeno and nestled on the slopes of Mount Petravella 400 metres above sea level, Paciano is a tiny Medieval village in Umbria. It's also one of our favourite villages in Umbria. Whilst small, boasting around 1000 residents, covering an area of less than 17 square kilometres and boasting the smallest local comune (council) in Umbria, its historic centre is absolutely charming. Its position surrounded by rolling hills carpeted with olive trees is absolutely idyllic. In fact, so important are olives to the way of life here that the village coat of arms even includes olive branches!
A visit to Paciano is like a step back in time. Paciano has successfully retained its character as a medieval castle and it is most worthy of its reputation of being one of the best-preserved medieval villages in Italy.
History of Paciano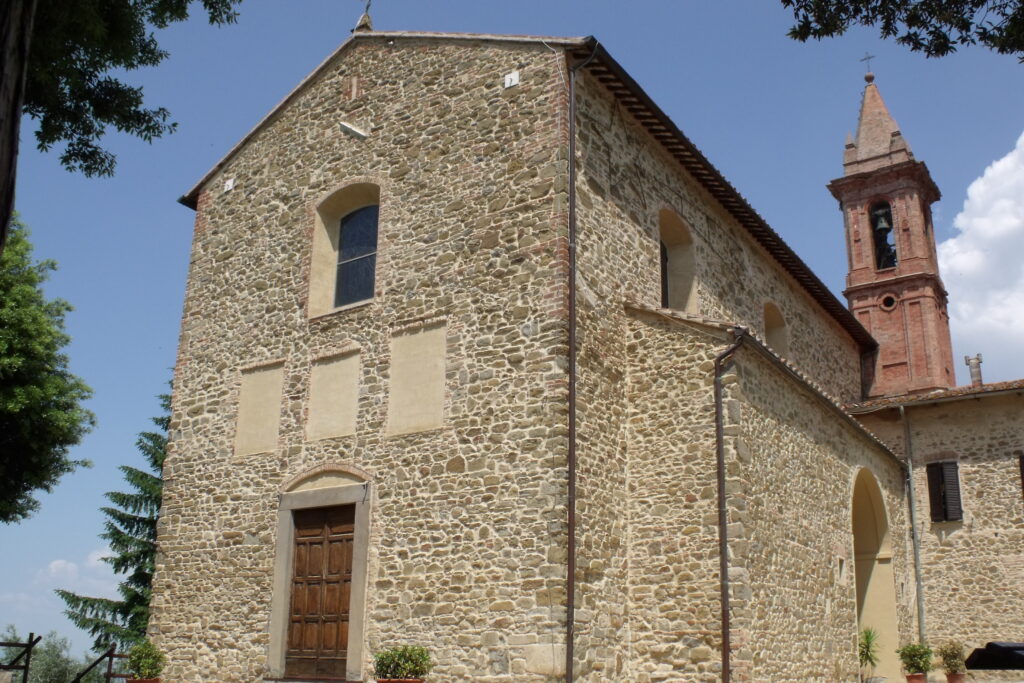 The first official documents date Paciano to 1014 AD however settlements here date back well before then, probably stretching as far back as the Etruscans. The origins of the village name itself probably lie in the fact that, once upon a time, there was a temple nearby dedicated to the Roman god of beginnings, Giano (Janus) who had two faces, one that looked behind and one ahead. Paciano probably refers to the 'peace of Janus' (Pace di Giano or Pax Janus in Latin). Or it may refer to the translation 'Passus Iani' (Passage to the Temple of Giano).
Records tell us that in 917, the Paciano and Panicale courts were given to the Marquis of Bourbon Uguccione. Then in 1182, we learn that Federico Barbarossa confirmed that he had taken possession of Paciano. In the 14th century, the village was given to William of Beaufort during a feud with Charles IV and then in the 15th century it was put under the rule of Piegaro. In short, Paciano has had a rather chequered past, frequently changing hands but in the first half of the 16th century it was incorporated into the state of the church. Apart from a brief interruption in 1798 and 1799, Paciano continued under papal rule until 1809 when the pontifical government fell during the Napoleonic campaign. In 1860, Paciano chose to become part of the Kingdom of Italy. And Paciano's unique and personal history came to an end and its history instead became linked with the Italian nation as a whole.
What to do in Paciano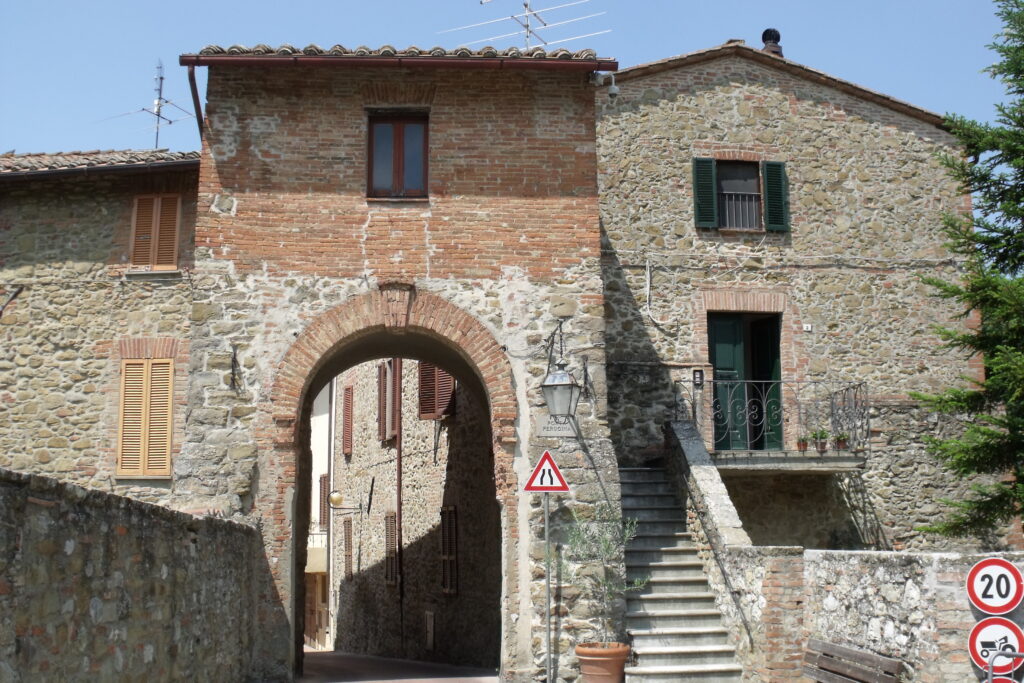 Defensive walls and eight towers surround the historic centre of the town. Paciano is accessed via one of three arched gates – the Porta Fiorentina (facing Florence), Porta Perugina (facing Perugia) and Porta Rastrella – which take visitors to its 3 parallel streets – Via Sensini, via Danzetta and Via Rossini – which are, in turn, connected by smaller alleyways that sit at right angles to the main roads.
Since the village is small, you won't need long to be able to explore its main sights. But worth a visit is the Palazzo Comunale. Also of note is the Torre d'Orlando and the Church of San Giuseppe. The latter is home to Fiorenzo di Lorenzo's Madonna della Misericordia, which dates back to the late 15th century. In fact, there are 7 churches in total in Paciano. Others include the Church of Saint Mary Assumption to Heaven and the Church of Saint Carlo Borromeo however you'll be extremely lucky if you get to pay a visit inside here as this church is only open for 3 days each year from Good Friday to Easter Sunday. It is home to a life size wooden image of Christ which is carried through the streets of Paciano on Good Friday.
Also well worth a visit is the The Museo TrasiMemo, located in the Palazzo Baldeschi (along with the tourist information office) which keeps the heritage of the village alive and has exhibitions on the traditional artisan crafts of the local area. Regular talks are also held in the museum.
You may also want to enjoy some more 'hands on' experiences. Private weaving classes can be enjoyed with Monica Giacomelli at her shop at 18 Via Marconi. Or cooking classes and olive oil tastings can be enjoyed at the Slow Cooking school in Paciano just a short walk outside the walls of the town.
Where to shop in Paciano
You can find all the basics you'll need within Paciano including a small grocery store in Via Roma (and adjacent bar) along with a pharmacy, florist, butcher, post office and hair dressers. It also has one of our favourite bakers in the world. Only open on Sunday and Friday mornings, don't miss the chance to try the organic bread and cake made by Lia Cornelia Kramer and her Lo Scoiattolo Association at Via Gramsci 9.
Events in Paciano
Paciano plays host to a number of annual events, particularly in the Summer months. At the small theatre in town there are regular monthly music and theatrical performances.
Where to stay in Paciano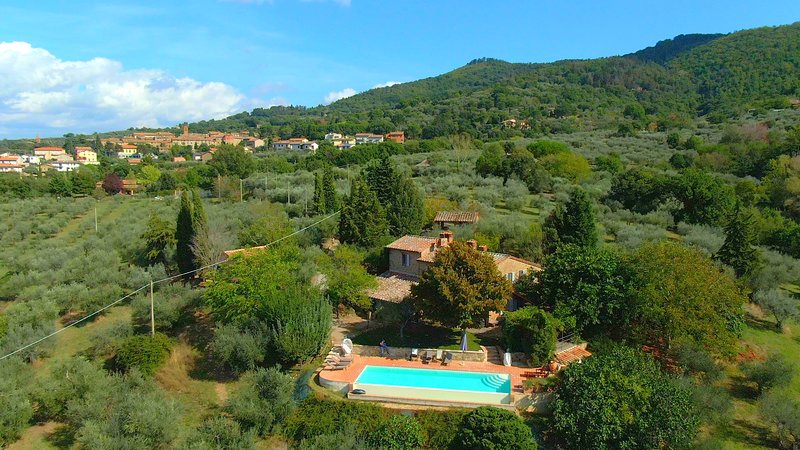 If you're travelling with family or part of a larger group, then Fonte Cicerum ticks all the boxes. This 5 bedroom Umbria villa near Paciano is within easy walking distance of the historic village centre and boasts a beautiful infinity pool positioned to make the most of the incredible views over the surrounding countryside. Comfortably sleeping up to 11 guests, it offers complete privacy whilst still being within easy access of Paciano's fantastic restaurants.
Alternatively, if it's just the two of you, how about trying Apartment Sangiovese, a delightful 1 bedroom apartment in Paciano. Set in an exclusive development of just 3 apartments which share a pool, the apartment oozes charm and is an incredibly romantic place to stay.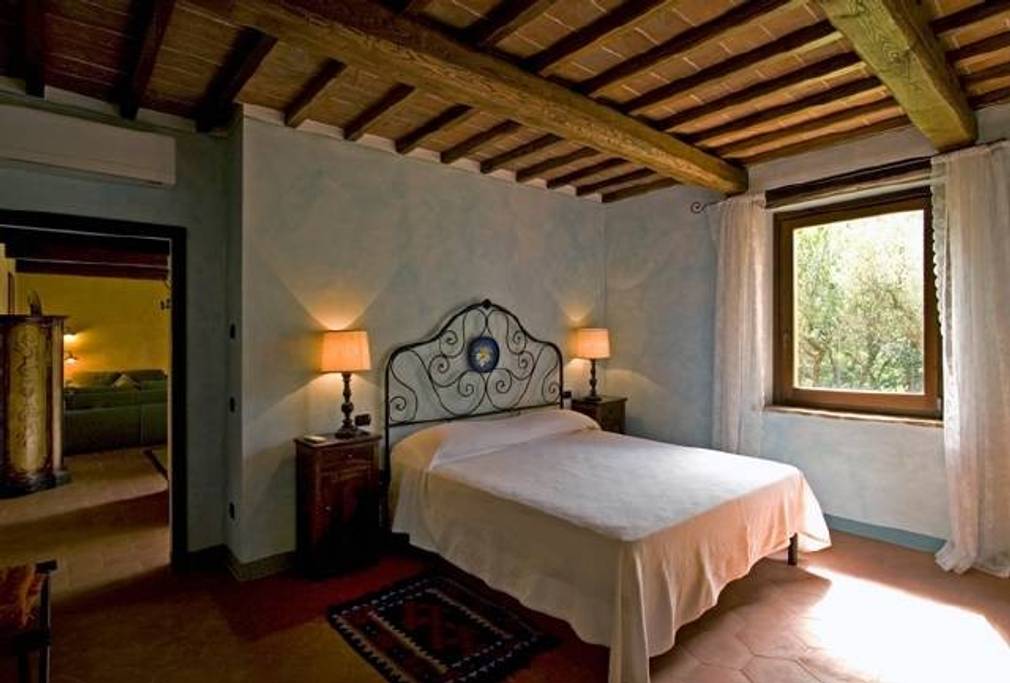 Where to eat in Paciano
La Loggetta: A great restaurant serving superb authentic Tuscan and Umbrian cuisine. If visiting in the warmer months of the year, eat outside on the terrace and enjoy the phenomenal views over the rolling hills towards Lake Trasimeno.
Oca Bruciata – Another excellent choice. Run by Chiara and her mother, this serves up excellent pizzas and pasta dishes.
Il Casale: A couple of kilometres outside the historic centre of Paciano, Il Casale is a family run restaurant serving high quality Umbrian food in the most picturesque of settings with views over Lake Trasimeno. If you're visiting in Winter then instead you can warm up next to the traditional open fire indoors.
Locanda Manfredi – Simple but delicious homemade pasta dishes served either inside or on their picturesque terrace (and a regular haunt of Ed Sheeran!) Eat here and you'll never be disappointed!
How to travel to Paciano
By train: Paciano does not have a train station. The nearest train station is in Chiusi Chianciano Terme, 15 minutes drive from Paciano. The train station has good connections to Florence and Rome.
By bus: Paciano is easy to reach by bus. You'll find the bus stop at Via Degli Etruschi 9.
By plane: The nearest airport is Perugia San Francesco d'Assisi Airport, which is approximately 50 kilometres from Paciano.
Thanks to Wikimedia for use of the images within this article.