Florence is our favourite city in Italy. We love its wealth of tourist attractions from the Uffizi to the Duomo and from the Ponte Vecchio to the Galleria dell' Accademia. But, we're also very conscious that many of these attractions have far more appeal to grown-ups than younger children who perhaps aren't ready to appreciate hours spent admiring artworks and architecture.
But, with a bit of careful planning, Florence can become a fun and approachable city for children of all ages, one that they will look back on with fond memories when they grow up. Here's our guide on the top 10 things to do in Florence with kids.
1. Enjoy a ride on the carousel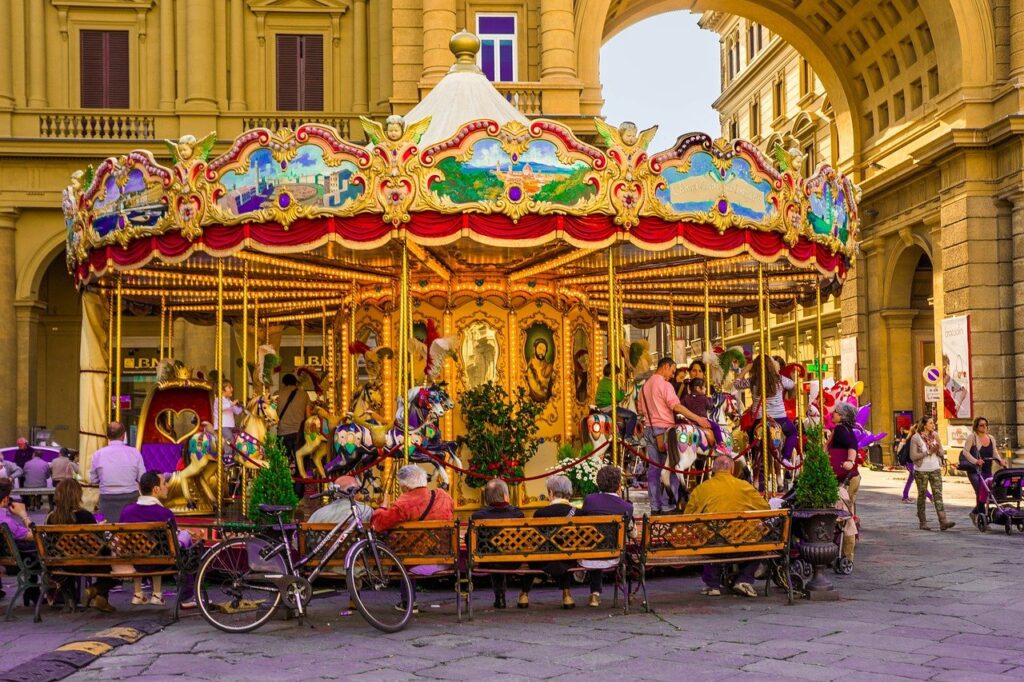 This early 20th century antique carousel is always a bit hit with families. Now a permanent fixture in the Piazza della Repubblica in Florence, children can choose from a ride on one of the 20 horses or opt to sit in one of the two carriages instead. Around the top of the merry-go-round, the adults will appreciate admiring the charming panels that depict various cities in Italy. This is definitely a must for those exploring Florence with kids.
2. Run off some steam in Florence's gardens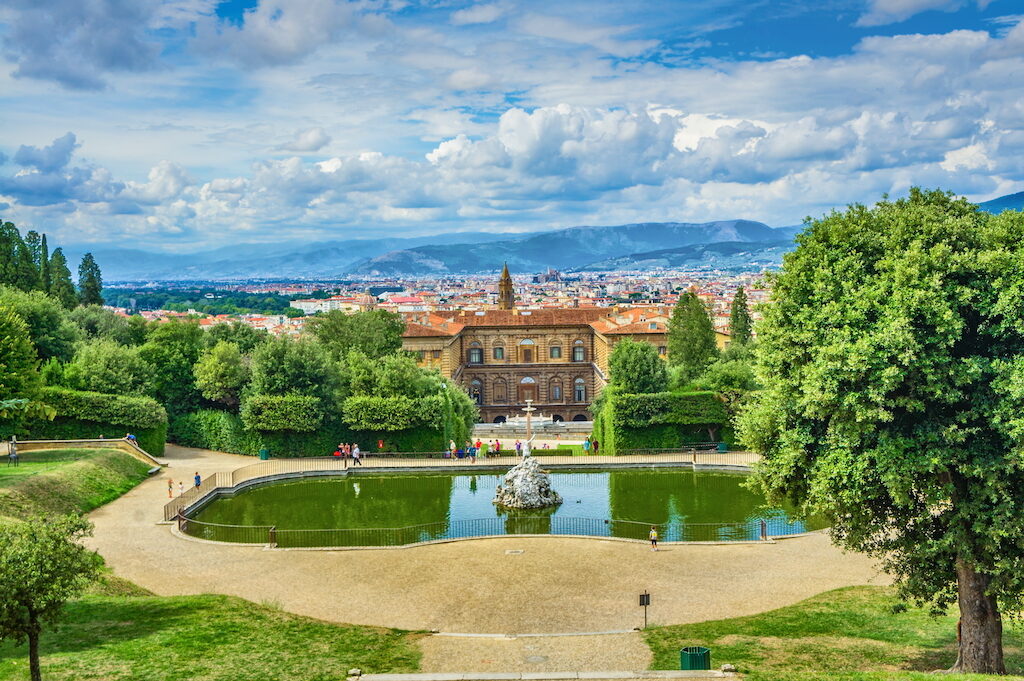 Florence is home to a wealth of stunning gardens, all giving children the perfect opportunity to run around and let off some steam. Some of our favourite gardens include the Giardino delle Rose and the Giardino dell'Iris but one of the largest and most child friendly gardens are the Boboli Gardens. A perfect example of a Renaissance garden created by the Medici family in the mid 16th century, the gardens can also boast some exceptional views of Florence and the Duomo. The grown-ups will definitely appreciate the gardens' intricate design whilst the children will enjoy exploring the abundance of space on offer. In total there are 111 acres of gardens to discover, complete with colourful flowers, grottos, fountains and statues. A visit here is a must for those exploring Florence with kids.
3. Visit the Leonardo da Vinci museum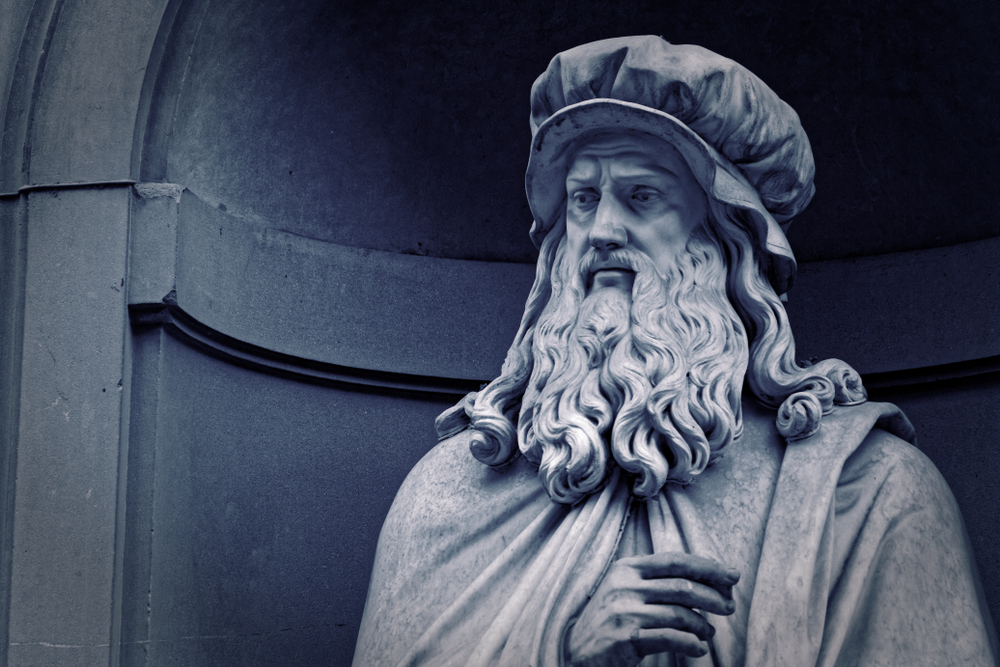 Florence is home to a wealth of incredible museums but, for those visiting Florence with kids, we recommend a visit to the educational but entertaining Leonardo da Vinci museum. The museum does a great job in bringing the drawings of Leonardo to life through four different zones – earth, water, fire and air. It's really hands on, allowing children to play with the real life models as much as they like, turning wheels and watching the gears and mechanisms work on anything from a machine gun to a crane and from an armoured car to a wooden parachute.
4. Visit the Etruscan tombs and Roman remains in Fiesole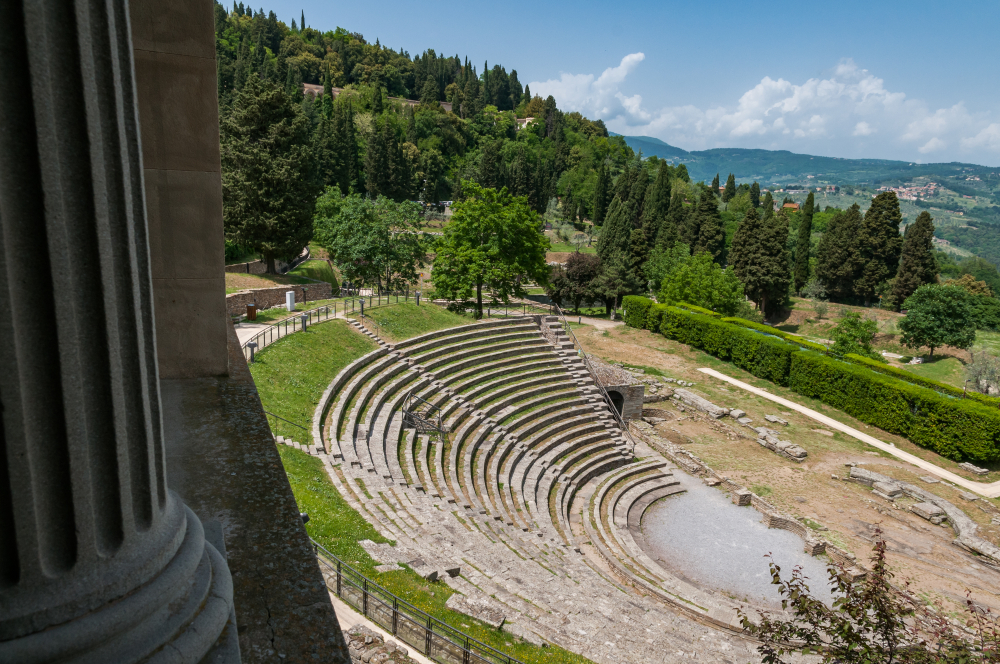 Situated just outside Florence, in the hills above the city, is Fiesole. There is plenty to occupy children here, not least the Etruscan tombs which they can have a whale of a time exploring. Believe it or not, their size is actually perfect for little ones who are small enough to climb in and out. You'll also find a Roman amphitheatre here as well as the remains of a Roman temple and baths, giving you the perfect opportunity to bring to life what your children may already have learned about the Romans at school.
5. Admire the Florence street art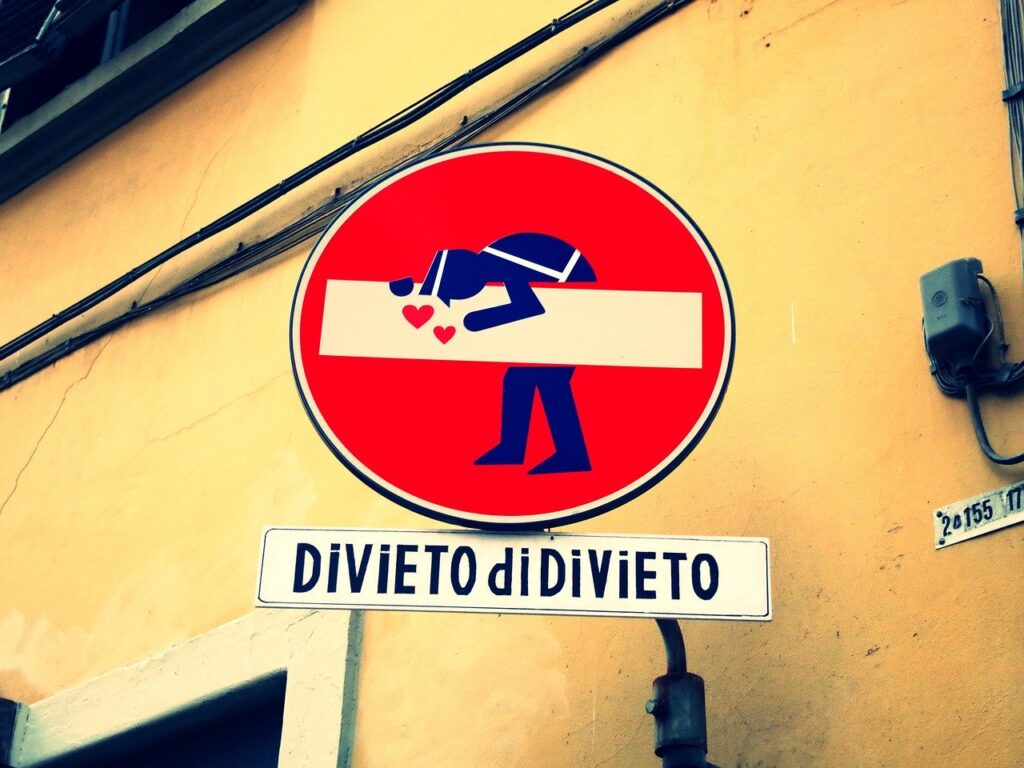 Florence is known for its very formal artworks – Michelangelo's David, Botticelli's Birth of Venus or Giorgio Vasari's Last Judgement being prime examples. But most children will probably be underwhelmed and potentially bored by these masterpieces. But don't despair! There is another type of art in Florence that your children can have a whole lot of fun spotting – Florence's street art. Instead of focusing on works by Titian, Da Vinci and others, the contemporary street art of Clet Abraham (known as CLET) is bound to have more appeal to the younger members of the family. Using removable stickers, CLET makes clever and entertaining changes to the street signs in Florence. You can meet the man himself at his studio in the San Niccolo neighbourhood of the city but challenge your kids to find as many of his artworks as they can as you explore the city together.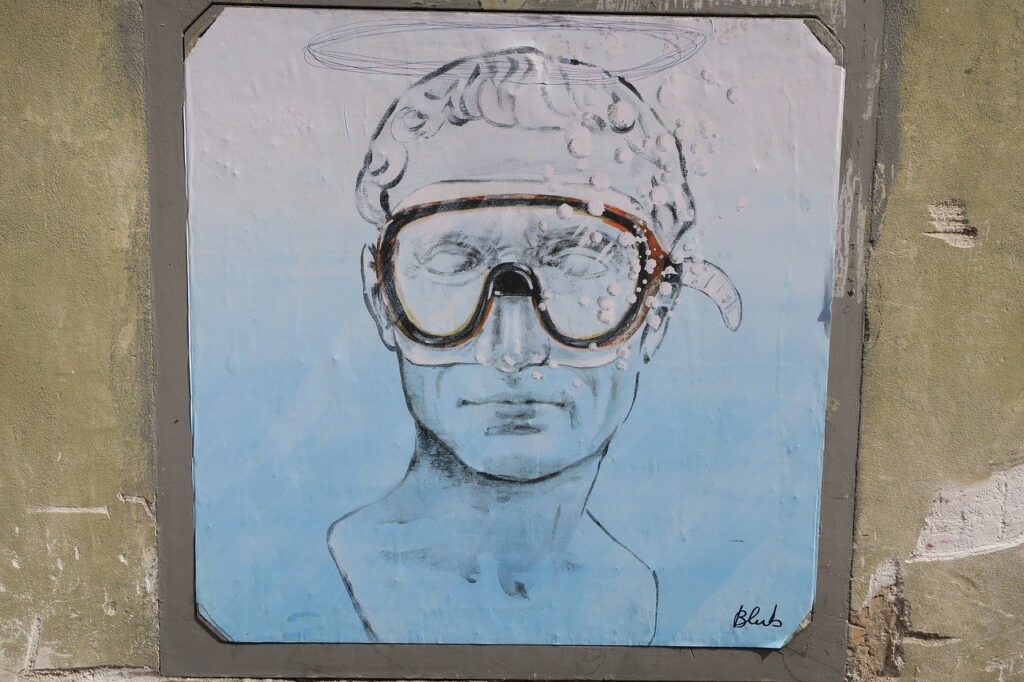 Or, another of Florence's famous street artists is Blub. Again, you'll find this artists work dotted around the city's streets. And, yet again, they all share the same characteristics: This time, it's famous figures and paintings but transformed into an underwater setting on a blue background and given an added twist by donning a diving mask with air bubbles. Yet again, kids will love trying to spot the paintings before the grown ups do and their keen eyesight normally means that they end up doing a much better job at finding them than you will!
6. Visit the Palazzo Vecchio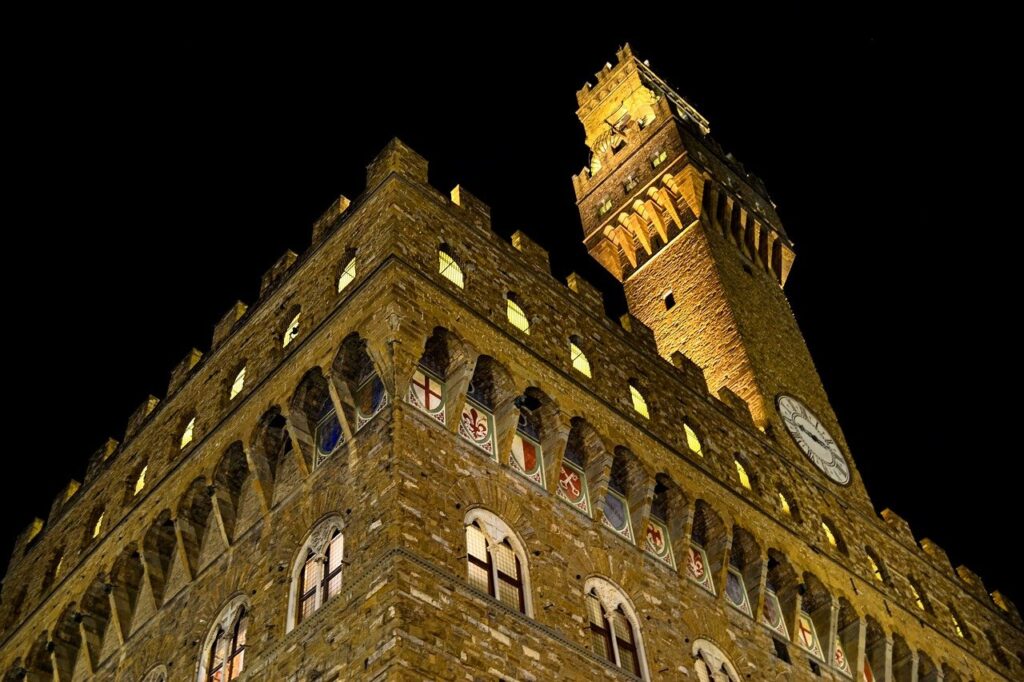 Number 6 in our guide to the Top 10 Things to do in Florence with Kids is the Palazzo Vecchio. It is home to the Museo dei Ragazzi (Children's Museum) which, as the name would suggest, is wonderfully child friendly. The museum has two small theatres, the first of which – Bia and Garcia's story telling room – is aimed at children aged 3 upwards. The other, with the more grown up name, 'Renaissance and Civilisation in Florence' is aimed at anyone aged 8 and up! The museum's 'Life at Court' program is really interactive. Actors dress up as famous characters from history and children can enjoy trying on 16th century clothes. The museum also has an art studio where visitors can try their hand at painting and where children have the chance to make their own fresco. Other activities include building a model of the Palazzo Vecchio or getting the chance to peer through a replica of Michaelangelo's binoculars. All in all, it's a great option for anyone visiting Florence with kids.
7. Eat ice cream!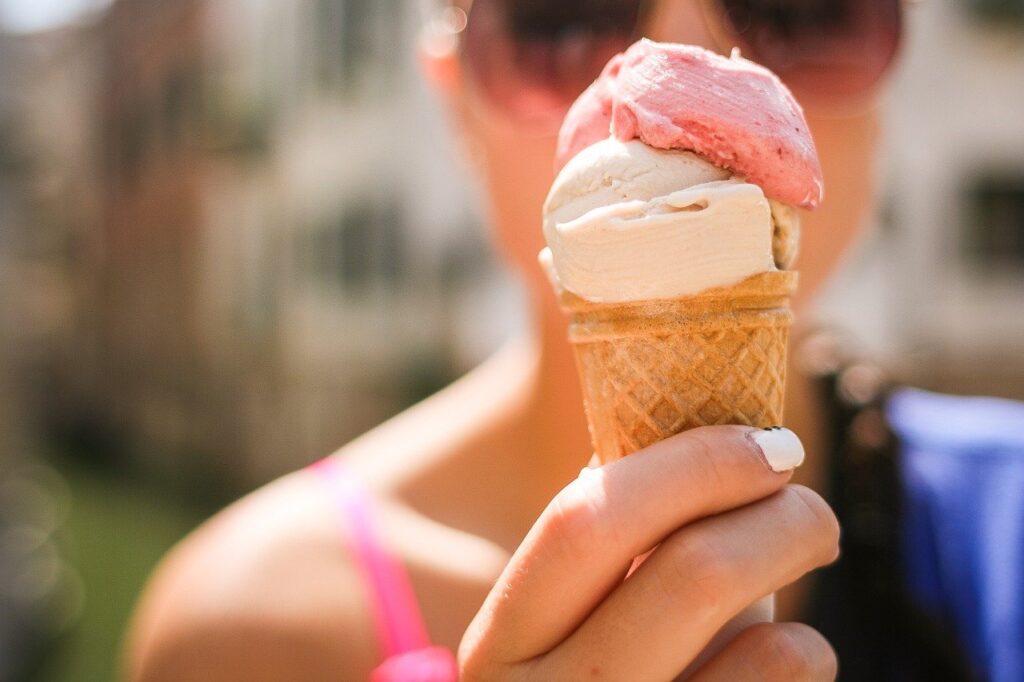 Don't underestimate the power of gelato when visiting Florence with kids! Regular gelato stops will keep up energy levels amongst all family members! According to some, ice cream was actually invented in Florence by Bernardo Buontalenti (1531-1608). The story goes that he introduced his version of the frozen dessert to the powerful Medici court. In reality, I am sure that many Sicilians will dispute these claims, arguing that the origins of gelato instead date back to Roman times, when a series of runners brought snow down from the snow-capped peaks of Etna to Palermo and Catania where it was flavoured with honey, sugar or fruit. But, wherever it originates, Florence is packed full of superb gelateria. A couple of our favourites include La Carraia and the Gelateria Artigianale Da Angelo.
Alternatively, enjoy a cooking class for kids in Florence, designed for children, where they can have a hands-on experience learning how to make not just gelato but pizza as well.
8. Climb the Campanile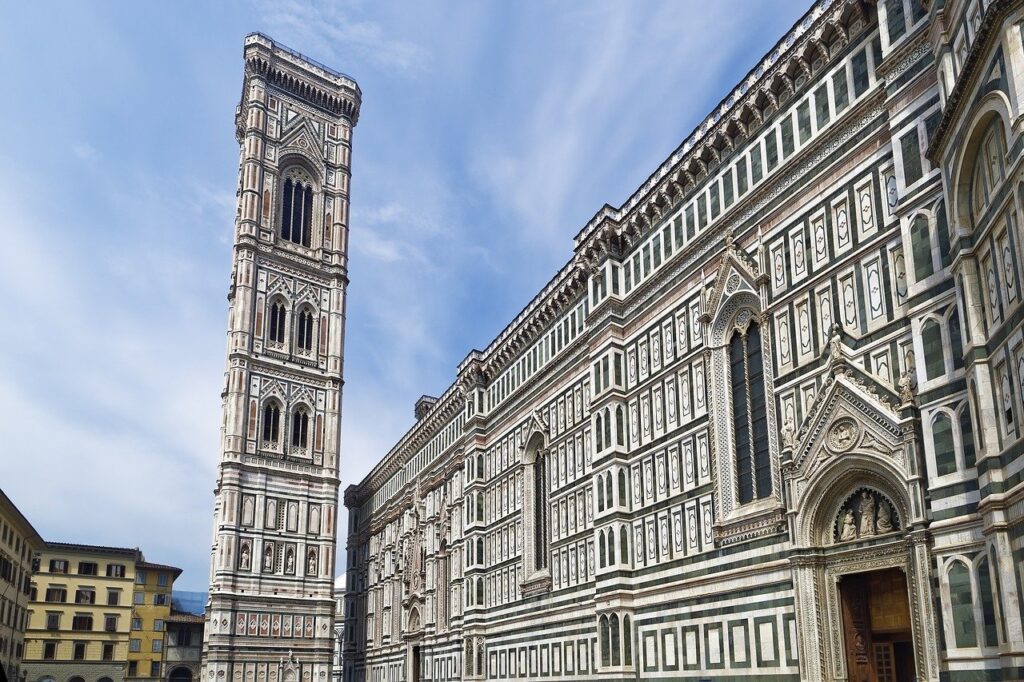 Assuming your children don't mind a bit of exercise, we find that kids love having the chance to explore Florence from a height. There are actually a choice of towers to climb in Florence, the other two being the tower at the Palazzo Vecchio and the Duomo itself but we recommend opting for Giotto's Campanile. After all, you need to be aged 6 or over to climb the Palazzo Vecchio and, unlike with the Duomo, there are intermediate decks on the Campanile where you can stop en route to rest, perfect if those little feet are going to make it all the way to the top. The Bell Tower is 85 metres high and the top is reached by climbing 414 steps but the views are well worth it. There can be no better view of the Duomo itself than from the top of the Campanile and your children will love looking through the fixed binoculars to explore the sights of Florence below.
9. Spend a few hours at the Parco Della Cascine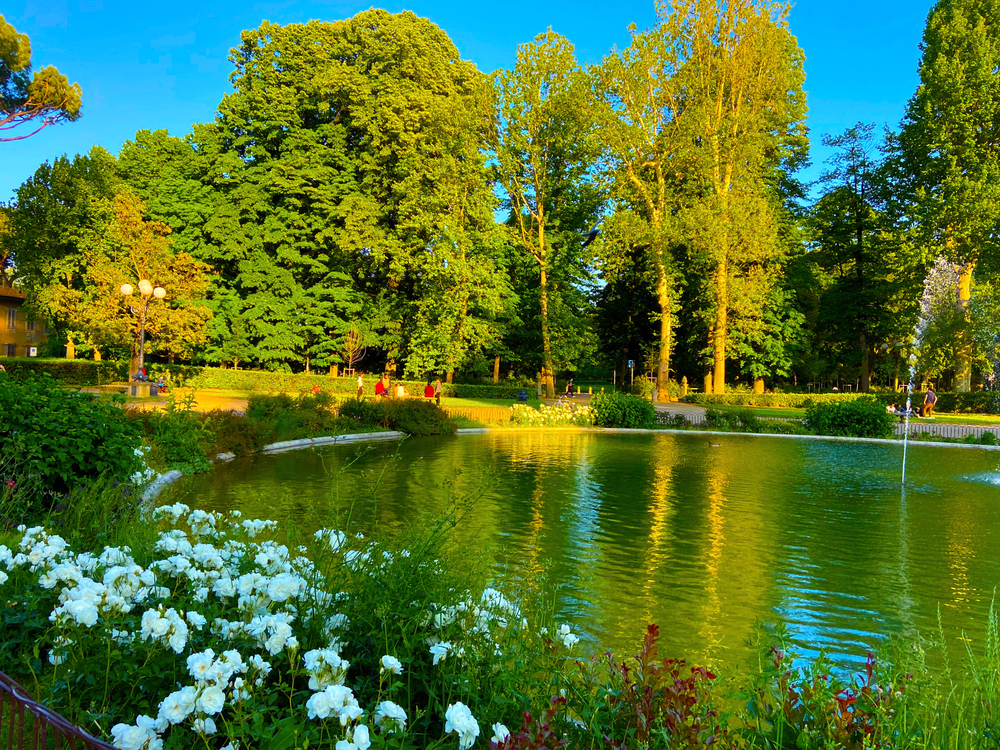 The Parco delle Cascine is Florence's largest park and is a great option for families spending a few days in Florence who have the time to take a day out of their busy sightseeing schedule. It is home to a number of different playgrounds and during the day at weekends is popular with local Florentine families who come here to rollerblade, jog, cycle and generally spend time relaxing as a family. Bikes can be easily hired within the grounds. In the Summer months, the park is also home to the Le Pavoniere swimming pool where you will find a large pool for adults and another separate kids paddling pool.
10. Visit the Mercato Centrale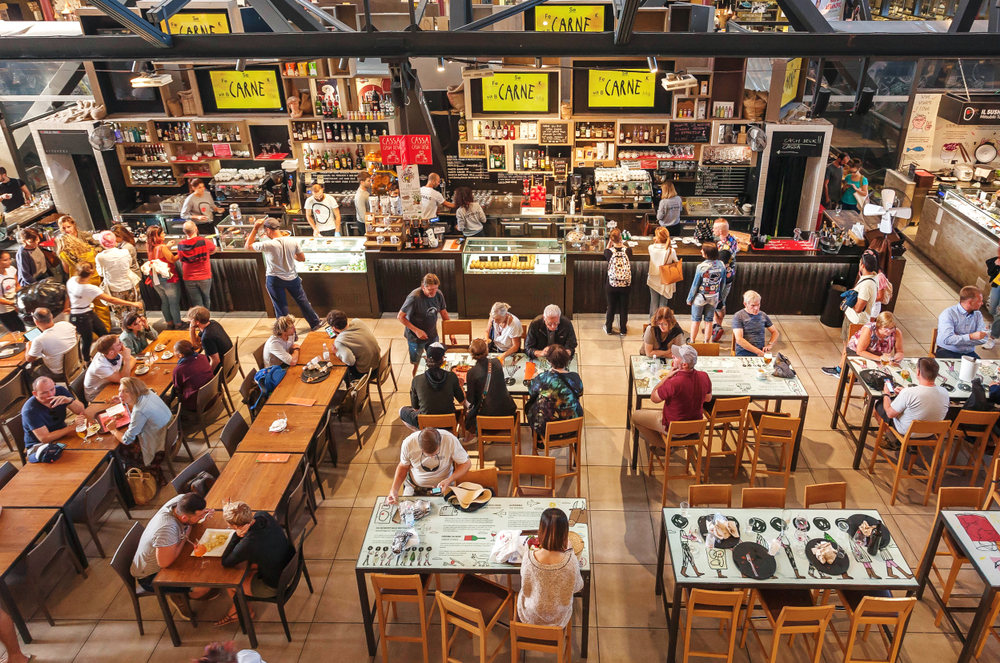 The largest food market in Florence is the Mercato Centrale and this is a great option for those visiting Florence with kids. Laid out over two floors, children will be mesmerised by the food on offer. You'll find everything from meat, poultry and fish to ham, oil and cheese on the ground floor whilst upstairs is a restaurant and bar area where you will find several food stalls selling delicious food and drink. A great hands on experience in Florence for families with kids is to enjoy a cookery class and there is also a cookery school here where you can enjoy a lesson together, as well as another pizzeria and restaurant on a mezzanine level.
We hope this guide to the Top 10 Things to Do in Florence with Kids has whetted your appetite and given you some ideas about how to spend your stay in Florence. If you're looking for accommodation in Florence for your trip, then an apartment in Florence can be a great option for families, giving you space to relax in between seeing the sights.
And remember…. If you can't resist the temptation to explore some of more 'grown up' attractions in Florence, then don't despair. You can still do so in a kid friendly way. Just do a bit more planning to ensure that the children don't get bored. For example, with the Uffizi, make sure that you pre-book your tickets to avoid queuing and make sure you have planned your route through the museum in advance, making a bee-line for those pieces you really want to see. That way, the children won't have a chance to get bored. Anything is possible if you want to travel to Florence with kids. You just need to spend a bit more time planning to ensure that the trip is equally enjoyed by young and old alike!
Book fast track tickets to Florence museums and attractions.