A family holiday on Lake Maggiore was the inspiration for Bookings For You founder, Jo Mackay, to create her Italy villa rental business. After a week on Lake Como, Jo and her family spent a week on the less well known Lake Maggiore. Whilst Lake Maggiore remains much less known than its neighbours, it is actually Italy's second largest lake and over the past 10 years, has certainly increased in popularity as families have discovered its appeal. It definitely has plenty to keep children of all ages happy and occupied and yet it continues to have enormous appeal for adult travellers too thanks to its authenticity and beauty.
This is our guide to the top 12 family days out on Lake Maggiore, perfect if you've chosen to stay in one of the Italian Lakes villas available to rent from Bookings For You.
1. Take a ride on the the zip line
The Lago Maggiore ZIPline is one of Lake Maggiore's newest family friendly attractions. It runs all the way from Pian d'Arla to Alpe Segletta, a distance of 1850 metres and with a drop of 350 metres at its highest point. The ride may only last 90 seconds, but during that time you'll reach speeds of up to 120 km per hour! This isn't for the feint hearted! With minimum height and weight restrictions, this won't be suitable for all children but those tall enough and heavy enough to enjoy the ride will be in for a real thrill!
2. Catch the tourist train!
For those with young children, we know that it can be hard to keep them entertained whilst enjoying some more adult sightseeing opportunities. But, you will be pleased to hear that many of the most picturesque lakeside towns and villages – Cannobio, Ancona and Stresa for example – have tourist trains that will take you on a guided tour allowing you to see the sights whilst keeping little ones happy and rested!
3. Head up the mountainside on one of the cable cars
We always think a visit to any of the Italian lakes isn't complete without admiring the views down over the lake from above. Lake Maggiore is no exception. There are some great views over the lake including those from the Mottarone above Stresa where it's actually possible to see not just Lake Maggiore but six other Italian lakes on a clear day. However, our favourite viewpoint which can be reached by cablecar is that from the summit of Sasso del Ferro which sits approximately 1100 metres above sea level.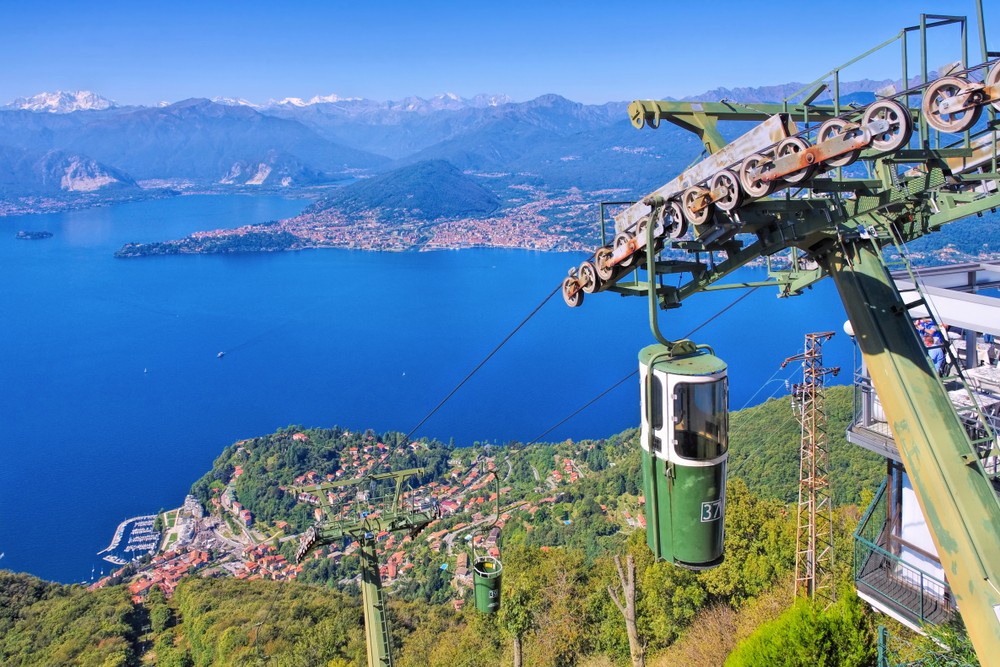 Aptly named 2 person 'bucket lifts' take you from Laveno Mombello to the summit in about 16 minutes from where you can enjoy views over Lake Maggiore as well as the pre Alps, Alps the Po plain and other lakes. These aren't for the feint hearted but are loads of fun! I have to admit that, whilst children seem to absolutely love this cable car, adults can tend to be a bit more apprehensive… you'll see why when you experience it for yourself!
4. Spend the day at the waterpark or lido
Lake Maggiore boasts a number of great lakeside beaches (lidos). At these, you will not only be able to enjoy a swim in the lake but you will also often find other facilities to enjoy too. One of the most family friendly lidos on Lake Maggiore is the Adventure Park at Baveno where you will find a swimming pool and waterslides as well as lots of adventurous outdoor activities to keep the children entertained. Another great option (albeit not lakeside) is Splash & Spa Tamaro. Located in Switzerland but easily accessible from Lake Maggiore, this is good on both wet and dry days with lots of indoor entertainment including wave pools, water slides and swim-up bars as well as outdoor pools and relaxation areas.
However, our firm favourite is the Locarno lido. It's a great place to spend a whole day with plenty on offer to keep everyone entertained including inflatable obstacle courses, four outside pools (some of which are for specific aged children) and a separate diving pool. There is just as much indoors. Here you'll find another 3 pools as well as waterslides.
5. Visit the Borromean Islands
The Borromean Islands are a group of 3 separate islands – Isola Bella, Isola Madre and Isola Pescatori – that sit just off the shore of Lake Maggiore. In fact there is a 4th island in the group – Isola San Giovanni – but this is closed to visitors.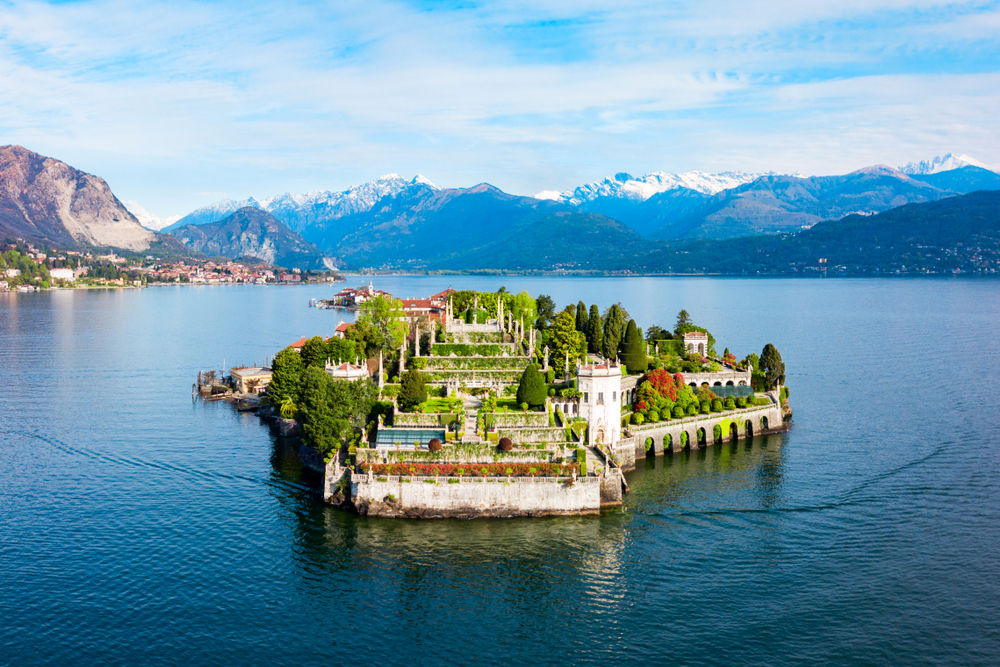 Adults will absolutely love the beauty and history behind the islands. But we find children also love exploring the incredibly ornate gardens which you will find on both Isola Madre and Isola Bella. Young children in particular always seem to have a love of and fascination for nature. They will be amazed by the gardens and will be delighted by the budgerigars that will fly above them along with the famous white peacocks that will walk around their feet.
6. Swim under the waterfalls
One of the things we love about an Italian Lakes holiday is the amount of time spent outdoors and next on our list of family friendly activities is no exception. The Cascate di Cittiglio waterfalls are a series of waterfalls near Lake Maggiore which are easily accessed via a pleasant walk from the parking area. You'll usually find that you're outnumbered by the locals who tend to spend the day here with family and friends, enjoying a BBQ or picnic after a dip in the refreshing water.
7. Spend the day at the beach
Lake Maggiore's shoreline is dotted with beaches and it's worth checking out our guide to the best beaches on Lake Maggiore to find the one nearest to your Italian Lakes villa. Most of Lake Maggiore's beaches are pebbled so it's worth investing in a pair of Crocs or jelly shoes to protect your feet from the stones. However, if you look hard enough, there are also a handful of sandy beaches too. The lake is beautifully clean and clear and perfect for swimming in wherever you go, and in most places, the water tends to get deeper very gradually making it ideal for little ones.
8. Learn some water sports
If you enjoy the water, then Lake Maggiore definitely ticks all the boxes when it comes to water sports. For younger children, you can opt to hire a pedalo, many of which have slides on the back which children always love! Alternatively, even young children can enjoy windsurfing lessons.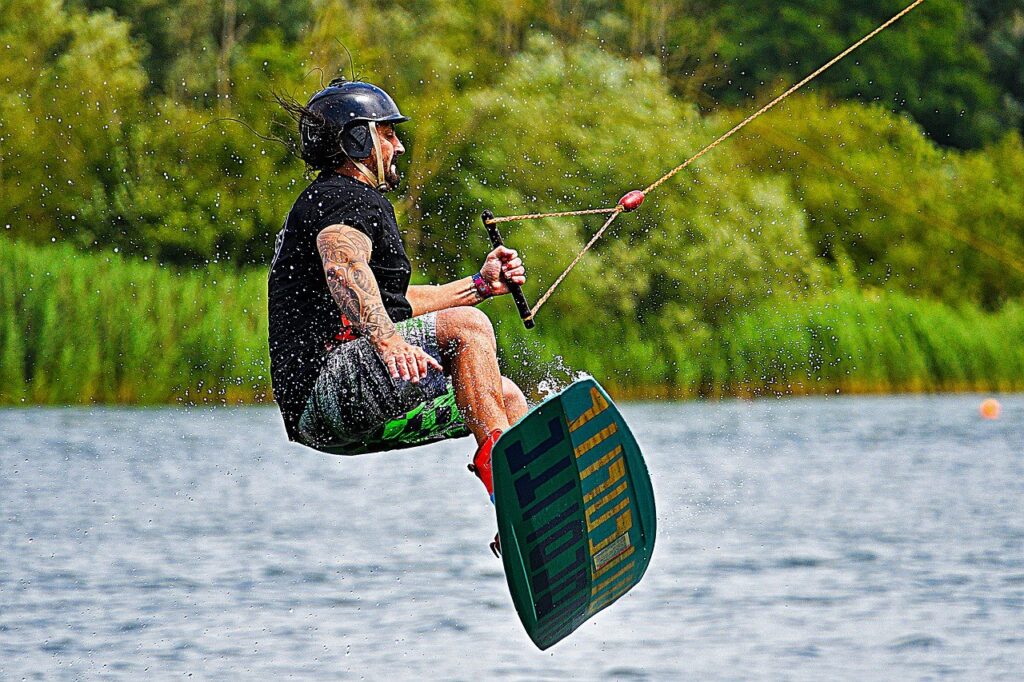 A couple of our favourite water sports schools providing lessons for children include La Darsena on the eastern side of the lake and Tomaso Sail and Surf in Cannobio on the opposite side of Lake Maggiore. However, for those that are looking for something a little faster paced, there is also the option to try water skiing, wake boarding or even hover boarding and fly boarding on Lake Maggiore.
9. Go skiing
Lake Maggiore isn't just a great family friendly holiday destination in the Spring and Summer months. It's also a great place to visit in the Winter time too. For those families wanting to try skiing for the first time, it can be a great family friendly ski destination.
Wherever you are on Lake Maggiore, you certainly won't be far from the slopes. On the Eastern side of the lake is Passo Forcora which boats a practice run about 300 metres long (ideal for novices) as well as a longer 1 km run with chair lift. Incidentally, for those too young to ski, you can also hire sledges here. Then, above Stresa there are 21 runs in total on the Motterone (10 blue, 8 red and 3 black) whilst at the opposite end of the lake above Locarno are 5 pistes at Cardada. This is also the home of the Scuola Sci Cardada (Cardada Ski School) which organises skiing and snowboarding lessons with experienced and qualified instructors for people of all ages.
Those visiting Lake Maggiore with children in the Winter months should also look out for the temporary ice rinks that many towns install, particularly in the run up to Christmas. These include the one in the Piazza del Popola Verbania in Arona as well as one in the main square in Locarno.
10. Go tobogganing!
Luckily, it doesn't have to be the Winter time to enjoy the opportunity to toboggan on Lake Maggiore. Lake Maggiore offers two options to toboggan your way down the mountainside even in the peak of the Summer! There are toboggan rides on the Mottorone which is the mountain range behind Stresa or on Monte Tamaro in Ticino.
11. Browse the stalls at the Luino weekly market
A bit of a different option but one which consistently seems to be equally enjoyed by both young and old alike is a trip to the weekly market in Luino. The market is held every Wednesday all year round (although it has less traders outside peak season). In the Summer months you will find up to 350 stalls at the market filled with merchandise from toys to leather goods, from clothes to bric a bric and from fresh fruit and vegetables to sweets.
12. Go cycling
Cycling is a great activity for families to enjoy and there are lots of opportunities to cycle on Lake Maggiore.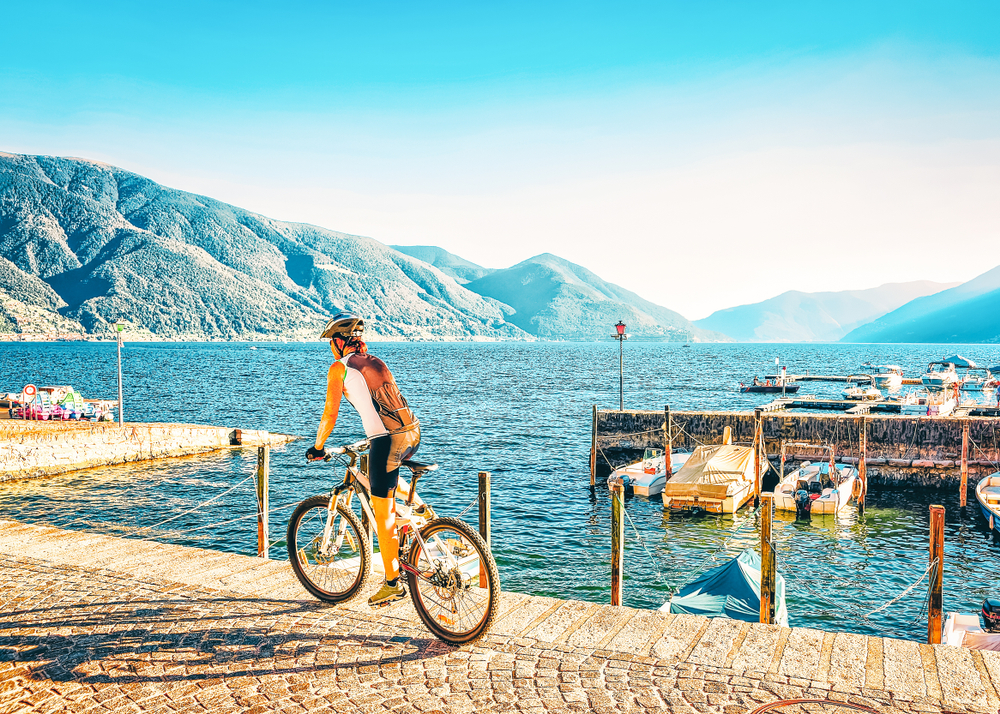 Whilst road cycling is hugely popular in Italy, we'd recommend that families enjoying a holiday on Lake maggiore opt to stick to mountain biking and off road trails simply as the lake roads can get busy and narrow in places. Those with teens also have the option of hiring e-bikes at places such as the Aqua Adventure Park in Baveno, at E-Bike Lago Maggiore in Nebbiuno or at No Work Team in Arona (as well as elsewhere).
Tempted to try Lake Maggiore for your next family holiday? Then take a look at the Italian Lakes villas available to rent from Bookings For You. We hope that we can help you find the perfect Italy villa for your next trip.