When you think of Italy's best beaches, you don't necessarily think about the beaches you'll find around Italy's lakes. However, Italy is awash with lakes. It can boast more than 1500 of them in total, the largest of which are Garda, Maggiore and Como in the North followed by Lake Trasimeno and Lake Bolsena further South. And around many of these lakes you can find some fantastic beaches, positioned to make the most of the crystal clear waters lapping at their edges. One of our favourite lakes in Italy is Lake Maggiore.
Lake Maggiore is Italy's second largest lake. Its shoreline sits both in Piedmont and Lombardy in Italy but also sits in the canton of Ticino in Switzerland. You'll find Italians flock to the shores of the lake in the Summer months, escaping the heat and humidity of the nearby city of Milan to enjoy the more refreshing temperatures lakeside and to enjoy a dip in the crystal clear lake waters which are wonderful for swimming in reaching a pleasant 20 to 22 degrees across July and August.
Lake Maggiore beaches vary enormously and include everything from charming pebbly coves to long swathes of sandy beaches and from manicured lakeside lawns to stretches of stones and gravel. Many aren't necessarily easy to spot so we've selected our pick of the very best beaches on Lake Maggiore for you to try on your next holiday in the Italian Lakes.
Angera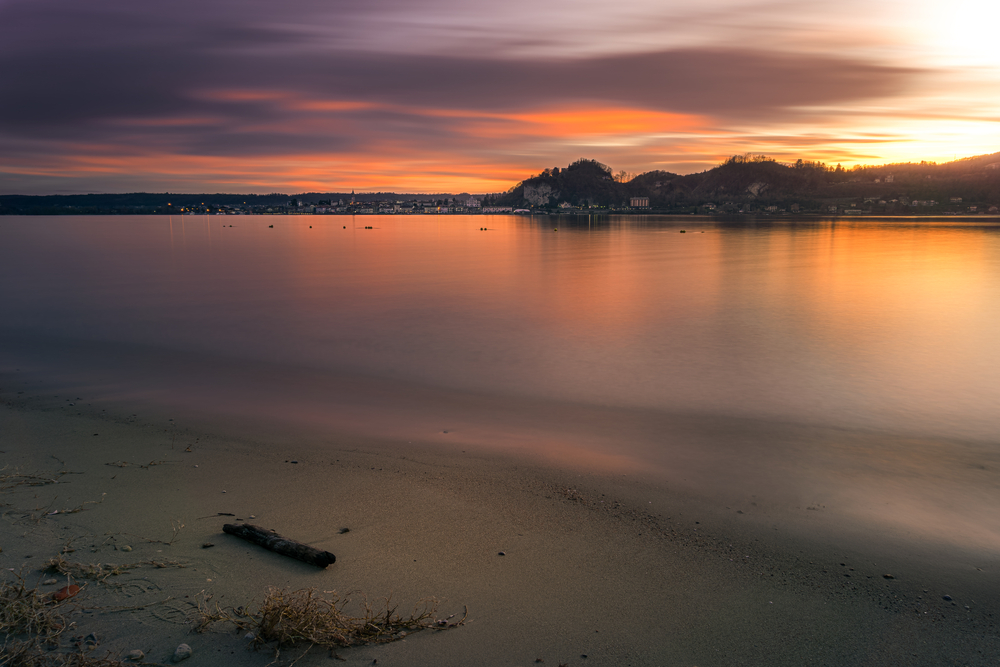 Angera is well worth a visit during your stay on Lake Maggiore. Its leafy waterfront sits on a promontory that juts into the lake and is dotted with old fisherman's housing and larger villas. The lakeside enjoys lovely views across the water to Arona on the other side. If arriving at Angera by boat, head north to reach a long shingle beach or make your way south where the lake is instead bordered by large expanses of lawn.
Don't miss out on making a trip to the Rocca di Angera whilst here. This is an extremely large 15th century castle sat atop a hill above the village.
Arona
Visitors will find a large lido at Arona's lakefront. Open during the Summer months, it's a great family-friendly option. Children will love the games and activities including volleyball whilst adults will enjoy the on-site wellness centre where there is a sauna and jacuzzi as well as treatments available. The lido offers a tiered system of fees dependent on where you sit and which facilities you wish to use. For those looking to visit, there is plenty of free parking behind the lido.
To the north of Arona is a small beach area – Le Rochette. Accessible in just 5 minutes on foot from the central Piazza del Popolo, visitors in the Summer months will find a small bar here along with parasols, sun loungers, shower and WC facilities.
Stay at this apartment in Arona and both the lido and beach will be an easy walk away.
Ascona
The lido at Ascona has a large grassy area that rolls down to a small sandy beach. It also includes play areas for children, volleyball courts and even waterslides. Entry to the lido at Ascona is free but if you do want to hire a sun bed or use certain facilities, there are small additional charges.
Baveno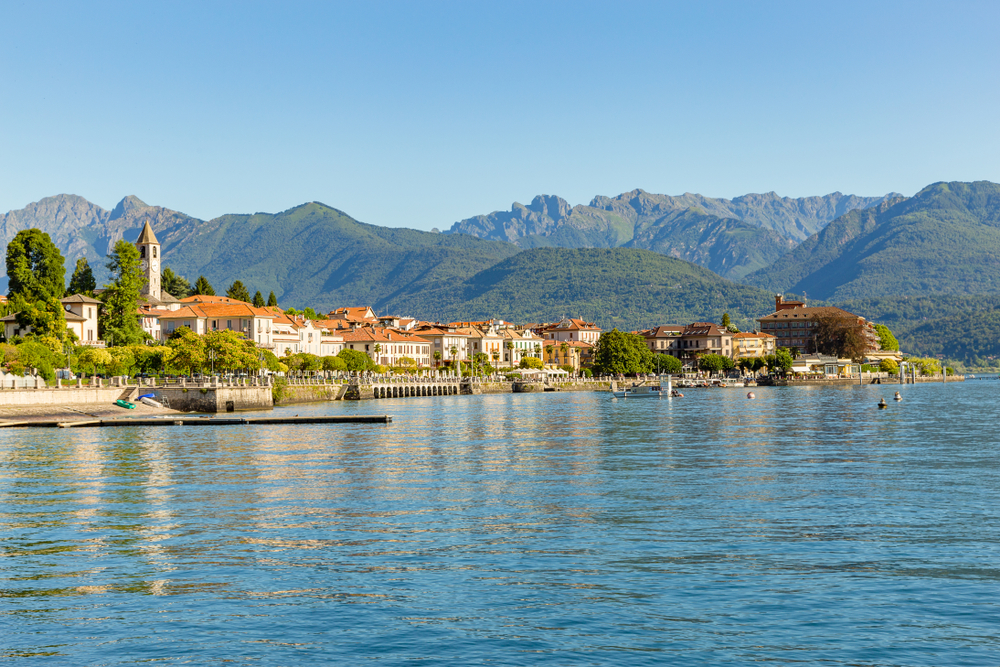 Baveno can boast a large artificial sandy beach alongside a large grassed area, with on site facilities that include a trendy lounge bar and restaurant. During the day, it's popular with families and youngsters who enjoy the activities on offer. Just laze in the sun on one of the sun beds that are available to rent, burn off some energy on the inflatable obstacle course or make friends on the beach volleyball court. The lido also offers water sports hire on site.
If you're looking for some nightlife in this area, then head down after sunset at the weekends when you'll usually find it transforms into a hip local bar, where local youngsters will dance the night away and a DJ will be in charge of the tunes.
Alternatively, there is also the Lake Maggiore Aquadventure Park in Baveno. Whilst it does receive mixed reviews, there is a lot on offer here including a swimming pool that can be covered or uncovered dependent on the weather along with 3 water slides (ranging from 60 to 100 metres in length), a climbing wall, beach volleyball, high ropes adventure courses, bike rental and more. And of course, plenty of sun beds for hire too.
This apartment in Baveno is within walking distance of the lakeside and is the perfect place to stay if you're looking to enjoy the lido here.
Belgirate
Whilst Belgirate can't boast a beach in the traditional sense, just 100 metres to the south of the town centre is a small raised concrete platform that sits between the road and the lake. This is popular with sun worshippers but, if you need to cool off from the heat of the sun then it is possible to climb down and access the water as well. An adjacent snack bar provides refreshments to anyone in need!
Head to Belgirate first thing in the morning if you want to enjoy some windsurfing. A pop-up school often operates opposite the Villa Carlotta hotel.
This Stresa apartment is the perfect option if you're looking to try the beaches in Belgirate.
Caldè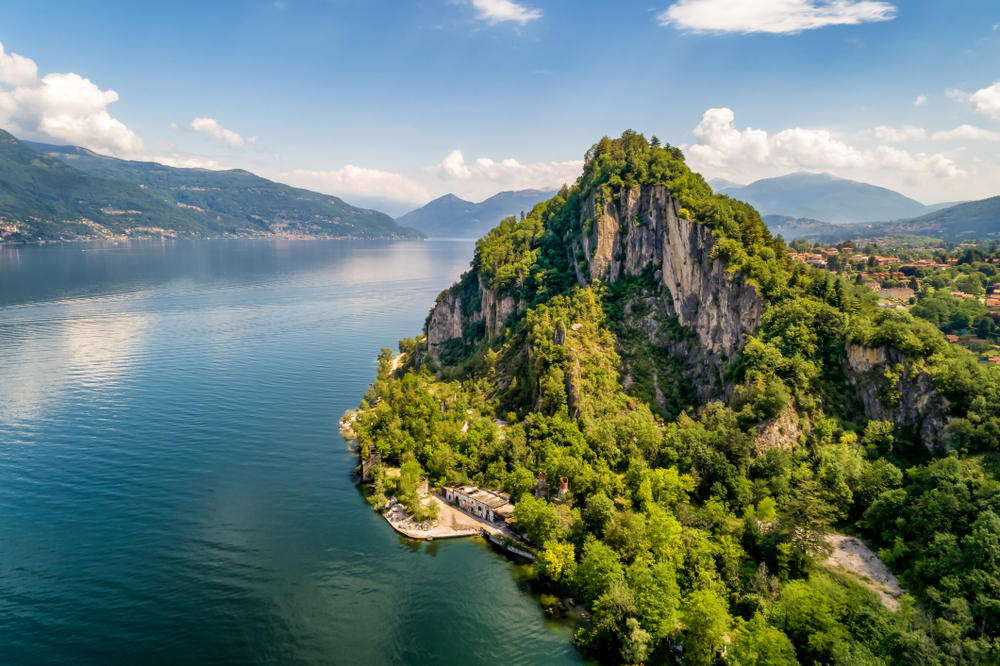 The beaches at Caldè are nestled beneath huge crags that jut into the waters of Lake Maggiore. The village of Caldè is rather picturesque, with a number of late 19th century villas giving it a rather elegant and charming feel. You'll find a string of stony beaches all easily accessible from the village centre along with a picture postcard harbour. But head a little further and you'll discover the abandoned Fornaci of Caldè (lime kilns). These are inaccessible to the public but the lakeside on which they stand is a stunning, untamed wilderness.
Whilst here, make a point of setting aside time to visit the 15th century Santa Veronica church. It occupies a prime position on a promontory overlooking the lake providing visitors with incredible views. Take a picnic with you to enjoy in the meadows behind the church and from here continue on to view the castle remains and war memorial.
Cannobio's sandy beach is bordered by a large grassy park, home to picnic tables and a children's play area. Cannobio is also home to the Tomaso Sail and Surf water sports centre, offering a host of water sports. The latter offers everything from windsurfing to kite-surfing and sailing, making the most of the constant breeze that the town enjoys and making it a popular spot with sun worshippers and water sports enthusiasts alike. The beach at Cannobio has consistently been awarded the Blue Flag (bandiera blu) for cleanliness.
Cannero Riviera
We love the beach at Cannero. If you're making your way here by boat, once you reach shore, just walk along the pretty lakeside promenade and you will eventually reach the beach. Like its neighbour Cannobio, the beach at Cannero has also consistently been awarded Blue Flag Status. However, unlike Cannobio, Cannero doesn't get any of the breeze that its neighbour does. Quite the contrary. Cannero can boast an extremely sheltered position, the most obvious demonstration of this being the fact that you will find citrus fruit trees thriving here. As a result, you won't find water sports on offer here (with the exception of pedaloes) and the beach here can get quite hot. However, for those seeking shade, there is plenty on offer in the gardens behind the beach and there is also a great beach bar and restaurant at the southern edge of the beach set below a charming citrus garden which is open all year round.
Carciano
Just north of Stresa and within a 20 minute walk of the centre of Stresa is the lido in Carciano. There is a small entrance fee to go in but it's a lovely spot with loungers laid out across artificial sand. Enjoy the views from here of the beautiful Borromeo Islands and enjoy a dip in the pool.
Cerro
A popular lakeside spot on Lake Maggiore, Cerro boasts sandy beaches lined with trees and dotted with snack bars. There is also a fishing port here where it is possible to sign up to sailing courses.
Cigognola
Popular with the locals, but big enough to ensure it is rarely over-crowded, the beach at Cigognola is a mixture of sand, stones and grass. It's arguably not as suitable a stretch of lake for swimming in though due to the presence of reeds in the water. Enjoy the views across the water to Monte Rosa in the distance. And see if you can spot the platform on the opposite shore that was once a seaplane landing stage. For history buffs amongst you, the park adjacent to this concrete platform was once the training ground for locally built fascist torpedo boats during WWII.
Dormelletto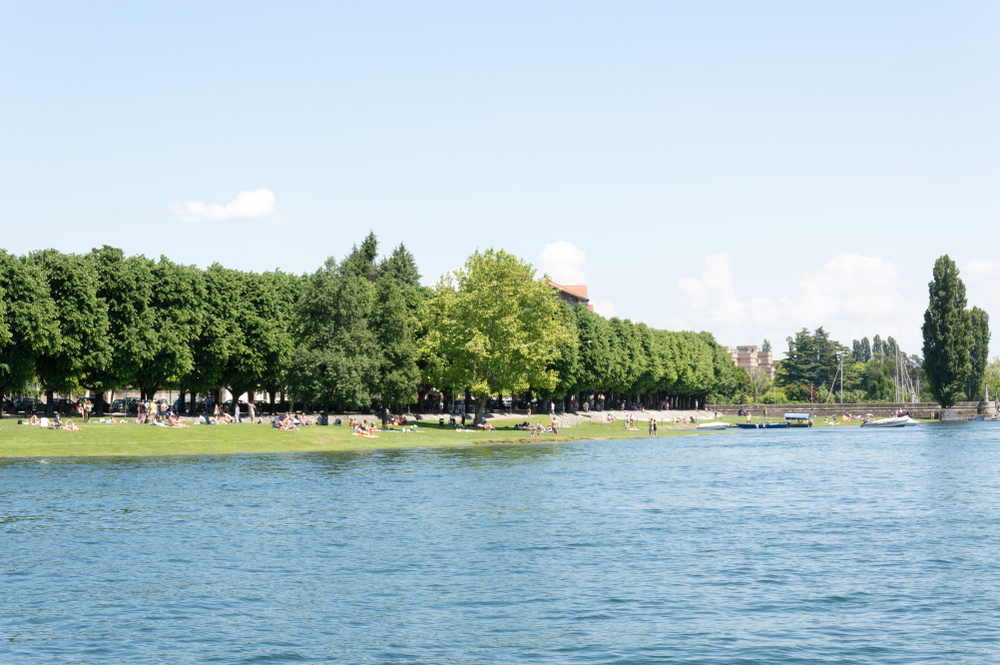 There are two beaches in Dormelletto – La Rotta and Pirolino. The latter is the town's main beach area and is a large expanse of lawn that gently slopes to the water's edge. It's very popular with a younger crowd but the water here is also perfect for those with very young children since it also only gets deep extremely gradually, perfect for splashing about in but less well suited to those looking to swim! La Rotta is also mainly lawned but there is a small sandy beach at the shoreline. This is a popular spot for nature lovers as the beach attracts an abundance of wildlife including ducks, swans and herons which often sit on the floating jetties scattered in the water. Sun bed rental is possible at both beaches and both have cafe bars for refreshments. Pirolino also has a volleyball court whilst La Rotta has a playground and boat rental firm on site.
Feriolo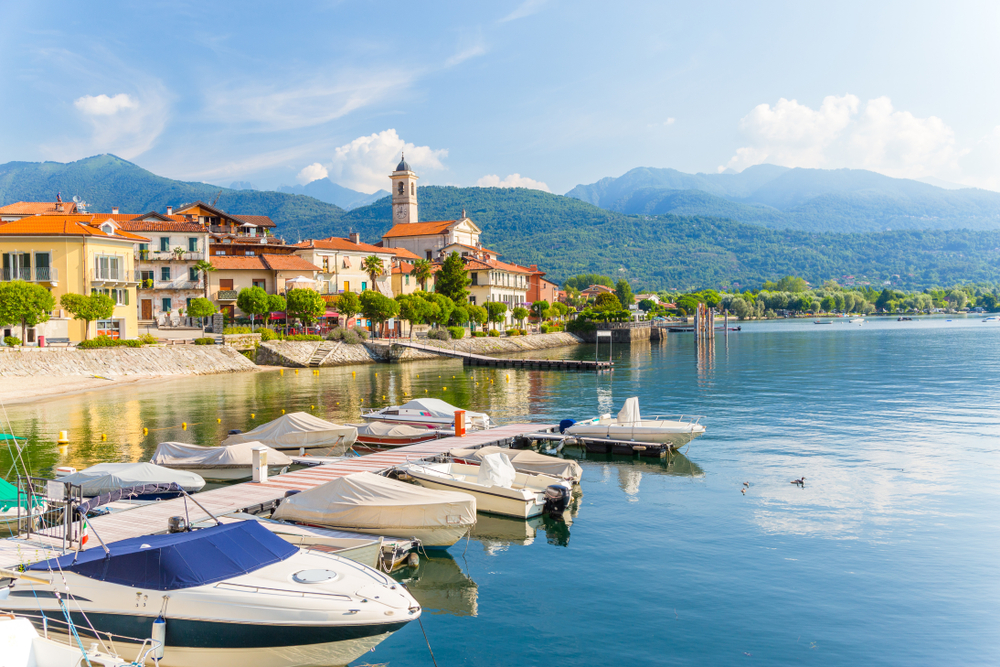 One of the few places on the lake that can boast a sandy beach, Feriolo is a great option for those with younger children who expect to be able to build sandcastles on their trip to the beach!
Isolino
The beach at Isolino is set within a nature reserve and is characterised by fine, white sand set in front of woods. It's a picturesque setting. But, don't expect to have it all to yourself in the Summer months. A campsite a few hundred metres along the shore means this isn't a beach that can easily stay a secret! To access the beach, follow signs for the Isolino campsite. Park up at the end of the straight section of road and walk on foot along the path until you reach the sand.
Ispra
Ispra can boast one of the longest stretches of waterfront promenades anywhere on Lake Maggiore and has a number of beaches to try offering everything from lakefronts that stretch into manicured lawns to rocky coves and even a small sandy beach too. A cycle track will take you past the dilapidated old limestone kilns at the Fornaci beach until you eventually reach Ranco.
Stay at this villa in Ranco and you will be able to enjoy this waterfront promenade on a daily basis!
Lesa
One of the things we love about Lake Maggiore is the plethora of lidos on its shores and Lesa is no exception. The lido at Lesa is part of a larger sporting complex that can also boast tennis courts, a gym and restaurant. The pool itself is a good size and has the added bonus of both a spring board and high diving board to enjoy.
Lesa also has three beaches, one of which is well organised with a number of on site amenities. We quite like the small triangular beach just 10 minutes walk from the centre of town. Otherwise, there is the Castellaccio beach which is a tiny, rocky beach but, be warned, it can be a little painful underfoot! The Erno beach is the largest of the beaches. Considerable investment has been made in this beach and a substantial amount of artificial sand brought in to create a welcoming, popular beach with plenty of parasols, sun beds and other facilities to enjoy. As in Baveno, you'll find it home to a livelier, younger crowd at night.
This Lesa apartment boasts its own pool but is also only a few minutes from the lakeside if you fancy trying out the beaches in Lesa instead!
Locarno
One of the other things that we love about Lake Maggiore is its lidos and we think that the lido at Locarno is probably the best there is. As an added bonus, it is also open throughout the year and in all weather conditions, with numerous indoor and outdoor swimming pools. These include an Olympic size swimming pool, outdoor thermal pool (which you can enjoy even when there is snow on the ground), play pool with water effects and 4 water chutes. These cater for all tastes. There's the Melezza Blackhole with light and sound effects (6 years +), the Isorno Whitehole (6 years +), the Verzasca Abyss (8 years+) and the Looping slide (12 years +). Apparently, the slides are inspired by the many rivers that feed Lake Maggiore. In addition, the lido has a gym and café which overlooks the pools and lake and serves everything from morning coffee to dinner in the evening. For those looking for the ultimate in relaxation, there is also an adjacent spa here too.
Maccagno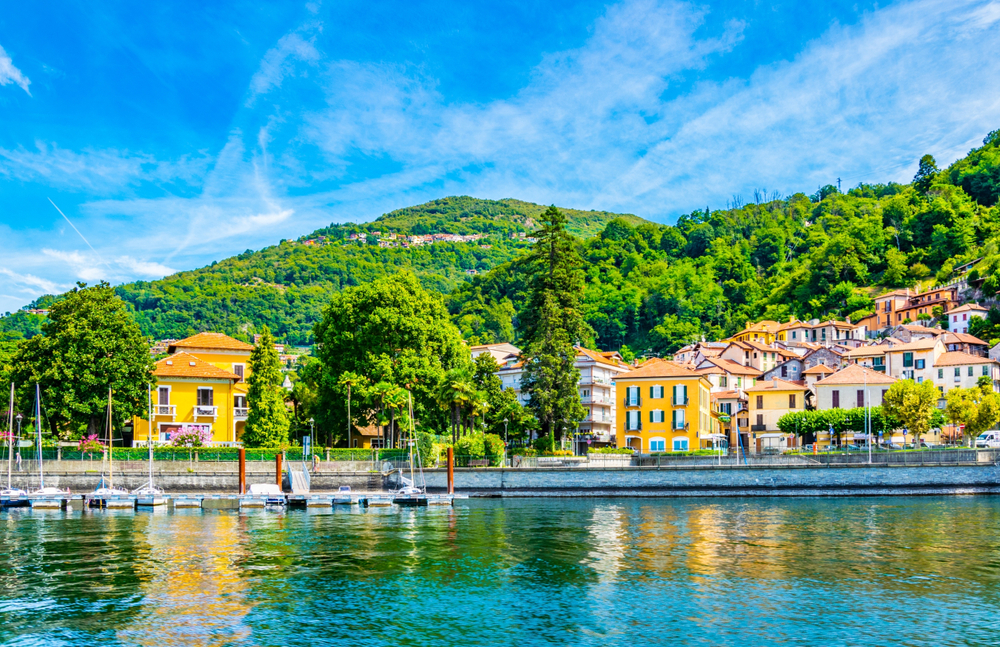 A very popular beach with the locals, the main beach at the Parco Giona in Maccagno is pebbly but bordered by large grassy areas. However, the beach stretches nearly 1.5 km in total from the Maccagno boat stop to the Golfo Gabella lake resort. Maccagno's popularity with families is boosted by the additional facilities on site – a couple of restaurants on the shoreline, a children's play park, volleyball courts and skateboard ramps are all on offer as is boat, pedalo and canoe hire. Insider tip: Head to the beach next to the boat stop at sunset for a swim. It's an absolutely idyllic time of night to enjoy the lake water.
This Maccagno apartment sits directly across from the lakeside beaches and is the perfect base for your Lake Maggiore holiday.
Meina
Meina can boast a lido similar to the one in nearby Lesa but with the added advantage of being directly on the lakeside. The pool here is set within substantial gardens area and there is a cafe and snack bar providing refreshments. It's extremely popular with the locals so expect it to be busy at weekends.
Otherwise, just south of the centre of Meina is a good sized beach which is a mixture of stones, gravel and grass. There aren't any amenities here but it's a good option if you just want to sunbathe and enjoy access to the water. And it's only a short walk from the not long established 'Meina Beach' where you can enjoy a bite to eat as well as hire sun beds and enjoy the sunshine in a rather more glamorous setting!
Not only is this villa in Meina within walking distance of the lido but it also boasts its own private beach area with lake access, shared only with the other residents of the road.
Stresa
Stresa can boast a handful of small pebbly beaches accessible from the centre of town. If you're looking for somewhere to spend the day, then instead look at Lido Blue which sits opposite Regina Elina or walk 20 minutes north from the town to the
If you're looking for an all-day beach destination you could try Lido Blue opposite Regina Elena. It offers the full range of facilities including a wonderful retro style bar/restaurant where you can sit and watch the world go by. Alternatively, head south of the town to Lov Bar opposite the entrance to Villa Pallavicino which tends to be quieter. Lov Bar is also a good option for those who want to take their pets to the beach with them as dogs are welcome here.
This apartment in Stresa is a great option for those looking to enjoy the beaches in Stresa.
Suna
Suna offers free access to its beaches but there is a small fee if you're looking to make use of the large scenic lakeside pool which is also on offer here. The spot is south-facing so it will enjoy plenty of sunshine. It's a popular spot in the Summer months and can get busy at weekends across July and August.
Stay at this luxury Lake Maggiore villa within walking distance of the lakeside at Suna.
Valle Maggia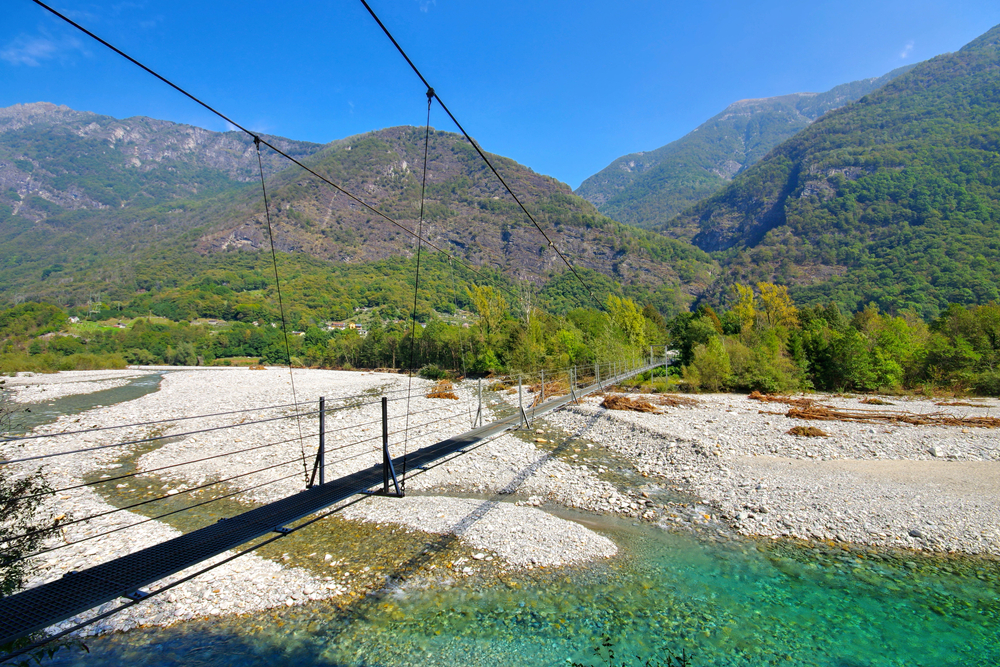 Another great way to enjoy the water is by taking a visit to Vallemaggia. Whilst not strictly lakeside, Vallemaggia is one of the valleys that leads from the mountains down to the lake and the destination offers visitors the chance to swim in the river. Parking meters are positioned along the side of the road offering places to leave your car. But do be careful. The river can have strong currents and the warning signs all along the road will bring this to your attention. If you do have young children it's definitely worth stopping near to the bottom of the river as there are some great sandy beaches and shallow waters perfect for paddling. The sandy beach here is a good option for those looking to build sandcastles too so don't forget your bucket and spade!
Valle Verzasca
Sitting next to Valle Maggia is Valle Verzasca. Valle Verzasca is also definitely worth a visit, particularly on a hot sunny day. Where here, may a point of visiting the Verzasca Dam which features in the opening sequence of Goldeneye. Driving on up the mountain from the dam, there are parking spots which give you access to the river. The river is fantastic to swim in and the setting is absolutely idyllic but, again, please do be extremely careful. The currents can be very strong and the water can be icily cold at certain times of year. You will need to be on your guard, especially with young children. You'll notice the warning signs all around the car parking areas.