A family villa holiday in Umbria offers plenty for all the family to enjoy but, at first sight, it's not necessarily easy to find out what's on offer for those with children so we decided to share our list of the best family activities in Umbria so you can make the most of your stay in this incredibly beautiful Italian region.
1. Enjoy water sports on Lake Trasimeno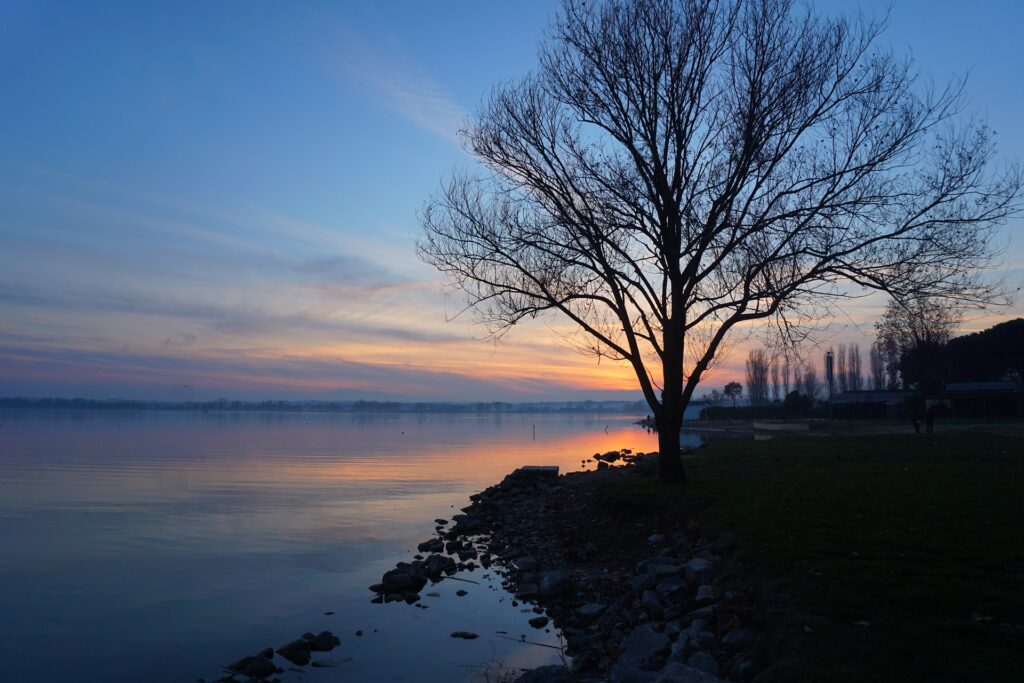 Whilst Umbria may be landlocked and unable to boast its own coastline, it doesn't mean that you can't spend some time on a beach during your Umbria holiday. Far from it! If you fancy spending time on the sand and in the water, then it's definitely worth heading to Lake Trasimeno. This lake is extremely shallow (around 5-6 metres deep at most) which means that it's always lovely and warm to swim in during the Summer months. It's also a great place to try some non motorised water sports. Hire a canoe, try your hand at windsurfing or practice your skills on a stand up paddle board (SUP). If you think SUP is a solitary sport, then think again. Boards accommodating 8 adults at once are available for hire and it's even possible to enjoy yoga lessons on an SUP too!
Whilst you're at the lake, why not take an organised boat trip to one of the islands within the lake? There are three islands in total on Lake Trasimeno – Isola Maggiore, Isola Polvese and Isola Minore. Boats leave from Passignano, San Feliciano, Tuoro and Castiglione del Lago to the first two however the latter is privately owned and access is forbidden to the public. There is a rather lovely walk you can enjoy around Isola Maggiore. The island's perimeter is only around 2 kilometres and so the walk is easily managed by even young children.
2. Go wake boarding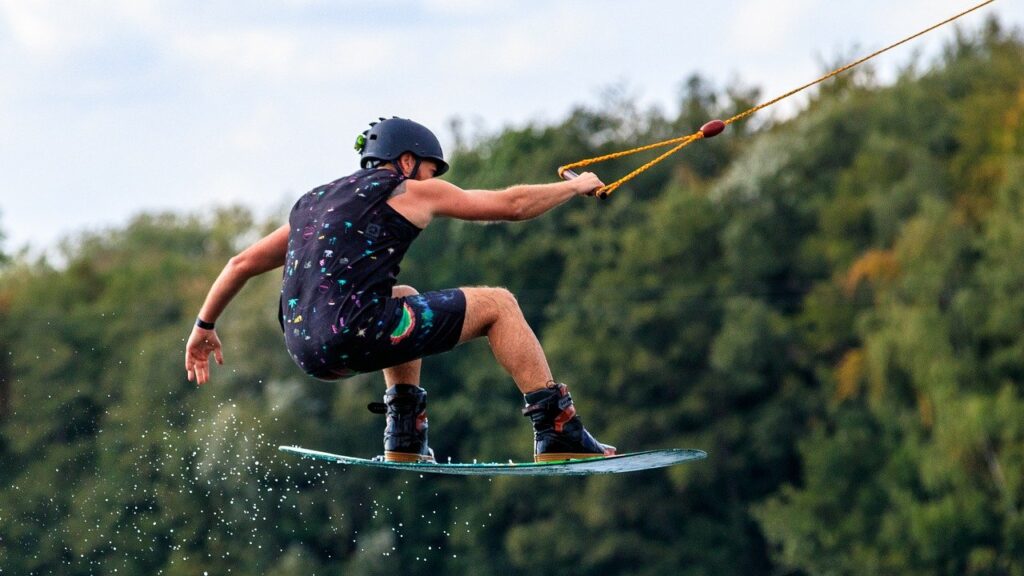 Head to the Perugia Wake Park to try wakeboarding. With cable wakeboarding facilities in place on an artificial lake, the facilities are suitable for both the youngest beginner as well as experienced wake boarders. For those that don't want to participate, there is a spacious relaxation area with sun loungers and comfortable seating.
3. Head to the waterpark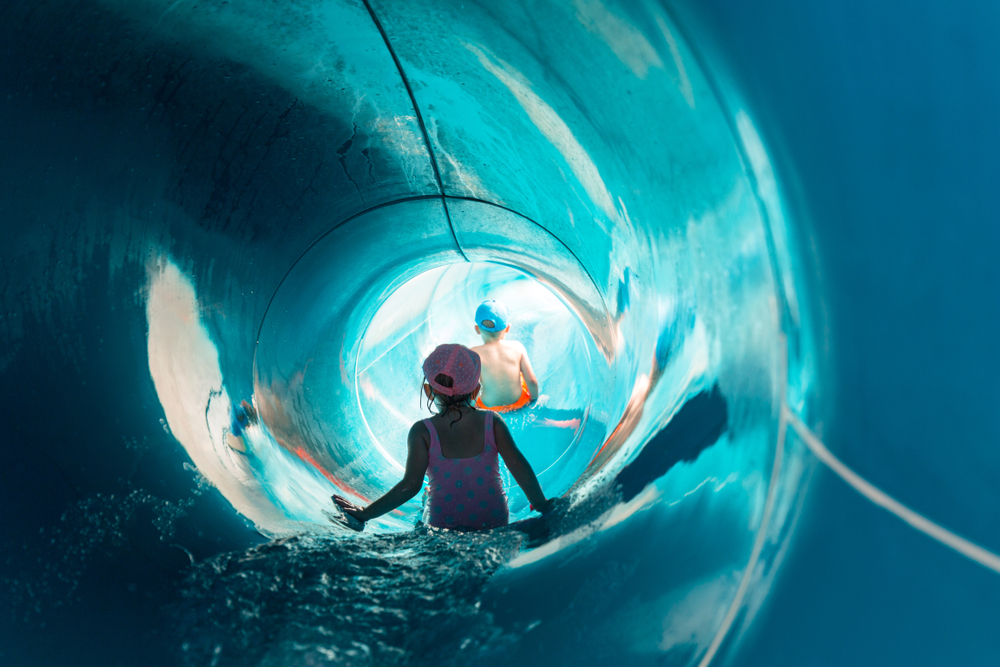 Continuing on our watery theme, then there are a couple of waterparks to be enjoyed during a holiday in Umbria. The first is found at Tavernelle, just west of Perugia. It's a great little waterpark. Whilst it may not boast the terrifying thrill rides that some larger waterparks may have, there are still a number of fun slides, diving boards, a large swimming pool and separate pool for younger children. There is certainly plenty to keep the kids entertained for the whole day. Alternatively, there is the Laguna Water Park in Magione or Flex Beach near Foligno.
4. Explore the Fossil Forest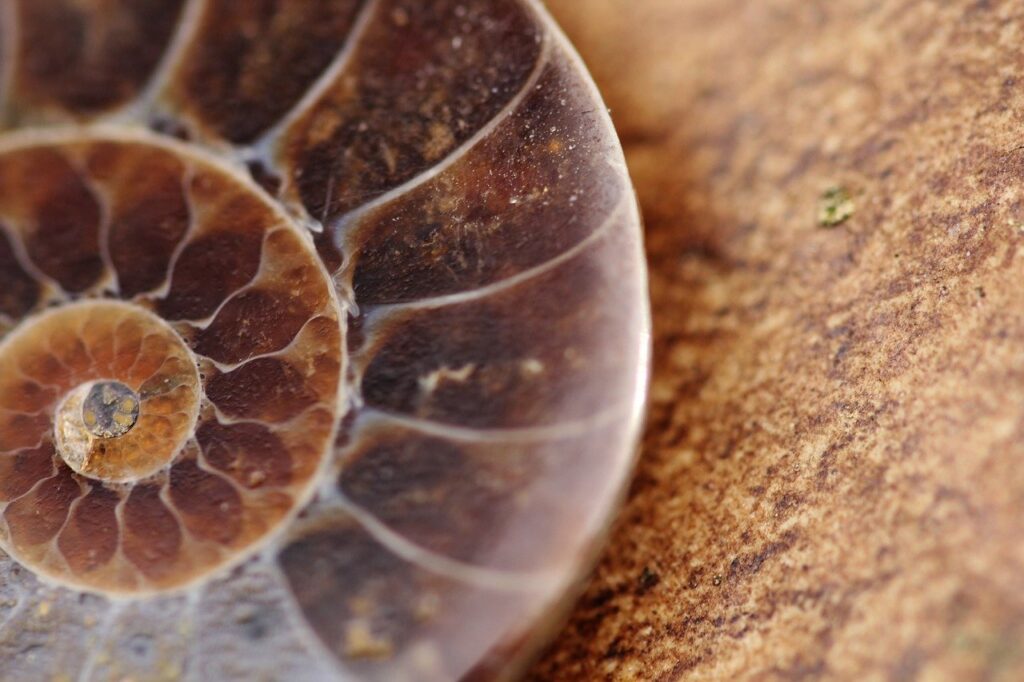 For a more educational day out on a family holiday in Umbria, you may want to consider a trip to the Fossil Forest. Home to a petrified forest of a species of giant sequoia over 2 million years old, what is most unusual about this site is that the trees are still standing upright, preserved as they were in clay, rather than lying horizontal as in other fossil forests. The largest specimens are up to 10 metres tall and 1.5 metres wide.
5. Learn about the Romans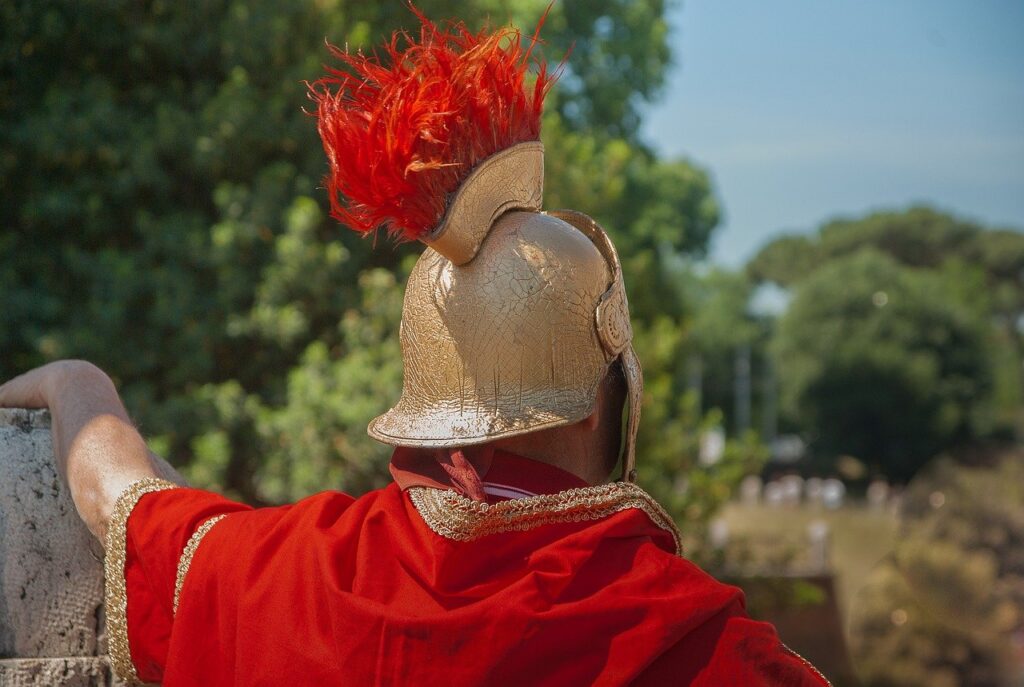 Umbria is home to plenty of ancient history so it's a great holiday spot to learn more about the Romans. Head to Spello to visit the recently created museum, home to some extremely well preserved mosaics. Or head to Amelia where your children can get a real glimpse into life in Roman times by visiting the underground Roman Cisterns. Or visit Carsulae to see the Roman remains there. Watch the video before seeing the remains which will make it easier to piece together a picture of how the ancient city would have looked in its heyday.
6. Spend the day at an amusement park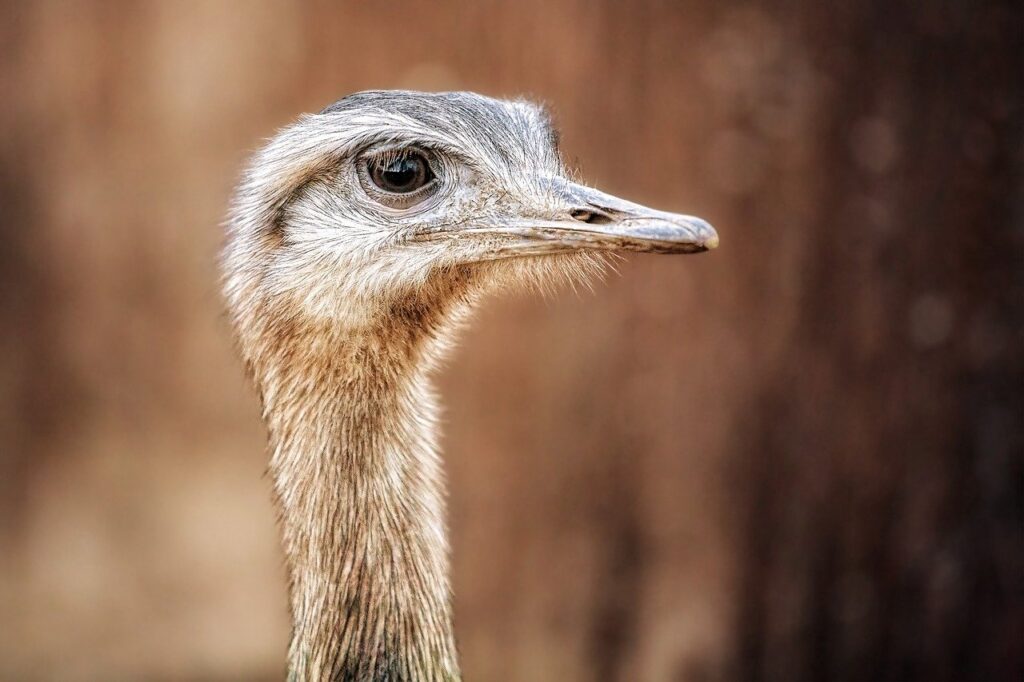 For something a little more light-hearted, why not head to Italy's oldest amusement park just outside Perugia. The Citta della Domenica park is inspired by fairytales so it's home to Pinocchio's village, Sleeping Beauty's castle and Snow White's House. The park also has plenty of traditional amusement park rides such as a merry-go-round, karting track, maze and slides as well as an Indian village and fort, boating lake and train ride. The park is also home to numerous species of animals and birds from kangaroos to buffalos and yaks, and from reindeer to ostriches and antelope. Although perhaps the park's most famous resident is the Asinara donkey, a white species of donkey with blue eyes that the park saved from extinction. There is also much to be seen in the reptile house and aquarium within the park grounds.
7. Eat chocolate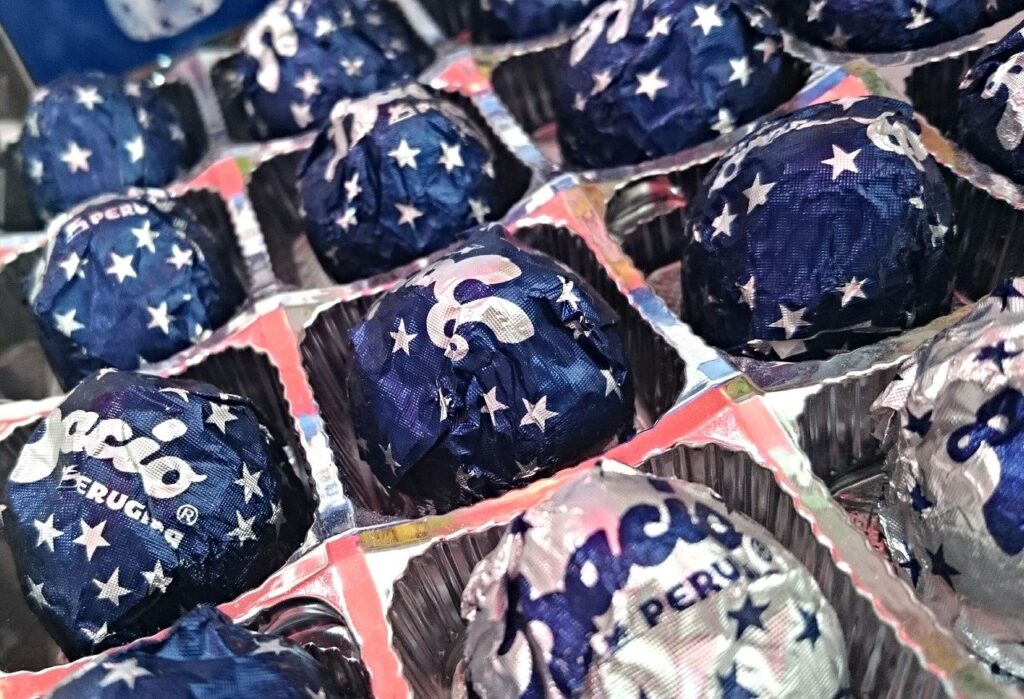 Very few children can resist the lure of chocolate and Umbria is home to one of Italy's most famous chocolates – Baci (Italian for 'kisses'). The chocolate consists of a hazelnut centre covered in creamy milk and dark chocolate and topped with a hazelnut. Visitors can enjoy a tour of the Perugina factory where production of this decadent chocolate treat takes place. You'll be pleased to hear that the tour includes plenty of complimentary tastings as well as a trip around the museum and views over the factory floor via a raised walkway so you can see the chocolates being made.
Visit in October and you'll be in for an even bigger treat! Every October, Perugia hosts Eurochocolate, an annual 9 day long festival that revolves around this sweet treat. The historic centre of Perugia is filled with some of the best smelling chocolate stalls you will ever have come across!
8. Enjoy a real life fairytale experience at the Osteria di Pinocchio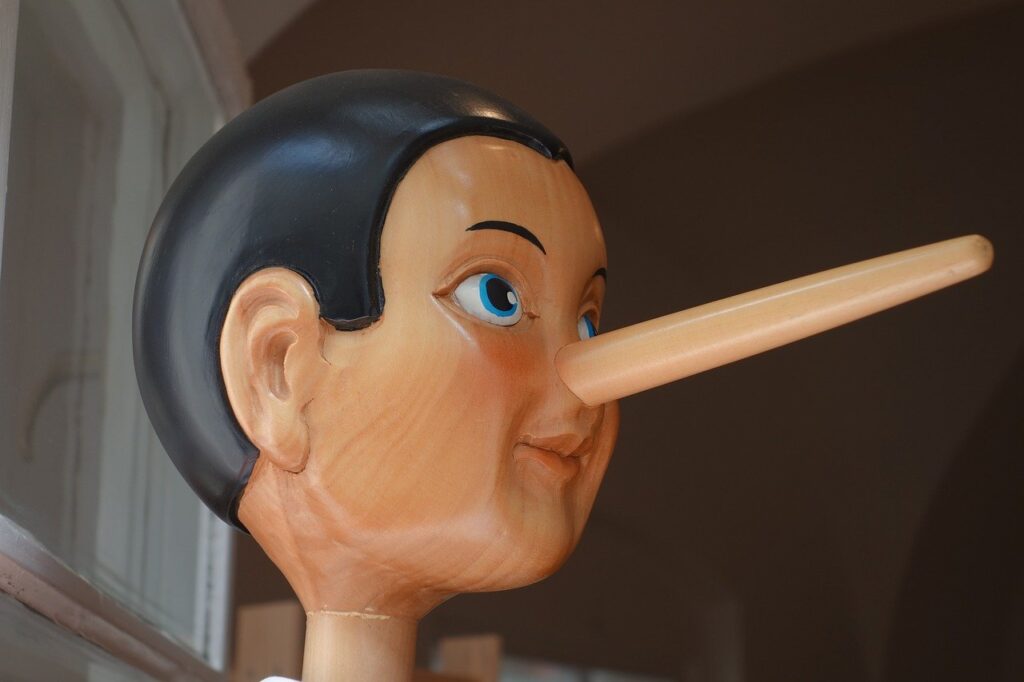 For a completely different family eating experience in Umbria head to the Osteria di Pinocchio in Perugia. As the name would suggest, the restaurant is themed around this famous wooden puppet. The owners ethos is to offer great quality food but to combine this with games, activities and entertainment for children so they can expect to meet all the characters including Gepetto, Jiminy Cricket as well as Pinocchio himself.
9. Go crazy in Gubbio!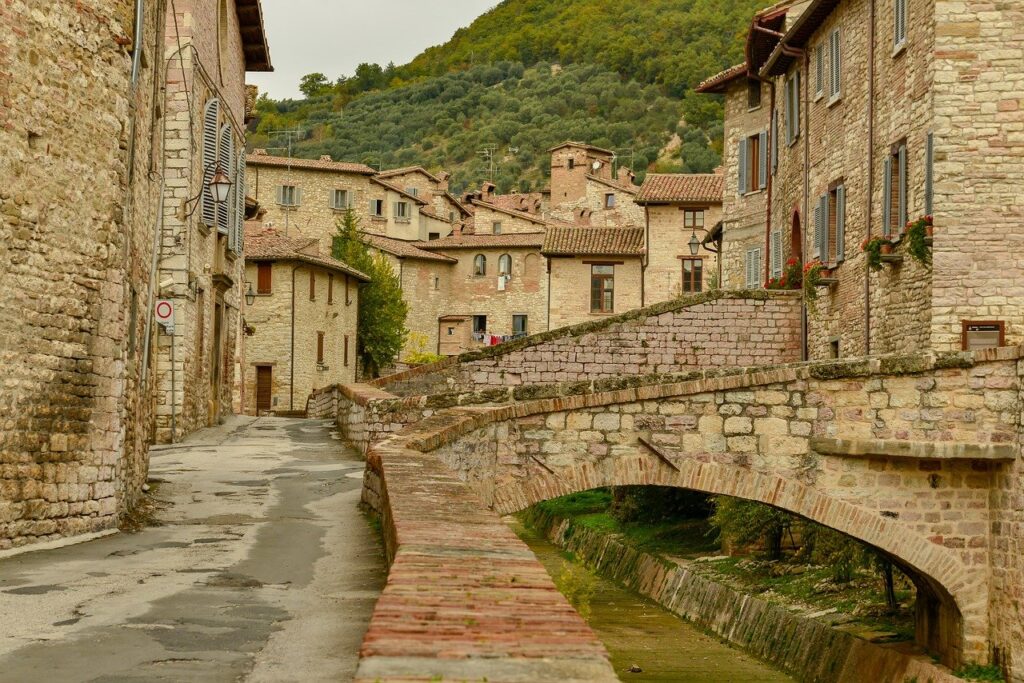 Gubbio has the nickname of being 'the City of the Fools' and the reason why is simple. Head to the 'Fountain of the Madmen' (Fontana dei Matti), walk around it three times before being baptised in the fountains' waters, and you can can officially get a license proclaiming you to be a 'madman of Gubbio'! OK, you'll need to be a native citizen of Gubbio to officially perform the ritual but visitors can still purchase an honorary citizenship and children will delight in being awarded with the parchment from the Congregation of the Mad!
Whilst you're here, take the opportunity to head up Monte Ingino. Just be warned, the metal baskets that whisk you up two at a time feel pretty precarious so it isn't for the feint hearted! Although we tend to find that it's the adults that are scared not the kids! The grown ups will love the tremendous views to be enjoyed from the summit though so it's well worth braving the journey!
10. Run around the Park of the Monsters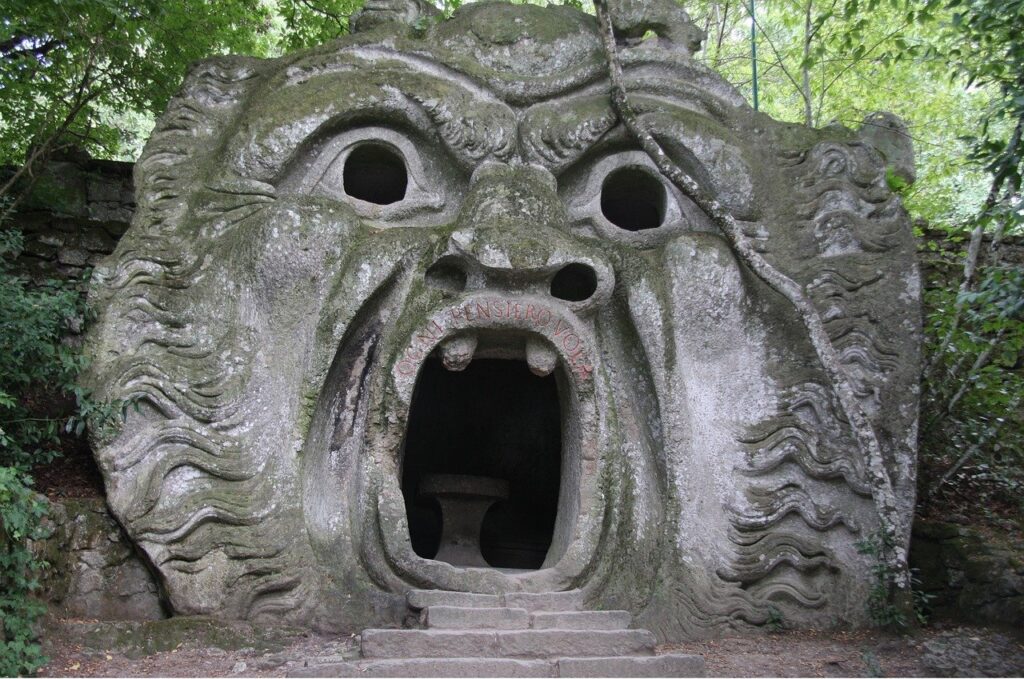 Young children always need somewhere to run around and let off some steam and there is no better place that in the rather unusual 'Parco dei Mostri' (Park of the Monsters) in Bomarzo. OK, this tourist attraction isn't strictly in Umbria. It's actually half a dozen kilometres over the border in Northern Lazio but we couldn't resist including it. This strangest of gardens, populated by a plethora of ogres, dragons, giants, mythical creatures and animals is a delight for both children and adults alike.
11. Marmore falls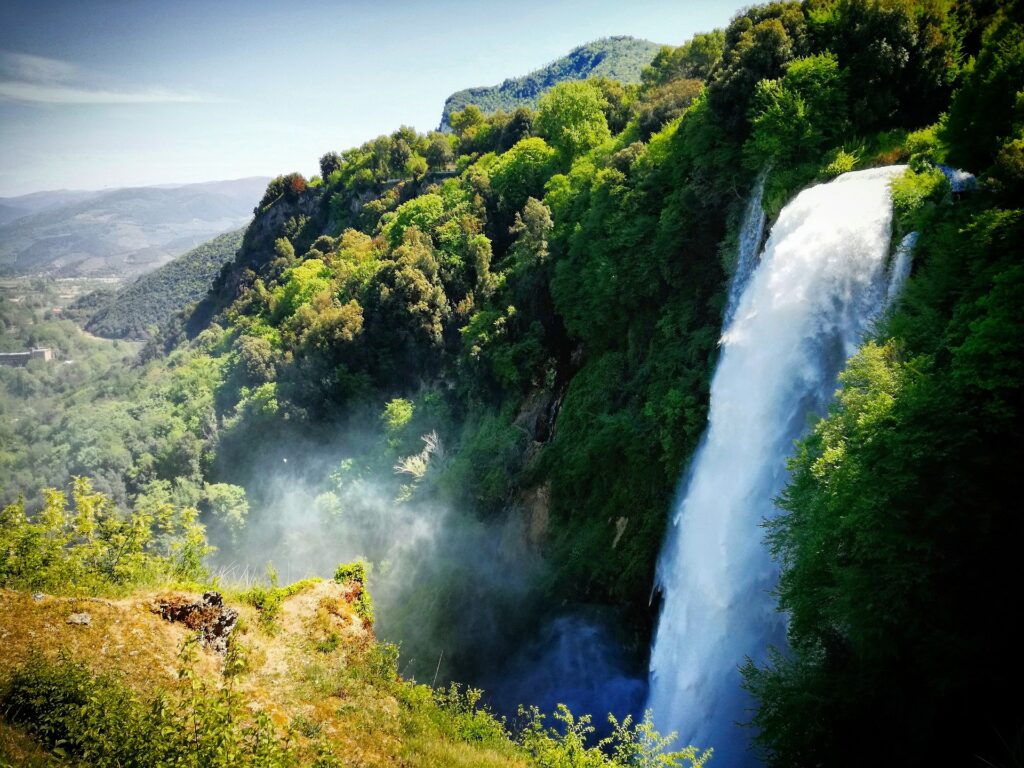 The Cascate delle Marmore (Marmore waterfalls) are the largest man-made waterfalls in the world and the second tallest waterfalls in Europe with water cascading down a drop of 165 metres. There are a number of different paths from which you can explore this impressive site but, be warned, most are bumpy and uneven so not potentially suitable for those with young children and certainly not pushchair friendly. If you do head there, one of our favourite routes includes a visit to the 'lovers balcony' which children tend to enjoy the most as it's a chance for everyone to get soaked by the spray from the waterfall! So do bring waterproofs! Another word of advice: Make sure you check the website ahead of your visit to ensure you are there when the waterfalls are switched on. It's a bit disappointing visiting without the water flowing through it!
12. Get lost in the chronicles of Narni(a)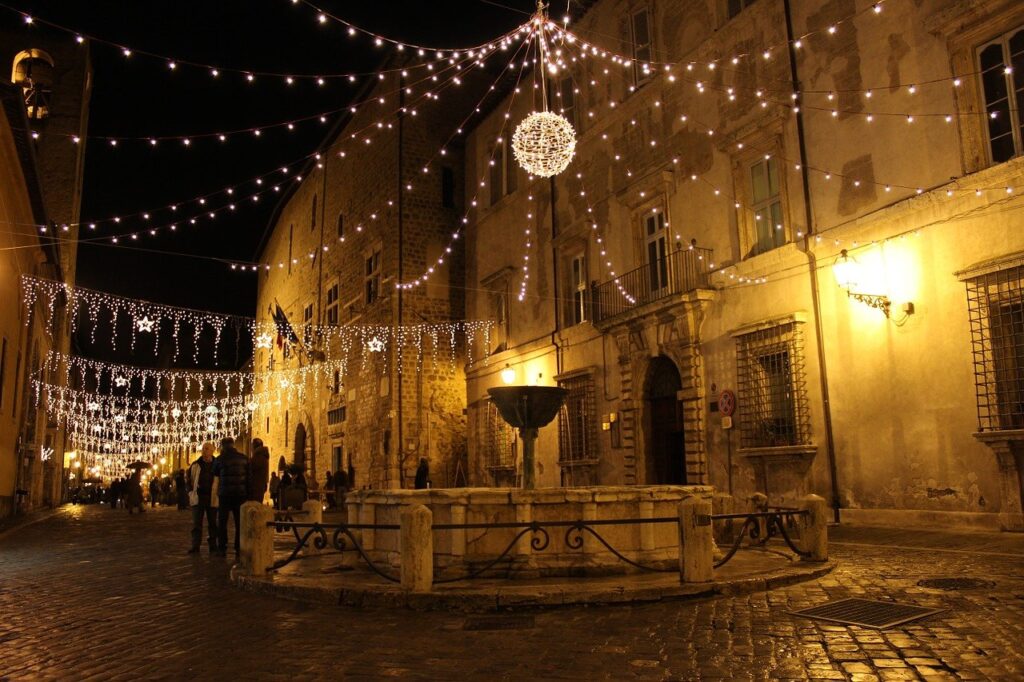 The Umbrian hill town of Narni was known as Narnia in Roman times and proof now exists that CS Lewis, the author of the wonderfully enchanting series of children's books 'Chronicles of Narnia' was inspired by Narni. Whilst there is no proof that CS Lewis actually visited in person (instead inspired by what he read during his studies of Latin and Roman history), the town has certainly made the most of the links! You can enjoy a Narnia guided tour around the town or take a stroll yourself to find sights such as the big stone lion reminiscent of King Aslan at the Palazzo Eroli. In the Rocca Albornoz in Narni you'll also find yourself transported into another era where you can perhaps more easily imagine yourself in the magical world of Narnia.
13. Scare yourself silly at the Church of Santo Stefano di Ferentillo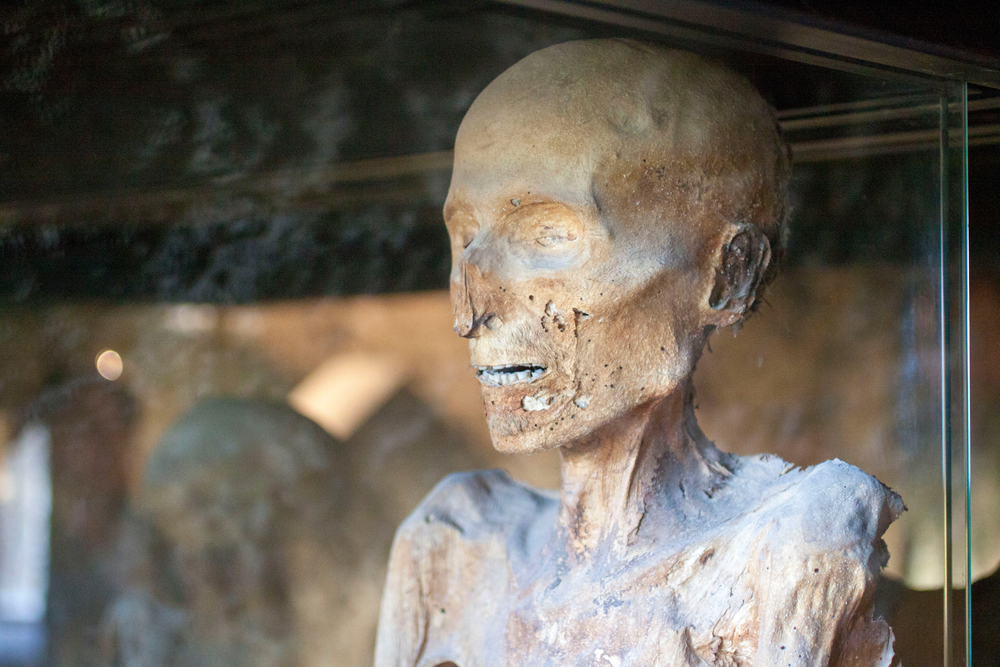 This is perhaps not for any younger, more sensitive family members but for those who are made of stronger stuff, the Mummy Museum in Ferentillo is well worth a visit. It houses twenty perfectly preserved mummified bodies whose cause of death is often immediately apparent. The most recent dates back to the 19th century whilst the oldest is over 400 years old. It's an eerie experience but certainly offers a different day out during a family holiday in Umbria.
14. Go white water rafting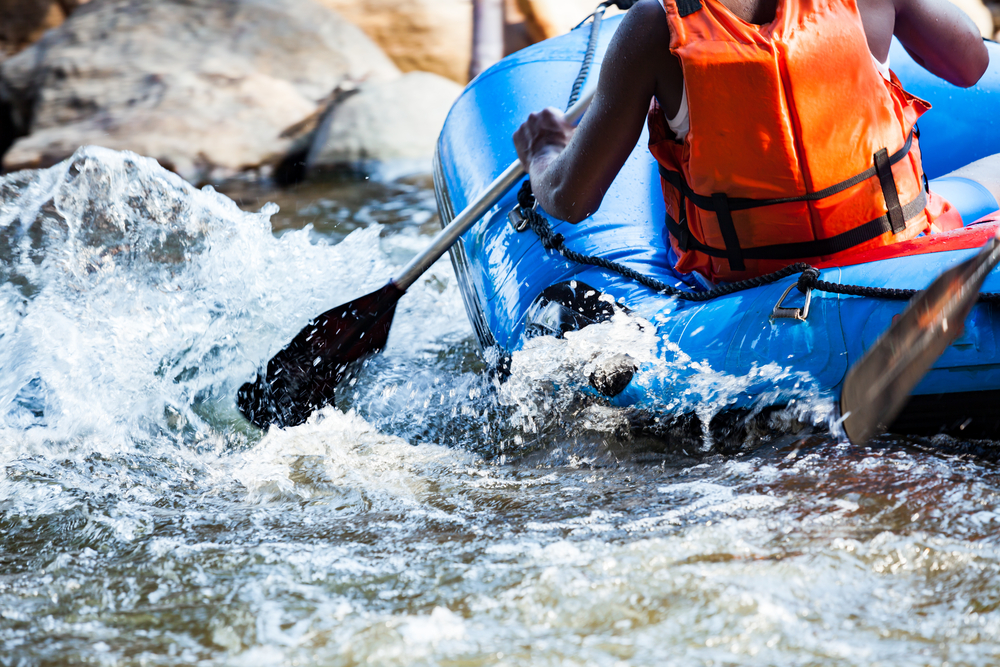 The River Nera offers plenty of opportunities for both beginners and the more experienced to enjoy white-water rafting. The Sibillini mountains are a stunning backdrop to enjoy this outdoor activity and, as the rapids aren't particularly wild, it's a great place for younger children to try this sport for the first time.
15. Enjoy the great outdoors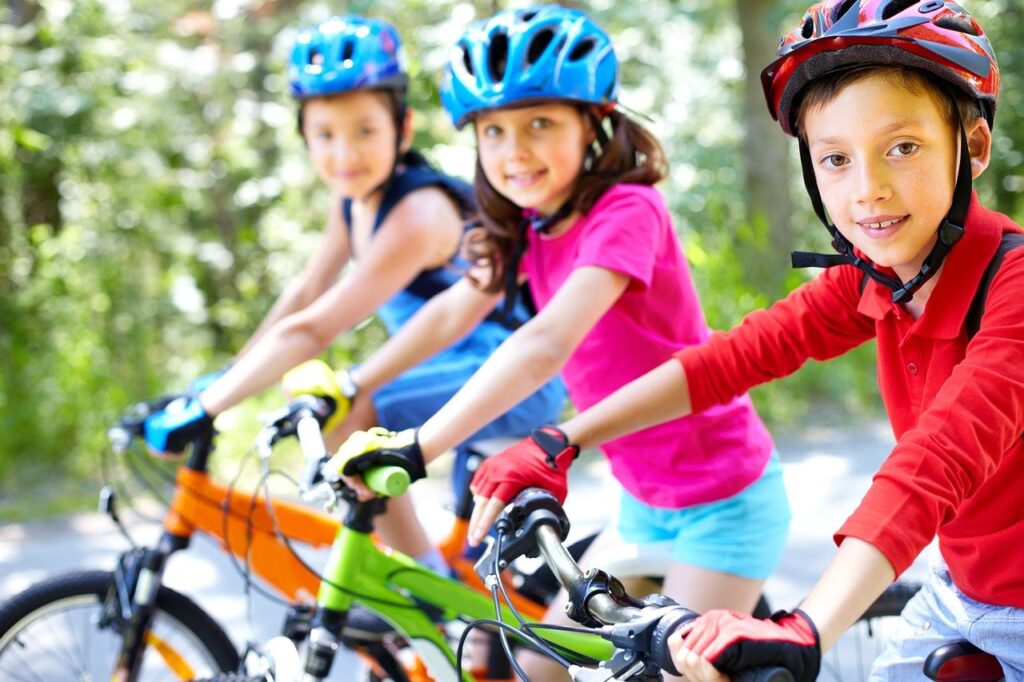 Umbria offers the most beautiful scenery. Whether you want to explore it as a family by bike or on foot, you are in for a real treat! One of our favourite cycle routes is through the vineyards and olive groves that nestle between two of our favourite cities, Spello and Assisi, but there are just so many great routes to discover on a family holiday in Umbria that you really will be spoilt for choice.
If you fancy a family holiday in Umbria, then take a look at some of the luxury Umbria villas we have to offer, all suitable for families with children.