Whether for a large family reunion or a group holiday with friends, we take a look at some of our best properties for a group vacation in the gorgeous country of Italy.
Villa Banditaccia
This gorgeous six bed farmhouse sleeps twelve — and all bedrooms have en-suite facilities. The kitchen is well-equipped with a range of appliances, and there's a large living room for you to relax in after a long day of sightseeing.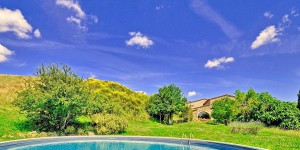 The farmhouse is surrounded by an estate of 800 hectares, including an ancient abbey which dates back to 1100 AD and an unusual circular pool which overlooks the val d'Orcia hills. The location is ideal for day trips, with Florence, Arezzo and Rome all easily accessible via train.
Casa Lucrezia
For the larger groups, Casa Lucrezia can accommodate up to 21 guests in a wonderful rural location surrounded by sunflower fields. There's a pool, BBQ and space for al fresco dining — perfect for lazy summer evenings.
There's also a smaller, separate property with kitchen, bathroom and bedroom.
Villa Ascagnano
This five bed, five bathroom villa has recently been restored and has a lovely modern yet homely interior. There's a large fenced garden, pool, BBQ, gazebo and garden furniture.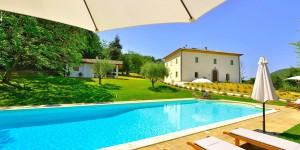 Close to the Umbrian border with Tuscany, there are a number of local sites of historical significance to explore — including Medieval castles and abbeys.
Tuscany Villa
This gorgeous five bedroom villa has incredible views over the lakes and mountains of Tuscany, and has fantastic sporting facilities available for guests — including a private pool, badminton court, table tennis, archery, cycling and local lake fishing. For younger children, there's a sandpit and table football table.
The property is located amongst olive trees and vineyards, which only adds to the rustic charm of this 300 year old farmhouse. To add to your holiday, we're able to organise a chef to come and cook for the group or arrange cookery classes.
Assisi Villa
This villa is a great place for groups looking for a relaxing break — its linked with a nearby spa resort, and guests are able to indulge in one of their beauty treatments or massages during the course of their stay here.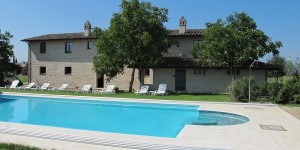 The villa has five en-suite bedrooms, two living rooms, a swimming pool and a jacuzzi. Traditionally decorated, the farmhouse also has a wood-fired oven outside for guests looking to hone their pizza making whilst on holiday.
San Gimignano Villa
This amazing six bed, six bathroom villa has incredible views towards the medieval hilltop town of San Gimignano. There's plenty of living accommodation, a well-equipped kitchen and utility room and bedrooms can be flexible between double beds or twins.
Outside, there's a seating area, pool, covered terrace and BBQ — the perfect place to spend a relaxing afternoon after morning exploring the wonderful town of San Gimignano.
Villa Moderna
Sleeping up to twelve, this villa is divided into two separate apartments — making it an ideal choice for two families looking to share a holiday but not living accommodation.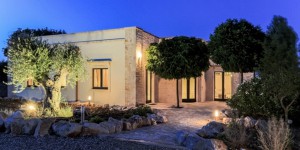 There's also an outdoor dining area, with BBQ, and wood-fired pizza and bread oven and, of course, a private pool for guests to use.
Villa Stroncoli
One for larger groups, Villa Stroncoli is an eight en-suite bedroom villa which sleeps up to sixteen guests. The property enjoys views over Carbernet Sauvignon vineyards and the rolling hills towards Siena.
The grounds include a large swimming pool, jacuzzi and loungers. There's also an indoor garden room which also has a jacuzzi and gym area. The villa is extremely private, which makes it the perfect choice for a relaxing getaway — whilst still being close to local amenities.
Villa Dama
This nine bedroom villa is a stunning Art Nouveau style property near Sorrento, and just fifty metres from the beach; this luxuriously decorated villa is a real taste of paradise for its guests.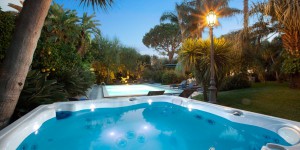 The villa is superbly equipped, with two of the bedrooms enjoying their own annexe and separate garden entrance. The property is surrounded by 4,000 square metres of garden containing palm trees, camellias and citrus trees. There's also a covered pavilion, wood burning oven, BBQ, pool, outdoor shower and indoor games room.
Masseria Ilary 
This six bedroom property is surrounded by ancient olive trees, and just ten minutes from Ostuni. The property boasts fantastic accommodation; sympathetically renovated yet still practical.
Outside, there's a beautiful courtyard and large swimming pool, with loungers included. For those who don't want to cook every evening, the nearest restaurant is just three kilometres away.