Tuscany has long been a popular destination for holidaymakers. The classic landscapes made famous by the Renaissance artists, seem to have an irresistible attraction for visitors whilst the region's principal cities – Florence, Siena and Pisa – are amongst the most famous cities in the world. Whilst everyone is familiar with the more well-known things to see and do in Tuscany, there is plenty still left to discover off the beaten track. Here's our list of the top 60 things to see and do in Tuscany including some much more unusual attractions and activities.
Spend the day in Florence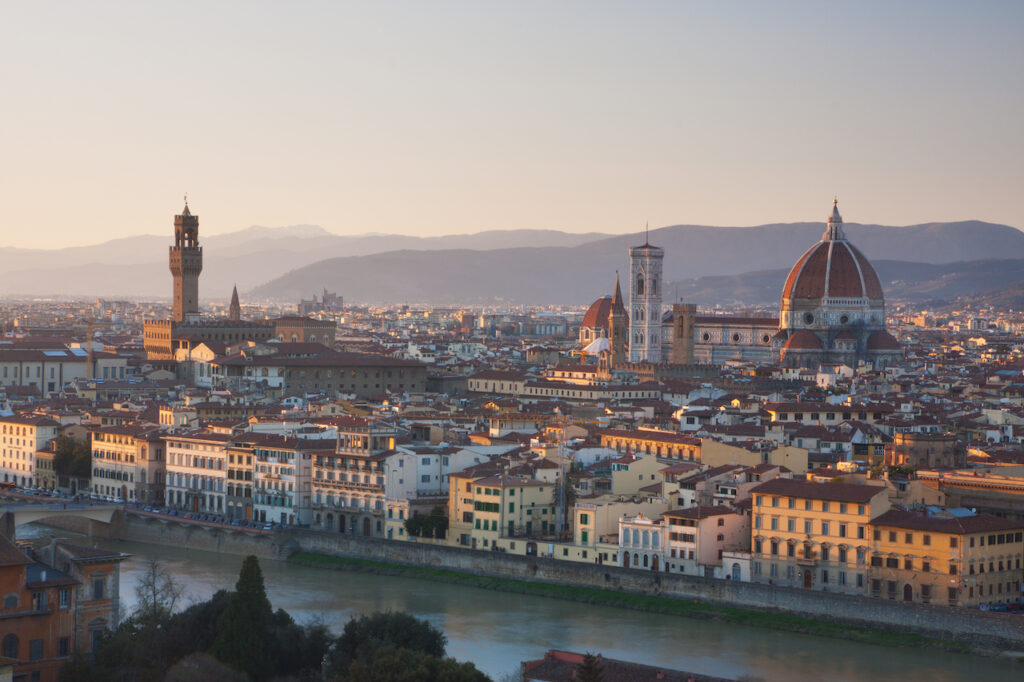 There is so much to see and do in Florence with some of the most famous sights being the Uffizi, the Duomo, the Statue of David at the Accademia, the Ponte Vecchio, the Palazzo Vecchio and the Boboli gardens. Of course, the city does get busy and we recommend you book your tickets ahead of time to avoid the queues. We can also highly recommend getting a guide for your visit. It can really enhance your time in the city. Whether you're just looking to book tickets or you want to find a suitable tour, you may find it easier to book tickets and tours through an official English language ticket partner such as Get Your Guide.
Explore Siena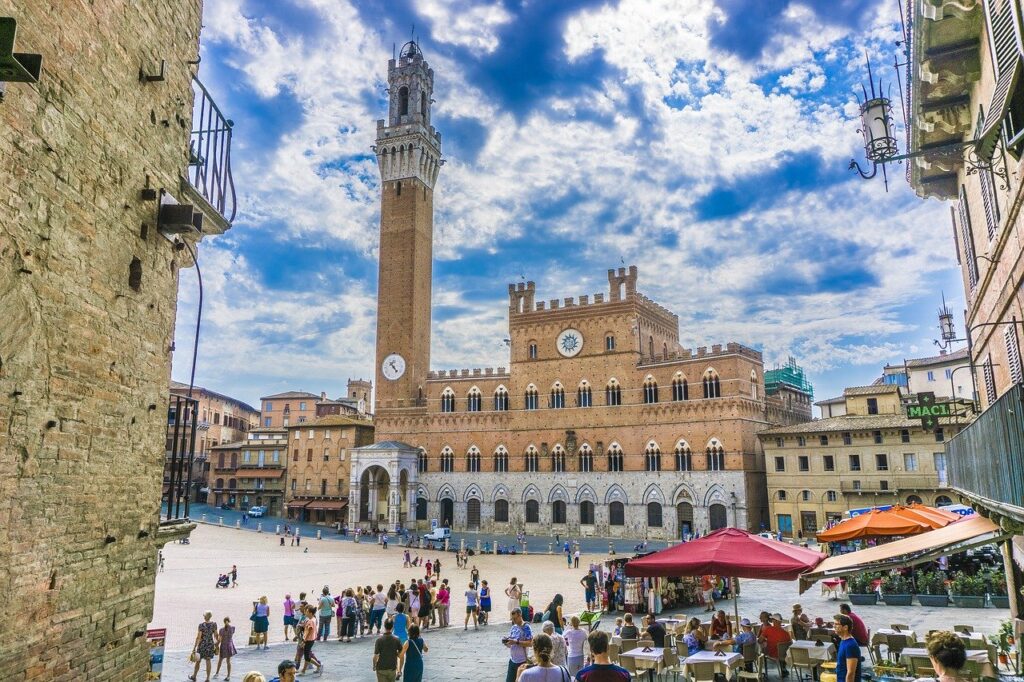 Siena's cityscape is one of the most recognisable in Tuscany with its incredible black and white striped Duomo and huge central piazza, home of the famous palio. The Campo forms the heart of the old city, with most of the main streets leading off this. The South side of the Campo is also home to the Palazzo Pubblico with its enormous bell tower. A large part of the palace has turned into the Museo Civico, full of wonderful works of art from past centuries. There are further museums to visit in the Piazza del Duomo in Siena including the Museo dell' Opera del Duomo, home to Siena's greatest work of art – Duccio's Maesta – as well as a number of other remarkable works. wwww.operaduomo.siena.it. The Duomo itself is a stunning building, a masterpiece of the Romanesque and Gothic periods. The black and white exterior of the building is echoed within the church in a series of 56 marble panels forming a stunning pavement. Don't be disappointed if you don't get a chance to see this though – the flooring is protected for most of the year, and is only open to visitors for around a month each summer. You'll also need a couple of hours in Siena just to enjoy wandering around the streets of the city, exploring the narrow alleyways, and watching the world go by at one of the many cafes. If you're staying for a meal, try heading away from the Campo for the best value food. One of our favourite places to eat is Osteria Le Logge. Or for the most delicious cheese, meats and wine, head to Pizzicheria De Miccoli at 41, Via delle Terme. You can grab a lighter snack here or one of the best sandwiches you'll ever have! Again, book 'skip the queue' tickets ahead of time at Get Your Guide as well as searching for experiences and tours available within the city.
Prop up the leaning tower of Pisa!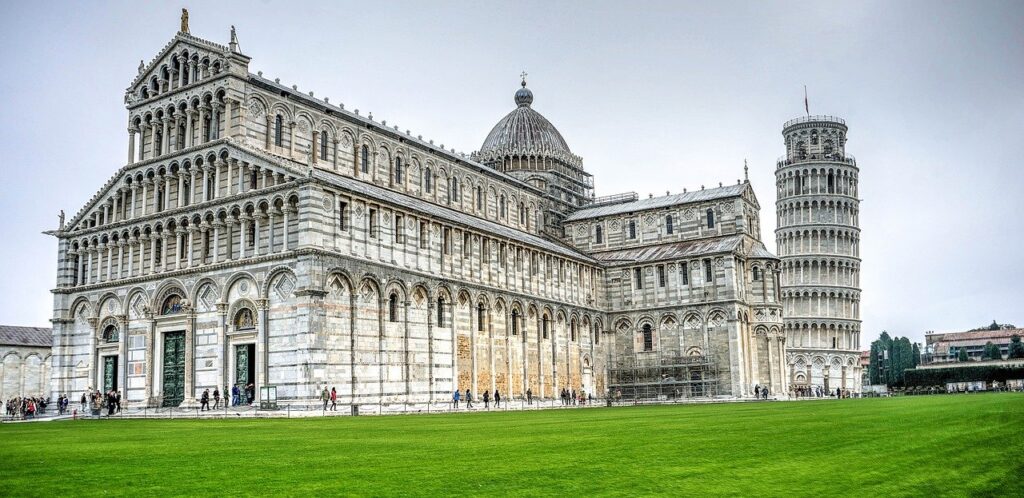 There are few more famous landmarks in Tuscany than the leaning tower of Pisa. However, the tower itself is just one of the attractions to be enjoyed in the Campo dei Miracoli (Field of Miracles), the others being the Duomo, Baptistery and Camposanto. Avoid the queues and ensure you get entry by purchasing tickets in advance for the Tower and Cathedral at Get Your Guide. It's definitely worth purchasing tickets in advance as there is a limit to how many people can climb the tower each day and only 40 people are allowed access at any one time. Bags will need to be left at the left luggage area before you head on up the 300 steps.
Climb the towers of San Gimignano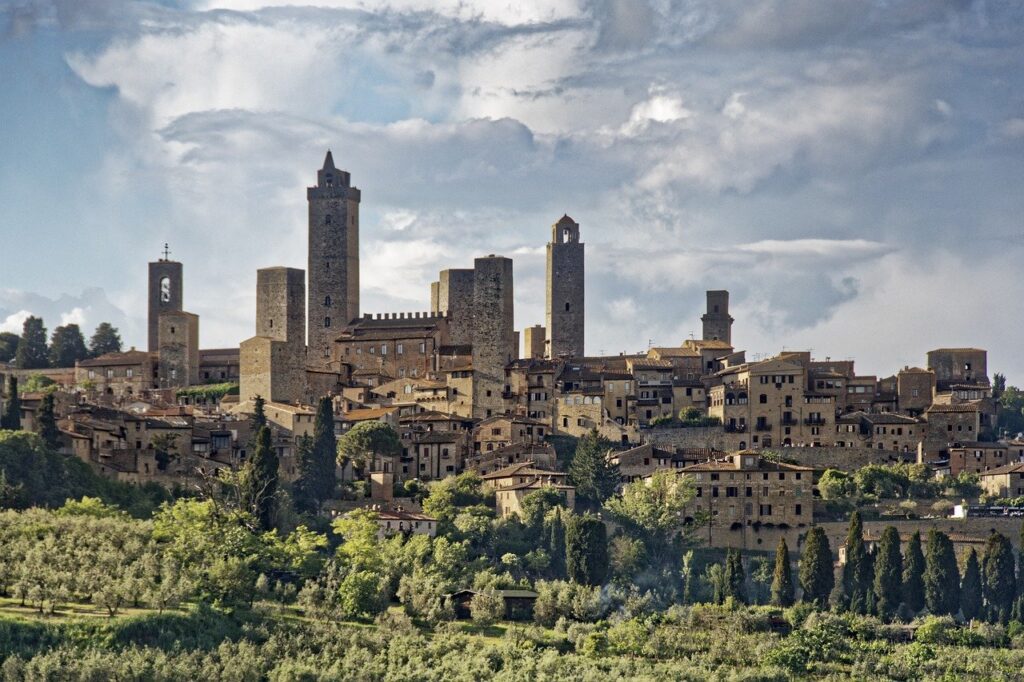 San Gimignano is one of Tuscany's most famous villages. Its stunning skyline of towers captures the very essence of what people think about when they think of Tuscany. It does get extremely busy as it is popular with tourists but it's a must-see destination for any Tuscan holiday. Make a point of visiting the interior of the Collegiata which is stunning, filled with beautiful frescoes. Also worth seeing is the Museo Civico and Pinacoteca. And finally build up an appetite by climbing the Torre Grossa, the only one of the towers you're able to go up. You'll be richly rewarded at the top by stunning views of the Val d'Elsa. The town is another great place to enjoy a tour or experience if you want to learn more about its history and culture. Take a look at some of the options on Get Your Guide.
Enjoy a passeggiata in the smaller villages of Tuscany
Whilst everyone is familiar with Tuscany's larger towns and cities, there are plenty of other towns and villages worth exploring. To make the most of your time in Tuscany, don't miss out on seeing the smaller villages too. There are a host of villages in Tuscany that are among the 'borghi piu belli d'Italia' (most beautiful villages in Italy). These include Anghiari, Buonconvento, Cetona, Montemerano, San Casciano dei Bagni, Poppi and Montescudaio but this is by no means an exhaustive. Take a look at all of the villages on the list at the official website.
Hit the shops!
Tuscany is home to a number of outlet malls. These include The Mall (which includes a whole range of brands from Burberry to Armani and from Jimmy Choo to Tom Ford), a Prada outlet in Montevarchi and the Valdichiana outlet which has a mix of high street and designer brands.
Head to the beach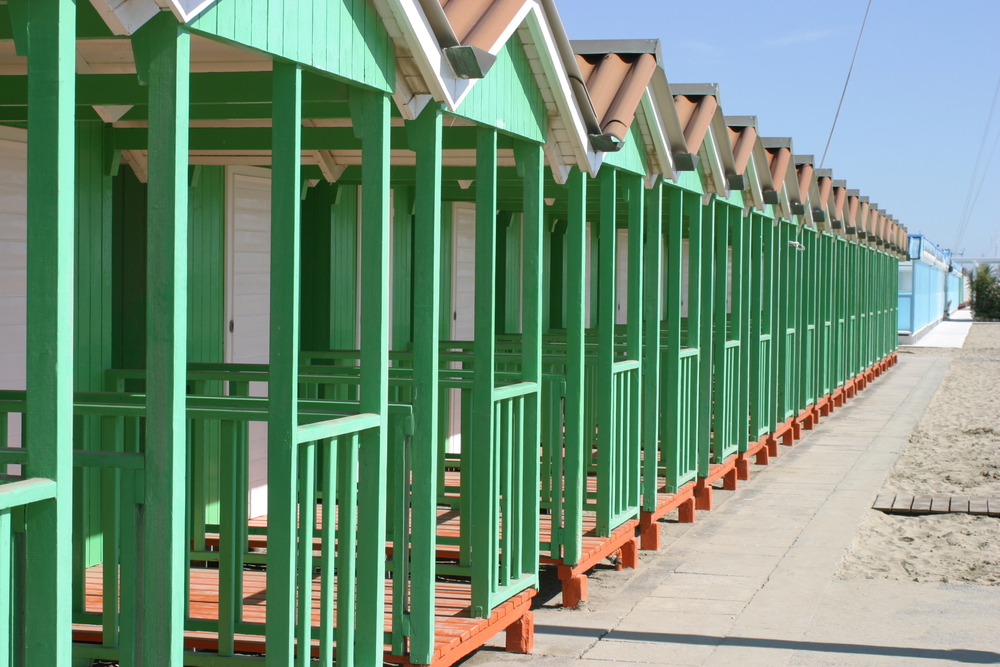 Tuscany has a number of excellent beaches. Some of the most famous resorts include Forte dei Marmi and Camaiore in the North, both of which are extremely popular with the wealthy Florentines who flock there during the Summer months to escape the crowds and the heat in the city. Please note though, that the beaches here do tend to be dominated by private beach clubs and finding a free public beach can prove tricky. You should have more luck finding a public beach in the nearby bustling seaside town of Viareggio, also famous for its annual carnival, as well as in Pietrasanta. If you do head to Viareggio, then you might want to try paying for entry at Bagno Maurizio, a well-run, popular beach club. Heading South, you get to the Livorno coastline where there are a number of Blue Flag beaches among them Vada, Castiglioncello and Marina di Bibbona. The largest beach along this stretch of coastline is the Marina di Cecina, which is also one of the best places to enjoy water sports, with a whole host of businesses offering water sports hire such as windsurfing, water-skiing and sailing. And finally, further South again is the Maremma coastline. Many argue the beaches you'll find here are the most beautiful of any in Tuscany and, again, numerous beaches here have been awarded the coveted Blue Flag. You'll find long stretches of beautiful white sand, bordered by vast forests of pine trees, perfect for families.
Find out more about the beaches in Tuscany on our blog.
Play a round of golf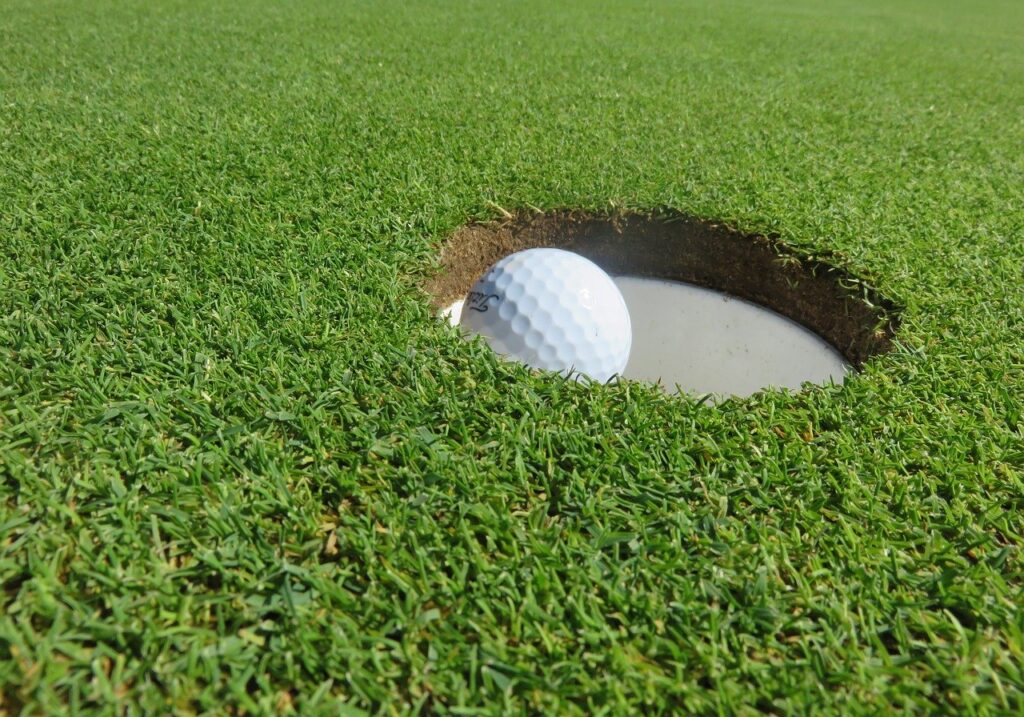 Tuscany boasts a number of superb golf courses. We have added listed a few of these here but if you are a keen golfer and would like any more details, just let us know or take a look at the more detailed information on our website.
Ugolino Golf Club (the oldest club in Tuscany and a spectacular hillside course with wonderful views)
Medici Golf Club, Le Pavoniere Golf Club (designed by Arnold Palmer, this is a challenging 18 hole course)
Montecatini Golf Club (a more complex course with plenty to challenge even experienced players)
Castelfalfi Golf Club (offering both an 18 hole mountain course and 9 hole course lake course)
Il Pelagone (a golf and hotel resort with a relaxed and friendly atmosphere)
Tirrenia Golf Club ( a 9 hole course near Pisa designed by an English architect, Ken Cotton).
Spend the day at Tuscany's largest amusement park
If you're visiting Tuscany with children, then it may be hard to avoid a day at Tuscany's largest amusement park – Cavallino Matto. There are plenty of rides for all the family to enjoy, from high adrenalin rollercoasters that will scare even the teenagers amongst you to slower paced amusement rides for younger family members. The park is open from April to October each year. If you are visiting off season, we do recommend checking the website first for opening hours. A ticket will allow you to access the park for the whole day although there is sometimes an option to buy a discounted ticket if you're just visiting after 2pm.
Spend a day at the water park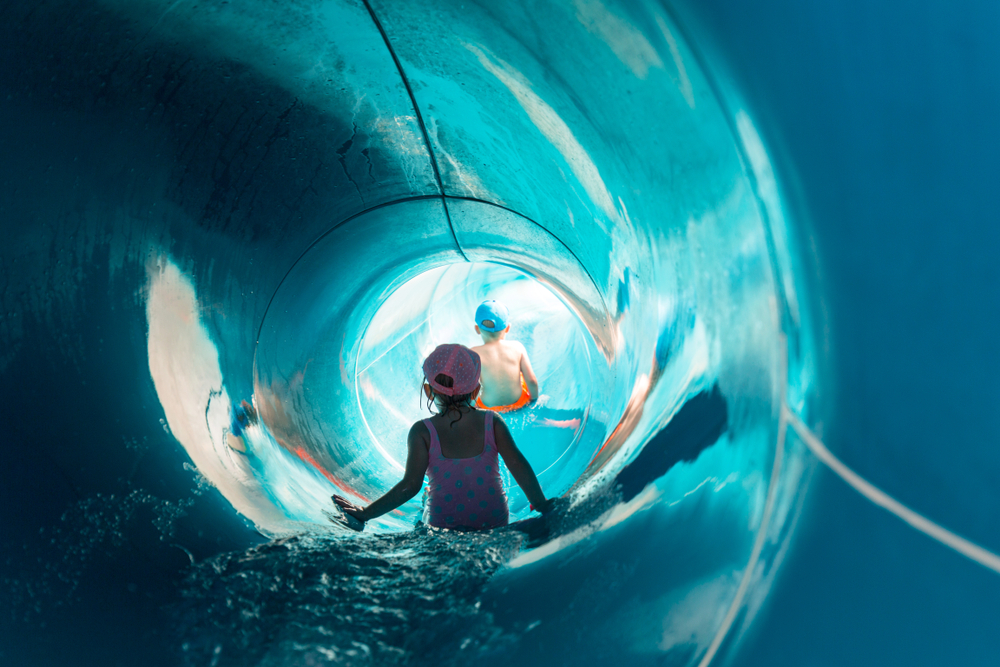 If you want to cool off from the heat, then a trip to one of the region's water parks is a good idea. There are a few to choose from but those with the best reviews are the Acquavillage in Follonica and the Acquapark Pincardini in Sansepolcro. There is also the Waterpark Florida in Arezzo and the Crocodile Water Park in Monte San Savino but recent reviews for these fall a bit short.
Enjoy a wine tasting experience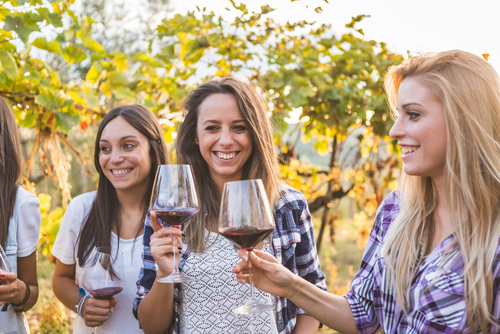 Tuscany is famous for its wine, with some of its more famous wine regions being Chianti, Brunello di Montalcino and Vino Nobile di Montepulciano, all of which are made primarily with Sangiovese grapes. We would be happy to recommend some vineyards and olive groves to visit during your stay if you have an interest in wine. Some of our favourite wine-makers include the Avignonesi vineyards and Casanova di Neri winery. Each of these vineyards offer tours and tastings. For something a bit different, if you would like to increase your knowledge of wine, why not consider a short course at the Tuscan Wine School. Check out their website for further information.
Discover more Tuscany wine tours and experiences at Get Your Guide.
Enjoy a truffle hunting experience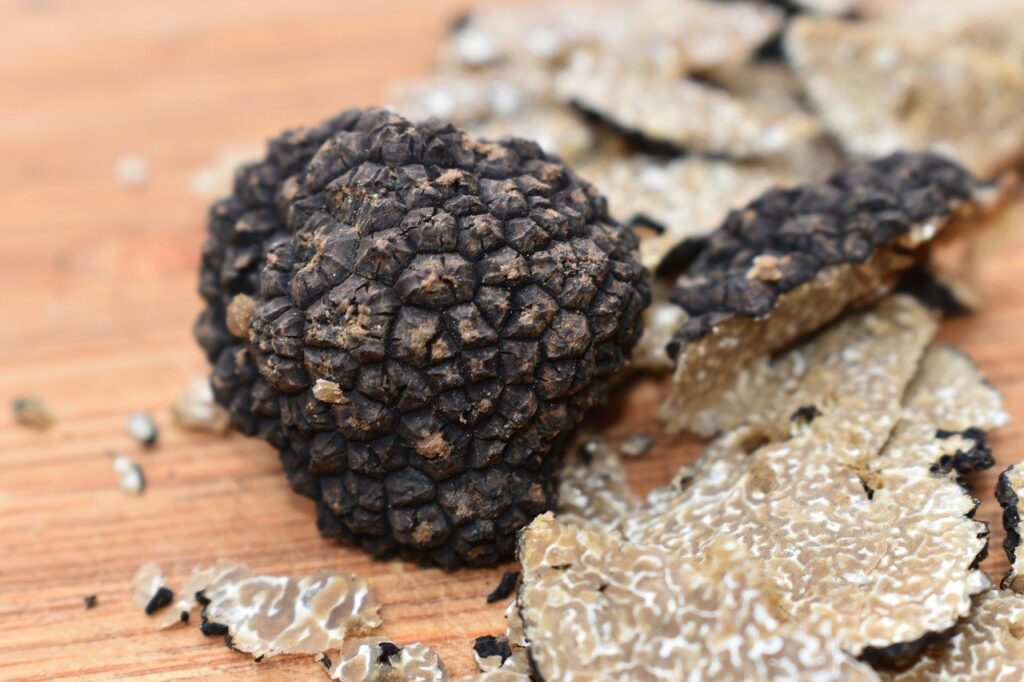 San Miniato plays host to the most famous truffle festival in Tuscany. Every November, the town celebrates the National Exhibition of the White Truffle following the harvest which takes place between September and December. Head to San Miniato during this period and you'll have the best opportunity possible to sample some truly spectacular Italian cuisine, all topped with this famous truffle. And of course, you can pick up all manner of truffle-based products from the town all year round.
Another great experience is to actually head out with an experienced truffle hunter and his dogs and see for yourself how they find this amazing delicacy. An experience can often be followed by lunch enjoying the fruits of your labours! We recommend you wear long trousers (to avoid getting bitten or scratched by the undergrowth) as well as sensible shoes as you will be walking through woods.
Discover truffle hunting in Tuscany in San Gimignano.
Go Dolphin and Whale Watching
In the waters off the Versilia coastline in the NW province of Lucca, there is a protected nature reserve where a large school of bottlenose dolphins live. The waters are protected via an international agreement between Italy, France and Monaco. Founded in 1999, the CeTuS association is a non-profit organisation who specialise in researching the whales and dolphins within this Pelagos Sanctuary. They also run daily dolphin tours aboard a catamaran. Head to their website for more information.
Enjoy a cookery class or chef service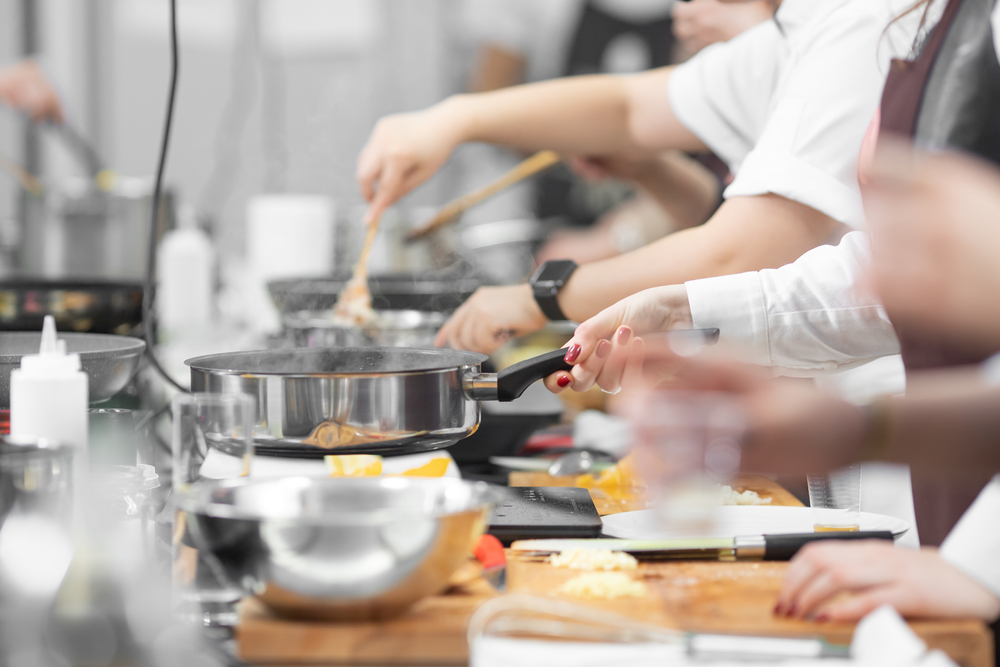 Bookings For You can organise a cookery classes or organise a chef's dinner for our guests at any of our villas in Tuscany. Please let us know if you would like us to help organise this for you. You will have a variety of menu options to choose from and we can cater for all dietary requirements.
The other option is to head out and enjoy a class somewhere else. One possible option is to enjoy a class in Florence at L'Ideale. Here, expert chefs Laura and Gianluca run amazing classes as part of Cooking in Florence. They can also run classes for children so if the adults want to explore the sights of Florence, they can keep the younger family members entertained. Laura and Gianluca also have some other amazing experiences to enjoy outside the city, including a visit to a Tuscan cheese producer and cheese tastings and a jeep safari with a picnic in the woods. Please contact them for more information and pricing. Let them know that we recommended them!
Of course, there are plenty of other cookery schools and classes available at other locations within Tuscany. Please get in touch if you would like the details of other options locally. Or take a look at our recommended partners, Get Your Guide or With Locals.
Enjoy a photography experience
Here at Bookings For You, we're conscious that a holiday is a precious time to make new memories. If you would like to capture these memories, there is the opportunity to enjoy a photography service. A professional photographer can take snaps of you and your family or friends either at the property or on the estate or in a location in Tuscany of your choosing such as Siena, Pisa or Florence. For more details, get in touch with the Bookings For You team.
Rent e-bikes
Even if you're not that active normally, e-bikes are a fantastic way to explore the area without the effort required on a 'standard' pedal bike. Steep hills are no barrier to cycling with an e-bike! However, for those that do want to burn off some calories, then you can choose a harder setting on which to pedal. It's a wonderful way to explore the amazing scenery that the area offers. There are a number of bike rental shops around Tuscany. A couple of examples include one in Castellina in Chianti – Noleggio Chianti 500 – which offers bike hire. Also take a look at Toscana by Bike, a company that offers bike rental as well as offers a number of tours you might like to sign up for.
Or take a look at the bike tours in Tuscany available to book through Get Your Guide.
Hire mountain bikes or road bikes
If you're a keen cyclist and the suggestion of e-bikes was a bit tame for you (!!), then why not consider hiring mountain bikes during your stay in Tuscany. There are almost 200 mountain bike tracks and trails in the region for you to enjoy. What better way to burn off those extra pasta calories!!
Roam within Lucca's city walls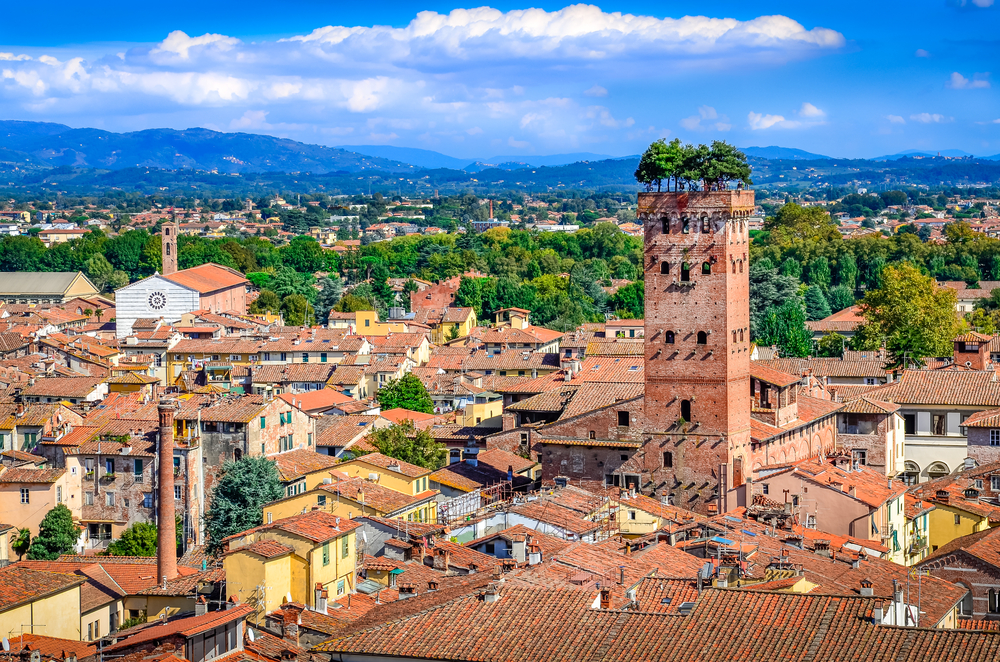 Lucca is a beautiful walled town in the North of the region, home to some of the best examples of Romanesque architecture anywhere in Europe. The town tends to be quieter than many of its larger neighbours and visitors will find many stores and businesses closed down in the heat of the early afternoon. During this time, why not take the opportunity to enjoy a stroll around the city walls. The 4 km circuit is a beautiful walk.
Find out more in our Lucca travel guide.
Visit the opera
Whilst Tuscany may not be Italy's most famous region when it comes to opera – that title probably goes to the Verona Opera Festival – it does play host to the Puccini Opera Festival each year. Puccini was born in Lucca. Or in nearby Florence, opera lovers will find almost daily concerts at St Mark's Church. Alternatively, watch out for tickets to listen to world renowned opera singer, Andrea Bocelli. Lajatico is the singers home town and it's also a natural amphitheatre – the Teatro del Silenzio. Every July the open-air theatre hosts a concert by Bocelli.
Visit the smallest theatre in the world
The small theatre in Vetriano in the province of Lucca was made famous when it was entered into the Guinness Book of Records back in 1997 as the smallest historical theatre in the world. With just 85 seats and measuring 71 square metres in size, it is a beautiful but compact theatre!
Walk across one of the longest suspension bridges in the world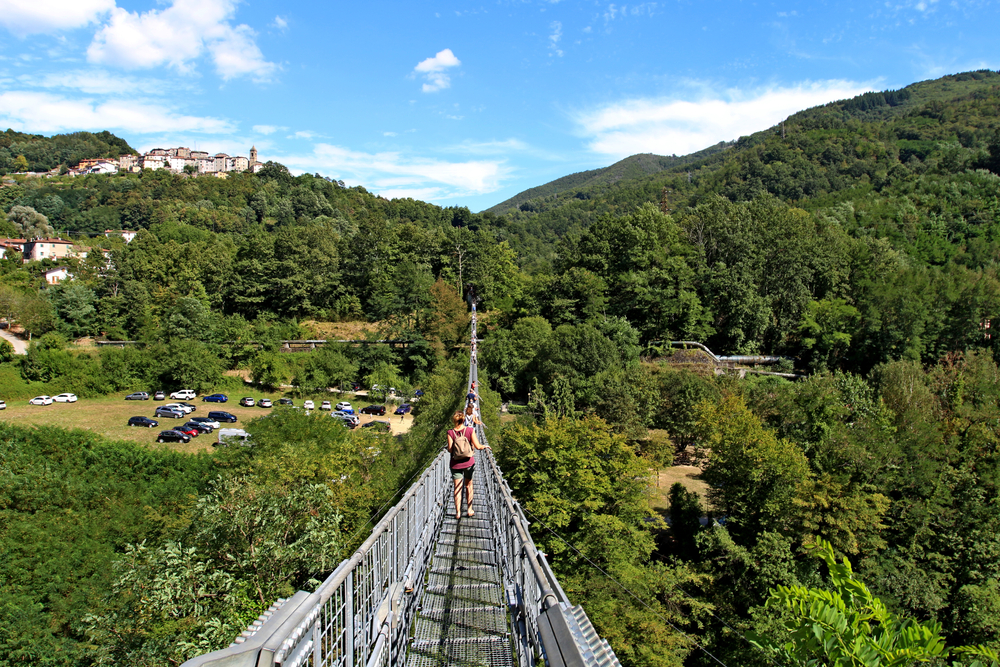 This is definitely not one for those scared of heights or suffering from vertigo, but it's great fun for thrill seekers! The bridge crosses the Lima River near San Marcello Pistoiese. Measuring over 220 metres long, 36 metres high and just 80 cm wide, the bridge can claim to be one of the longest suspension bridges in the world.
Go ghost hunting
With so much history, it's not surprising that Tuscany has its share of ghost stories to tell! One such is the laughing ghost at Villa di Corliano. This is a fine example of a Renaissance palazzo where visitors can explore both the gardens and house. A former resident – Teresa sella Setta Bocce Gaetani – supposedly inhabits the villa years after her death but visitors need not be afraid. If her laugh is anything to go by, she is good natured and the only tricks she gets up to is rearranging a few pieces of furniture and paintings.
Tour around Tuscany in a classic car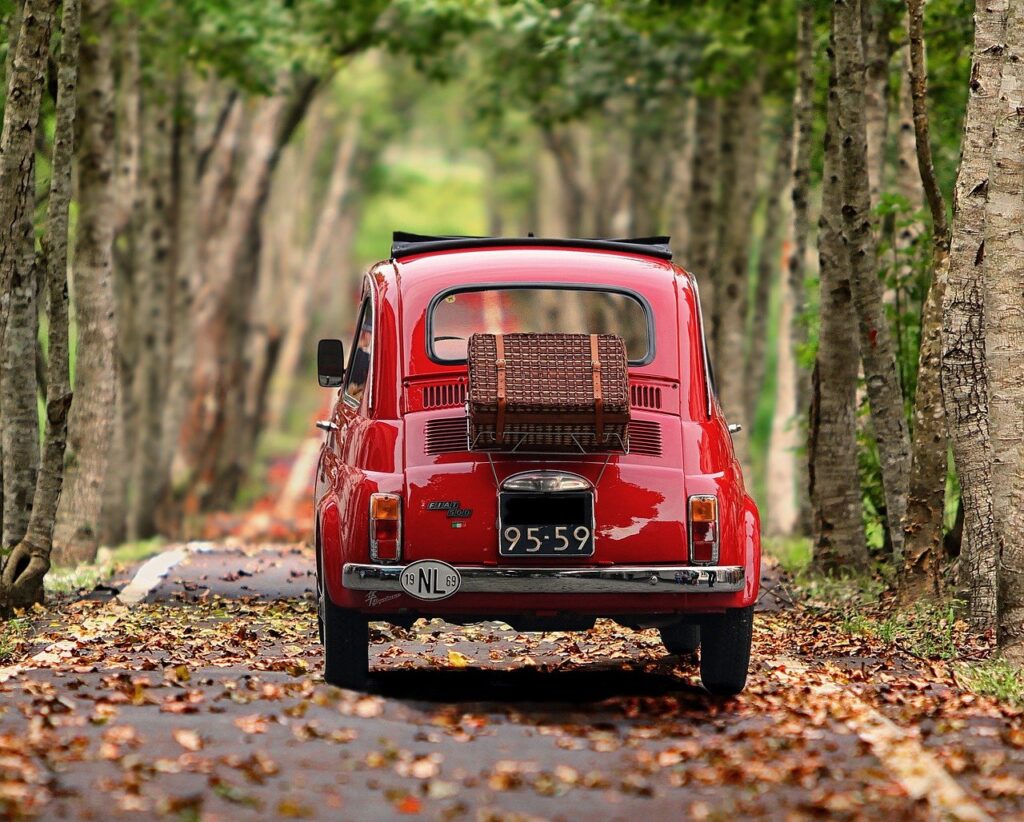 Our friends at Noleggio Chianti 500 offer vintage car hire. They have a number of beautiful classic Fiat 500 cars which you can rent. I can promise that touring around the rolling hills of Tuscany will be even more fun and memorable in one of their vintage vehicles!
Spend the day at the zoo
Tuscany boasts a number of zoos and aquariums. We would suggest that the best zoo would be the Pistoia Zoo which is set on a 7 hectare site and is home over 400 animals. From what we can see, the zoo is focused on the protection and conservation of animal species and staff work to constantly improve the facilities for the animals they house. There is also a zoo in Cecina and aquariums in Livorno (which is by far the largest), Massa Marittima, Grosseto, Piombino and Talamone.
Go horse riding
Another option is to park the wheels and head out on horseback instead. There are a number of places in Tuscany where you can enjoy horse riding. Whether you're an experienced rider or a beginner, there will be treks to suit you. Please just get in touch with us if you'd like more details.
Take a hot air balloon ride
If you fancy seeing Tuscany from above, how about a hot air balloon ride? There are a number of companies that offer them. A couple worth looking at if you want more details are Tuscany Ballooning and Ballooning in Tuscany. A hot air balloon is an incredibly special way to view the beauty of the region, flying above vineyards and olive groves.
Visit an open-air art museum
Tuscany is home to numerous amazing art collections, whether in one of the major museums in its main cities, in one of the region's cathedrals or churches or just a smaller collection in a smaller gallery. However, one slightly more unusual modern art collection can be found at the Giardino dei Tarocchi (Tarot Garden) just South East of Capalbio. Here visitors can explore the sculpture garden filled with works by modern artist Niki de Saint Phalle. Most easily described as 'Gaudi-esque- for those not familiar with his work, the collection of work took the artist almost seventeen years to complete and his style tends to appeal to both adults and children alike.
Find out more about how extra virgin olive oil is made
Tuscany is as famous for its extra olive oil production as it is for its wine. Enjoy a visit to an olive farm where you will have the opportunity to enjoy tastings and learn how the olive oil is made. A trip to Villa Monteoriolo will also enable you to learn about some of the other products made from the olives including their wonderful skincare range and even heating pellets made using the olive stones. Or Arianna & Friends have a great olive olive tasting tour at a Tuscan mill.
Use Tuscany as a base to explore the other neighbouring regions of Italy
Dependent on where you are spending your holiday in Tuscany, you can use your base in the region to also explore other regions of Italy. To the East, Tuscany is bordered by Umbria, home to numerous beautiful hilltop towns and villages, whilst to the South is Lazio and to the North is Emilia-Romagna.
Visit the village markets
The most authentic and enjoyable ways to shop during your holiday in Tuscany is by visiting one of the many weekly markets. You'll pick up some incredible meat, fish, fruit and vegetables here as well as clothing, shoes and leather goods. The best way to find the nearest markets to you is to visit your nearest local tourist information office. Markets typically run in the morning and it's worth heading early to get the pick of the produce.
Pick up some antiques in Arezzo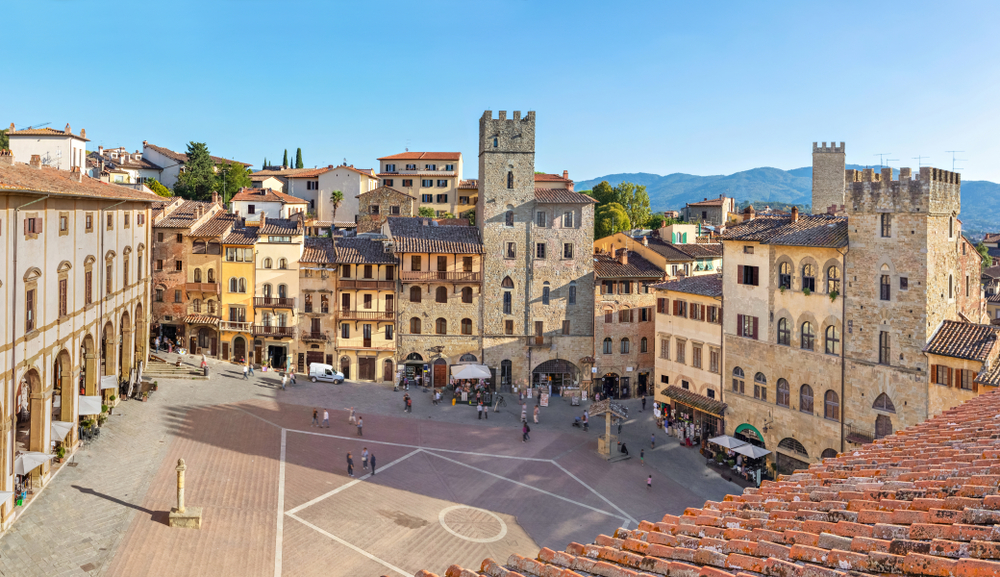 On the first Sunday of the month and the preceding Saturday, Arezzo's streets are filled with market traders, antique dealers and collectors. The Arezzo Antiques Fair is the oldest in Italy. Established in 1968, it now brings over 500 exhibitors to the city each month and is a great place to pick up a truly unique souvenir to remember your time in Tuscany. Whether you're in search of furniture, paintings, books, prints, toys, watches, porcelain or metalwork, you'll be spoilt for choice at the various stalls.
Visit the thermal baths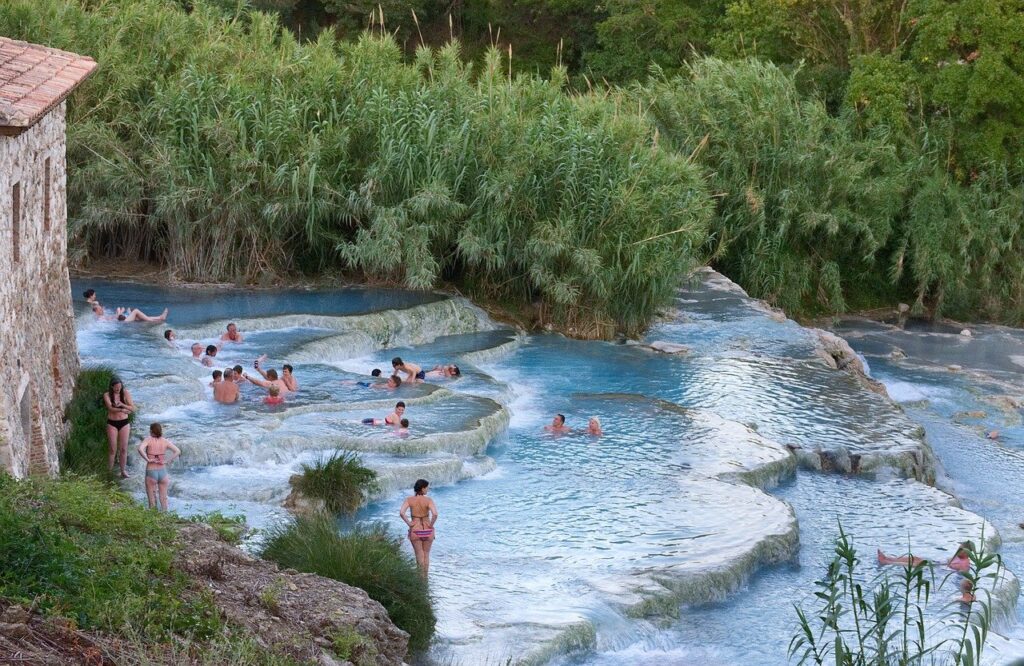 Tuscany is home to a number of thermal baths – 'terme' – including more modern spas where you will pay an entrance fee to access the thermal waters collected either in indoor or outdoor pools as well as free open-air springs. The most well-known include those at Gambassi Terme, the Terme di Petriolo near Montalcino, the Terme di Saturnia, Casciana Terme, the Bagna di Lucca and the Bagni San Filippo where there are natural waterfalls and pools, one hot and one cold. Many of the bath waters are famed for their healing properties.
Get close to the fish at an aquarium
With a long stretch of coastline, it's not surprising to hear that there are a number of aquariums worth a visit in Tuscany. The largest of these is the aquarium at Livorno. Here you can get close to a plethora of sea creatures including sharks, sea horses, clown fish, corals, turtles and jelly fish.
Try the region's most famous dish
A visit to Tuscany wouldn't be complete without trying its most famous dish, the Bistecca alla Fiorentina. This is a Florentine T-bone steak, with fillet on one side and sirloin on the other. It's normally thick cut at 3 – 4 cm deep and typically weighs 1.5 – 2 kg! Also worth a try is the Pappa al Pomodoro (a soup made with dried bread, tomatoes, garlic and basil) and the Crostini Toscani.
Take a Vespa tour
Do as the locals do and take to the roads on your very own Vespa for the day! It's a great way to navigate the narrow streets. If you're a fan of the famous scooters, then take a drive to the Museo Piaggio to learn about the history of the Vespa and to admire the range of vehicles from the early scooters to modern day.
Explore scenes from the movies
It's not surprising that Tuscany has formed the backdrop to many a movie and film lovers can easily craft their sightseeing around famous film sets. Built on a high plateau, lofty Volterra was the setting for Twilight saga, San Gimignano and Florence were the main settings for Tea with Mussolini, whilst Cortona is, of course, the setting for 'Under the Tuscan Sun' telling the story of a San Franciscan who moved and settled in the town after her divorce. Other movies shot in Tuscany include 'The English Patient' filmed in part in Arezzo and Pienza and who can forget the amazing scenes in Florence from 'A Room with a View.'
Meet Pinocchio
You'll find plenty of wooden Pinocchio puppets to buy all over Italy but Tuscany, and more specifically, Collodi, is the home of Pinocchio. Carlo Lorenzini spent much of his childhood in the town and fell in love with it so much that he even changed his name to Carlo Collodi. It is in the town that he wrote his famous children's classic 'The Adventures of Pinocchio'. Nowadays, those with children will find a theme park here devoted to the wooden puppet. Admittedly, the park is a little run down and tired but it is a charming reminder of a simple story that has delighted children for years.
Spend the day island hopping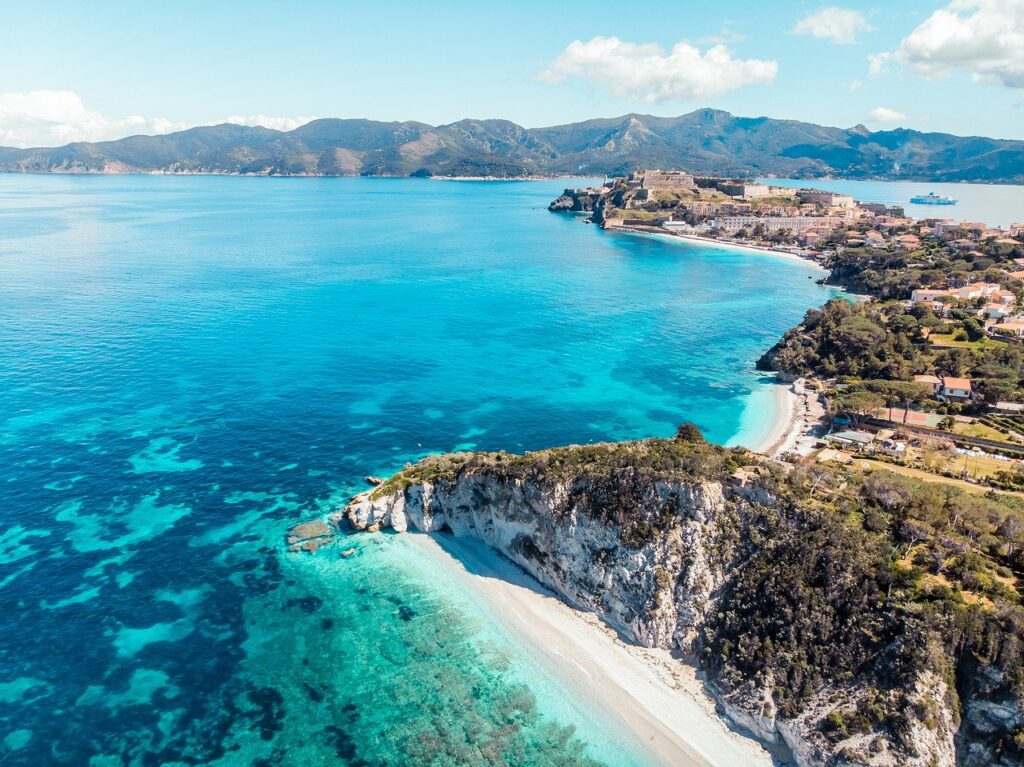 Many forget that Tuscany also boasts some islands off its Western shores. Elba is certainly the most famous of these and by far the largest. After Sicily and Sardinia, it's Italy's third largest island. Popular with tourists, it's extremely busy in the peak Summer months so we recommend visiting in the Spring or Autumn when you'll find it quieter and more relaxing. The island boasts over 150 stunning white sandy beaches and crystal-clear waters. But Elba is actually just one of seven islands that make up the Tuscan Archipelago. The other six include Giglio, Capraia, Montecristo, Pianosa, Giannutri and Gorgona.
Learn how to make gelato
Gelato is perhaps one of Italy's most famous foodstuffs. It's the perfect refreshment to keep you cool in the heat of the Tuscan Summer and the ideal snack to keep your energy up to see all the sights. What could be more fun than spending an afternoon with an expert gelato maker, learning how to make the stuff for yourself?
Go canyoning
For the adventurous amongst you, there is the opportunity to go canyoning in Tuscany surrounded by the beauty of the Apuan Alps. Under the expert tutelage of an experienced guide, you can spend the day descending incredible river canyons and waterfalls, sliding and jumping off the rocks into the crystal-clear waters below.
Explore the caves
Tuscany has a surprising amount to explore below ground. In fact, it is home to 1500 grottoes and over 270 km of natural underground tunnels as well as mines. Some of the most famous include the Antro del Corchia (considered one of the longest and most impressive cave systems in Italy), the Grotta del Vento (an impressive cave system that offers visitors a choice of 3 routes that differ in length) and the 'Bottini' near Siena. The latter is a maze of tunnels over 25 km in length, 1.8 metres high and just under a metre wide which takes water to wells all over the city. Entrance is dependent on weather conditions and the water flow. Also worth a visit are the Grotte di Equi, the Grotte del Sassocolato (home to a large bat colony) and the Grotte Giustu (home to numerous stalegmites and stalegtites and home to hot underground springs).
Discover more about the life of Napoleon
For those with an interest in military history, it's worth remembering that Elba was Napolean's place of exile. Visitors to the island nowadays can visit his home in exile – Villa dei Mulini. The impressive home was built for Napoleon on a site chosen for its incredible views over the bay. There is also a Napoleonic Museum on the island where you can see the death mask of the ex-Emperor.
Discover the charms of Cortona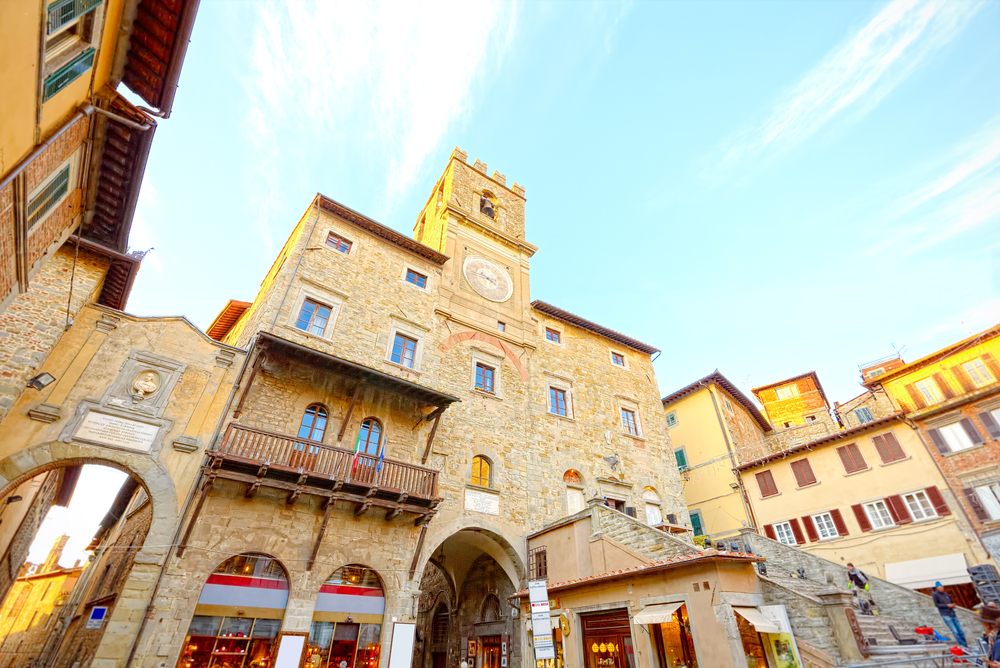 Cortona was made famous by Frances Mayes whose novel 'Under the Tuscan Sun' drew tourists in large numbers to the hilltop town to explore all that it has to offer. The town really is charming and its elevated position means that it enjoys wonderful views over the valley below and even as far as Lake Trasimeno. The town is also home to an excellent museum with a number of Etruscan artefacts whilst just outside the city walls is the Franciscan hermitage – Le Celle – which was the first monastery built by Saint Francis of Assisi in 1211.
Sail the Tuscan coastline
Tuscany boasts 250 miles of coastline. Rather than staying on land, why not enjoy a sailing trip along this coast. Rent or charter a sailing boat, power boat or catamaran and enjoy a different perspective on this beautiful region.
Take your loved one to the 'Tree of Love' in Lucignano
Anyone heading to Tuscany on a romantic trip for two should perhaps make a beeline for the Museo Comunale in Lucignano where the most notable artefact is a 14th century reliquary, known for its tree-like shape, adorned with gold and silver and with branches of coral, leafed with crystal, enamels and miniatures.
Make a pilgrimage to La Verna
Perhaps not as well-known as Assisi in Umbria, La Verna remains an important pilgrimage site amongst Christians who head to St Francis' mountaintop retreat. The site remains a thriving Franciscan monastery today and enjoys spectacular views over the Apennine mountains.
Monkey around in the tree-tops
Tuscany has a number of tree-top adventure parks including the Canyon Park in the province of Lucca which has some great ziplines to enjoy. Also of note is the Adventure Park il Gigante offering a variety of different age-dependent tree-top adventure courses to enjoy and the Cieloverde Park in Grosseto with 7 different routes to try. There are plenty of other similar parks in the region, all challenging your climbing skills.
Go Hiking
Whilst Tuscany may be most famous for its major cities – Florence, Siena and Pisa – its beauty lies just as much within its rural countryside than in its main centres. There is no better way to explore this than on foot. In the North of the region, there is the Alpi Apuane, famous for their marble quarries but also home to vast swathes of forest filled with beech and chestnut trees whilst on the ground walkers will be treated to the beautiful colours of acres of wildflowers. Nature is in abundance both in the skies where golden eagles, kestrels and sparrowhawks roam and on the ground. Further South, at the other end of the region you have the Val d'Orcia.
Shop for souvenirs to take home
Volterra lies at the heart of a mining region and is one of the best places in Tuscany to buy alabaster, a soft stone that looks like marble but which can be carved like wood. It's a great place to pick up a souvenir to remember your trip by. After WW2, much of the alabaster industry was industrialised but in Volterra there are still a number of artisans using the traditional handmade techniques of this ancient tradition that dates back to the 1700s.
Enjoy a tour of the marble quarries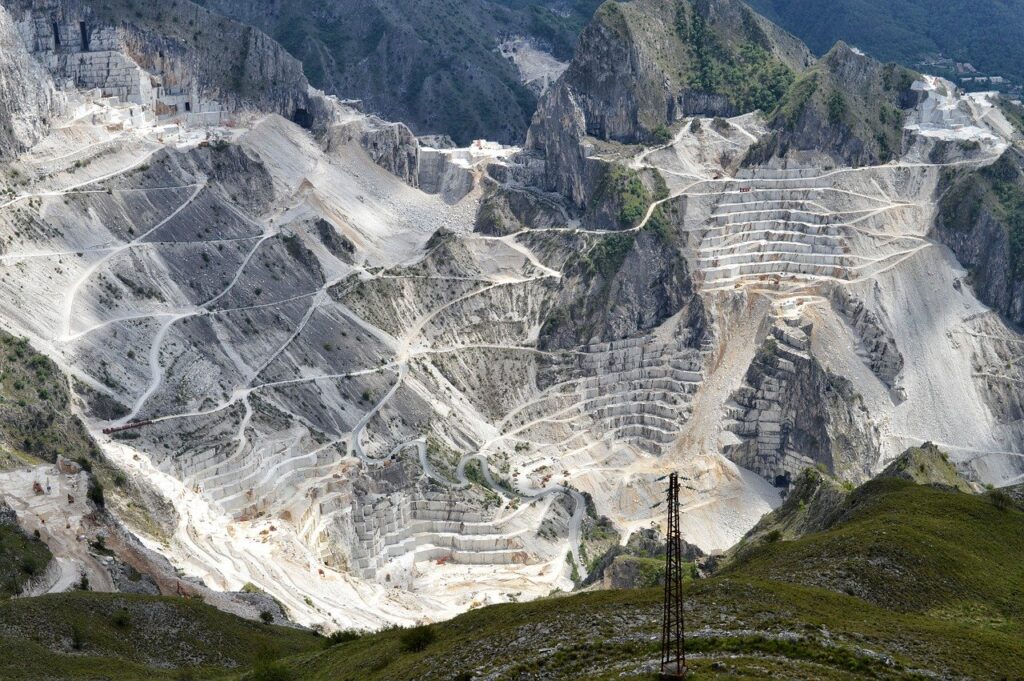 While marble is quarried in many countries around the world, Italy is still considered the home of the highest grade and most luxurious marble available. Located in the northernmost tip of Tuscany, Carrara marble has been used for centuries since the time of the Ancient Romans and was used for some of Rome's most remarkable buildings including the Pantheon. It's was also used for some of Italy's most famous artworks including the Statue of David in Florence. If you have your own car, you can take a self-guided tour however, for those without their own transport, you can enjoy a guided jeep tour of the quarries. Heading 100 metres above sea level, the views of the carved white mountainsides will leave you quite awe-struck.
Explore the Roman remains
There are a number of Roman sites worth exploring in Tuscany. These include the Roman amphitheatre at Fiesole which is still in use today and plays host to a number of plays over the Summer. For those interested in ancient Roman history, a museum in the town contains a number of Roman as well as Etruscan artefacts. Further South, Cosa is an ancient Roman town where visitors can walk around the remains of a number of Roman buildings including temples, bath houses, private villas and the forum. Also in the South of the region, Populania is home to a large Roman Etruscan archaeological site and has some excellent remains of villas, buildings, burial grounds and roads. There are a number of itineraries here that visitors can choose to follow to learn more about the history of the area and the remains.
Walk along the Vie Cave
The Vie Cave are a series of passageways and roads carved into the landscape by the Etruscans. No one has really managed to figure out how they created the network of pathways or in fact why they created these passageways. But whatever the reason, nowadays they provide the opportunity to enjoy a really special walk.
Go back in time at the Monteriggioni Festival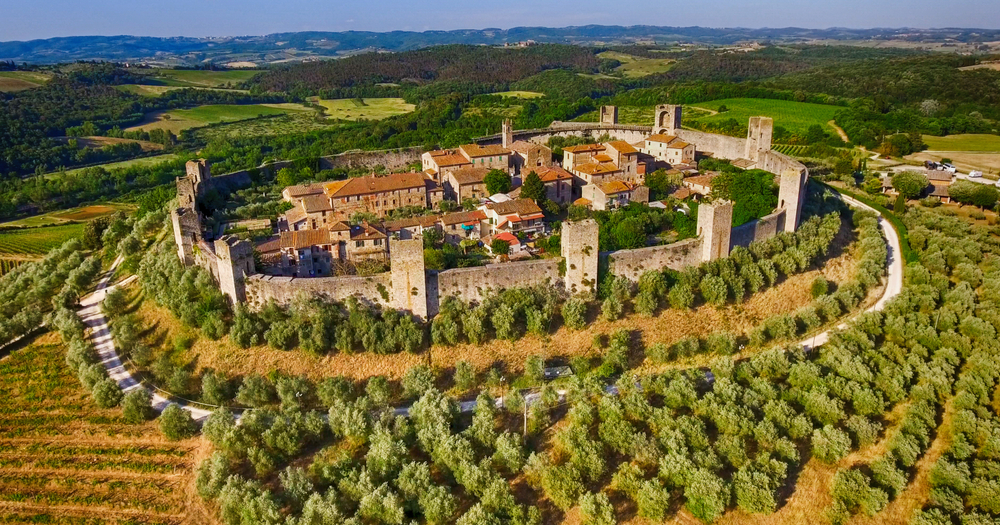 If you're visiting Tuscany in July, then don't miss the opportunity to join in the celebrations at the Medieval festival in Monteriggioni. It will feel like you're stepping back in time as, over the course of 5 days, the streets become filled with locals decked from head to foot in Medieval costume. The restaurants and bars offer visitors the chance to taste the food of time gone by and live music and theatre will bring to life what it was like to live in the town hundreds of years ago. Even if you can't visit during July, then the town is worth seeing anyway. It's one of the most important examples of a walled town in Tuscany and was cited in Dante's 'The Divine Comedy' and it's worth visiting to explore the 14 towers present along its intact fortified walls.
Discover Tuscany by steam
A voyage around Tuscany isn't confined to classic cars or vespas. Instead why not take in the countryside by train. Rather aptly named Trena Natura, and always departing from Siena, the train runs between March and October each year. The schedule constantly changes as trips are scheduled to coincide with festivals, markets and sagras. Check out the website for more details or to make a booking.
Visit the oldest pharmacy in the world
Situated in the monk's infirmary in the Basilica Santa Maria Novella in Florence and established in 1221 by Dominican monks, the Officina Profumo-Farmaceutica is certainly amongst the oldest, if not THE oldest pharmacy in the world. The pharmacy is absolutely stunning with frescoes, gilded ceilings and elegant wooden cabinets housing old glass medicine bottles. Visitors will also be struck immediately by the wonderful smells and fragrances of the herbs and spices used to make their products. Pick up an ancient remedy or use the computerised catalogue to learn about the history of each product.
Take part in a sagra
The sagra are food-based festivals that take place throughout Tuscany. They can vary in size enormously but all have genuine and inexpensive Tuscan food at their heart. One of our favourites is 'La Sagra delle Sagre' in Bibbiena, Arezzo. Purchase a mega ticket to qualify for a free tasting at all of the food stands present. Other favourites include the 'Sagra del Fungo' in Firenzuola, the 'Campionata della Bistecca' in Mercatale VP and the 'Sagra del Tartufo' in Chiusi della Verna. But there are so many more than this, all celebrating the local speciality, from frogs to snails, from cherries to zucchini and from crostini to steak. Whatever your appetite desires, the sagra have it all!
Go bird watching at Tuscany's largest lake
Lake Masscaciuccoli is Tuscany's largest lake measuring just under 7 square kilometres. It's also home to the Lipu Masscaciuccoli Bird Watching Nature Sanctuary. Raised trails will take visitors around the wetlands where you'll have the opportunity to spot numerous species of birds that use the lake including kingfishers whilst below in the reeds, there are eels and crayfish. Don't forget to bring your camera and binoculars!
Enjoy a concert at the Nicosia Monastery
The monastery was abandoned in the 1970s bringing an end to nearly 800 years of active service by monks. Unfortunately vandals were quick to move in but after the turn of the century, Nicosia Nostra founded an organisation whose mission is to save the incredible monastery from ruin. Nicosia and his organisation now host outdoor concerts in the Summer months and create Nativity scenes in the Winter.
Climb a mountain
Whilst Tuscany usually conjures up images of gently rolling hills, vineyards and olive groves, 25% of the region is mountainous. There is the option to go hiking in the mountains or even skiing during the Winter months. Some of the mountain ranges to explore include the Garfagnana area, where the mountains reach 6000 feet, the Abetone an Pistoia mountains, the Apuane Alps, Monte Amiata and, last but not least, Lunigiana.
Explore an abandoned village
You often hear of villages being abandoned in Italy, as residents have moved out in search of jobs or have headed elsewhere for other reasons. A much earlier example though is CastelVecchio, a village situated near San Gimignano that was abandoned during the Black Death in the mid 14th century. Nowadays, visitors can pick out the outlines of the ruined houses but the Church remains standing and even holds a service once a year.
If we've whetted your appetite enough, then take a look at the phenomenal apartments and villas in Tuscany available to rent for your next holiday through Bookings For You.