We don't seem to be able to get Italian food off our minds at the moment! So we thought we'd take our readers on a bit of a culinary journey through Italy's 20 regions today. Italy is famous for its exceptional cuisine but each of Italy's regions has its own unique dishes. So, next time you're on holiday at one of our villas in Italy, you'll know exactly what to order from the menu at your local restaurant.
Abruzzo
Whilst Abruzzo is situated in central Italy, it arguably has much more in common with southern Italy and certainly, its food most closely resembles the cuisine of Italy's south using simple ingredients to make tasty traditional dishes. Lamb is plentiful reflecting the amount of sheep grazing on its hillsides as is cheese produced from the sheep's milk. However, on Abruzzo's coast, fish is just as common. There is also an abundance of chillies – don't be surprised to find people here sprinkling chilli flakes on their food instead of cheese. And don't be surprised to find saffron used too. Abruzzo produces some of the highest quality saffron in the world. And, if you're into wine, then you can't possibly visit Abruzzo without also trying the famous Montepulciano d'Abruzzo red wine.
Aosta Valley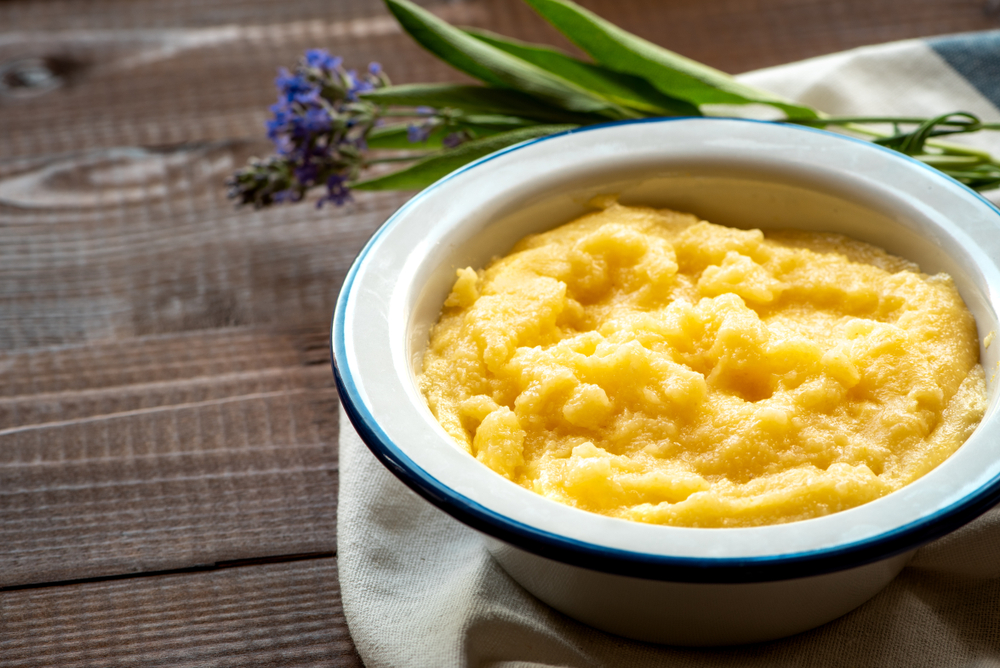 The Valle d'Aosta is a land of mountains, dominated by the Alps. With long, cold Winters perfect for skiing, not surprisingly the traditional dishes here are rich and filling. We're talking plenty of potatoes, polenta and bread, beef (thanks to the mountain cattle), risotto, gnocchi, salumi (preserving foodstuffs is essential in sparsely populated, mountainous areas) and cheese! The region's most famous cheese is Fontina. Produced since the 12th century, it's a key ingredient in many dishes including the Seupa à la Vapelenentse and the Fonduta Valdostana. If you're after something more meaty, ask for a Carbonada (a local beef stew).
Basilicata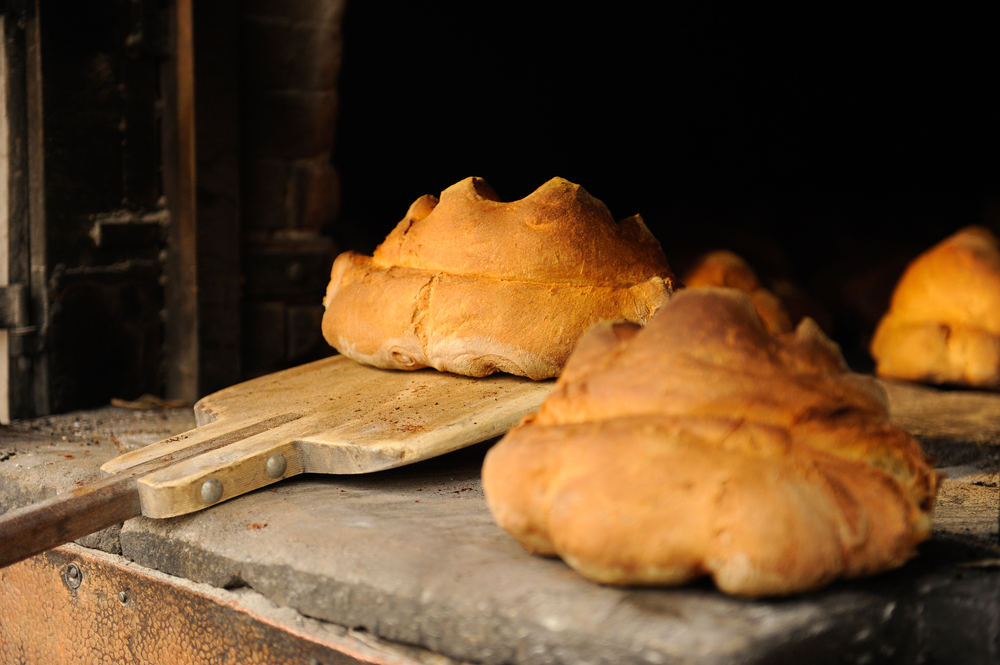 Matera is Basilicata's most famous city and it's also home to one of our favourite regional specialities – the Pane di Matera (bread of Matera). Grain has been grown in this region for centuries and it is believed that bread was probably made here as far back as 7000 BC. These days, the bread is still made to the same ancient recipe but uses more modern techniques. It is easily recognised by its conical shape and flavour. Matera itself is actually pretty much a paradise for keen foodies. And if you're looking for fine dining, then Matera boasts a Michelin star restaurant.
Other typical foodstuffs of Basilicata include Senise peppers, a dried crushed sweet paper used to make peperoni cruschi and the Lucanica di Picerno pork sausage. This is again based on an ancient recipe and is available both cured and fresh. Lamb is the most commonly cooked meat. And, of course, with the emphasis on grain production, pasta is also common. Basilicatans will claim that pasta originated in this region and one of our favourite pasta dishes is pasta mollicata, whose sauce is made from onions, tomatoes, red wine and stale bread and achovies.
Calabria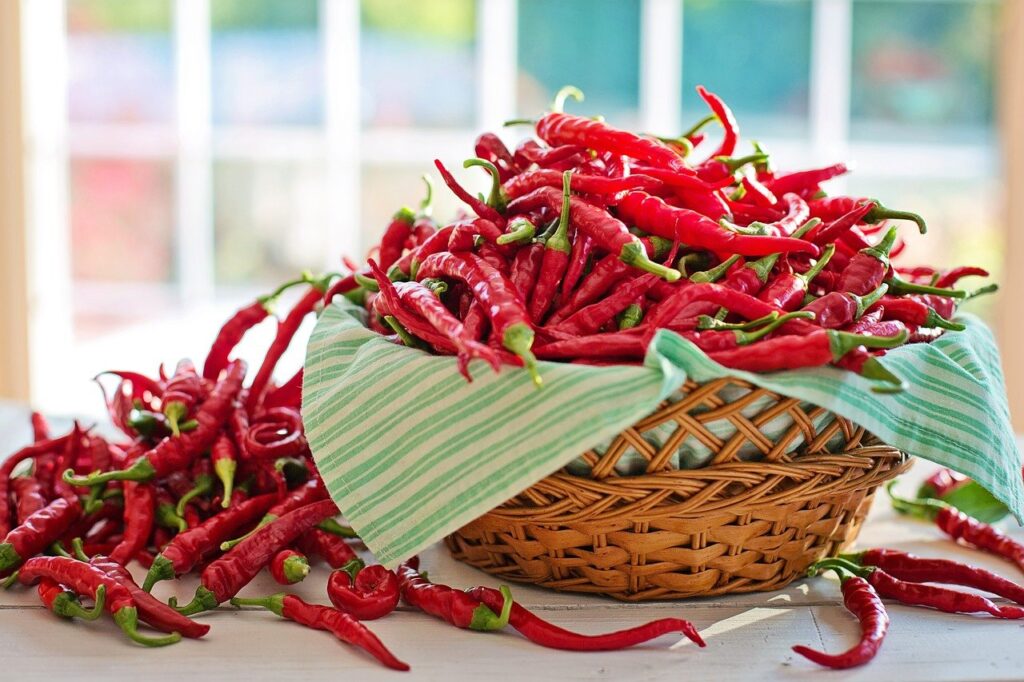 The Spanish and Arab influences on Calabria are never more apparent than in its food. You'll find much more spicy food here than in other Italian regions thanks to the chilli pepper peperoncino. You'll also find plenty of artichokes (carciofi) and aubergines (melanzane). Don't leave without trying the polpette di melanzane. When it comes to meat, then pork is king! Try the soppressata, a cured, flattened type of salami which contains the dried chilli peppers to give it a kick. In addition, as you'd probably expect, fish and seafood is plentiful on the Calabrian coast. For dessert, make a point of trying tartufo, a special gelato that originated in Calabria back in 1952. So named because of its resemblance to the highly prized truffle, the tartufo di Pizzo is a circular shaped ball of chocolate and hazelnut ice cream dusted in cocoa.
Find out more from Calabria residents, Craig and Lisa, the dynamic duo behind Our Lives in Italy.
Campania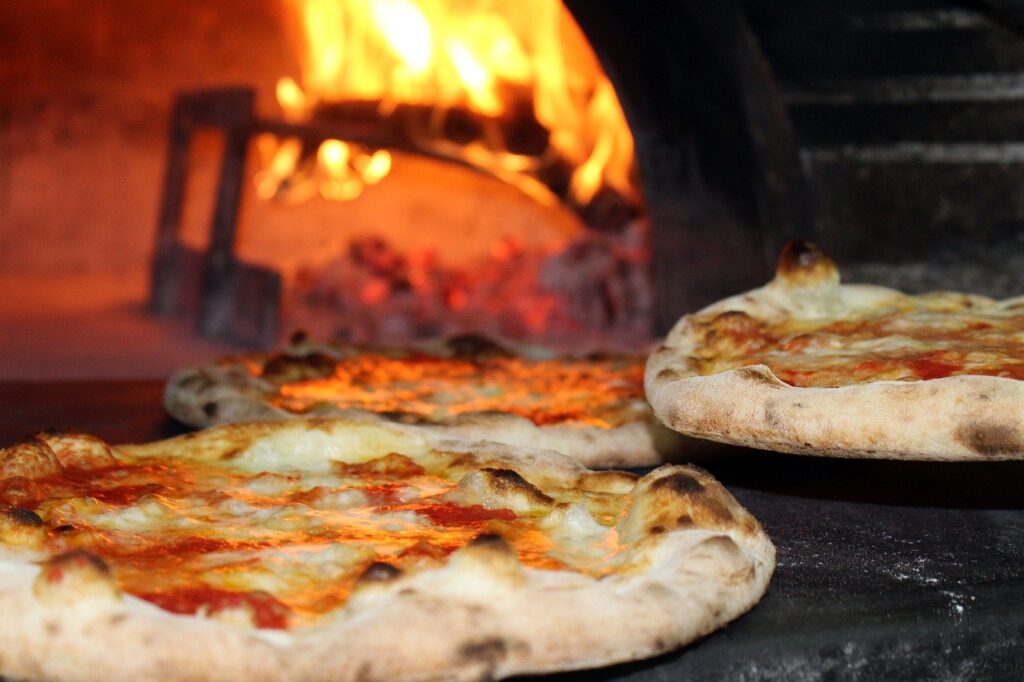 You can't visit Campania without first and foremost visiting Naples, the home of pizza. According to the legend, the pizza Margherita was invented in 1889 by chef Raffaele Esposito at Pizzeria Brandi in the city. He supposedly named the creation after the Queen of the newly unified Italy, Margherita of Savoy and it was topped with just tomatoes, basil and mozzarella to reflect the three colours of the Italian flag. Head to the narrow alleyway in Naples and you'll still find the restaurant along with a plaque marking the event.
One of the pizza toppings – buffalo mozzarella – actually started life in this region of Italy and was originally made by Capuan monks to feed pilgrims and travellers that were passing through. Scamorza is another cheese that is popular here along with Fiordilatte.
Otherwise, head along the coast of Campania to enjoy plenty of seafood, washed down with a small glass of limoncello made using the abundance of lemons which are grown along the clifftops.
Check out our Amalfi Coast travel guide along with the selection of Amalfi Coast villas available to rent from Bookings For You.
Emilia-Romagna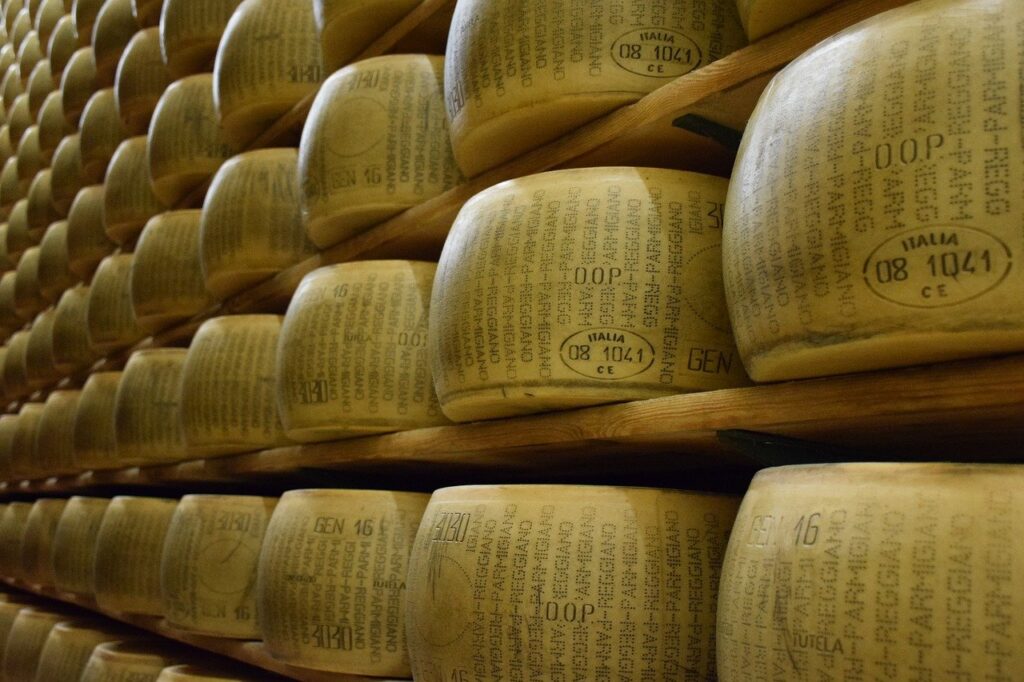 One of Italy's most fertile regions, Emilia-Romagna is often referred to as 'Food Valley' and is home to no less than 44 Protected Designation of Origin (PDO) and Protected Geographical Indication (PGI) products. These include the renowned Parmigiano Reggiano cheese, Aceto Balsamico Tradizionale di Modena (balsamic vinegar), Mortadella Bologna, Proscuitto di Parma and Culatello di Zibello (a type of salami made using the finest cuts of pork).
Italy is currently home to over 370 Michelin star restaurants and Emilia Romagna is home to 23 of them which gives you a pretty good indication of the quality of its food! However, you don't have to opt for fine dining to eat well here. Simply head to one of the food kiosks on the street to pick up a piadina. Opt for the thinner piadina riminese or thicker piadina romagnola, both filled with a variety of ingredients from parma ham and cheese to Nutella for those with a sweet tooth.
Check out our A to Z guide to Emilia-Romagna.
Fruili-Venezia Giulia
Don't be surprised to find that the food of Fruili-Venezia Giulia is far from being typically Italian. The region only became part of Italy in 1954 and its location bordering Austria and Slovenia means the foods of those countries have a strong influence. Think goulash with polenta, gnocchi with cherries and prunes, and jota, a type of stew made with sauerkraut, beans, potatoes and bacon.
Lazio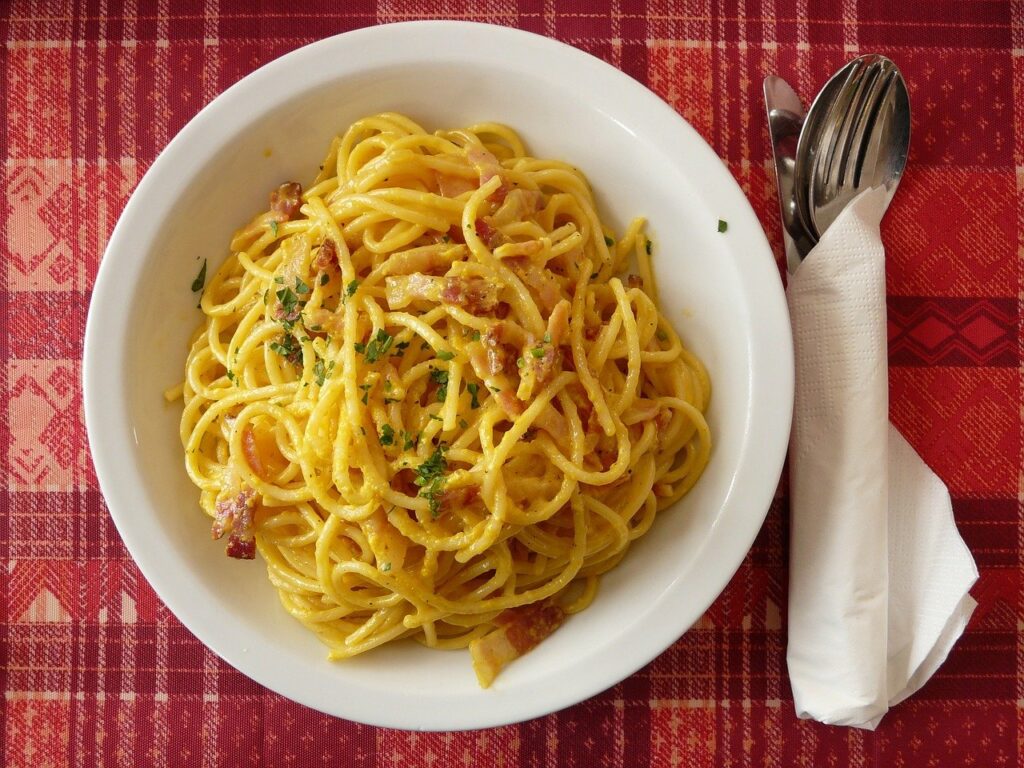 There's one dish which we always make sure that we enjoy when in Lazio. It's pasta cacio e pepe, a simple pasta dish whose sauce is made using 2 key ingredients – cheese and pepper. Rome is home to a number of other famous pasta dishes which are just as hard to resist including spaghetti carbonara, pasta amatriciana and pasta alla gricia, which is essentially very similar to a carbonara but without the egg. If you're after something more meaty, then saltimbocca has its origins in the Lazio region. It's a delicious dish of veal wrapped in slices of prosciutto and sage leaves, before being pan-fried in white wine and butter. You'll also find much more chicken eaten in Lazio than in other regions of Italy. Ask for it to be prepared 'alla Romana' to enjoy an authentic dish of chicken cooked in white wine with tomatoes and peppers.
Check out our Rome travel guide for some suggestions on where to eat in Lazio's capital city.
Liguria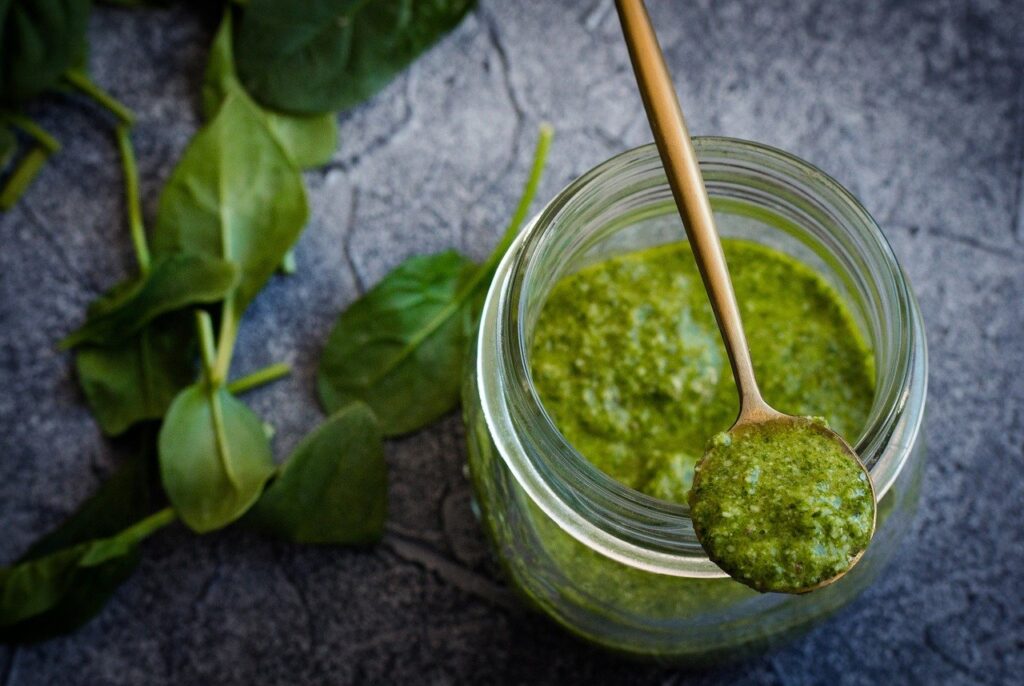 Not surprisingly, given its coastal location, Ligurian food includes plenty of fish and seafood. Particularly popular is sea bass, mussels and seppie (tiny cuttlefish). However, before you head home, make sure you also try the pesto genovese at least once. Made from basil combined with oil, garlic, cheese and pine nuts, it's Liguria's most famous foodstuff. Also to be tried are the minestrone which many claim originated in Liguria and the famous focaccia. Other breads that originate from this region include paniccia and farinata, both made with chickpea flour. And if you're in the region at Christmas time, make sure you buy a Pandolce, a sweet cake filled with candied fruits and spices.
Lombardy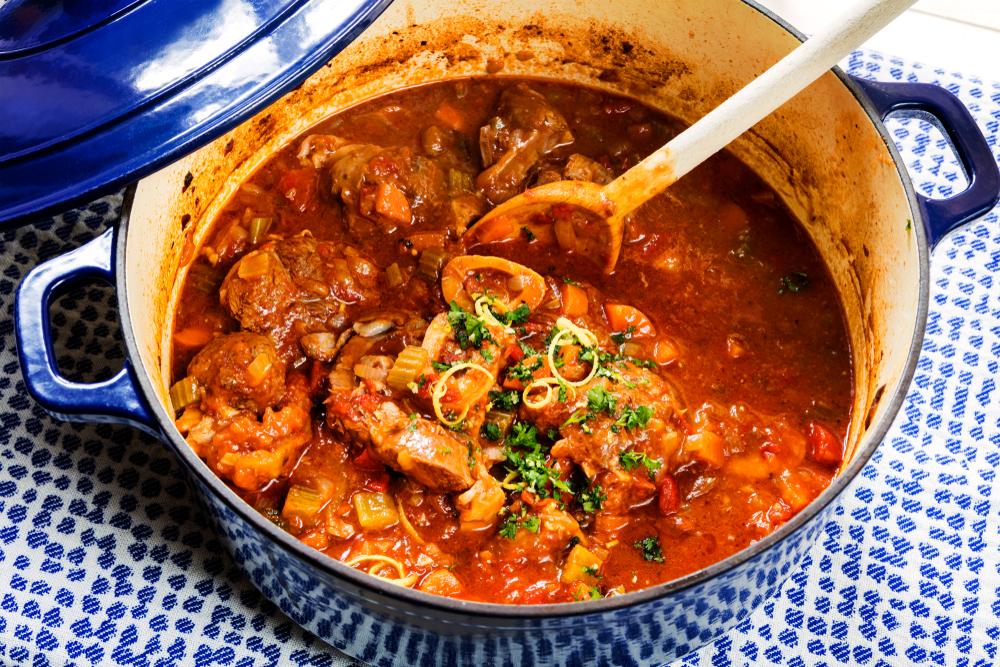 The risotto alla Milanese must be this region's most famous dish. Easily recognisable by to its vibrant yellow colour thanks to the saffron it contains, its other key ingredient is Parmesan. Being in the North and a rather rich and prosperous region, you'll typically find meat more prominent than in much of Southern Italy. Veal, beef and pork are all popular. Probably the most famous meat dish is Veal Milanese, a flattened piece of veal covered in breadcrumbs, followed by the Ossobuco (veal shanks slowly braised in white wine, vegetables, chicken stock and mushrooms), with the famous bresaola (air dried, salted beef) a close third. Being landlocked, there is less focus on fish but you will find fresh lake fish a speciality around Lake Maggiore, Lake Como and Lake Garda. Cheese is also popular. The region is home to 13 cheeses with Protected Designation of Origin (PDO) status including Gorgonzola, Taleggio and Grana Padano. If you're after something sweeter, then head to the city of Cremona to try their torrone, widely considered to be the best in Italy, or pick up a Panettone at Christmas, a festive cake that originated in Lombardy but which is now produced all over Italy.
Check out our Italian Lakes villas if you fancy tasting some of Lombardy's food for yourself.
Marche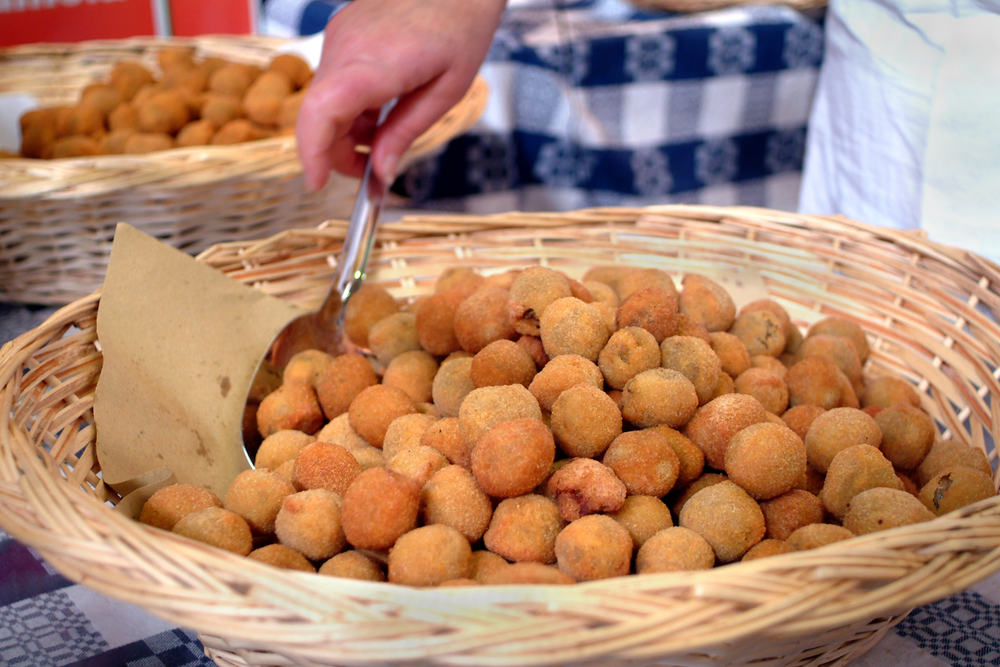 With a long stretch of coastland, fish and seafood feature prominently in certain parts of the Marche region, often transformed into soups such as the Brodetto all'Anconetana made with 13 different types of fish. Inland, you'll find more meat and you'll also find that a lot of food in this part of Italy is deep fried. Perhaps the most tasty example of this is the deep-fried olives all'Ascolana (olives stuffed with meat and deep fried) however meat is often covered in breadcrumbs and fried as well and it's common to see big sharing plates of fritto misto (both meat and vegetables covered in breadcrumbs and deep fried). If not prepared this way, then meat is often grilled alla brace (over burning wood) instead. For a sweet treat, try the Ricotta Calcioni, small pastry parcels filled with sweetened ricotta and lemon peel and yes, you guessed it, deep fried!
Check out our Marche villa rentals if you fancy exploring Marche for yourself. Or find out more about what to do in Le Marche.
Molise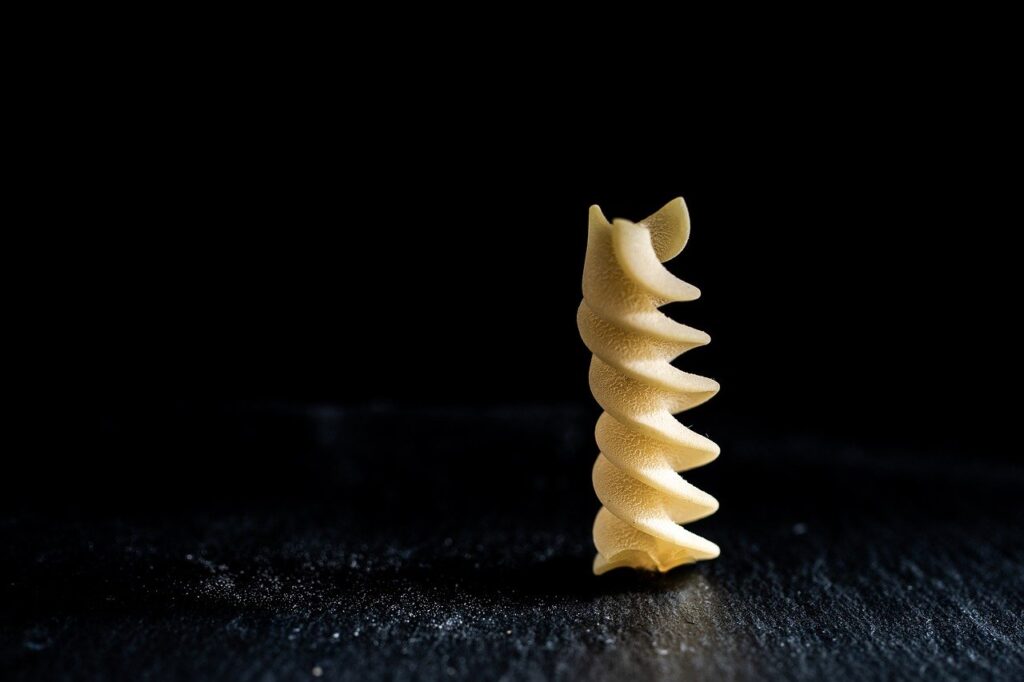 Molise can claim to the birthplace of both cavatelli and fusilli pasta. Make sure you try the fusilli alla Molisana before you leave. Otherwise, offal is very popular in Molise as is lamb and goat. However, one of the most famous meat dishes in Molise actually uses pork. Pampanella is pork fillet flavoured with garlic and chilli (like its neighbour Abruzzo to the North, Molise also loves its chilli peppers). The pork is then cooked and eaten either hot or cold between two layers of bread.
Find out more in our introduction to Molise.
Piemonte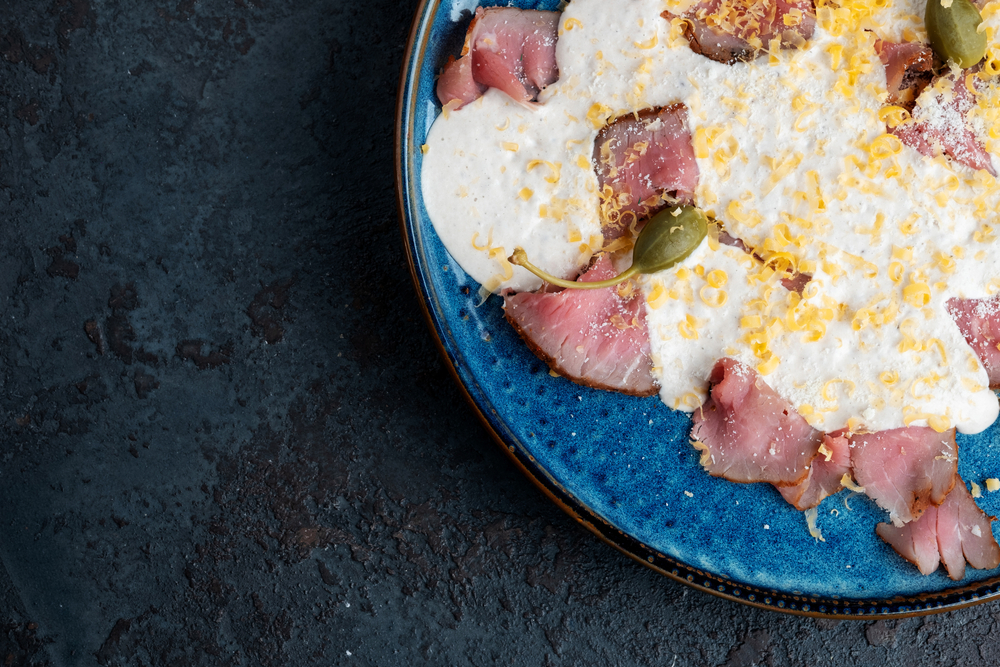 One of Piedmont's most famous dishes may sound a strange combination to those who have not come across it before. Vitello tonnato is a dish served cold, consisting of thinly sliced pieces of veal covered in a thick, creamy tuna sauce. Also popular are risottos largely thanks to the fact that this a prime area for rice growing. In fact, Vercelli is the self-proclaimed 'Capital of Rice'. Whatever you're eating, all should be washed down with some of the regions' most impressive wines – Barolo, Barbaresco, Asti Spumante and Barbera d'Asti – or with a coffee if you're in Turin. After all, this famous city is the birthplace of the espresso. This area is also famous for its truffles, with Alba's annual white truffle festival attracting visitors from across the world.
Check out our Italian Lakes villa rentals, many of which if you fancy exploring Piemonte for yourself.
Puglia
Puglia is a region whose food typifies the style known as cucina povera. Try the famous Pane di Altamura, the only bread in the world which has been awarded PDO-protected status and which stays fresh for up to two weeks. Wheat is certainly in abundance here so, as with Basilicata, there is plenty of pasta on offer too. Like other regions, Puglia has its own pasta shape, the most famous of which is our favourite, orecchiette (translated as little ears) often served with Cimi di rape (a more bitter version of broccoli). In fact, vegetables are much more common in Puglia than either meat or fish, the latter historically being too expensive for people to afford. Puglia's most famous cheese is burrata. Now available to buy all over the world, this was actually only invented in Puglia as recently as the 1950s.
Check out our Puglia villa rentals if you fancy exploring Puglia for yourself.
Sardinia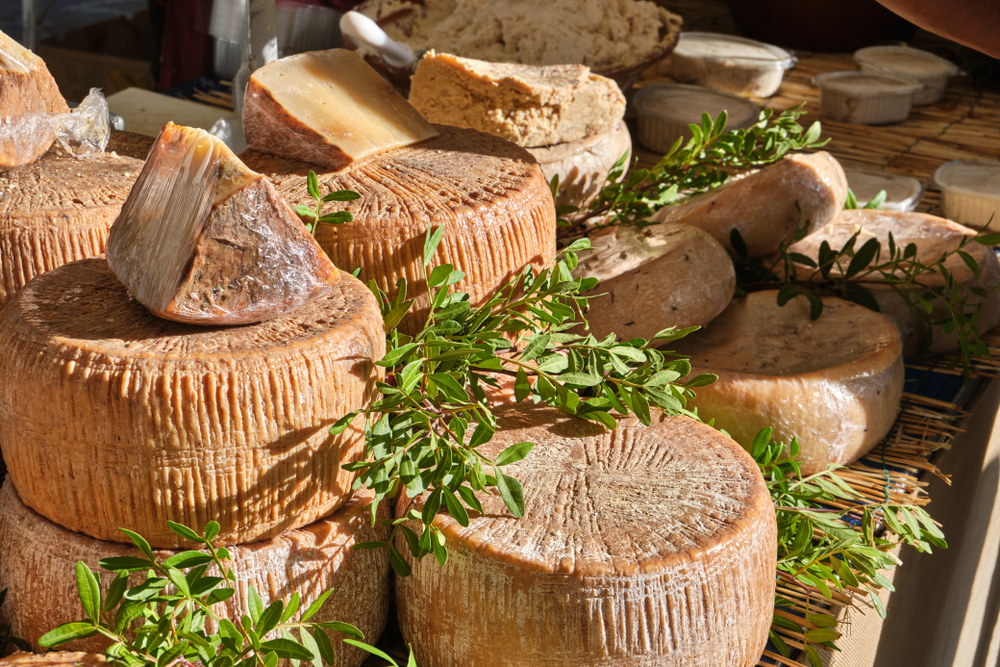 Whilst Sardinia may be surrounded by sea, you may be surprised to hear that seafood doesn't feature in many of its most famous dishes including Pecora in cappotto, a rich mutton stew, made with herbs and potatoes. One delicacy from its seas though is bottarga. Made from dried grey mullet or tuna roe, it is either served grated over pasta or sliced thinly as a starter. And, of course, the islanders do make the most of the bounty from the sea, eating plenty of tuna, lobster, swordfish and sea urchins. Sardinia's most famous cheese – Casu Marzu – is definitely not for the squeamish. It's a type of pecorino that contains live maggots.
Sicily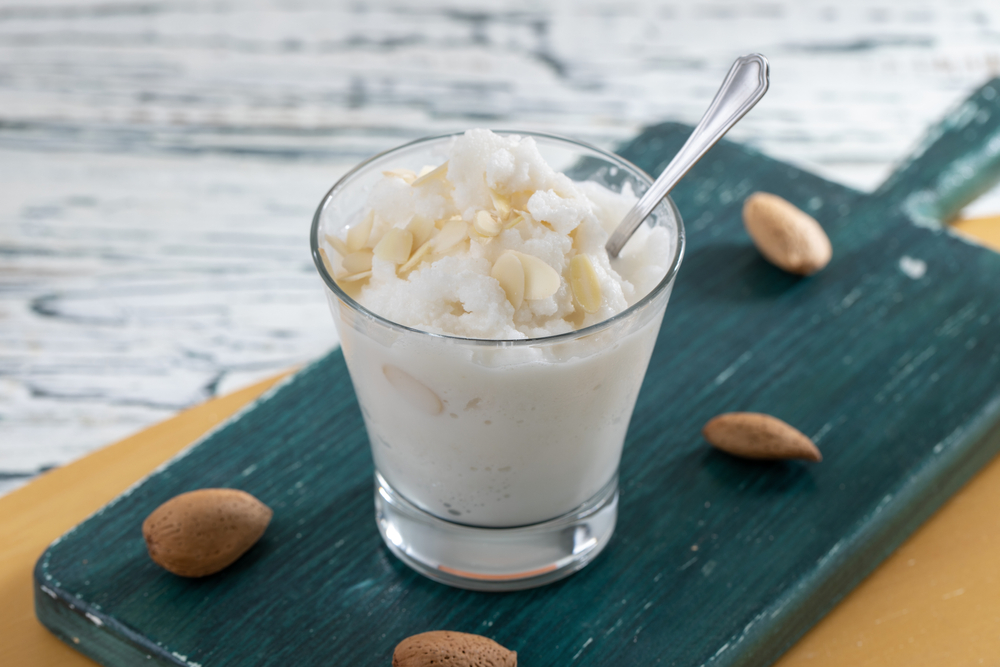 The Mediterranean's largest island, Sicily has an incredibly rich and diverse history and this is certainly reflected in its food. We recommend you try our favourite pasta dish – Pasta alla Norma – or if you're more of a fish lover, try the Pasta con le Sarde (pasta with sardines) instead. Other dishes not to be missed are the Sicilian arancini, deep-fried balls of risotto and the delicious antipasti, caponata. Made with aubergines, tomatoes, celery, pine nuts, raisins and vinegar, it is served at room temperature. And definitely make as many excuses as you can to stop for some cannoli or cool off with a refreshing ice cold granita.
Check out our Sicily villa rentals if you fancy trying Sicily's food for yourself. Or find out the best time to visit Sicily by learning more about each season on the island.
Trentino-South Tyrol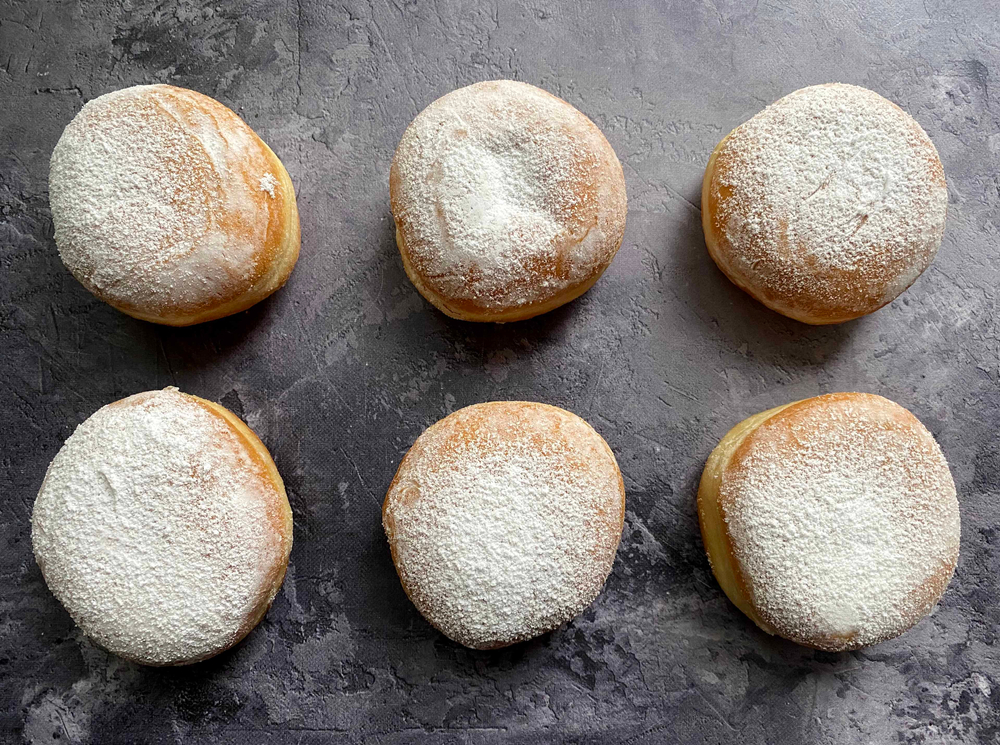 Italy's most northerly region, bordering Austria and Switzerland, Trentino-South Tyrol's food is certainly influenced by its neighbours and its climate! Think hearty, rich stews served up with a side helping of polenta and warming soups served with pasta or dumplings. With plenty of pastures and grazing land, this is also a region famous for its cheese. Over 200 different varieties are produced here. For those with a sweet tooth, the Austrian influence is particularly apparent with apfelkuchel (apple cake), strudel and sachertorte all very popular along with krapfen which are similar to doughnuts.
Tuscany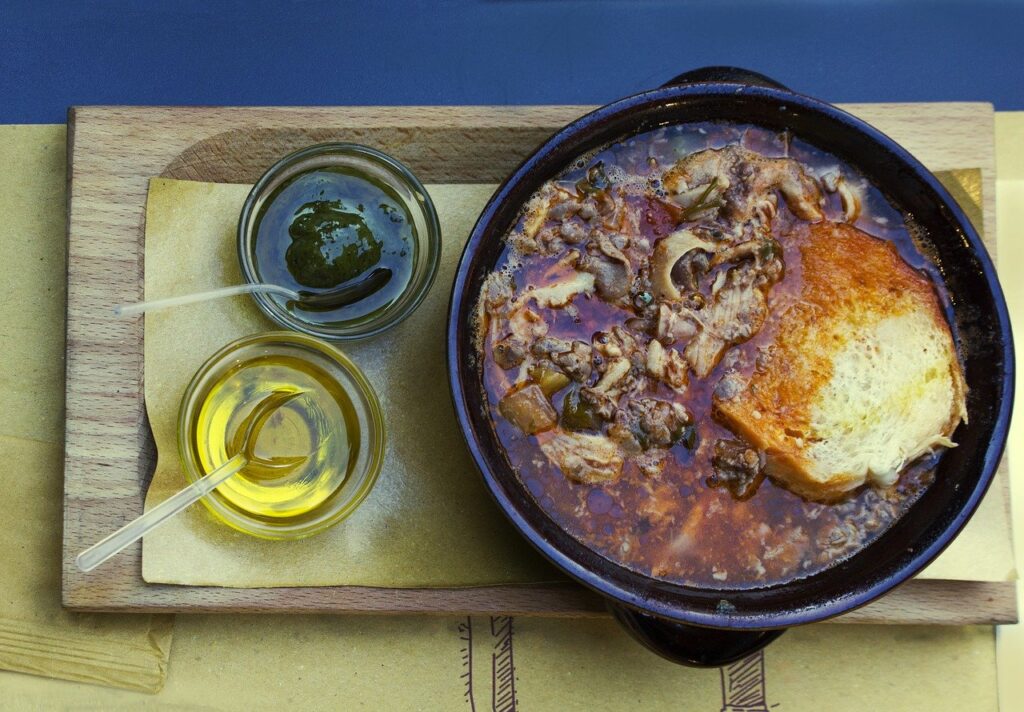 Tuscany can boast exceptional farming so visitors can expect to be spoiled with delicious local produce. The tomatoes in particular are exceptional in our opinion! It's also famous for its delicious wild game including boar and hare as well as its pork and beef thanks to the native Chianina cattle. Order the famous bistecca alla Fiorentina when in Florence to try the beef for yourself or order the lardo di Colonnata to try some of the cured pork salami. But Tuscans will also make sure that no part of the animal is wasted. It's not unusual to find offal for sale. Sandwiches stuffed with trippa (tripe) or lampredotto (a cow's fourth stomach) are still found on street stalls.
Tuscany can also boast a long coastline so you'll also see plenty of fish and seafood often in stews and soups such as cacciucco. Or try the famous Tuscan dish of salt cod. Bread features heavily too, used to make crostini, the delicious panzanella salad or put into soups such as pappa al pomodoro. Just be warned! If eating the bread on its own, you may initially get a surprise as it's baked without salt.
For a sweet treat, buy a panforte or some cantuccini washed down with a glass of Vin Santo.
Check out our Tuscany villa rentals if you fancy exploring Tuscany for yourself.
Umbria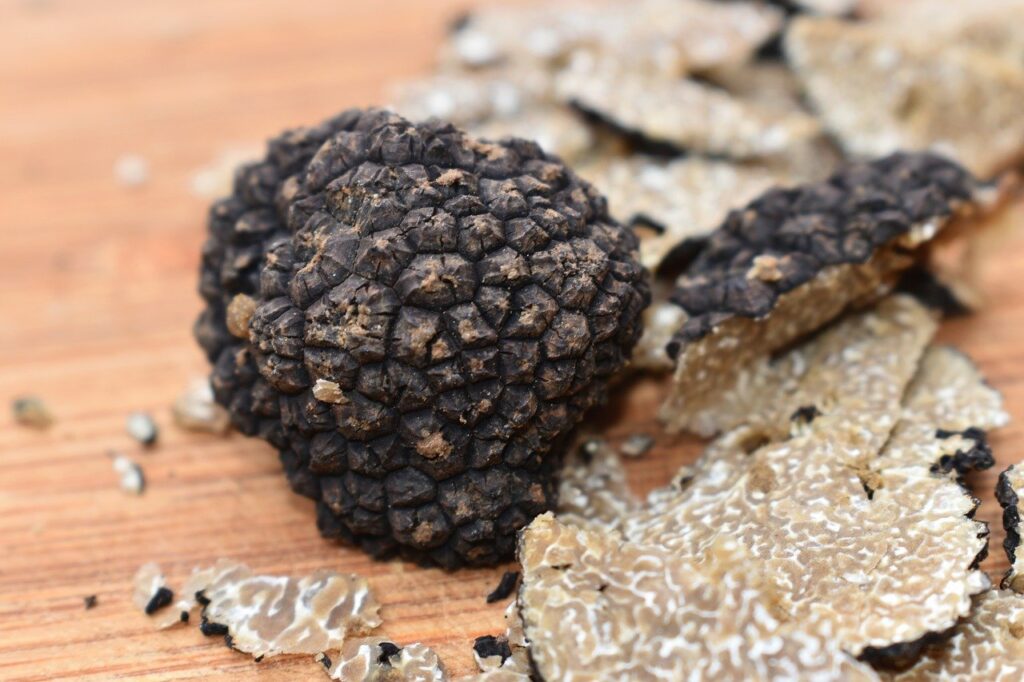 Affectionately known as the 'green heart' of Italy, it will be no surprise that Umbria is famous for the production of many foodstuffs including olive oil, cured meats and salami, wheat, lentils, game, chocolate, meat, truffles, wild mushrooms and honey. If you want to try some of the best cured meats that the region has to offer then head to Norcia where you'll find a number of excellent butchers (norcinos) who make the most incredible cured pork. And if you want the best lentils, then try those labelled from Castelluccio di Norcia, whilst our favourite meat dish is porchetta. Originating from Umbria, porchetta is a great lunchtime treat. Made by gutting a whole pig, filling it with offal flavoured with salt, pepper, fennel and garlic and rolling it back together, it's slow cooked on a spit roast for a number of hours ensuring a lovely crisp skin and moist meat before being served sliced between two pieces of of bread.
And, whilst Umbria may be landlocked, it doesn't mean that fish doesn't feature on the menus. Umbria is home to Lake Trasimeno and you'll find restaurants around the lake make the most of the freshwater fish that live in it.
Check out our Umbria villa rentals if you fancy exploring Umbria for yourself.
Veneto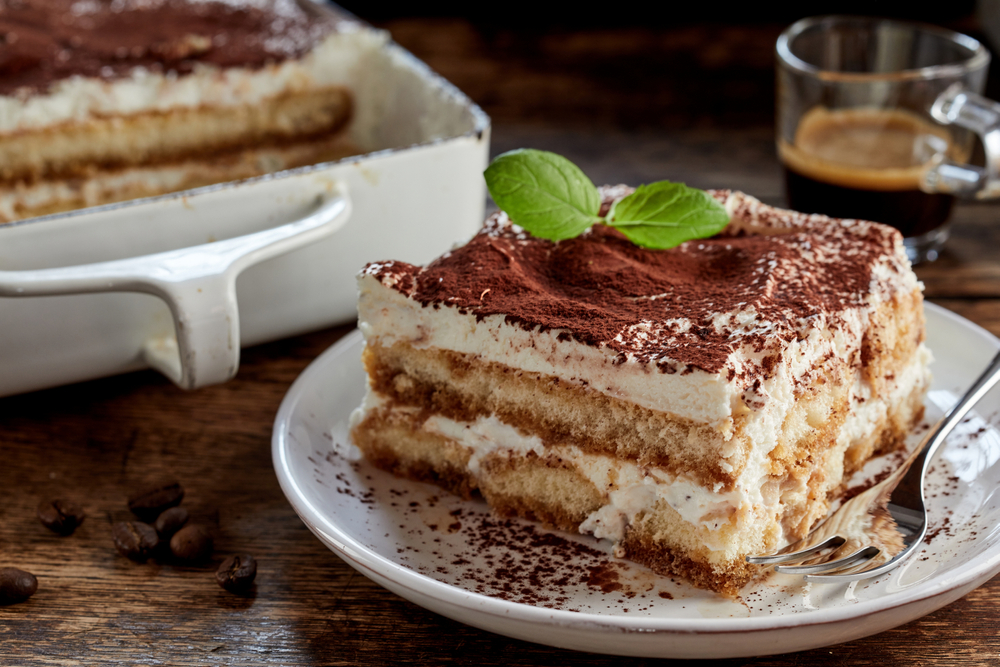 Veneto is divided into seven different provinces and each has its own regional specialities. However, what unites them all is the use of polenta and rice rather than pasta as the staple carbohydrate. Polenta is often served with meat dishes whilst a risotto is commonly served as a primo. Of course, pasta is still served. Why not try bigoli, a Venetian pasta which is almost like thick spaghetti or udon noodles. In the more Alpine parts of the region, you'll find a strong emphasis on dairy, cheeses and game whilst over on the Adriatic coast, it's more likely to be fish and seafood so specialities will vary dependent on the part of Veneto you happen to be exploring. Finally, the Treviso province of Veneto also claims to be the birthplace of tiramisu so it would be wrong to visit Veneto and not enjoy this dessert at least once before you leave!
We hope our guide to the food of Italy's regions has given you some inspiration on the most palatable places to holiday in Italy! Ready to look at where to stay in Italy? Then check out all the Italy villa rentals by region at Bookings For You.