Rome is a city that needs no introduction. With a wealth of things to see and do in Rome, you could spend the whole week in Rome and still not manage to do it justice. However, despite all this, I always think that it's worth making the time to also head outside the Eternal City limits and see some of the attractions in the countryside that surrounds it.
Plus, if you're visiting Rome during the Summer months, temperatures can get pretty stifling. You may find that, at the most basic practical level, you need to escape the heat of the city for a few hours. If you do, then it's definitely worth trying one of our top 5 recommended day trips from Rome.
Lake Bolsena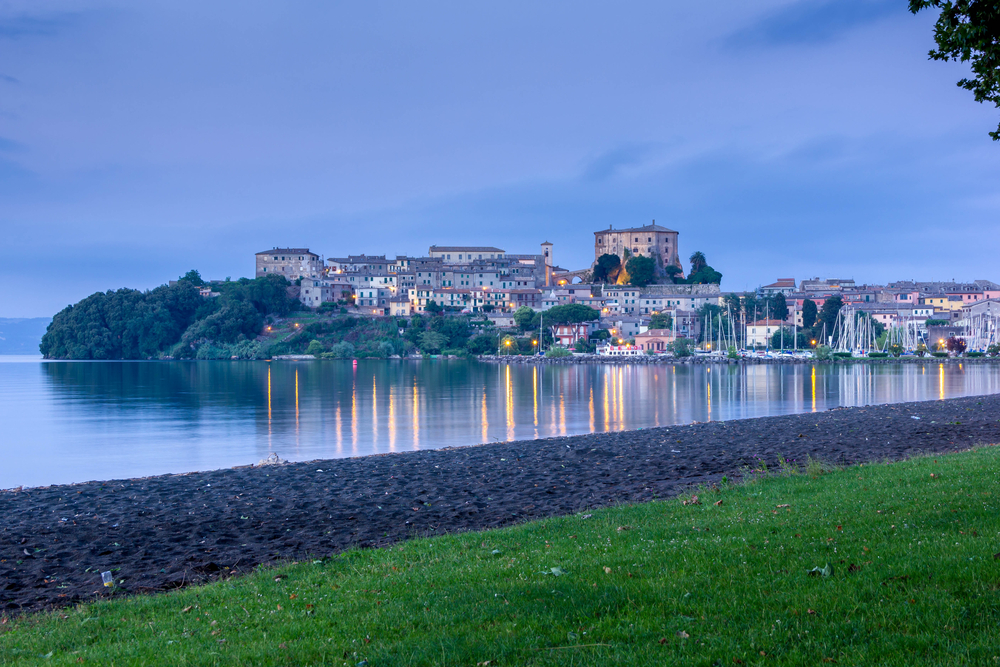 Under two hours north of the city, and a great day trip from Rome, is the beautiful Lake Bolsena. This is Italy's largest volcanic lake. Its 43 kilometre shoreline borders both Umbria and Tuscany. Its main town – Bolsena – sits at the top of the lake in the north and is well worth a visit, with its slightly retro air. If you are there at the end of June, you'll also be able to witness its spectacular hydrangea festival. And from Bolsena, you can enjoy a boat trip to the lake's two islands – Bisentina and Martana.
Other towns and villages around the lake well worth a stop include Capodimonte (perfect if you want to spend a few hours relaxing by the lake in one of the grassy lakeside parks) and Marta, a picturesque old fishing village. And no visit to the lake would be complete without sampling some of the region's famous wine. Montefiascone is home to one of Lazio's best known wines. Est! Est!! Est!!! was awarded DOC status in 1966. Sample this wine and find out more about the legend that surrounds the name at the historic Leonardi cellar on the outskirts of the town.
However, this area is not just famous for its wine. This is a place for avid foodies too. The whole area is called the Tuscia Viterbese and it is also famous for its production of olive oil and for its delicious regional cuisine.
Incidentally, if you want to easily get to the lake from Rome, we recommend taking the train from central Rome to by train from Rome to Montefiascone.
Pompeii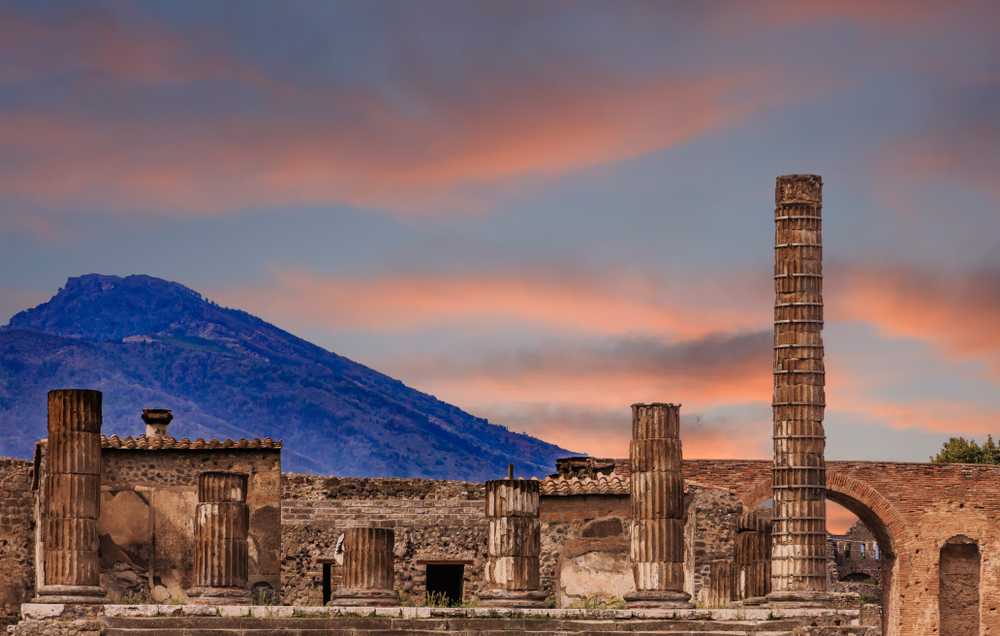 Rome is full of some of the Roman Empire's most impressive structures – the Colosseum, the Pantheon and the Forum – and any trip to Rome will certainly give you a fascinating insight into Roman history. But a day trip from Rome to the ruins at Pompeii and Herculaneum will give you an altogether different take on Roman civilisation. For us, these ruins will provide an even more vivid impression of ancient life. The final flow of lava descended so quickly that it left 2000 people trapped in the city. The city was submerged in 6 metres of ash and pumice stone, protecting what was in it so that visitors now can explore not just its impressive temples and theatres, but the houses of relatively ordinary citizens. One of our favourite remains is the House of the Vettii in the Vicolo di Mercurio, a house that belonged not to the aristocracy but to two middle aged brothers.
There are some excellent day trips from Rome to Pompeii with transport and skip-the-line tickets all thrown in. Or, check out our full guide on how to get from Rome to Pompeii in a day if you're looking to get there using public transport.
Villa d'Este and Hadrian's Villa in Tivoli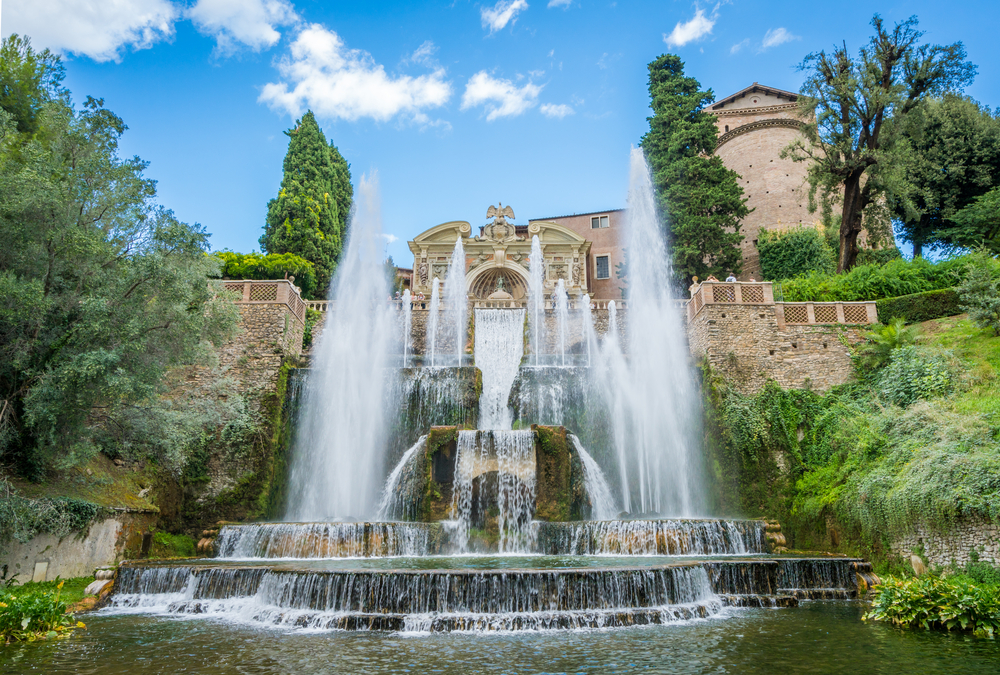 One of Rome's most famous monuments is the Trevi fountain. But we don't think this is a patch on the fountains at the third of our day trip from Rome suggestions, the 16th century Villa d'Este. The immaculately manicured gardens here are simply exquisite and are filled with cascading waterfalls, fountains, statues and artworks.
The villa is situated in Tivoli, approximately 30 km from Rome which is where you will also find Villa Adriana. The Roman Emperor, Hadrian, had the villa built in the 2nd century AD so that he had somewhere to escape from the hectic politic life of Rome but, over time, he came to prefer it so much that he made it his official residence and ruled the empire from here for the final few years of his reign. You'll need a couple of hours to do the villa justice, home as it is to not just to the remains of the main villa but also to remains of libraries, temples, barracks and baths. Both villas are UNESCO World Heritage sites in Italy.
Pre-book your day tour tickets to Villa d'Este and Hadrian's Villa at Get Your Guide.
Bracciano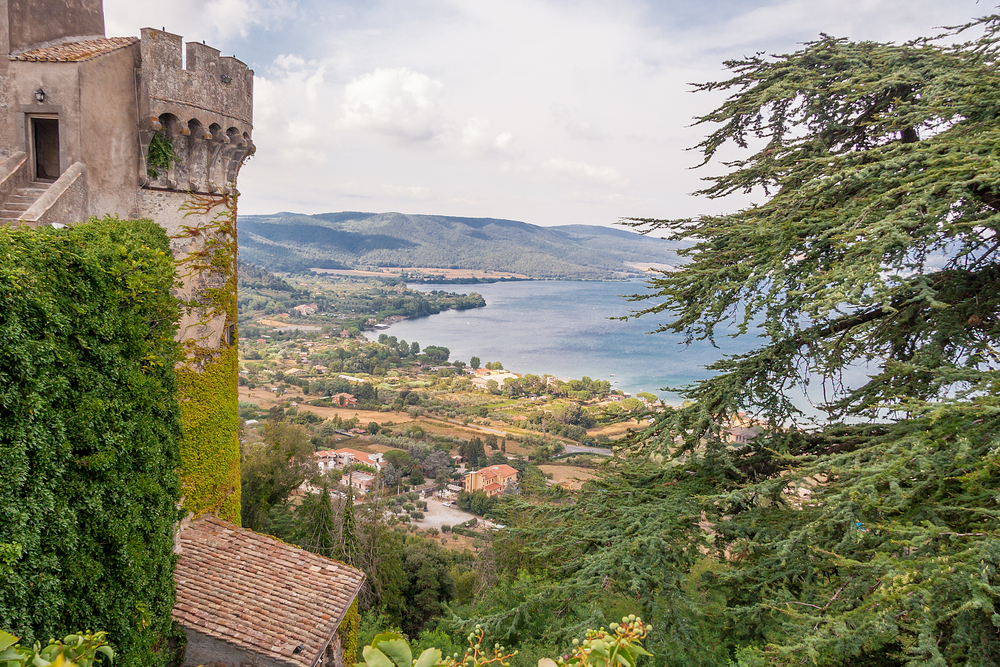 This is one of our closest suggestions for a day trip from Rome, just an hour by train from the capital city. The town of Bacciano is nestled on the lake of the same name.
Enjoy a private group tour from Rome to Bracciano with Get Your Guide, which includes not just a visit to the 15th century Renaissance Castello Orsini-Odescalchi (once the venue for the wedding between Tom Cruise and Katie Holmes) but also to the hilltop fortress of Ceri and the Banditaccia Necropolis in Cerverteri.
A visit to Bracciano's castle's interior is a must but we also love spending time in the castle gardens which can also boast an impressive view of the lake below. And it's easy to lose a couple of hours exploring Bracciano's narrow streets and alleyways, taking in the lake views at every turn. Incidentally, if you fancy a swim in the lake before heading back to Rome, then head down to Anguillara, a small town which is right on the shores of the lake.
Ostia Antica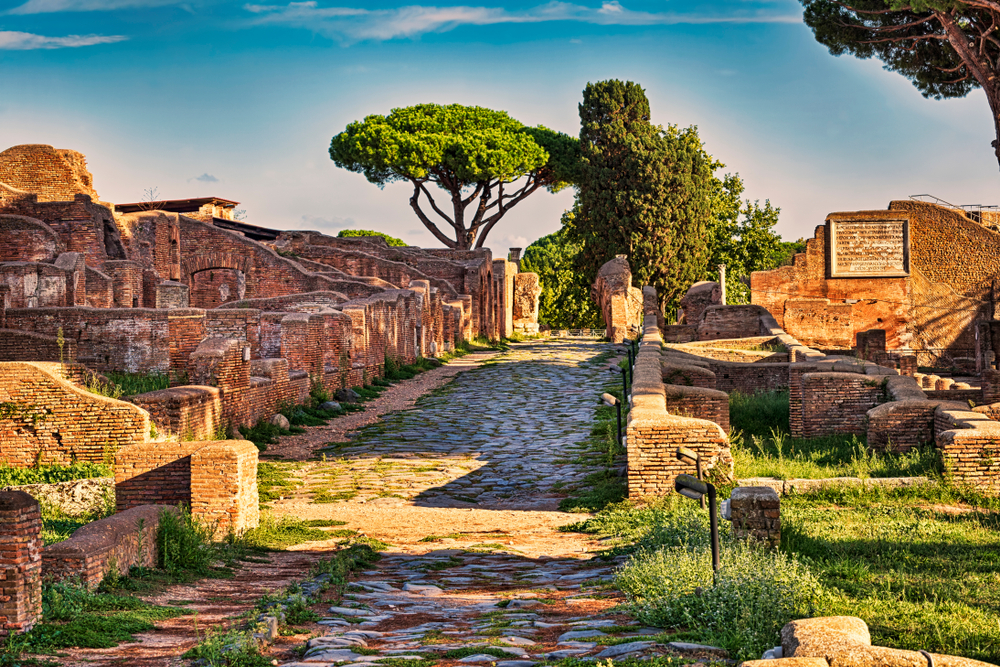 Ostia Antica is an impressive archaeological site south west of Rome. It is close to Ostia which would once have been a Roman seaport. Whilst it may not be as famous as its rival Pompeii, it can certainly give the town a run for its money when it comes to ancient remains! Once home to around 80,000 residents, visitors to Ostia Antica now can still take a stroll along its main street – the 1km long Decumanus Maximus – where you will discover a plethora of remains. These include shopping arcades, mansions and apartments, several temples, the largest of which is the Capitolium, the public baths – Termi Nettuno – and most impressive of all, Agrippa's Theatre where 4000 spectators at a time would once have watched the performances here.
We recommend catching the train from Rome and enjoying a guided tour of Ostia Antica through Get Your Guide.
Looking for more inspiration? Then take a look at the other day trips from Rome available from tour experts, Get Your Guide.